We use affiliate links. If you buy something through the links on this page, we may earn a commission at no cost to you. Learn more.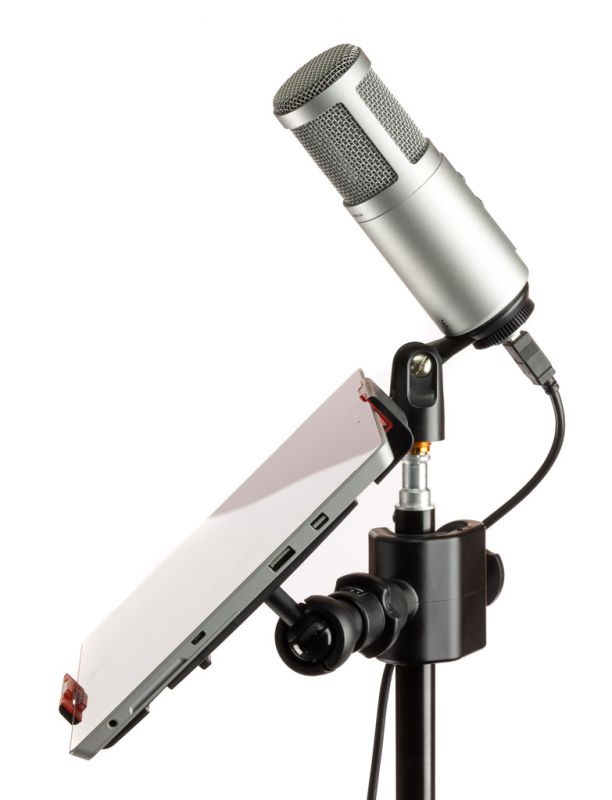 REVIEW – Tablets are great portable devices, but occasionally you need to use them in places that don't always have a good place to put them. The iKlip 3 from IK Multimedia aims to provide a solution for that, at least in a couple of key usage scenarios.
What is it?
The iKlip 3 is a tablet mounting solution that provides multiple ways to mount your device. There are three versions: iKlip 3 for Universal mic stand support, the iKlip 3 Video for tripod mounting, and the iKlip 3 Deluxe that has both mounting solutions. This review covers the iKlip 3 Deluxe.
What's in the box?
iKlip 3 holding bracket
Universal mic stand mount – Fits any mic stand or pole with a diameter of up to 1.2″ (30mm)
Universal tripod mount (1/4″-20 UNC)
UNC 1/4″-20 male to 5/8″-27 female thread adapter
5/8″-27 male to 3/8″-16 female thread adapter
Quick start guide
Hardware specs
Holds any iPad, iPad mini, iPad Air, iPad Pro and tablet model with screens ranging in size from 7″ to 12.9″ with case on
Holding Bracket Width: 160mm (min) – 230mm (max) / 6.29″ (min) – 9″ (max)
Total Weight: 340gr / 12oz
Material: Thermoplastic
Design and features
I volunteered for the iKlip 3 review because I had a specific need that I hoped the iKlip 3 could solve. I wanted to mount my Surface 3 tablet to my tripod so I could use it as a monitor for my camera while taking photos.
The mic stand clamp mount turned out to be a little too small for my larger-than-normal tripod leg, so I mounted it on one of my smaller tripods for testing. The tripod mount included does feature a standard 1/4-20 threaded mount so I'll be able to use that once I get a little larger clamp for it.
The iKlip 3 certainly feels very rugged. The thermoplastic has a slightly flat finish that helps keep glare and fingerprints to a minimum. The holding bracket attaches to the mounts with a ball & socket connection. The ball portion has a rubberized surface where it contacts the socket. This provides for smooth movement while adjusting your viewing angle without having to loosen the clamp, but also makes it a little more difficult to position precisely.
The holding bracket has recessed areas for your fingers to aid in placing a tablet in the bracket. The bracket also has rubber grips to hold the tablet without marring its finish.
At first, I found it a little difficult to put the device in the holding bracket, but once you figure out exactly how to hold your particular device and how to pull open the bracket, it was pretty easy. It is quite a bit easier to put the device into the clamp when the clamp is actually attached to something.
I did find that I pinched my fingers when placing my phone in the bracket. This was mainly because I was holding it on the side and not from the ends as it's designed to be operated.
The ball & socket mounting area is perhaps the trickiest part to figure out. At first, I unscrewed it too far and half the socket fell out. I would prefer to see this part be captive so that there was no chance of dropping this part. However, once you figure out that you don't have to unscrew it that far and you can just pop the ball in with a little pressure it's not too bad to use. Once the ball & socket is tightened down, you can still position it with mild pressure.
Each of the mounting solutions features a spring mechanism that allows you to rotate the bracket in 12 steps by simply pulling outward and rotating it. I found this to be a little unnecessary because you can always just rotate the ball & socket joint with a little pressure since it never fully locks down.
The include thread adapters are a nice touch, allowing you to adapt from a standard 3/8″-16 tripod thread or 5/8″-27 male mic stand thread to the 1/4″-20 thread used for the tripod mount.
The iKlip 3 comes with free apps from IK Multimedia that can be used for various things, mostly in the area of music recording.
There's also a slot in the back that can be used to secure interfaces, cables or other accessories.
What I like
Strong device clamping mechanism
Multiple mounts
What needs to be improved
Ball design doesn't lock down all the way, but is still pretty solid for stationary use
Ball socket too easy to come apart
Clamping mechanism has pinch points
Final thoughts
Although I list some things that could be improved, they are minor things that either won't bother most people or don't impact the normal operation of the iKlip once you figure them out. They are more like "things that could be better" and definitely not deal breakers. Overall the iKlip 3 is a sturdy and versatile clamp that will hold almost all tablets. The mounting options allow you to use it in a multitude of configurations.
Price: $49.99 – $69.99 ($69.99 as tested)
Where to buy: IK Multimedia and Amazon
Source: The sample of this product was provided by IK Multimedia.