We use affiliate links. If you buy something through the links on this page, we may earn a commission at no cost to you. Learn more.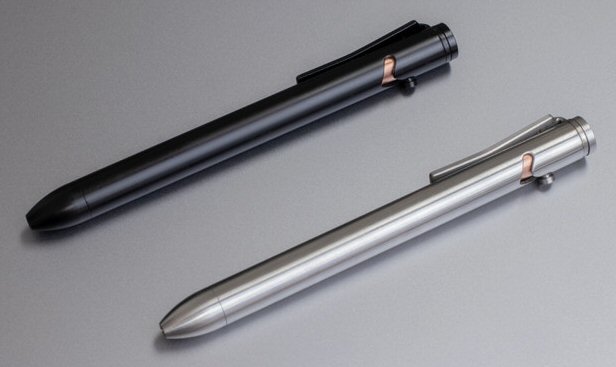 CROWDFUNDING NEWS – Of late, there has been a surge in really cool-looking crowdfunded pen campaigns on Kickstarter.  Here's another one: the REFYNE – EP1.  Its a minimalist bolt-action pen made from either stainless steel or titanium that looks like it would fit in with your EDC as well as become your favorite desk pen.  Let's check it out.
What is it?
The REFYNE – EP1: The Essential EDC Titanium Bolt-Action Pen's name nearly says it all!

Why do I like it?
In general prefer pens that are minimalist and sleek, and I've always thought that bolt-action deployment mechanisms look like they would be really fun to use, but I've not yet actually tried one.  The REFYNE – EP1 pen combines both of these features.  Made from either black PVD-coated stainless steel or polished titanium, it comes the Schmidt easyFLOW 9000 refill for smooth writing, but will accept any Parker-style refill.  The bolt-action mechanism slides up and down into a sort of "v channel" with a quick finger flick, and copper has been used for the internal sliding component to give a subtle bit of design flair.  Each pen includes a pocket clip that can be removed with a standard Torx T6 bit, so you can go even more minimalist if you prefer.
Where can I find more info?
REFYNE – EP1: The Essential EDC Titanium Bolt-Action Pen campaign ends on April 11, 2019 and they have already met their funding goal of $12,000. Pledge packages start at $39 for a black PVD-coated Stainless Steel pen and increase from there depending on the options selected.  After the end of the campaign period, rewards are expected to start shipping in June 2019. Visit the REFYNE – EP1 campaign site for more information or to become a backer.