We use affiliate links. If you buy something through the links on this page, we may earn a commission at no cost to you. Learn more.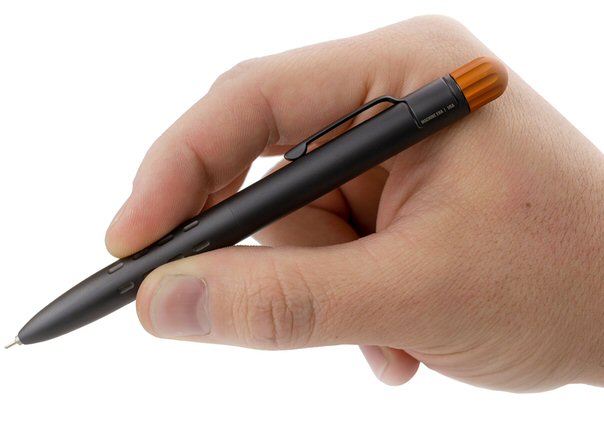 CROWDFUNDED – A good pen is a treasure, especially one with a cool style that is durable and writes well.  Machine Era has some very respectable experience in these matters, and their latest Kickstarter campaign—the Field Pen | Twist—looks more than promising, it looks like a big hit.  Let's check it out!
What is it?
The Machine Era Field Pen | Twist is a compact pen that "fits Parker style refills, has a machined body, tactile details, smooth 'lock in' action, and [is] an effortless gel writer from Itoya."
Why do I like it?
As I've stated previously, we like pens here at The Gadgeteer.  Personally, I favor pens that are compact, durable, and have a cool look.  Plus, one of my two current favorite pens is a twist-style.  So when I stumbled upon the Field Twist pen from Machine Era, it immediately caught my eye, particularly the version pictured above.  For starters, it is machined from stainless steel with a Schmidt Easy Glide twist mechanism, an Itoya Aquaroller 0.7mm acid free gel ink cartridge (Parker sized), and a clip made in a New England from spring steel.   It also has subtle tactile grip details, and a balanced center of mass.  Three versions are available: stainless steel in black with Diamond-Like Carbon (DLC), a type of PVD coating,  solid brass, and stainless steel.  If all that isn't enough, the folks from Machine Era's have experience with pen campaigns on Kickstarter, having successfully delivered two of them previously.
Where can I find more info?
The Machine Era Field Pen | Twist campaign ends on March 31, 2019. To date, over 300 backers have already pledged over $20,000 toward the $6,500 funding goal. Pledge packages start at $65 for a single pen of any of the style, or $195 for a set of all three. After the end of the campaign period, rewards are expected to start shipping in May 2019. Visit the Field Pen | Twist campaign site for more information or to become a backer.