We use affiliate links. If you buy something through the links on this page, we may earn a commission at no cost to you. Learn more.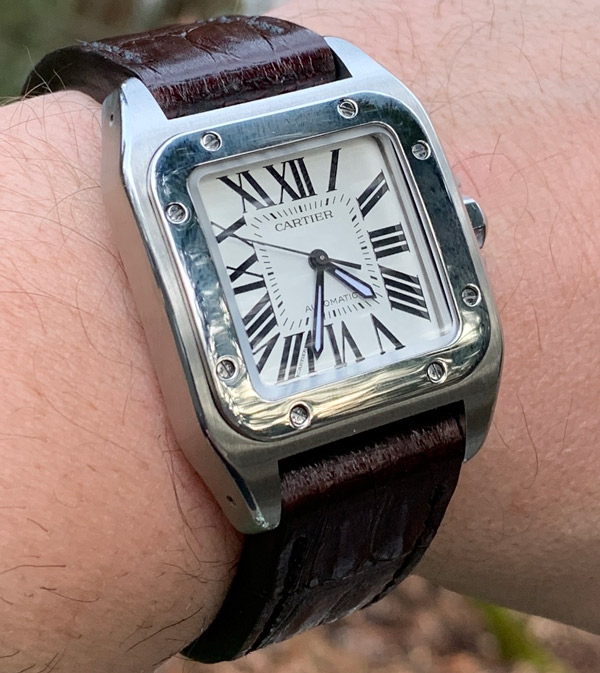 REVIEW – I have been a watch guy my entire life, always having some sort of timepiece on my wrist. Even in today's modern world of smartphones and Dick Tracy watches, I still prefer something classic telling me the time. Over the past decade, I have dipped my toe into the world of horology and luxury watches. As the story goes, I recently purchased a pre-owned Cartier Santos 100 on a crazy bright orange band and wanted/needed to swap the strap out for something a bit more my style (aka subdued). During my searches, I found a leather craftsman based in Taiwan who created me a gorgeous handmade band worthy of a Gadgeteer review.
I know some of you are questioning why I am reviewing something as simple as a watchband. My answer is simple: I consider the pocket/wristwatch to be one of the original gadgets and since we review accessories for tech and gadgety things here @the-gadgeteer all the time, I thought what the heck. Add in the fact that the leather work CheerGiant produces is some of the best I've seen, I thought you guys might want to check it out.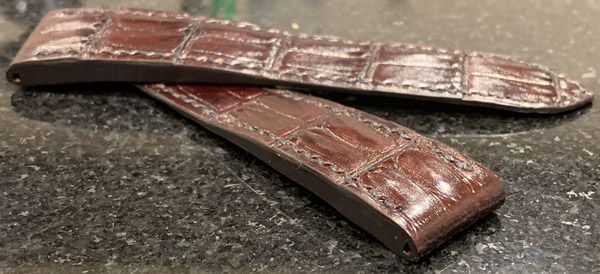 What is it?
This CheerGiant alligator watchband is handmade by George Lan specifically for my midsized Santos 100 and sized for my 7 inch wrist. I found the CheerGiant storefront on eBay and with further research discovered George is a well-known craftsman creating fine leather pieces for folks around the world.
Design and features
After much internal debate and string of emails with George, I decided to splurge and have him create my watchband out of alligator leather. This band is the first alligator leather I have ever owned or worn and hope it's as luxurious to wear as it looks.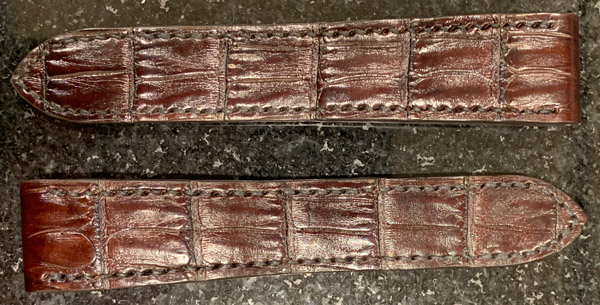 I went with a dark chocolate brown and black nylon stitching color scheme which turned out absolutely gorgeous and just as I envisioned. George tailors each band to perfectly fit the watch and person he is creating the strap for.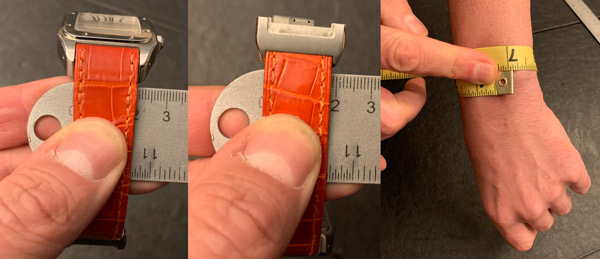 In my case, the band needed to be 20mm wide and 6mm thick on the sides that attach to the watch and 18mm wide and 1.5mm wide for the clasp. George was excellent to work with throughout the entire process: exact sizing, colors, shipping, and instructions/things to consider during installation.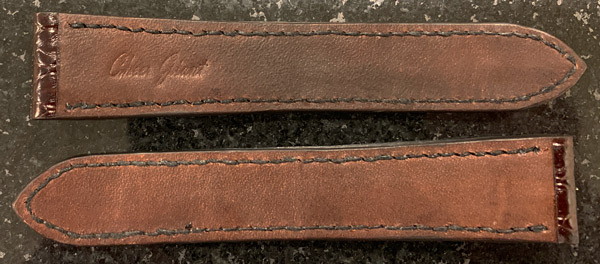 The inside of the straps are lined with a soft pigskin and embossed/signed with the CheerGiant logo.

The thickness tapers in the middle to accommodate the watch and its associated Cartier clasp mechanism. Overall the band works very well with the watch's lug spacing, how it wraps around my wrist, and clasp.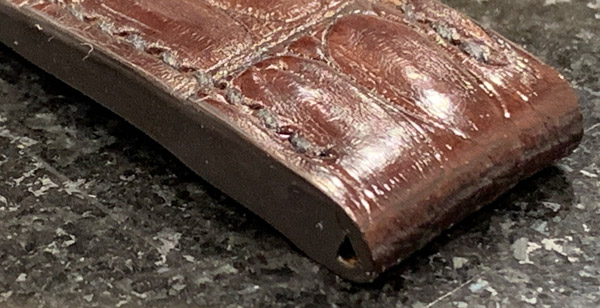 The quality of materials and workmanship put into this strap are awesome. Here you can see the old world craftsmanship and gorgeous leather of this band. The leather is perfectly stained and finished. The side edging is sanded and ever so slightly beveled.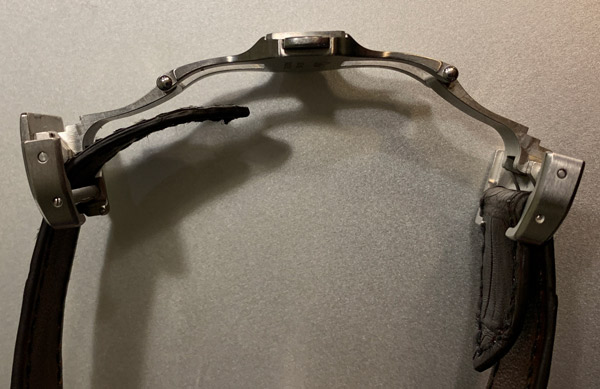 The Cartier Santos 100 comes with a very nice clasp that has to be considered when purchasing a watch strap. Each strap has to be created with just the right shape, width, and thickness to use the clasp.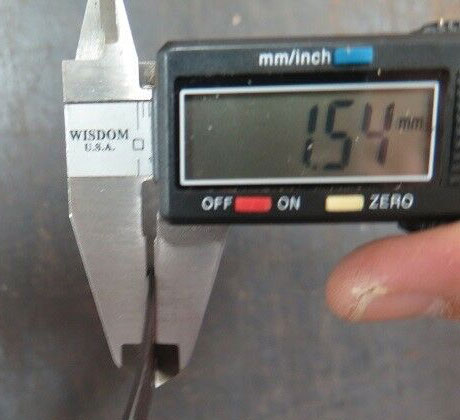 George was spot-on and the bands work very well with the clasp. The clasp takes a tiny bit of force on one side to close but I'm guessing that is more a factor of breaking in the leather than being too thick. During the process, he even took the time to send pictures of the bands and their thicknesses.
What I like
Handmade with old world craftsmanship
Absolutely gorgeous
Excellent material and construction quality
Perfectly fitted for my watch & wrist
One of a kind
What needs to be improved

Final thoughts
I have zero buyers regret splurging on this handmade alligator watchband. Like I said, it is just what I had hoped for, exceptionally made, and perfectly fitted for my watch and wrist. CheerGiant creates watchbands for a large range of watches from Rolex to the Apple Watch and everything in-between. George Lan is an excellent leather craftsman, creating me a high quality, handmade band that is one of a kind and much better made than the OEM one that came with the watch for a fraction of the cost. So, if you're considering upping the game on your timepiece, you should check out his creations on eBay.
Price: $200
Where to buy: Available on the CheerGiant eBay storefront.
Source: The sample of this product was purchased with my own funds directly from CheerGiant via eBay.