We use affiliate links. If you buy something through the links on this page, we may earn a commission at no cost to you. Learn more.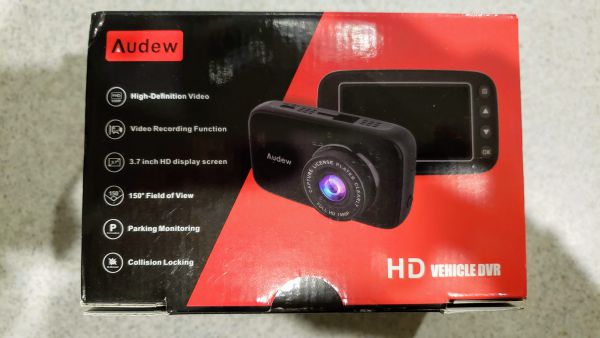 REVIEW – In an effort to find a reasonably priced dash cam that does not have a bunch of extra stuff that I do not need AND performs well, I volunteered to review the Audew HD Vehicle DVR.  Audew is a Chinese manufacturer that makes quite a few products across many product lines and sells them all on Amazon.  I reviewed their car vacuum cleaner last year on this website back in March of last year and found it adequate for the price you pay.  Let's see how their version of the car dash cam works out.
What is it?
The Audew HD Vehicle DVR is a car dash cam that advertises to provide several features:
Clear night vision
1080P HD at 30 FPS resolution in JPG format for pictures and MOV format for video
320MAH battery for parking monitor capabilities
3.7 inch LCD
Wide-Angle view coverage with a 150 degree angle of view.
Emergency and Loop recording
Built in G-Sensor for the emergency recording
Parking Monitor
Motion Detection
Auto Power Off and burst photo mode
Dimension: 89 x 52 x 31 mm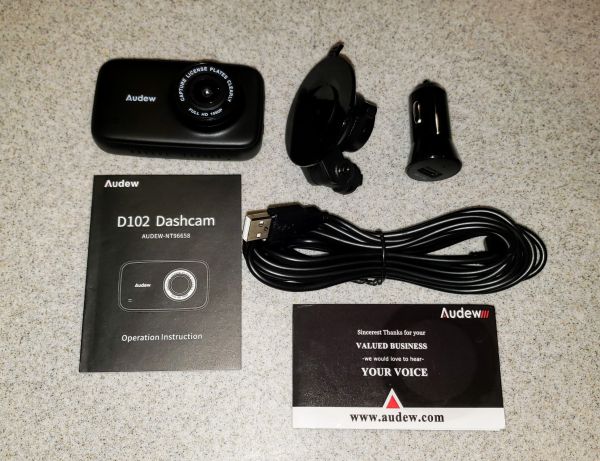 What's in the box?
The above picture shows what came in the nicely packaged box.  Everything was wrapped in its own individual plastic wrapping and packaged to keep it from damage.  Starting at the top left we have the camera itself, followed by the suction cup mount and car power adapter.  The next row has the instruction book, power cord and a card requesting any comments you may have about their product.  Note that there is no micro SD card included with the camera.  You will have to purchase that separately.  Audew recommends a class 6 or above card and to not exceed 32 GB.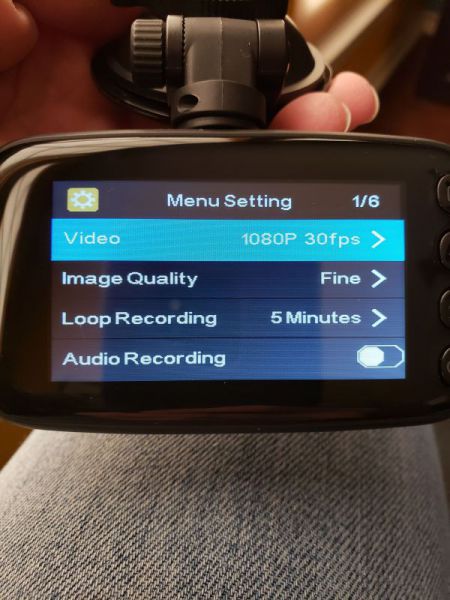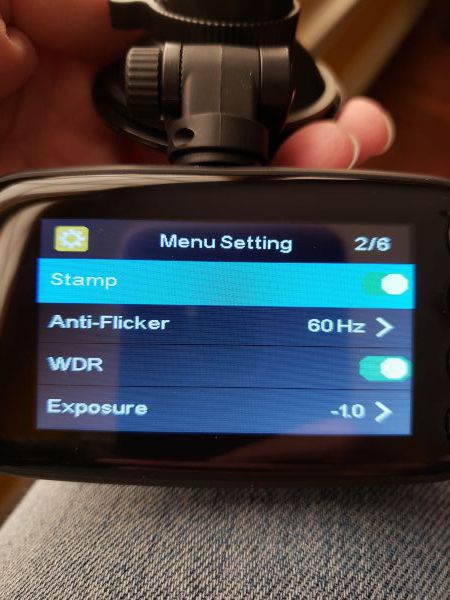 Setup and Use
The next few screenshots starting with the two above all show the menu system of the camera.  Starting with the left picture you will see the following options:
Video – Options are 1080p at 30fps, 720p at 30 fps, WVGA 848 x 480 and VGA 640 x 480  – I kept mine set at the 1080p option.
Image Quality – Fine, Normal and Economy.  I kept mine at Fine
Loop Recording – This indicates how long each video it makes will be.  The options are 1,3 and 5 minutes, and I kept mine at 5 minutes.
Audio Recording – this is an on/off switch to indicate if audio is to be recorded.  I set it to off.  No need to record my cussing as an accident is about to happen!
Stamp – This setting has two check boxes:  date and car plate.  If they are checked the date/time and your car license plate will be added to each video.  I only had the date option checked.
Anti-Flicker – this has options for 60 Hz or 50 Hz – I set it to 60
WDR – this is an on/off setting and I had this option turned on.  It is supposed to give you a wide dynamic range though honestly, I could not tell a difference with it on or off.
Exposure – this has options to set your exposure from a + 2 to a -2.  I started off at 0 and as you can see I was set at a -1 and eventually put it at a -2 in order to try and capture nighttime license plates.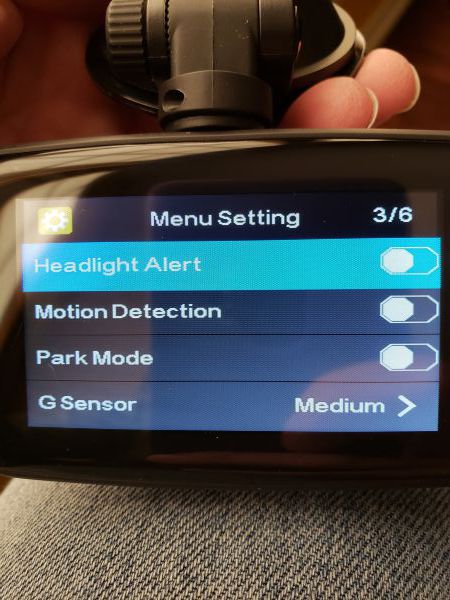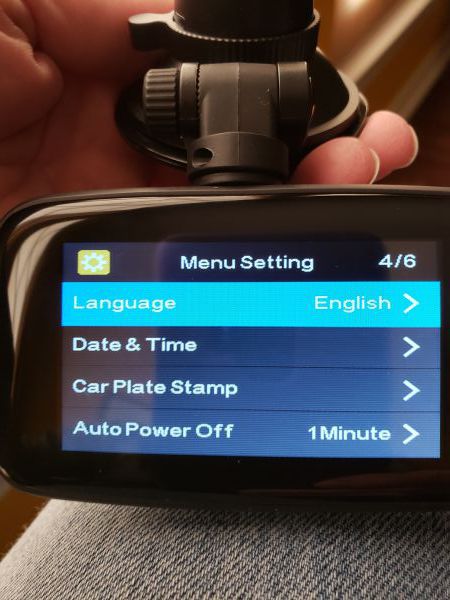 The options on the next two settings screens are as follows:
Headlight  Alert – Honestly I am not quite sure what this is used for.  I believe it is used with the Park Mode in order to make it sense vehicles coming your way.
Motion Detection – Used with park mode.  Detects movement in front of the camera.  If park mode is on and this button is on, if someone walks in front of your vehicle it will record it.
Park Mode – on/off switch to enable/disable the parking mode.  It should be noted that the camera is using its small backup battery in park mode and is not pulling any power from your car vehicle.  If a lot of motion is happening around your card and it is parked for a long time, it is likely the camera will eventually lose power.  I personally used park mode one day and got tired of the multiple recordings being made of me getting in and out of the vehicle.  I keep my car parked in a secure garage at work and in a garage at home.  If I were to live in an apartment where my vehicle was exposed to more people I would probably keep this on.  It is a nice option to have and the loop recording feature would just overwrite older video.
G Sensor – Options are Off, Low, Medium and High.  The default is Medium which is where I have kept it.  This is the sensor that will detect the need to make an emergency recording.  When I had park mode turned on, it was recording my getting in and out of the truck into the emergency folder.
Language – Options were English, Spanish, Italian, Chinese,  French and Dutch
Date & Time – this is where you set your current date and time
Car Plate Stamp – Here is where you would enter your vehicle's license plate number
Auto Power off – Options are None, 1, 3 and 5 minutes.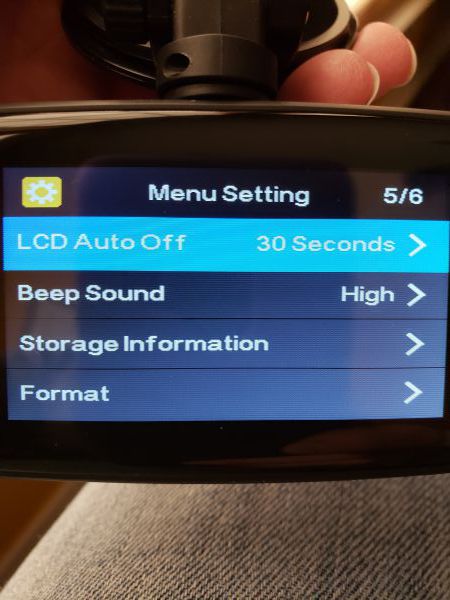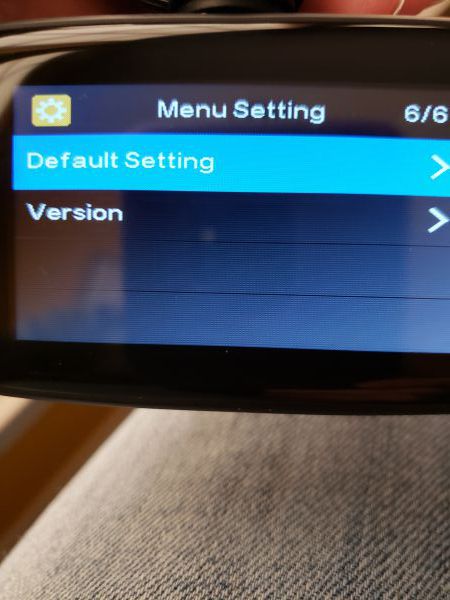 The last 2 screen's options are:
LCD Auto Off – It will come on automatically when the car starts.  This says how long it will stay on.  Options are 5 min, 3 min, 30 sec and always on.
Beep Sound – Low, Medium, High and mute – this is the sound the buttons make when going through the settings
Storage Information – displays statistics on your memory card, Total Storage, Amount Free and Amount used
Format – will format  your storage card
Default Setting – if you go into this setting and then click ok, all settings will revert to factory default
Version – displays the version number of the camera software.
The picture above shows how I mounted it in my Toyota Tacoma pickup truck.  On a side note, you may see to the right of the dash cam a mount for a GoPro camera.  Apparently, some if not all newer Tacomas come with this mount as a standard accessory.  I know that I did not pay extra for it.  You can see I mounted it right behind the rear view mirror.  When I am sitting in the driver's seat I do not even notice the camera.  I can hear the little chime it makes when I turn on the truck.  I also hear the chime it makes when I turn the vehicle off.  It turns off right at that 30 second option I set in the settings.  I have the wire running under the headliner and down the passenger side post.  It then runs under the glove compartment and into the accessory socket.  All in all, it is very unobtrusive and I do not notice it.  What is even better is that it just continues to work and I do not have to think about it.
The next two links below show records at day and at night with the exposure set at zero which means I used the default settings for the recording.  Daytime looks great, but at night license plates are not even visible because they are so overexposed with just the license plate light.
The next two videos show nighttime recordings with the one on the left having a negative 1 exposure setting and the second one having a -2 exposure setting.
This last recording is a daytime recording at the -2 exposure.  It is really just a bit too dark for daytime for my liking.
What I like
I love the price of this camera and I also love that its setup is really simple.  The menu system is very easy to understand.  Mounting with the suction cup is very easy and the locking mechanism on the cup gives me a good feeling about how well it will stay up there.  We shall see how this handles the mid-summer Texas heat later on in the year.  The cord was more than long enough for me to mount it where I wanted to.  I think even larger pickup trucks with more cab space should not have an issue with the power cord length.  The parking feature along with the motion detection and G Force sensor are really nice features.
What needs to be improved
My biggest complaint is the lack of clarity on license plates in the dark.  You can certainly see well enough around you and definitely tell who would be at fault in an accident with this camera, but the car really has to be in the right place to be able to get a good read on the license plate.  It was better at a negative 2 exposure, but then I felt it made the daylight recording a bit too dark.  It would also be nice if they included a micro SD card with the camera.
Final Thoughts
If you are looking for a reasonably priced camera to capture what is going on in front of your vehicle, provide parking lot capabilities and don't need WiFi capabilities or GPS capabilities, I feel this camera is a pretty good bang for the buck.  If other folks have used dash cams that have these same features for this price please let me know.  If they could just fix the exposure issue at night time it would be an awesome camera.
Price:  $49.99
Where to Buy: Amazon
Source:  The sample for this review was provided by Audew