We use affiliate links. If you buy something through the links on this page, we may earn a commission at no cost to you. Learn more.


REVIEW – With two young kids who are always eating in my truck, I spend quite a bit of money each month vacuuming the back seat area and the inside of their car seats. I really like the convenience of having a portable vacuum of my own to keep in my truck, but I have tried many and they just never seem to be up to the task. My two main complaints are usually the build quality and lack of adequate suction power. This review is for the MECO Wet Dry Hand Vacuum Cleaner. Let's see if it will finally be the one that can handle the job.
What is it?
The MECO Wet Dry Hand Vacuum Cleaner is a cordless vacuum dust cleaner that is lightweight and portable and can be wall mounted for easy storage. Since it has a built-in rechargeable battery, it can also be used in your car or wherever you need.
What's in the box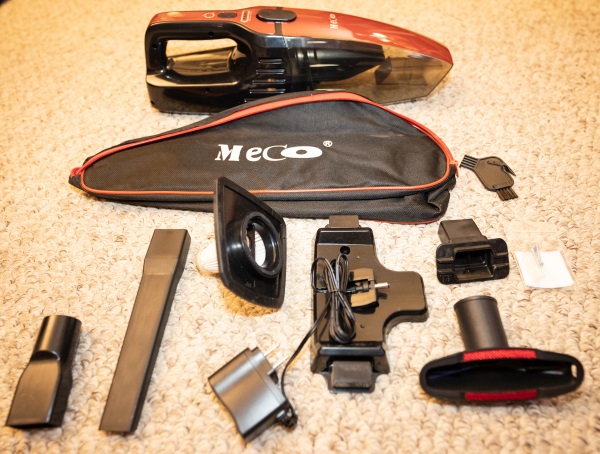 1 x Meco Wet and Dry Vacuum Cleaner
1 X Multi-Function Brush
1 x Suction Nozzle
1 x Crevice Nozzle
1 x Storage Bag
1 x Wall Mount
1 x Set of Wall Mounting Screws
1 x Cleaning Brush
1 x AC Adapter
2 x HEPA Filter
1 x Dust Filter
1 x Instruction Guide
Design and features
Features:
Input: 100-240V, 50/60Hz
Output: 9.4V, 500mA
Size: 16.26 x 4.72 x 4.45 in
Weight: 1.6KG
Battery: 2000mAh
Vacuum: 3-5K PA (2 Speed)
Charge Time: 4-5 hours
According to the manufacturer:
【Dry & Wet Amphibious】Perfect for cleaning dust, debris, crumbs, pet hair, dog hair, cat hair, as well as liquids.
【Clean the pet Hairs】MECO handheld vacuum can be an ideal helper for vacuuming small debris quickly and conveniently, such as food debris, paper scraps, dirt dust, melon seed, pet fur, cigarette ashes, as well as liquids
The Meco Wet dry portable vacuum cleaner is a sleek looking handheld vacuum that measures approximately 16.26″ x 4.72″ x 4.45″.



On the top of the vacuum there is the button to connect/disconnect the dust canister, and behind it, there are 4 blue LED lights that represent the battery charge level in increments of 25%. Behind the LED lights there is the power button that when depressed offers 2 levels of power.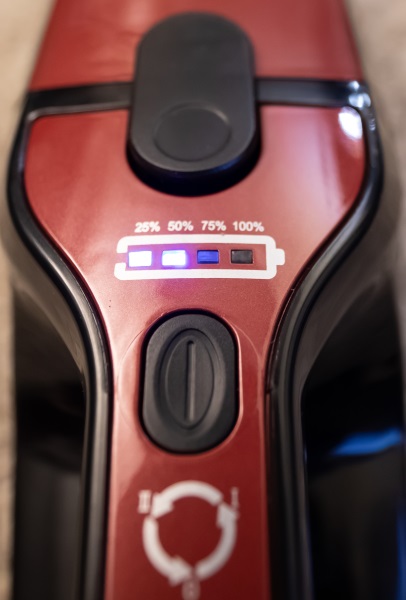 The picture below shows the vacuum with the multi-function brush attached and below it is a picture with the reverse view.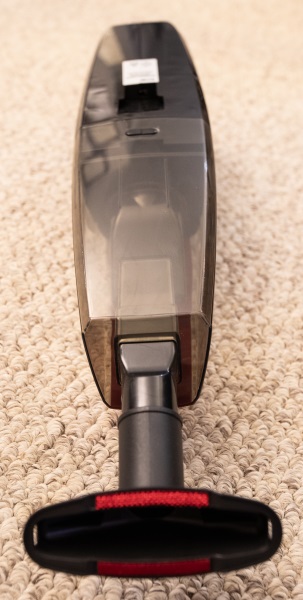 Approximately midway on the bottom of the vacuum is the slot to attach the wall mount with the ac adapter port.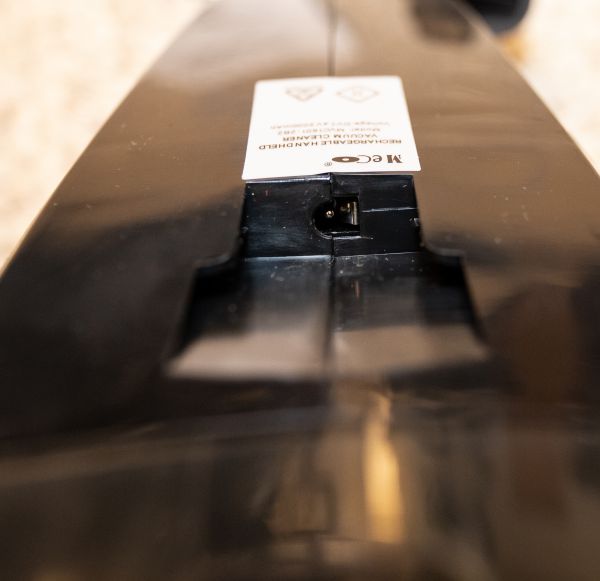 The wall mount connects to the slot on the rear of the vacuum and there are conduits to attach the AC adapter cord and plug to the wall mount.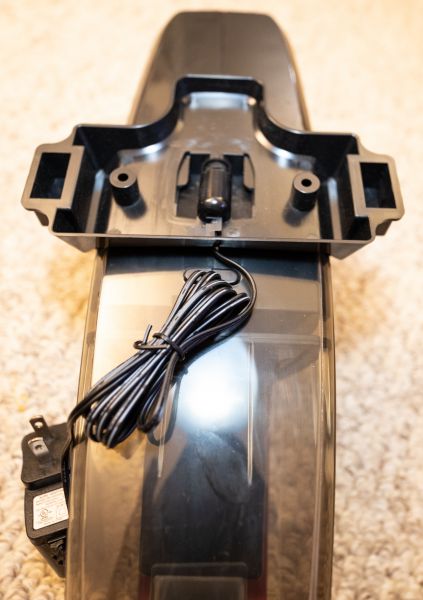 The picture below shows the internal design and connecting points between the canister and the body of the vacuum.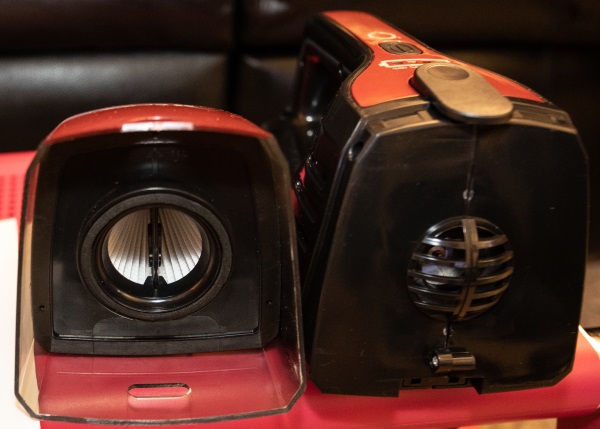 Performance
The illustration below shows the parts of the vacuum cleaner and how they connect. The vacuum arrives fully assembled and partially charged. Once I charged it fully, it was ready for testing.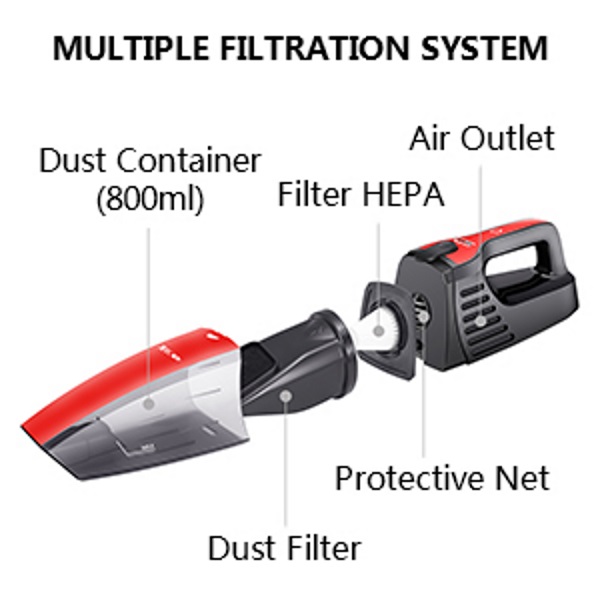 The first video below shows me trying the vacuum without any nozzle or brush just to see if its suction is strong enough to pick up any loose debris. It was not able to pick up much.
This next video shows me using the crevice nozzle to get between the ribs of the car mat to suction up debris. While the vacuum did do a better job with the nozzle, it still does not have enough suction to pick up all of the debris unless it is quite tiny. And, I did try it using the highest suction setting.
The last video shows me using the multi-function brush in one of the child car seats after my son had just enjoyed his fill of french fries. This time the vacuum with the brush did a better job but still did not suction up quite a bit of the debris.
I also tried the vacuum with sucking up water and again, in my opinion, it did just an ok job.
What I like
It is lightweight
It comes with a storage bag
It has a wall mount for that mounting option
Several useful accessories are included including an extra filter
What can be improved
Final thoughts
The MECO Wet Dry Hand Vacuum Cleaner is a lot like several other hand vacuum cleaners that I have tried. I use this type of vacuum more for cleaning my truck than for in my home. I really like that this vacuum comes with a nice storage bag and several useful attachments, in addition to being capable as both a wet and dry vacuum. However, I do not find the suction to be any greater than others in the same class, and as seen in the videos in this review, its suction is in no way exceptional or strong enough to pick up much of the debris on the floor mats in my truck. In addition, I am concerned about how it will stand up to normal weekly use since parts of it do not feel sturdy enough to provide much assurance. For the price, it is a decent vacuum for light and loose dust, but not for heavy duty vacuuming needs.
Price: $45.99 – (Meco is offering 30% off with code: MSS29A95 – End date 01/15/2019)
Where to buy: Amazon
Source: The sample for this review was provided by Meco.