The Gadgeteer is supported by readers like you! If you buy something through links on our site, we may earn an affiliate commission at no cost to you. Thank you! Learn more.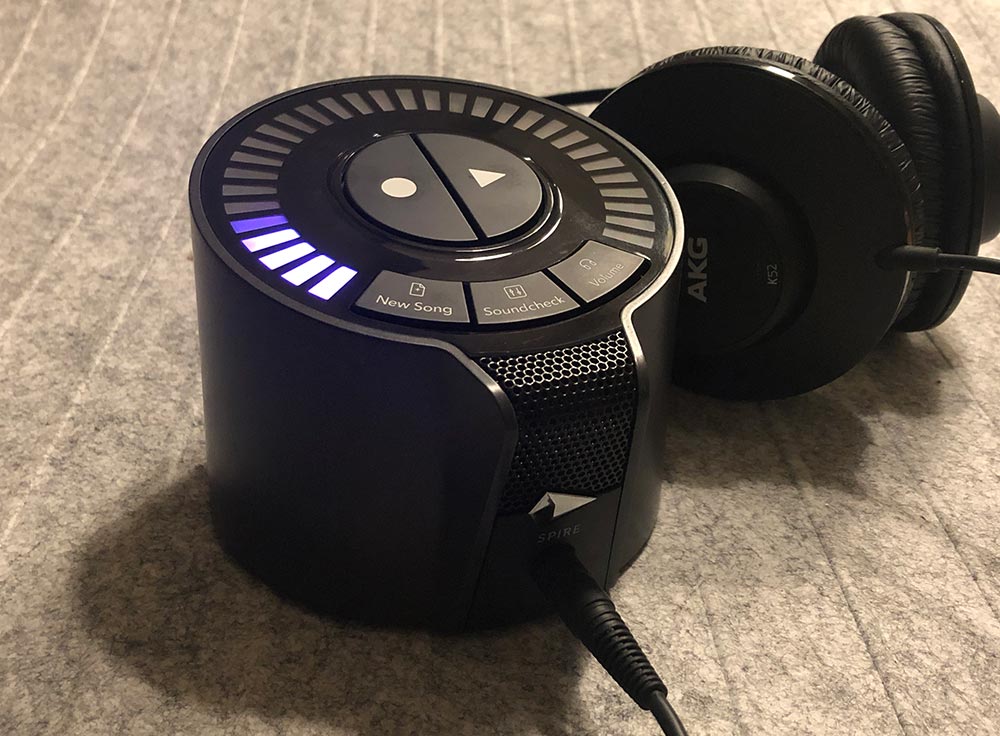 REVIEW – There's no right or wrong way to record music. In fact, taking you out of the zone is the main thing that should be universally avoided. Spire Studio from iZotope is a new product that seems to have been developed specifically to make sure that doesn't happen.
What is it?
Spire Studio is a recording interface that harnesses the power of your phone touchscreen while minimizing the typical interactions to let you focus on your music. They've also packed in a bunch of cool features and portability to boot. Sound good? We agree, so together with my son Satchel, we gave it a run through to see if it lives up to its claims.
Hardware specs
Weight: 1.6lbs
Dimensions: ~4.8 x 4.4 x 3.4″
Inputs: 2 XLR/TS combo jacks, 48v phantom power
Outputs: 2.5mm headphone jacks
Sample Rate/Bit Depth: 48kHz/24-bit
Wifi: 802.11 b/g/n w/ 2.4GHz
Power Supply: Universal power adapter
Battery: Internal rechargeable lithium ion
Battery Life: 4+ hours
OS Support: Android, iOS
What's in the box?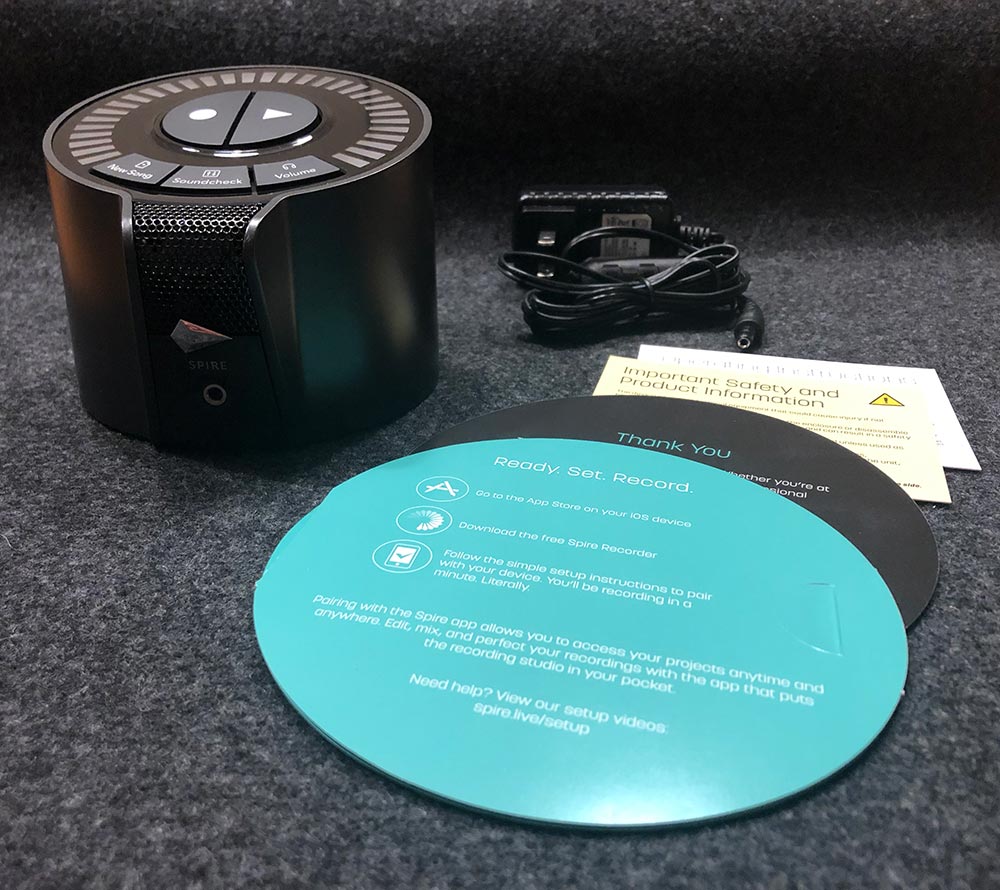 Spire Studio
Power supply
Quickstart guide
Design and features
Straight out of the box, the quality is evident. Spire Studio is cylindrical design with a metal construction and some significant heft. The combination of materials and surfaces feels balanced and intriguing at the same time. The rubber feet give it a solid stance on any surface.
The top or face has a circular, segmented LED panel that's angled toward you, along with five physical buttons. Record and Play buttons are most prominent, being evenly split in the center of the device. At the bottom, you'll find buttons for New Song, Soundcheck and Volume easily accessible and still easy to press.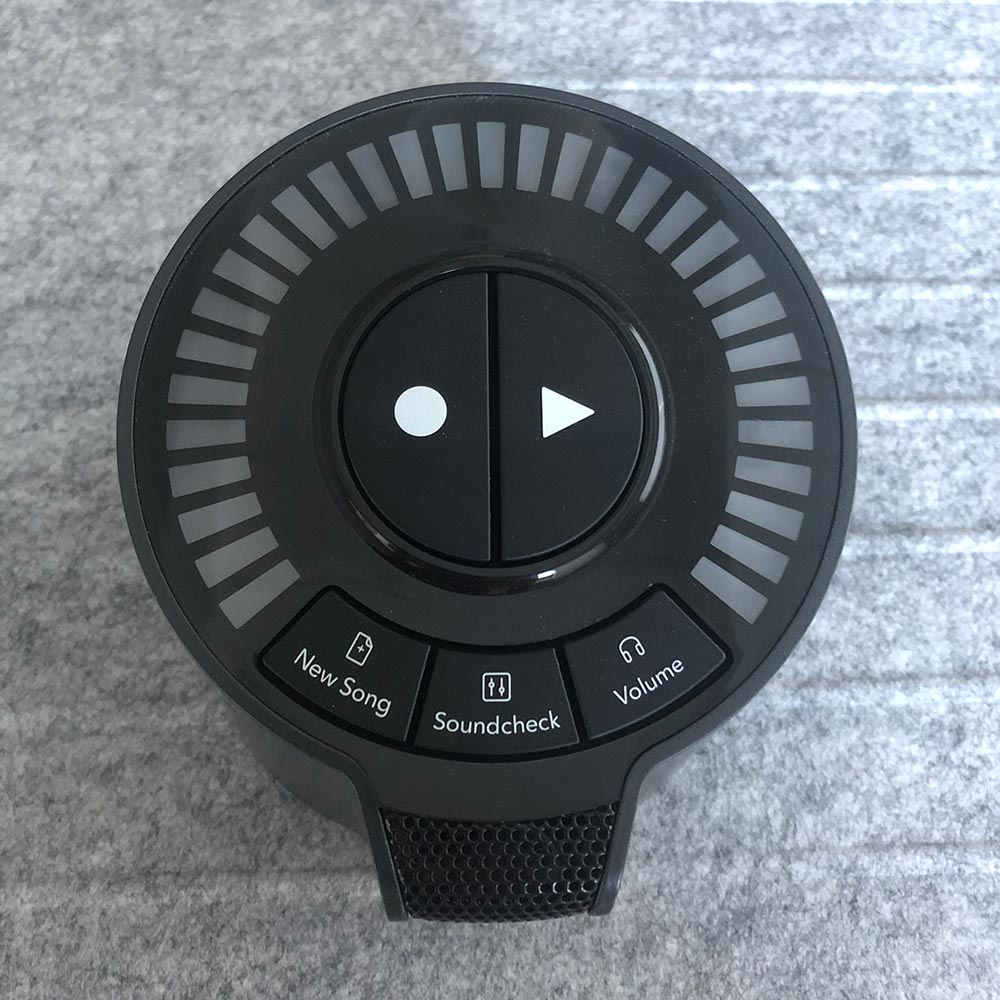 On the front, a built-in microphone is behind a protective metal grill with a 3.5mm jack just below for easily connecting a pair of headphones.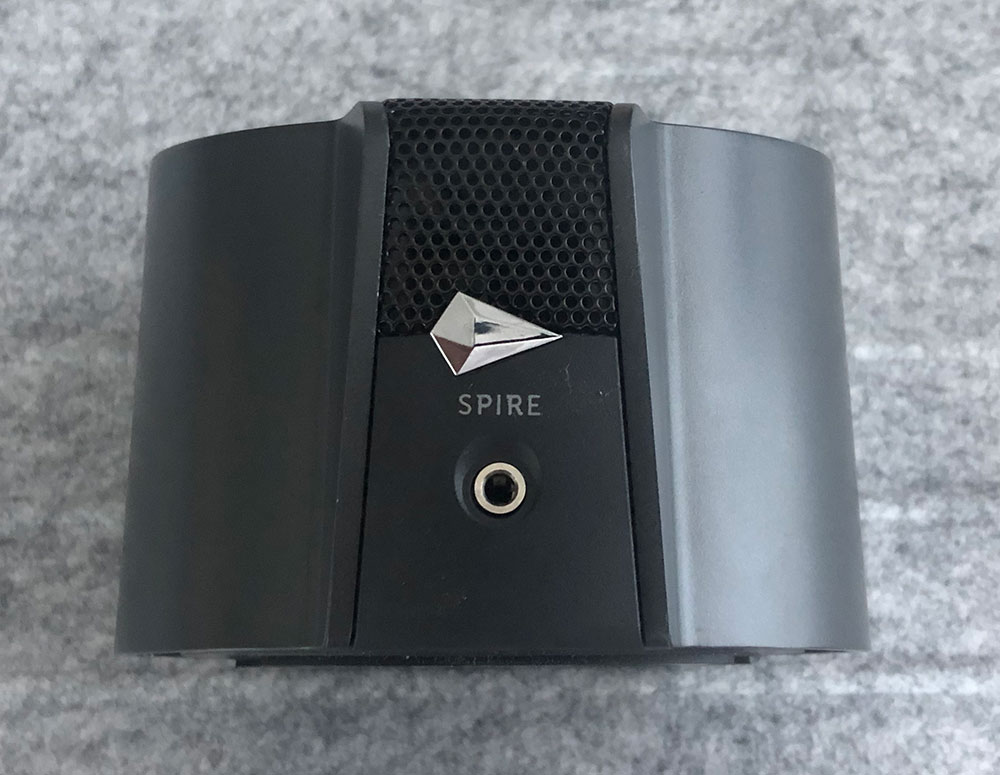 The back panel sports a pair of combo inputs that combine XLR and 1/4 inputs expanding your connection possibilities. Input 1 disables the front mic if you connect a microphone and there's a corresponding push button for toggling 48v phantom power should you need it. An additional headphone jack at the top, power supply jack and power button round out the panel at the bottom.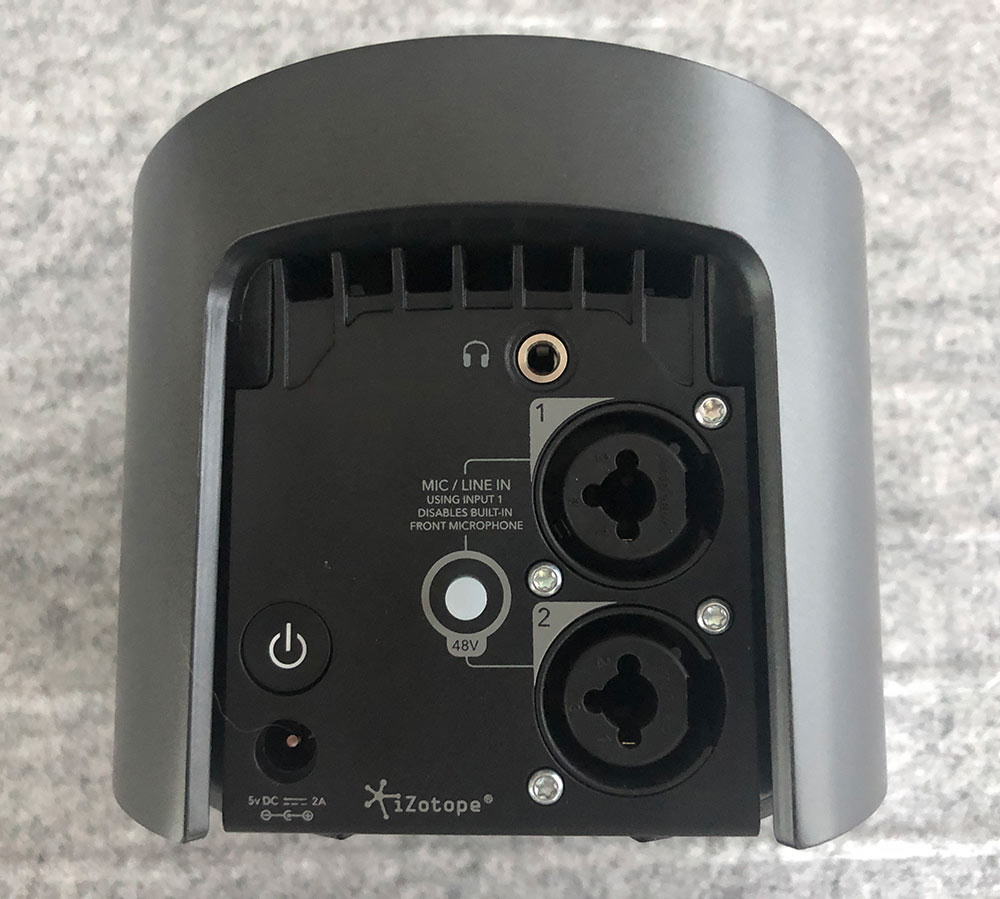 The built-in battery is an excellent addition as it means you can record for up to 4 hours, even if you're nowhere near an outlet. Now creativity really can strike whenever it wants. Possibly the coolest and most useful feature is the Soundcheck button. A single press and Spire Studio listens to your surroundings and optimizes the microphone settings to your surroundings for the best possible recording parameters. Very cool. Here's a video of that.
Setup
Getting started is pretty easy. Download the app from the requisite store for the OS on your phone or tablet and follow the prompts. It will ask you to power on Spire Studio (Make sure the Studio is fully charged or at least plugged in) and then go into settings on your device to connect to the Wifi broadcast by Spire.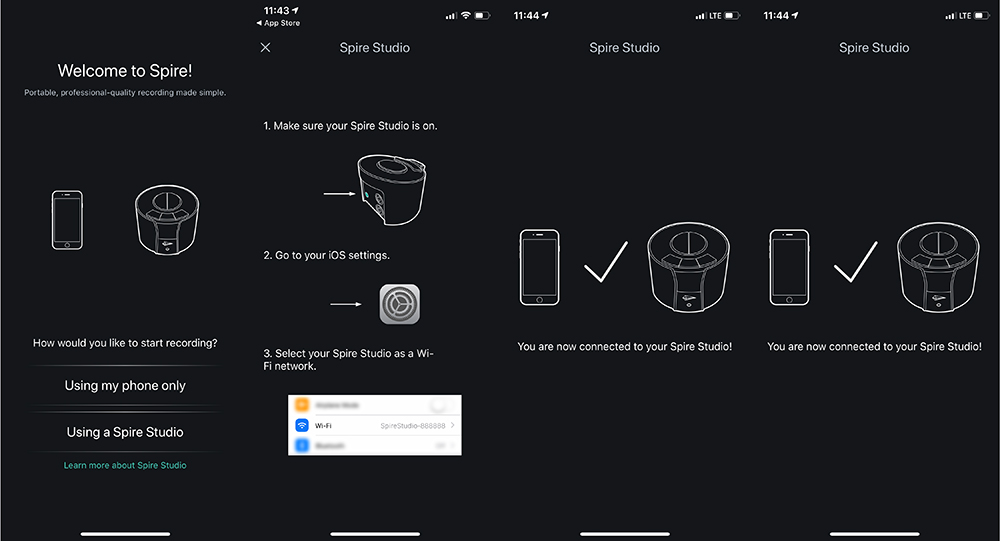 Bounce back to the app and give it the permissions it requires. You're now set up. If you need to adjust anything you can make adjustments within the app settings shown here on the left, or the device settings on the right.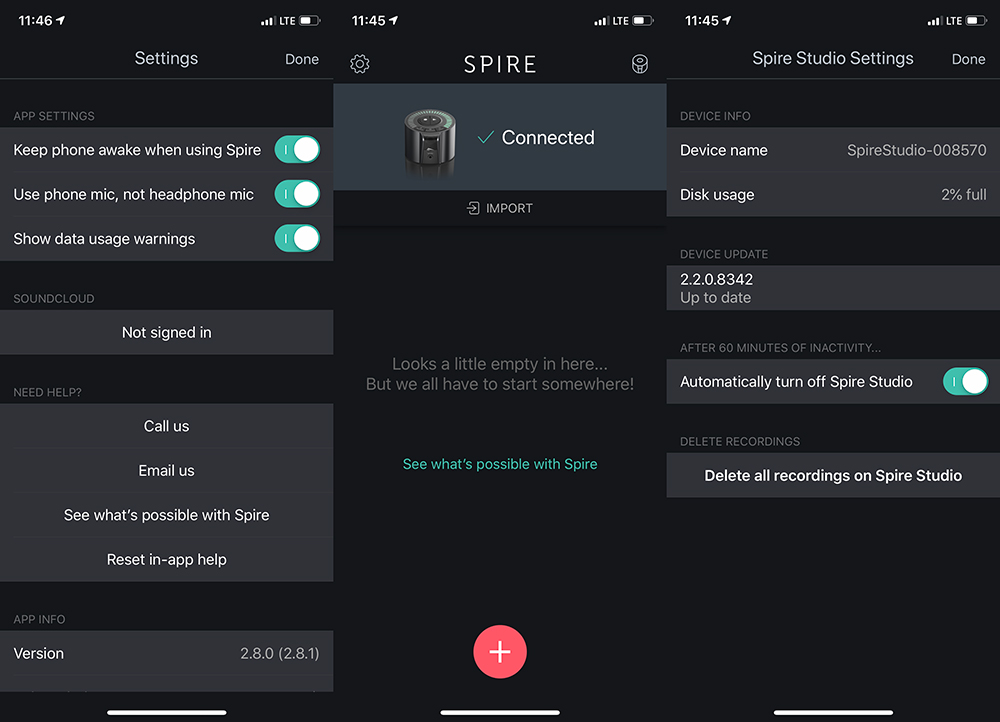 Performance
Spire Studio is pretty fun to use and also very visual as the LEDs provide visual feedback as to what's going on. Take a look.
Powering Up
Powering Down
At startup you will be dropped right into recording mode. You'll want to connect any electrical instruments to the combo jacks on the back of the unit or just rely on the built-in mic if you're singing or playing acoustic. Hit record and the onboard mic does its magic and the input jacks do the same. When you're finished hit record again to stop. Here's how that looks, with a demonstration of the New Song button which also starts recording mode.
If you hit record again, it will create a new track which you can then later mix within the app. To listen, make sure your project is selected in the app and then hit play on the app or on the device. You will need to connect headphones to one to be able to hear playback.
If you're looking for some help keeping time, there's a built-in metronome that is loud enough to hear through while playing and yet magically does not get captured in the recording. Here's how it works.
When it comes time to mix some tracks together, the trim function is pretty key. Here's how the app handles that.
Spire Studio recognizes different devices, or at least different accounts. When I connected there were no songs in the project library, but my first recording showed up as Project 6 which makes sense later as Satchel said he saved a handful of things. Your recordings are tied to your account, so you can switch back and forth between a tablet and a phone if that's your thing. Just know that on the second device you'll need to "register" with the same account info as you did your first device since there's not a "login" option.
Satch was able to feel comfortable with the system pretty quickly and worked up this little Sandman mix complete with eight tracks. It's cool that in the video you can see the segmented LED display correspond to the different tracks.
As for listening to what you've recorded, you ideally want balanced audio playback. Headphones are best for this and it makes sense that Spire provided 3.5mm jacks for connecting them. However, the circumference of the Studio is large enough where some extra height could have accounted for a down-firing speaker to provide some kind of on-device playback. You can definitely plug in an aux cable to a portable speaker as I did in the above video, but a built-in option would have been nice.
What I like
Quality and precision build of the device
Easy to use controls
Battery for recording on the go
What needs to be improved
Printed manual – Felt missing at this price
Speaker option for playback
Final thoughts
There's a lot more to discover with the iZotope Spire Studio. It's a powerful tool and really does streamline the recording experience, letting you just get down to the creative task of recording. It's solidly built and I can see this outlasting other options out there by a good bit. Satch will continue using it over the next few weeks and we'll update this post with some additional thoughts and sounds soon. In the meantime, here's a parting vid I wasn't expecting to see that had me laughing.
Price: $349
Where to buy: Spire and Amazon
Source: The sample of this product was provided by iZotope.