We use affiliate links. If you buy something through the links on this page, we may earn a commission at no cost to you. Learn more.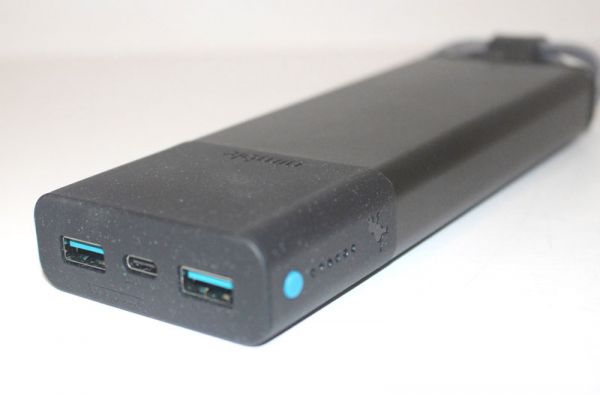 REVIEW – The market for portable charges has come a long way.  I remember when the best portable charger you could get would only charge your cellphone about half way.  But hey, at least you had that!  I have owned just about every configuration you could think of when it comes to size, capacity, number of ports, wireless vs wired, all forms of USB, etc.  So it has to be hard to come up with something that makes you different, right?  Until now.  Maybe.  Some guys at Mophie, one of the leaders in this space, decided to leave and start their own company and do things that no one else was doing.  So let's see if the $69.95 Nimble charger has enough to break into this crowded market.
What is it?
Nimble has multiple portable chargers in different configurations, from 10,000 mAh to 26,000.  This one is their 20,000 mAh portable charger that allows you to charge any USB device using 2 standard USB ports (1 being a Quick Charge port) and 1 USB-C port.
Hardware specs:
Dimensions: 2.5″ x 7″ x 1″
Weight: 16.5 oz / 1.03 lbs
Capacity: 20,000 mAh (3.6V, 72Wh)
Input: USB-C: PD 3.0 (5V,2.5A / 9V,2.0A)
Output: USB-C: PD 3.0 (5V,3A / 9V,2.0A/ 12V,1.5A) USB-A 1: (5V,2.4A / 9V,2.0A / 12V,1.5A) USB-A 2: (5V,2.4A Max)
Compatible with: iPhone 6, iPhone 7, iPhone 8, iPhone X, iPhone Xs/Xs Max/XR, Samsung Galaxy Note8/Note 9, Samsung Galaxy S7/S8/S9, Google Pixel, Other Android Smartphones, iPad, Other Tablets, Fitness Trackers, & USB-Powered Devices
What's in the box?
The Nimble 20,000 mAh portable charger, a magnetic cable holder and strap that attaches to the bottom of the battery, a 1 ft USB-A to USB-C cable, and a small product manual.  Also included in the box is a plastic sleeve that enables you to mail back for recycling any old tech products that fit in the bag.
Design and function
One of the big things that the guys at Nimble want to accomplish is to be a different kind of Tech Company.  You can read much more about this on their website where they have posted some great video clips explaining their mission and goal with Nimble.  To sum it up, (and I can't really do it justice, so please visit gonimble.com to hear what they have to say) they want to reduce the massive volume of e-waste in the world by designing a product and packaging that is made with things like 100% recycled aluminum, 100% recycled scrap paper, corn, sugarcane, mica, and they use no inks or dyes of any kind.  So when it arrived at my house the box and packaging were decidedly non-descript and there was very little air in the box.  They only ship directly to the consumer and avoid retail so they don't need fancy packaging that uses materials that aren't biodegradable or recyclable.  They believe in those things so much that they even include a plastic sleeve in the box so that you can return for free an old tech product for recycling instead of dumping it in a landfill.
That is one of the 'big rocks' that Nimble wants to focus on.  They believe that having this mission will not only be better for our planet but also attract consumers who will buy into their mission and use their products.  I think they have something there, and I am willing to bet that others will think so too.  But aside from their mission, which is a noble one, does the product also set itself apart from others in the market?
My answer is… yes and no.
First, let me talk about what is good about Nimble.  The design and build feels premium to me.  It feels solid and the speckled soft-touch outer shell is really nice.  All the ports are on one end, as they should be. (I hate those chargers that try to get fancy and put a port on the side).   There is a button to turn it on next to 6 indicator lights.  The first light is green during normal speed charging and orange during fast charging, which is also as it should be.  It has pass-through charging which is better than some chargers that don't allow that.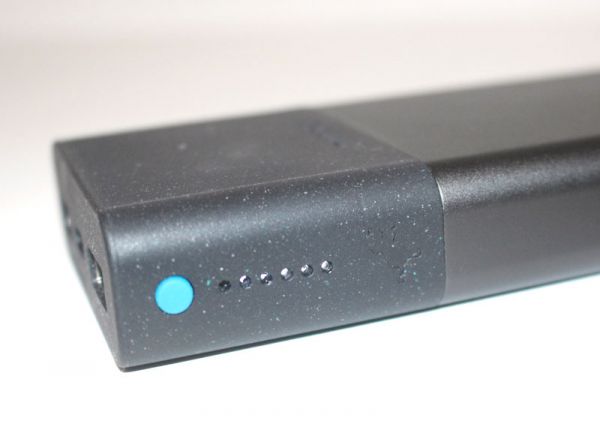 The 20,000 mAh capacity means that for me I get about 5 charges on my cellphone (Samsung Galaxy S6 Edge+) so it lasts for a long time before I have to charge it.  The Quick Charge feature works with my Samsung which has Quick Charge, and it performs just as good as some of my other Quick Charge portable chargers, so no complaints there. The USB-C port in the middle of the 2 standard USB ports is used as an output to USB-C compatible devices, and doubles as the input for charging the Nimble.  I can charge multiple devices at once, which is good because I constantly need to charge something.
And now let me share what I don't like about the Nimble.   I don't care for the magnetic cable attachment and strap that attaches to the bottom of the Nimble.  It is pitched as the way you keep the 1-foot USB-C cable with the battery.  But the magnet isn't strong enough to really do any good.  I have yet to put the Nimble and magnetic attachment into a bag without the cable attachment falling off. (see pic below)  Honestly, it is pretty much useless. Including a nice bag made of the same wonderful materials they use with their products would have been a better idea.  I also am disappointed that the Nimble comes with a measly 1-foot USB-C cable.  You can't do much with a 1-foot cable.  You can't even really use your phone when charging it with this cable because it is so short.  Even a 1.5 ft cable would have been better than this one.  And it doesn't come with a power brick either.  The largest Nimble battery comes with a power brick, but this model did not, so I have to use other power bricks that I have.  For a price of $69 I would expect a power brick.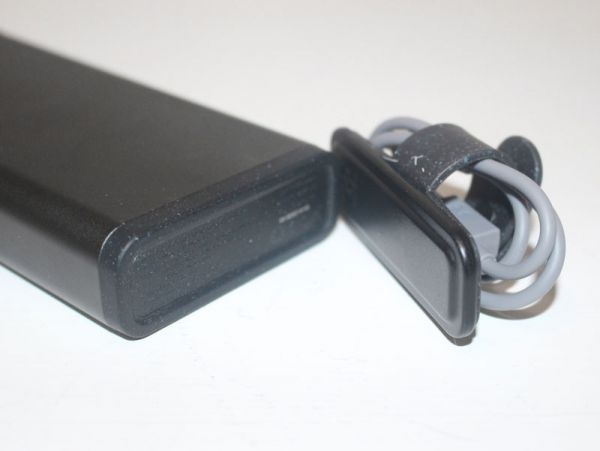 Finally, I don't have a deep knowledge of the trials and tribulations of the USB charging standards, but there are some things that I do know.  In plain language, the Nimble's 18W maximum output for USB-C PD (power delivery) doesn't measure up to other USB-C PD batteries in the amount of juice it can output.  The USB-C PD standard is going to become more prevalent over time I believe, as more and more devices come with USB-C interfaces.  And when you look at similar products out there, the 18W maximum output for the Nimble's USB-C PD port just isn't that impressive.  It should easily be at least 30W to compete in this space.  So to keep it real, what does that mean in plain language?  Well, if you are only going to use the Nimble with your cellphone and a few other small gadgets, you'll be fine.  This 18W maximum output for the USB-C port is all you need.  But if you decide to use a laptop, for example, that has a USB-C power cord like some of the Macs out there, you won't be happy.  The USB-C port simply isn't strong enough to pump out power to those type of larger devices.
What I like
Premium build and feel
20,000 mAh capacity is great for many days of use
Their corporate philosophy and vision for reducing e-waste is enviable and worth considering
What needs to be improved
18W USB-C PD output isn't as robust as some competing products.
The magnetic strap holder is basically useless
No power brick
1-foot USB-C cable is frustratingly short
Final thoughts
I am a firm believer that you can't have too many portable chargers.  I have one everywhere.  The Nimble products are well designed, and their corporate philosophy of product and package design that is environmentally sustainable should be adopted by the entire tech industry in my opinion.  There are a few annoyances like the 1-ft cable, no power brick, and the magnetic cable holder that could be fixed by Nimble if they wanted to fix them.  And the limiting 18W maximum output for the USB-C port won't be useful to everyone.  But I believe that the Nimble is useful to most folks.  At least for now.  I imagine that Nimble has already heard from consumers about this issue and will fix it in upcoming iterations of their products.  But for now, the Nimble is worth considering if you are in the market for a portable charger.
Price: $69.95 (use GADGET20 to receive 20% off sitewide)
Where to buy:  at Nimble.
Source: The sample of this product was provided by Nimble.