We use affiliate links. If you buy something through the links on this page, we may earn a commission at no cost to you. Learn more.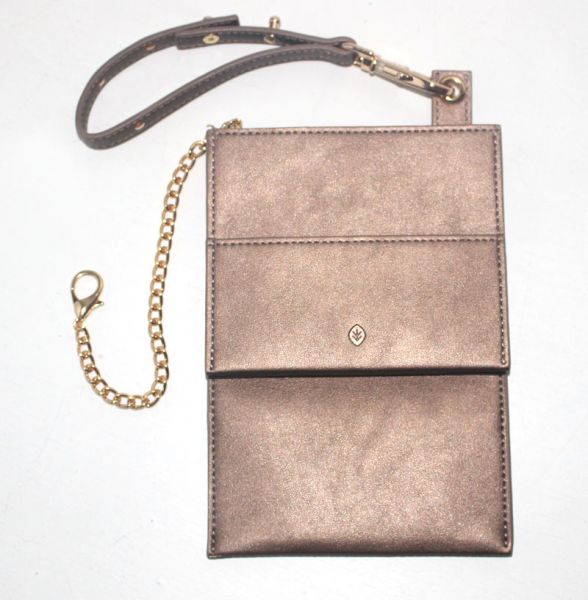 REVIEW – My wife was excited when I showed her the Bag Branch Folio.  She said, "Oh yeah, I need that."  So we got the 5-pocketed Bag Branch Folio 5 so she could give it a spin.  You see, my wife spends inordinate amounts of time fumbling through her bag/purse to find things.  Where are my glasses?  Oh yeah, in the bottom of the bag.  Where the heck is a pen when you need one?  Oh yeah, in the bottom of the bag.  So she was looking forward to the Folio 5 solving some of her problems.  Let's see how it turned out.
What is it?
The Bag Branch Folio is a multi-pocketed leather accessory that holds all the essentials inside your bag/purse (glasses, credit cards, lipstick, cellphone, etc) and enables you to easily transfer them between bags/purses.  You can get a 5-pocket or a 6-pocket version.  My wife reviewed the 5-pocket Folio 5.
Product specs
Overall size: 4.5″W x 6.5″H
5 connected-pockets: 1 full-height, 2 mid-height, and 2 card slots
Removable keychain: 8.5″L
Adjustable loop: 4.5 to 6.5″L
Rose-gold tone hardware
Weight: 5 oz
Lightweight Vegan leather
Lined
30-Day Money Back Guarantee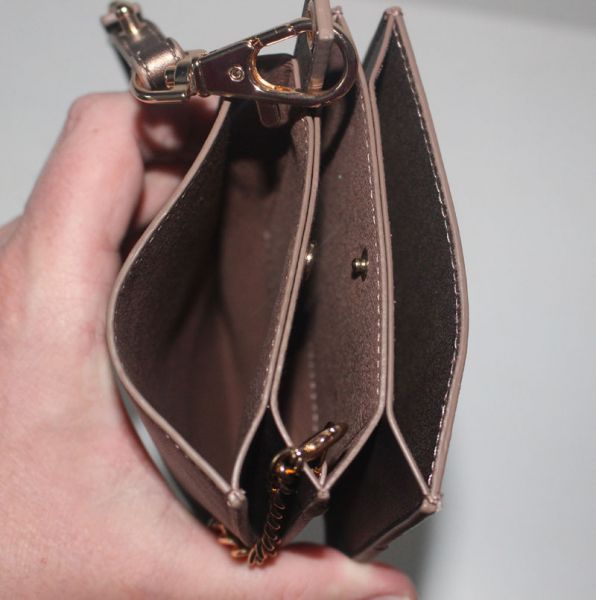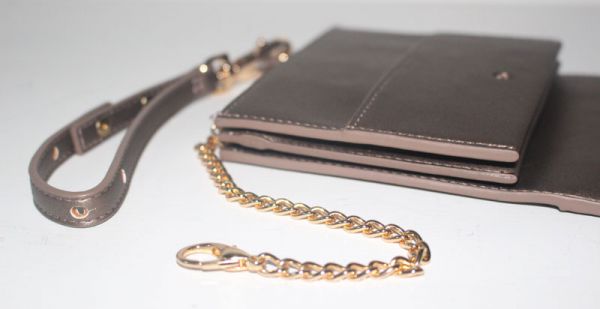 Design and function
The Folio 5 has 1 larger pocket that easily holds a cellphone or sunglasses, although not both at the same time (more on that soon).  It has 2 mid-height pockets that could hold many things such as earbuds, lipstick, money, etc.  And there are 2 'card' pockets, which are designed to hold credit/debit cards.
There is an adjustable loop that is used to attach the Folio 5 to your bag/purse by attaching it around the handle/strap.  There is also a slender chain that attaches inside the Folio 5 with a clasp on the other end to attach to any number of things such as keys.
If used as designed, it works great.  Which means, it is designed to live inside your bag/purse to hold your essentials that usually get lost in the bottom of the bag, making them easily accessible when you need them.  Transferring the Folio 5 to the next bag/purse you are using is a breeze.  Simply remove the loop and attach it inside the next bag/purse.
When my wife first got the Folio 5 it was right before we went out for the day to do some shopping.  She put her cellphone in the larger pocket and filled the other pockets with things she normally takes everywhere with her: A few lipstick/lip gloss items, her cellphone, various credit cards, and cash.  She grabbed the handle/loop and away we went. She quickly discovered that the Folio 5 is not meant to be a substitute for your clutch.  She was constantly worried about the lipstick items and credit cards falling out because the pockets aren't designed to close (although one of the mid-sized pockets does have a single snap-button to semi-close it).  She was also unable to put both her cellphone and glasses inside the Folio 5 because there was only 1 large pocket.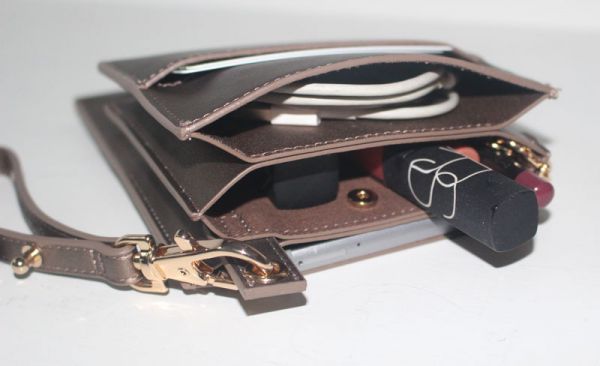 To be fair, Bag Branch never claims that the Folio should be used as a stand-along bag/purse solution.  And my wife can confirm this.  When she started using it as designed, she discovered the handiness of the Folio.  After several weeks with the Folio 5 she had wished that she had opted for the Folio 6 simply because of the aforementioned issue of not being able to put both her cellphone and sunglasses in the Folio.  The Folio 6 has 2 large pockets to solve this.
My wife did have some small issues with the Folio 5 though.  The handful of bags/purses she currently uses all have zippered openings.  That means she can't zip the bags closed because the Folio attaches to the handle of the purses.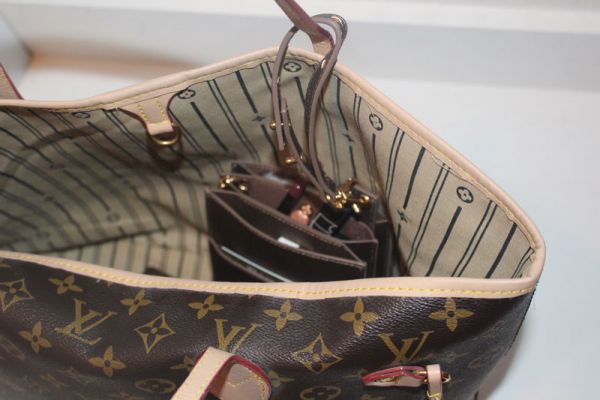 The Folio is not designed to hold loose change.  So she still has to carry her wallet in the bag to keep track of the change.  She also has literally dozens of credit/debit/gift cards in her wallet, along with old receipts, notes, business cards, etc.  The entire contents of her wallet can't find inside the Folio, which is not really designed to do anyway.  The same goes with her makeup bag.  She has dozens of items in that makeup bag, all of which aren't designed to fit inside the Folio.  You are only supposed to fit your most essential items in there.  So she found herself switching items in and out of the Folio quite a bit.
None of those things are deal-breakers for her, but they are worth noting.  And she would recommend the Folio 6 over the Folio 5 for sure.
What I like
Ease of use
Great price
Fits just about any bag/purse
What needs to be improved
The Folio 5 can't hold both a cellphone and sunglasses at the same time
No loose change compartment
If your bag has a zipper, you probably won't be able to zip it closed using the Folio
Final thoughts
My wife thinks that the best situation where the Folio shines is when she is traveling.  It is handy for daily use, for sure.  But it really shines when you are traveling because you normally minimize what you carry with you on trips anyway.  She also has to forgo zipping up her purse right now when she uses the Folio, which is a little inconvenient.  But she still recommends the Folio as a great gift for someone because of how handy it is.
Price: $29.00
Where to buy:  Bag Branch or Amazon
Source: The sample of this product was provided by Brag Branch