We use affiliate links. If you buy something through the links on this page, we may earn a commission at no cost to you. Learn more.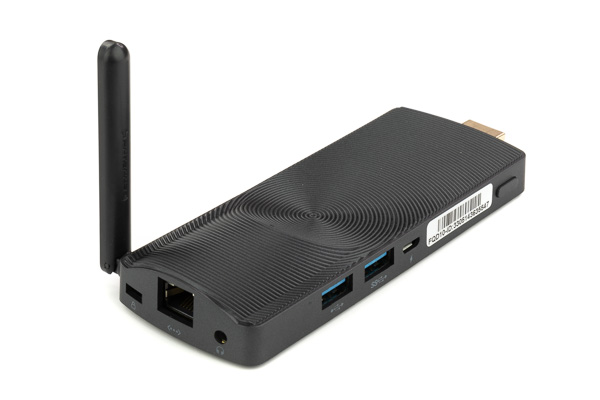 REVIEW – When the chance to review the Azulle Access3 mini PC stick computer came along, I hesitated and thought that this was either going to be a real punishing review or something that surprised me – and I decided to take a chance with it.
What is it?
The Azulle Access3 is a fanless mini PC stick that connects to any HDMI compatible display. Simply add a keyboard and mouse and you have a full-blown PC in a package that measures just 5.2″x2″x.75″!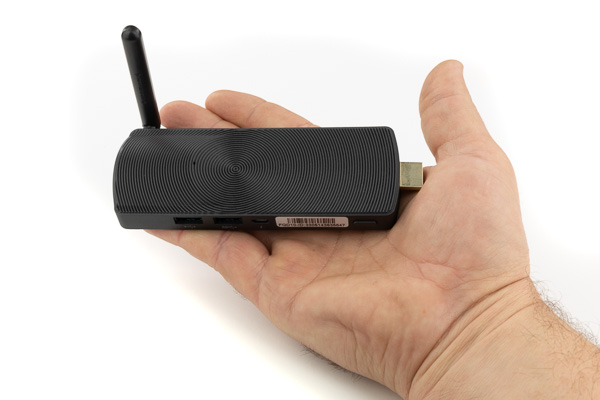 I used a Logitech K400 plus keyboard with a built-in trackpad so I could easily use it from across the room.
Hardware specs
Gemini Lake N4100 (1.1GHz Quad-Core Processor)
4 GB DDR4 RAM
32 GB storage (15.3 GB free after setup)
Windows 10 Pro 64-bit
2 USB 3.0 ports
MicroSDXC card slot up to 256 GB
1 Gigabit Ethernet port
3.5mm Headphone jack
Dual Band 2.4Ghz.5.0Ghz Wifi
Bluetooth 4.0
Video: up to 4K @30fps
What's in the box?
Azulle Access3
Power cable
12″ HDMI extender cable
Quick Start Guide
$10 off next purchase coupon
Design and features
I've had a couple of smart TV's, but I never really liked the user experience on them. They were either slow or had other things that I didn't like. The apps on them weren't as good as using a computer. I also don't really trust their security. I also found myself needing or wanting some other app that only runs on Windows.
I've wanted a PC to connect to my TV, but I didn't have any extra PC's that I wanted to run all the time just for an occasional video or browsing session. When the review offer for the Azulle Access3 mini PC stick came along I thought that maybe this could be the solution I needed.
I must say that this thing really impressed me.
The Azulle Access3 mini PC stick felt like running any other medium powered Windows 10 laptop. In fact, when it comes to just browsing the web and watching YouTube videos, there wasn't really any difference between it and my regular quad-core PC.
One of the things that I like is that I can travel with this device. Whether it's taking it to a friends house or to a hotel when traveling, I can simply toss it in my bag and go. When I get there, I have all my internet bookmarks and all my pre-installed apps ready to go.
I often travel with my Surface tablet and sometimes I like to watch YouTube videos while browsing the web. This will be the perfect device for that. The device has no moving parts, which makes it much more durable to travel with.
There are many use cases for a device such as this. The two USB 3.0 ports provide a great way to connect an external drive – which for me will come in handy for backing up photos while out on the road.
Although the device is slightly limited by the internal storage capacity, that is offset by the ability to use a MicroSD card (up to 256BG) and devices connected via the USB 3.0 ports such as external drives and memory sticks.
The device can plug directly into an HDMI input or you can use the provided 12 inch HDMI extension cable if your inputs aren't configured well enough to provide enough room for the device to plug in directly. My 32″ TV (1920×1080) did not have enough space for it to plug into a couple of the inputs, and when plugged into the side input it stuck out past the side of the TV. The extension cord kept the device neatly hidden behind the TV.
I really like the fact that Azulle included a 1-gigabit ethernet port in this device. I usually run ethernet cables to various places around my house so I have the best network connection.
The Access3 also boots very quickly, from power on to login screen was about 15 seconds.
I also connected it to my AOC 39″ 4K computer monitor that I use as my primary monitor on my main PC. Not only did it work, but it looked great! The 4K YouTube video looked great and played well. I'm really impressed that it's able to do 4K video without a full-sized graphics card. This really makes me want to get a 4K TV for my living room now!
What I like
Quick Setup
Windows 10 Pro
4K capable
Micro SD card slot
USB 3
Ethernet port
What needs to be improved
A little more default internal storage would be nice, although there is a 64GB version available.
Final thoughts
Considering the price of the Access3 mini PC stick, this device really delivers quite the value. Not only did it run like a regular PC, but it also did it well.
Price: $149-$339 ($219 as tested)
Where to buy: Azulle and Amazon
Source: The sample of this product was provided by Azulle.