We use affiliate links. If you buy something through the links on this page, we may earn a commission at no cost to you. Learn more.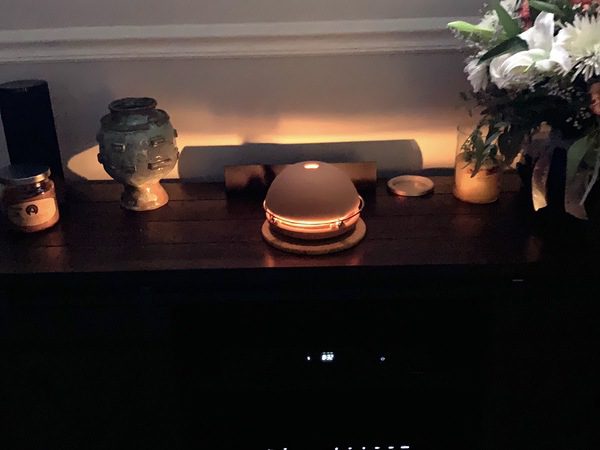 REVIEW – This is my second scented diffuser review in the past few weeks, and my house smells fabulous! While I reviewed the tech-driven Moodoo recently, the Egloo sits on the other end of the spectrum. It's a terra-cotta based, candle-driven diffuser that uses all natural products and design to do its thing. Egloo claims that it's unique design not only acts as an aroma diffuser but also humidifies your room and operates like a small space heater. Let's put those claims to the test!
What is it?
It's an eco-friendly terra cotta humidifier, essential oil diffuser, and space heater powered by candles.
Hardware specs
7.5" by 7.5" by 7.5"
3.75 pounds
What's in the box?
The kit comes with all the components for the Egloo, a bottle of diffuser perfume, and enough wax & wicks for three lightings.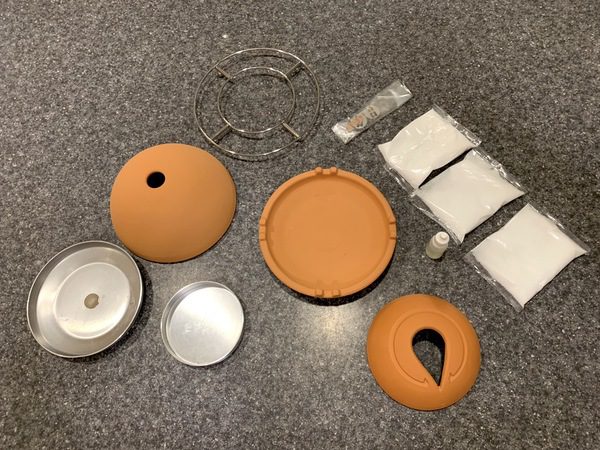 Design and features
The Egloo is sure to be a conversation piece in your home. It's a terracotta double dome design, available in a variety of colors or artistic patterns that turn it into a focal point in the room. It's also eco-friendly, using proprietary cherrywood wicks and a natural wax blend to power the unit. There are a number of parts to the assembly and operation. Let's walk through the assembly to fully understand how it works.
To start, you'll find a pair of metal dishes that are inserted into the terracotta base. Three metal wick clips are supplied, and you'll insert a specially-designed cherrywood wick in each one. These are placed in the smaller metal dish at the points marked by the guide lines, while the magnetized base snaps align everything in place: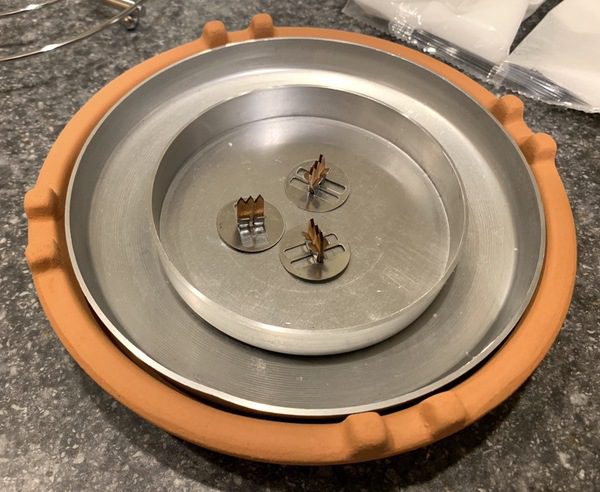 You'll fill the center dish with chipped wax. Egloo provides an odorless wax for this purpose that is resistant to high temperatures. You'll spread around the dish, leaving the wicks exposed: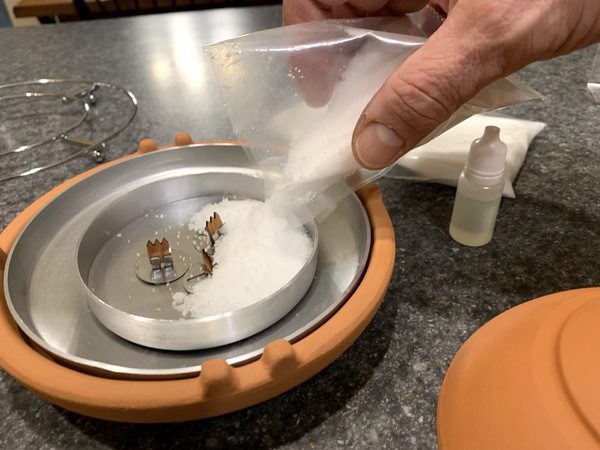 Once that's done, you'll fill the outer metal dish with water. If you want a bit of scent to fill the room, Egloo provides a perfume that you'll add with a dropper to the water. Essential oils can also be used for this purpose: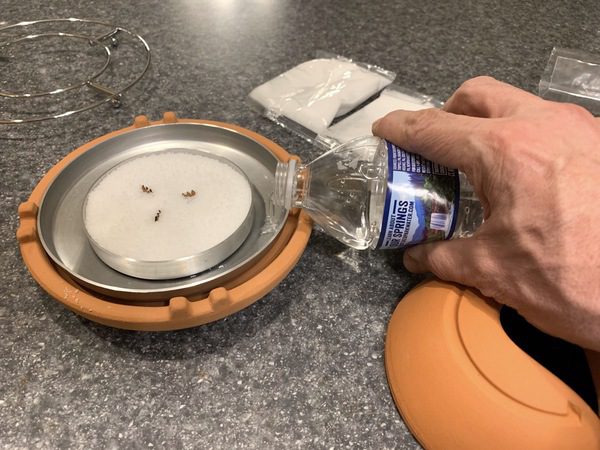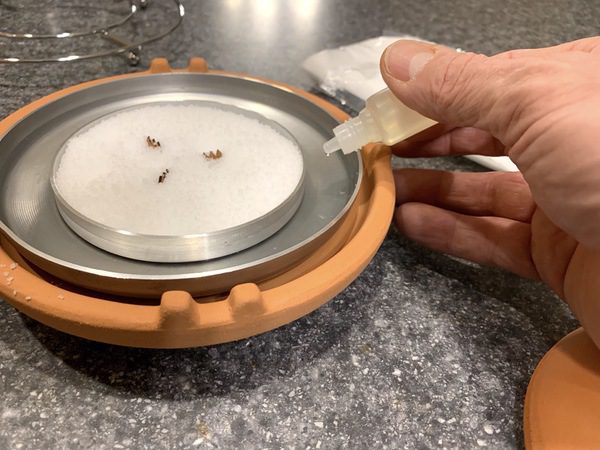 A metal grill is then placed in the slots on the base. This creates a gap for airflow between the base and the domes. You'll light the candles, then place the smaller dome over the candles. The large dome then goes over the small dome, and you're in business: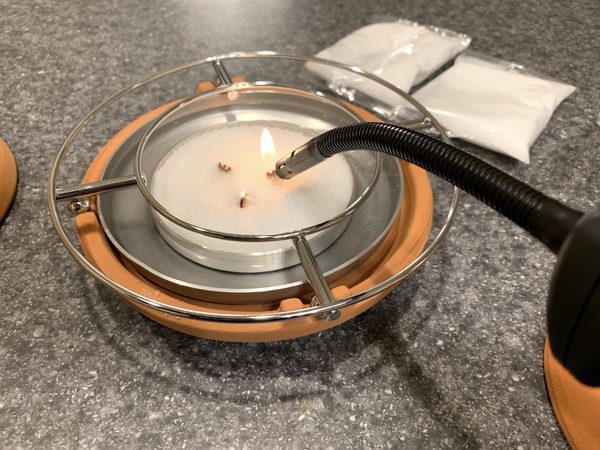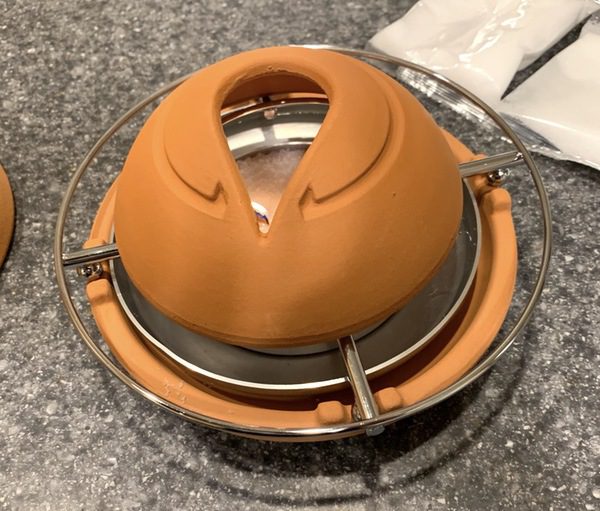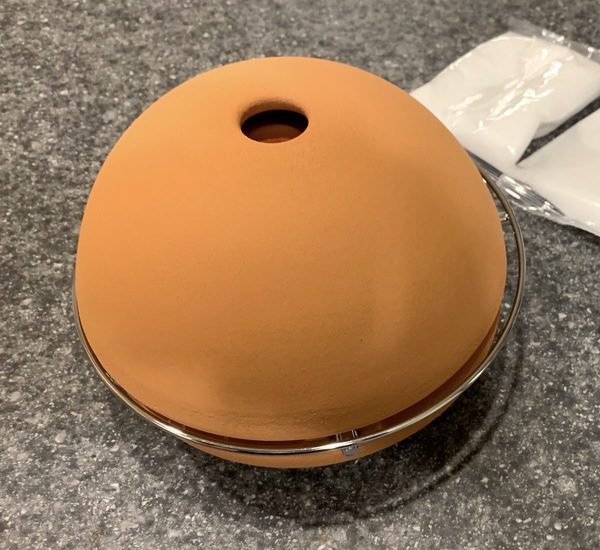 While this sounds complex, it's actually a pretty simple setup that takes a couple of minutes to complete. Once lit, the unit takes about 15 minutes to get things heated up.
And what are the results? Well, several things start to happen. The candles generate a gentle, diffused light. The terracotta heats up, generating a little heat. The water in the outside tray also heats up, diffusing the scent. The unit generates a steady stream of moist, scented air through a hole in the top of the unit. It operates a lot like a convection oven, with the double-dome design creating a focused heat source that does its work for up to four hours on a single lighting.
I'll be honest: I had my doubts when I put this thing together, but it's pretty cool in operation. Powered solely by the candles, it's got a zen-like quality to it as it gently burbles and bubbles in the background. The scent diffusion is subtle but noticeable, and would probably be more apparent with stronger fragrances or greater doses (I'm following the 10-drop-max instructions included in the booklet). It even does generate a bit of heat, enough that you won't want to touch it for more than a second or so once it gets going.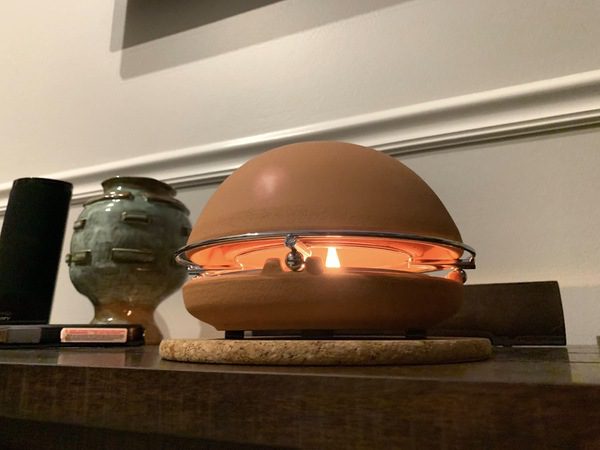 As far as use goes, it quickly loses its effectiveness in larger rooms. My family room is 15" by 17" with a vaulted ceiling, and that's just too big a space to realize the benefits of the heat and humidification. The fragrance also disperses quickly in a room this size. Testing is in a smaller room (like a 10" by 14" bedroom with a lower ceiling) produced very different results. The fragrance is much stronger, and I did notice a slight effect from the heat. It won't replace an electric space heater for quickly heating up a small area, but you do notice a difference.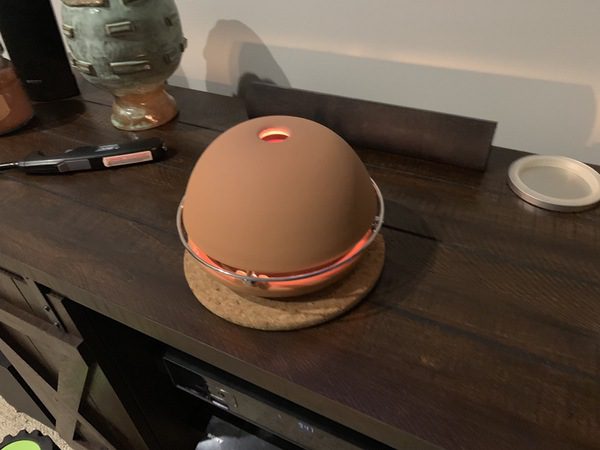 The Egloo is designed to use proprietary wax designed for high heat as well as the custom-cut cherrywood wicks, and are sold in 10 packs ($12.00), 50 packs ($48.00), or 100 packs ($72.00). That nets out to a cost ranging from $0.72 to $1.20 for each session. Not bad for an eco-friendly solution. You will need to supply your own essential oils after you use up the first bottle.
The unit itself retails for $90 in the natural model, but prices can escalate quickly if you choose fancy designs. Styles include colored units, glazed and or textured units, or artistic versions with different patterns and styles. They're beautiful pieces, but the more elaborate styles can cost over $200.
As far as safety goes, the base stays relatively cool despite the heat that's generated in the domes. I do have it on a hot pad just in case. While the unit is pretty stable, I don't know that I'd recommend its use in areas with rambunctious kids or pets. Touching the domes could produce a burn, and a hard knock could run the risk of hot wax (and lit candles) being splattered about. You'll also want to make sure it's on a solid table, countertop, or stand. Like any candle-powered device, use caution when placing it in a room.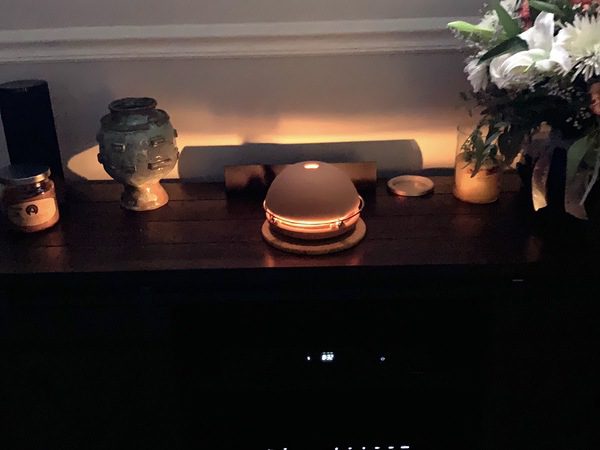 One final note: while the instructions are well-organized and easy to follow, they are poorly written. The product website is a little better but still suffers from spelling and grammatical errors. For a product at this price point, I'd like to see the manufacturers spend a few bucks to get an editor to proofread their content. It's a little thing, but it's important when you're selling higher-end products like this.
What I like
Interesting design makes for a focal point in a room.
Eco-friendly design, materials, and operation.
Scent diffusion works as advertised.
Consumable elements are reasonably priced.
What needs to be improved
Doesn't replace traditional room heating units.
Not recommended around active children or pets.
High starting cost, and fancy designs can get very pricey.
Instructions could use a good proofread.
Final thoughts
The Egloo promises to do a lot of things as a combination humidifier, essential oil diffuser, and space heater in an eco-friendly package. And it actually works, although the heating component is a little less effective. It's certainly a great looking accessory, guaranteed to be a conversation starter in your home. Just be careful placing it in areas of your home with a lot of activity!
Price: From $90.00 to over $200.oo depending on style, plus consumables.
Where to buy: Visit the Egloo website or on Amazon.
Source: The sample of this product was provided by Egloo.