We use affiliate links. If you buy something through the links on this page, we may earn a commission at no cost to you. Learn more.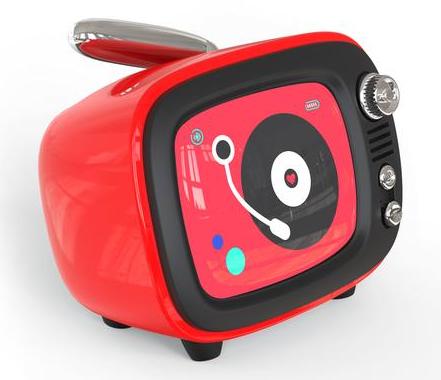 NEWS – The Lofree QTV Wireless Speaker is a 5W 40mm Bluetooth 4.0 speaker designed just like a tiny retro TV. It's a speaker. It's an alarm clock. It's a timer. It's cool! This cute speaker was reviewed at CNET and according to Mr. Broida, the speaker only shows 24-hour time and the screen goes dark after a certain duration to preserve the battery, but it sounds pretty good for its size and has two customizable alarms which allow you to record a snippet of music or your voice to play when the alarm goes off. It looks like you can use the antenna to silence the alarm and the top dial to adjust the volume (when music is playing) or set the clock, alarm, or time.
The speaker fits in your hand and will play for about five hours on one charge. And according to a couple of people who have reviewed it on Amazon, the body is made of metal. It comes in Aestival Blue, Scarlet Red, Peppermint Green, and Vernal White and is quite expensive if you are purchasing it from Amazon or Lofree ($119) but you might be able to find it elsewhere cheaper. What an interesting and unique twist on a Bluetooth speaker!