We use affiliate links. If you buy something through the links on this page, we may earn a commission at no cost to you. Learn more.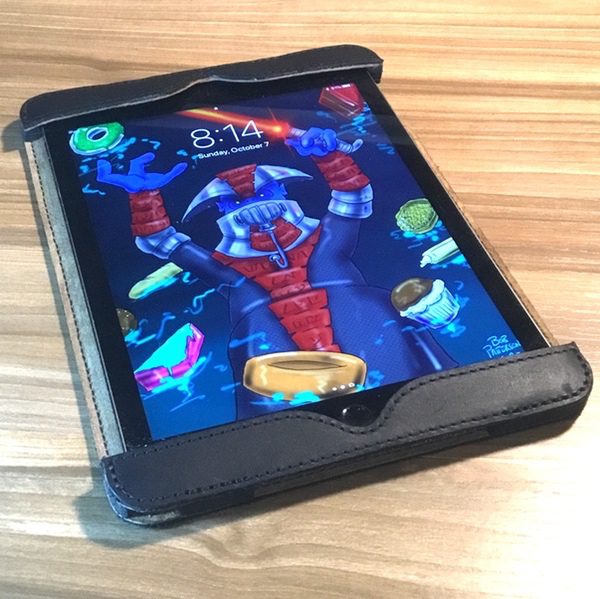 REVIEW – Many moons ago I owned an original Saddleback Leather iPad case. It was a beautiful, beefy piece of leather. The new Simple iPad Case is a completely different animal. Simple and streamlined, it's made for portability and optimal day-to-day usability. Fear not, however: you still get that gorgeous full-grain leather. To the review!
What is it?
It's a leather iPad case for your iPad, iPad Air, or iPad Air 2.
Hardware specs
10″ by 7″ by 0.5″
0.55 pounds
Full-grain leather with pigskin suede lining
Design and features
The Saddleback Leather "Simple" designs offer lighter products with simplified designs as an alternative to their beefier, full-featured gear. The new Simple iPad Case is great example of this. You get all the benefits and style associated with quality leather, in a streamlined and extremely functional package.
While it is a simple shell-style design, Saddleback fans have no need to fret about the quality and construction on this item. a 7″ by 10″ piece of full-grain leather forms the back panel, while two 1" by 7" strips of leather on the front face form a pocket into which you slip your iPad.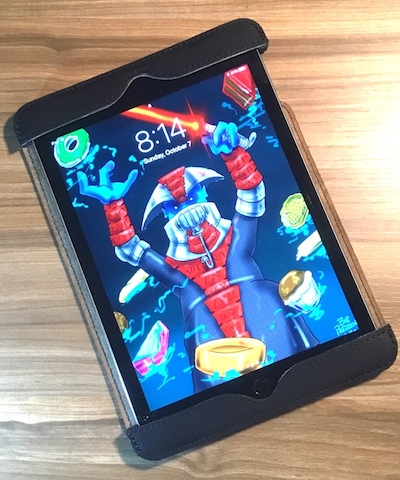 My tester is the newer black leather, backed by pigskin suede to protect the iPad. It's a beautiful, thick leather that measures roughly 1/8″ including the suede backing. It is thinner than some of the older leather pieces I've had from Saddleback, but I think it's just as tough. It's also got a great pliant feel. I like it quite a bit.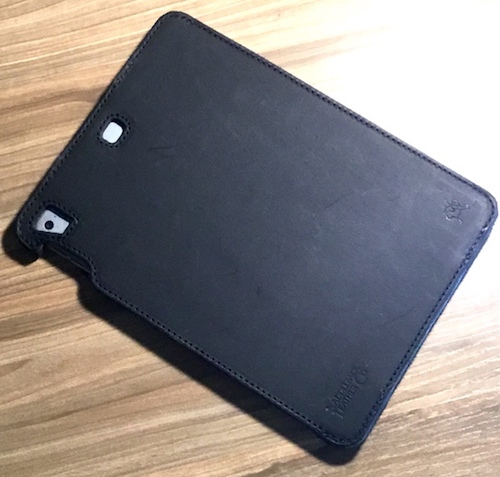 You'll also see some subtle embossed logo work on the back face in the Saddleback logo and the tribute to Blue, founder Dave Munson's dog. They're nice touches that are tastefully handled, adding some character to the piece.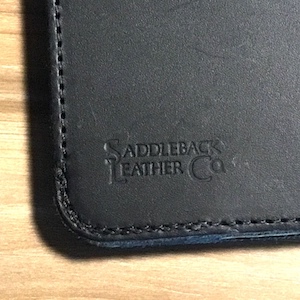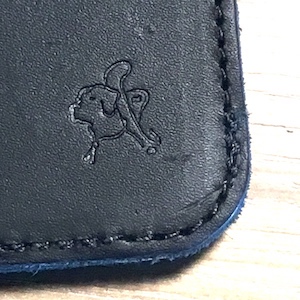 Black has always been my favorite color in Saddleback products, and they do a quality job with the dye work here. The leather is dyed through the whole piece, so scratches don't pull up an underlying color. I haven't seen any dye rub-off on clothes or other gear. It's marvelous and speaks to my artistic side.
Saddleback Leather deserves a lot of credit here for their commitment to leather as a medium. There are three materials used in the build of this case: leather, pigskin suede, and marine-grade thread to keep it all together. That's it. Even the spacers/bumpers between the layers are made wholly from leather dyed to match the case: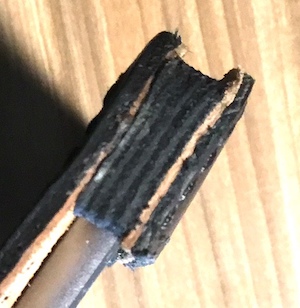 It would be easier (and probably cheaper) to solve design problems in a case like this with additions like plastic tabs, foam padding, or elastic webbing. Not that those solutions are inherently bad, but I appreciate that Saddleback doesn't go that route. It's a truly unique leather-focused design solution that's *just* a bit more special as a result.
This case is designed for the 9.7″ iPads, specifically the 2017 iPad and multiple 2018 models (the iPad 9.7, Air, Air 2, and 9.7 Pro). You'll find an assortment of cuts to accommodate the whole range of speakers, ports, and buttons on these models. As we walk through the slots, note that mine is an iPad Air 2. Here's the audio-in port and sleep/wake button port. It looks tight, but the leather is flexible enough to get your fingers in there for obstruction-free operation: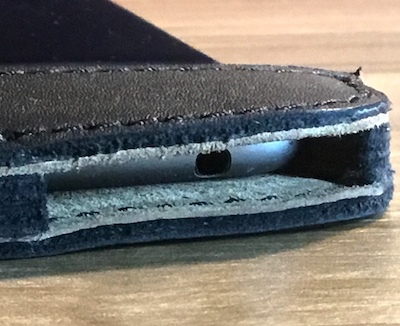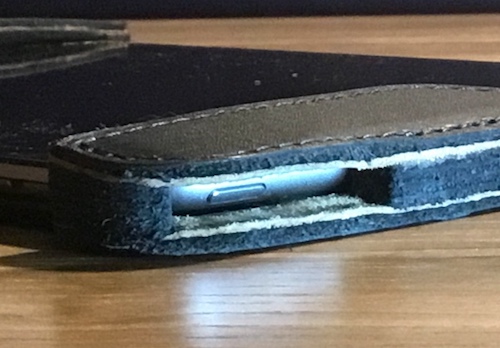 The same goes for the bottom ports for the lightning cable and speakers: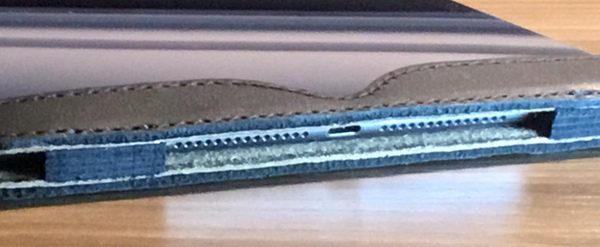 The right-panel rocker buttons  have an additional slot cutout for easy access: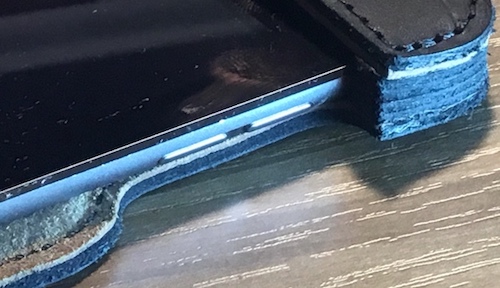 You'll also find two cutouts for the rear camera to accommodate multiple model iterations: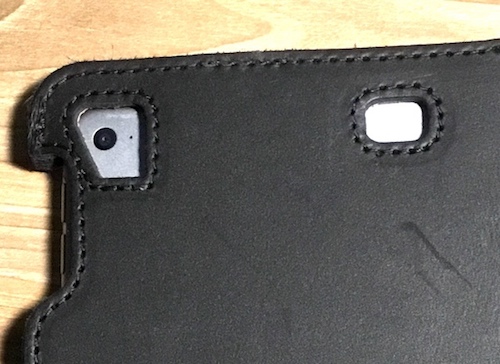 When I first received the Simple iPad Case I was concerned by the fact that the front face and sides are completely exposed. After kicking it around a bit, however, I'm becoming more and more impressed with the design. There's 1/4" of extra leather around all edges, so that thick leather absorbs side impacts to protect your tablet. It absolutely brings more protection than silicone shells like the Apple iPad cover, and only adds 8 ounces of weight to your kit if you're including this in your daily carry.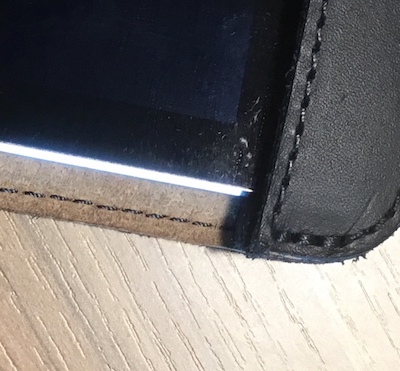 Overall usability is excellent. There's front flap or cover to mess with here. The entire screen edge-to-edge is accessible, with generous slots cut for the home button and front camera. Everything is easy to get to, and you don't find yourself fumbling to get to the ports. It's also wonderfully easy to handle, working perfectly with the iPad's form factor. Nothing interferes with regular operation, and it feels solid in your hands. It slips easily in and out of your bag, with no protrusions or extra bits that could get caught on zippers. If you like your iPad covers lean & mean, this cover gets you there with the added protection and style of excellent leather.
The simple design does lack some capabilities found in more feature-rich cases. There's no front cover for additional protection. It's not compatible with the Apple keyboard. There's also no integrated stand. If these are capabilities you are looking for, you'll need to look elsewhere. If you're looking for a great leather case that works well with the iPad's natural form factor, however, the Simple iPad Case is worth putting on your shopping list.
What I like
Excellent leather quality and construction
Streamlined form that is easy to handle without adding significant bulk
Well-designed access to all the ports, controls, and speakers
What needs to be improved
No inherent flaws that I see
Final thoughts
If you're looking for a well-built, straightforward iPad case with great looks, the Saddleback Leather Simple iPad Case is a great choice. The leather is fantastic, usability is excellent, and the simple form factor makes for easy handling and day-to-day use. You'll also get Saddleback Leather's famous 100-year warranty. This one is now in my EDC lineup, and I expect it to stay there for quite some time. Maybe not 100 years. We'll see.
Updates 03/12/19
I am loving the new simple designs from Saddleback Leather, and the iPad Case is a champ. It's perfect for my work-issued 9.7" iPad. Just enough protection to keep it safe from accidental bumps, and it doesn't get in the way of quick-access functionality. The leather is gorgeous and unlike the original iPad case (which I owned) it adds marginal bulk to the iPad. I'll take this leather beauty over a silicone sleeve any day of the week.
Price: $59.00
Where to buy: Saddleback
Source: The sample of this product was provided by Saddleback Leather.