We use affiliate links. If you buy something through the links on this page, we may earn a commission at no cost to you. Learn more.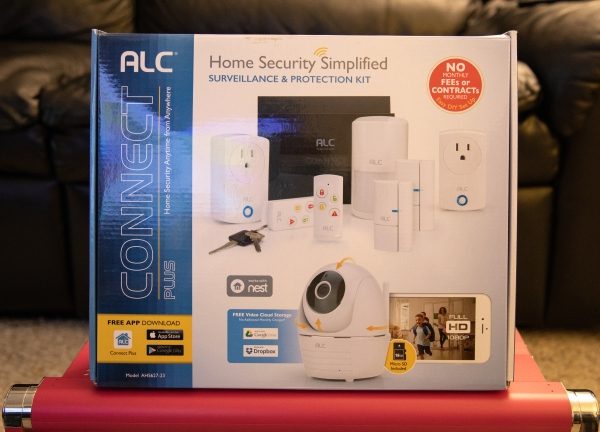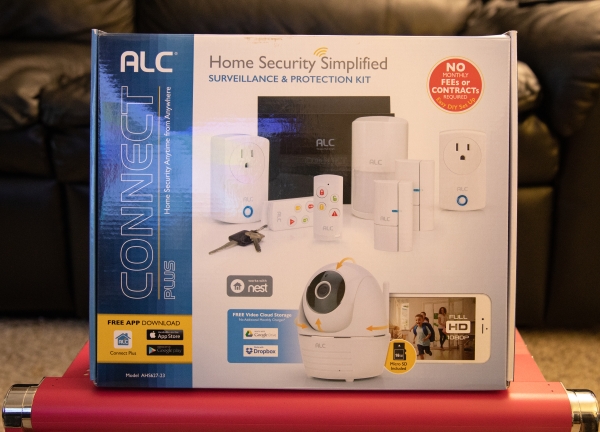 REVIEW – For many years, I have invested in several different home security systems aimed at providing safety for me and family that includes threats from human intruders, fire, carbon monoxide, etc. My current system works quite well with a few annoying features and failures, and a growing monthly monitoring charge. I was recently offered the opportunity to review a home security system that seemed like it could accommodate most of my security needs albeit not all. Nevertheless, I was eager to try it, knowing that depending on what features were missing, I could possibly find solutions that would ultimately keep me satisfied and eliminate that pesky monthly charge. Here is how it went:
What is it?
The ALC Wireless Connect Plus kit (AHS627-23) is a home/premise security system/kit with a base package that includes the necessary equipment and features for basic security. Optional add-ons are available to enhance the system.
What's in the box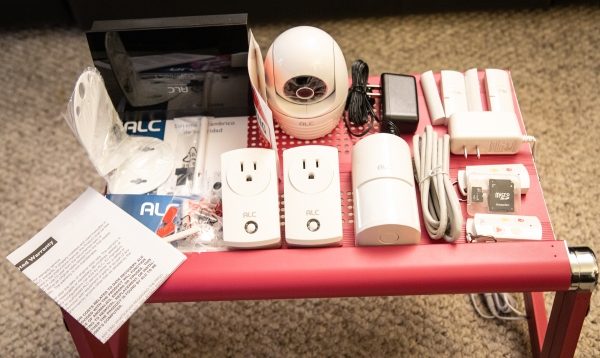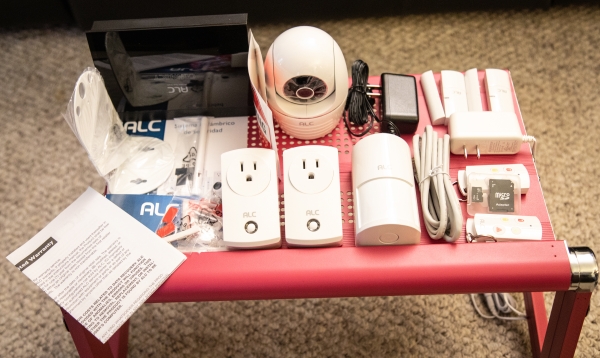 1 x Control Hub with AC Adapter
1 x Ethernet Cable
1 x Wireless Camera with AC Adapter – 1080P HD
1 x Camera Mounting Bracket (Adhesive pads and screws included)
1 x Motion Detector (Battery and adhesive Pads included)
2 x Power Switch
2 x Door/Window Sensors with Batteries (Adhesive Pads and screws included)
2 x Remote Controls
3 x Quick Start Guides (English, French, Spanish)
2 x Warning Stickers
1 x Warranty Leaflet
1 x Micro SD Card with SD Adapter
What I need in a Security System
The ability to expand to include several entry/exit sensors, motion sensors, cameras and sirens
A built-in notification for entry/exit sensors that can be enabled/disabled
A control panel that includes a keypad that can manage all functionality
Available accessories like a smoke/carbon monoxide detector, water leak detector, etc that can be easily integrated into the existing system
HD cameras that work well and provide clear images even in very low light/darkness
If a dedicated live view monitor is available, it should include Wi-Fi and a built-in rechargeable battery so that it is mobile
DVR capability in the cameras, via the local network and optional cloud storage
Capable of smart-home integration with Alexa, Google Assistant, etc
The Option of DIY or paid monitoring
Design and features
Specifications
• Frequency: 916 MHz up to 500ft.
• Maximum Pairable Sensors: 36
• Maximum Pairable Cameras: 4
• Modes: Arm (Away), Arm (Stay), Disarm
• Remote status and camera viewing on iOS and Android Connect Plus App
The ALC Wireless Connect Plus Security System is much like the typical alarm system with the main control box, a camera, and door and window sensors that monitor opening/closing, and a motion sensor. In addition, with this system, 2 power switches are included and they are (or will be) compatible with Alexa, Nest and Google Assistant. ALC also includes quick setup guides in 3 languages, English, French and Spanish, and window security stickers for those that want to display the presence of the system. Unlike most control panels that I have seen and worked with, this Control Hub is the central communication brain for all of the linked devices, but it does not feature a keypad nor any other type of interactive interface other than via the ALC app. On the top/front of the device, there are 2 LEDs that indicate power and connectivity. On the back, there is the AC jack, a reset button, and the Ethernet jack.
The camera is a pan/tilt wireless camera. On the back there is the wireless antenna jack that accommodates the antenna, a power jack, an Ethernet port for hard wiring, a micro SD slot for on-board recording, a power LED and a reset button.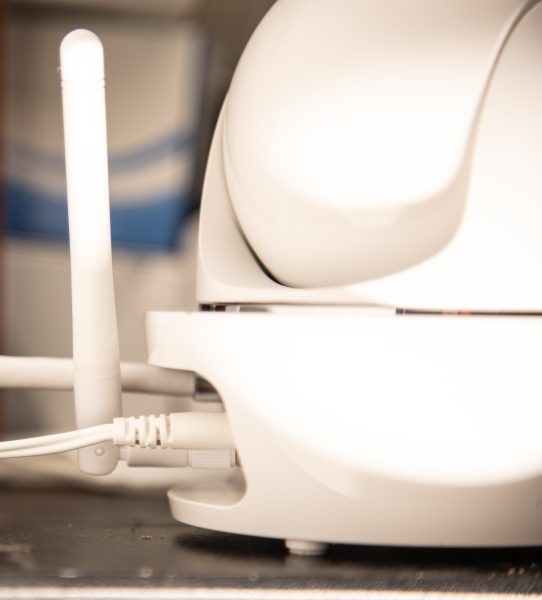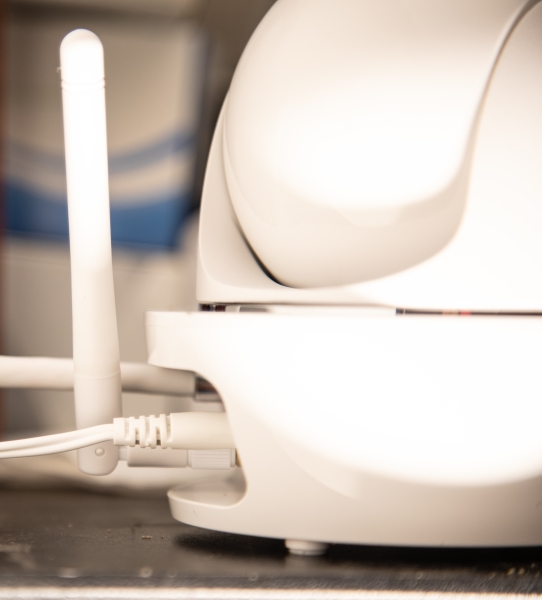 The door/windows sensors are the typical sensors, as is the motion sensor.
The system comes with 2 remote controls that allow you to arm and to disarm the alarm in both away and stay modes, and a panic button.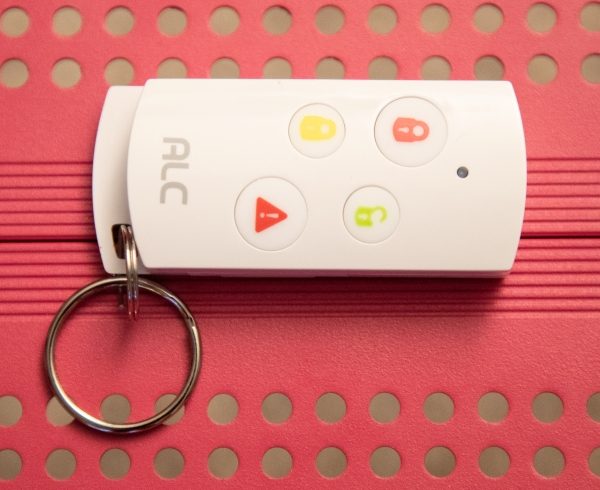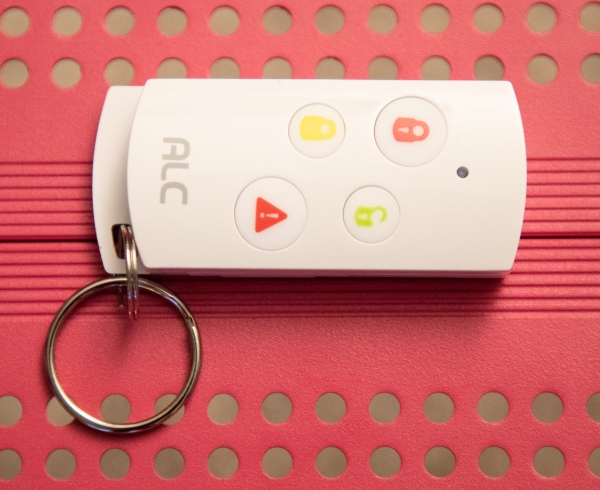 Performance
App
The app works very well and is nicely designed and easy to use. It allows you to add/remove devices, view cameras, trigger/retrieve recordings, set notification triggers/contacts and set up scenarios for multiple actions to be triggered based on an initial action by the system. Speaking with someone remotely via the app through the camera, and seeing them in front of the camera is a crystal clear experience for both parties and for both the audio and video, with very little latency that is hardly noticeable. Here are some screens from the app:
Arming and disarming the device both from the app and the remote controls is very easy, and the notification that you receive via email and text is just about instantaneous. As previously mentioned, there is no keypad on the control hub, so all functions must be controlled via the app or remote. The camera image is really crisp and clear and works very well even in darkness. The following is a screen capture from the app at 9:25 in the morning with the blinds still closed and no lights are on so it is still quite dark inside.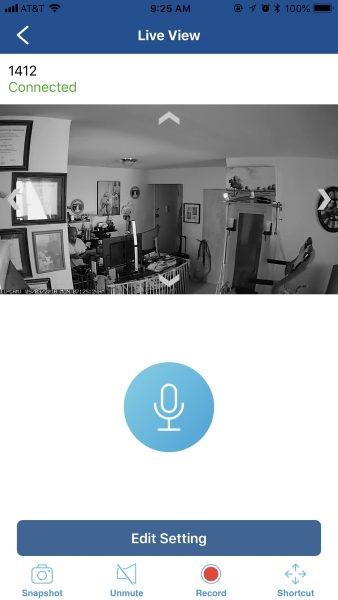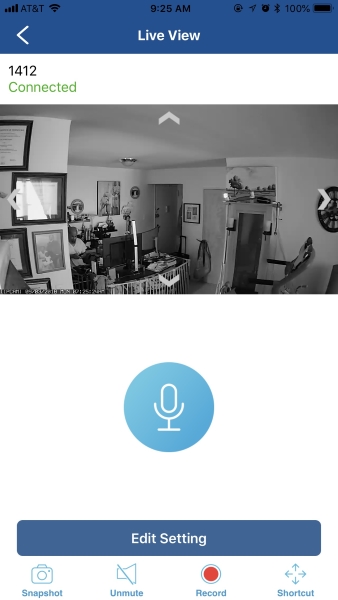 As shown in the picture below, once I open the blinds and there is sufficient light, the images show in color and are still very bright and clear.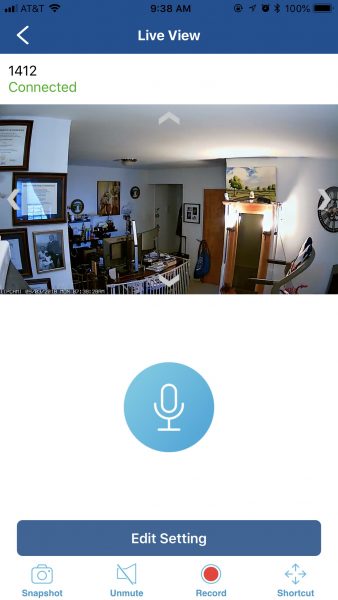 I found that the motion detector was not as sensitive in terms of the distance from a moving object as some of the others I have tried. This could be good or bad depending on your desired level of sensitivity. Just recently, I armed the system and left the house. Shortly thereafter, I received an alert on my phone that the alarm had triggered. I have cameras from another surveillance system pointed at my kitchen and windows and doors. (This system only has one camera installed). I was able to see from my cameras that all was well in terms of an emergency. When I got home, I checked to see what had triggered the alarm, and it was my kid's balloon that was filled with helium and had floated in front of the motion sensor. Thankfully, and perfect for my needs, this security system only supports DIY monitoring and can send notifications to multiple phones/email addresses. It will NOT contact the police or fire department in the event of an alarm being triggered, which is what I want for now to prevent a costly police/fire false alarm and possible resulting fines. The way it works and the fact that it almost instantaneously notifies me both by text and email, allow me to take a quick look via the cameras and then determine the need for an emergency response.
As I continue to use and test the system, I must mention that the customer service and support for this company are excellent. They responded quickly even in the evening and adequately answered my questions. The most impressive response was when I inquired about the entry/exit chime notification. Here is a record of some of the conversations:
My question:
"I have one of the Connect Plus systems and the Observer HD AWS3377 system. Can I configure them so that I can see the Connect Plus Camera on the Observer HD monitor and app, and the Observer HD cameras on the Connect Plus app?"
ALC response:
"The 2 systems actually run different protocols. The Connect Plus uses 915Mhz radio frequency to contact the sensors, while the Observer HD system uses 2.4Ghz radio frequency to get the video feeds. The sensors themselves do not require a large bandwidth, therefore we could use a lower, more penetrable frequency. With video, however, the data size is much larger so we tend to use 2.4Ghz for that purpose.
However, if you get SightHD cameras – these cameras are WiFi, and therefore can be pulled into the Connect Plus system."
My question:
"Is there a chime notification that I can turn on for the door/window sensors?
My current system lets me know if someone opened the door or window."
ALC response:
"The closest thing we have would be to alert you on the phone when a door or window opens. However, the way we designed the system is to divide its function between "disarmed" (as in you're not getting alerts) and "armed" (get all alerts). We can edit which sensor to trigger an alarm (with or without siren) in Advance Setting. So if you would like, we can edit "Arm Stay" under Advance Setting – simply make sure all the door/windows sensors are checked, uncheck everything else. So now, if you set the alarm to Arm Stay, your phone should receive a notification when a door/window opens, and nothing else should go off."
My response:
"When my current system is disarmed, it tells me when a door or window is opened. It does so with a voice command. However, my previous system would chime to alert me. Both systems did so with the system disarmed.
It is a great feature to have if you have children and want to hear if they open the door. Maybe something that ALC can add via a firmware update?
On another note. The ALC Observer HD AWS3377 system that I have has the Ethernet port built into the monitor so it is not mobile. I do believe that it does not have a built-in battery either. Am I correct?"
"Hi Julian, Yes, I have sent in a ticket to the engineers to see if they can add this function – so users will have the option to turn on/off a quick beep from the control hub whenever a door or window is opened.
That's correct – the AWS3377 does not have a battery inside. We tried to fit a battery inside during development but it would only get about an hour of power – without the hard drive recording. If we hook up the hard drive to it, then it runs out even quicker. This product supports 1080p (1920×1080) so components tend to drain more power. In our previous version, the battery could hold about 3 hours of power, but it was only recording at VGA (640×480) and it does not have external hard drive support."
I think that the answers from ALC Support were not only very informative, but I am impressed that they listened to my concerns and desires, and sent an internal request to try to add the feature I indicated. Well done!!
It is important to note that the integration of Alexa and Google Assistant is not currently available, but will be in the next few weeks. I did inquire about this, and here is the response from ALC Support:
Response:
"We haven't pushed the complete functionality to the public yet. We have the Alexa app ready, but a new firmware and app are coming within the next few weeks. Once those are released, then the Alexa functionality will work."
" Along with Alexa, Google Home support will be released too. The Google Home app is already online as well, just waiting for that final firmware and app."
What I like
The ease of the installation
The sensors and camera come already paired
The option of both wired or wireless network connection for the camera and Control Hub
The well laid out app
The quality of the camera image (resolution)
The ease of integration with other products from the same company
Nest, Alexa, and Google Assistant compatibility
What can be improved
Integration with a smoke/carbon monoxide detector
A louder siren on the Control Hub (Additional siren can be purchased separately)
Camera triggers the alarm in the "stay" mode. Fix this!
Need window and door sensors to provide notification on entry or exit.
A fully functional keypad on the control hub
Final thoughts
ALC Wireless Connect Plus kit (AHS627-23) is a nice security system that functions quite well. Installation was very easy and since the system arrives with all of the provided sensors already paired, it is an easy DIY project. The app is well designed and the notifications are quick and consistent. The equipment is well built and so far I have no performance complaints. I do have a desire for the system to have more capabilities and additional design options, and when compared to my "What I need in a Security System" list, the missing features that I desire are evident. However, for the price, this security system is a great value.
Price: $89.99
Where to buy: Amazon
Source: The sample for this review was provided by ALC Wireless.