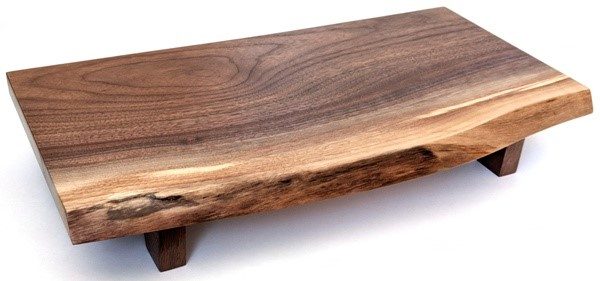 REVIEW – Monitor stands are just the kind of gadget accessory that suits me. They lift your monitor up to a level to help ease any neck discomfort and they help to free up space below the monitor. Since I love small gadgets like the Apple Wireless Keyboard (or Apple Magic Keyboard), the space below the monitor stand is a perfect storage area for a keyboard. I had the opportunity to review the Understands Evo Live Edge Desktop Computer Stand. I found that it is a beautiful high-quality monitor stand made out of walnut and birch and the legs are tall enough and just wide enough to accommodate my keyboard.
What is it?
The Understands Evo Live Edge Desktop Computer Stand that I received for review is a gorgeous hand-crafted computer (monitor) stand made out of walnut (with a birch plywood iMac undermount) and is used to elevate your monitor to a level that eases neck pain, frees up space, and brings a bit of nature inside your home or office. Understands makes other styles of wood stands (some with drawers) and also uses different kinds of wood (see the Understands website). All Understands products are made in the United States.
Hardware specs
What's in the box?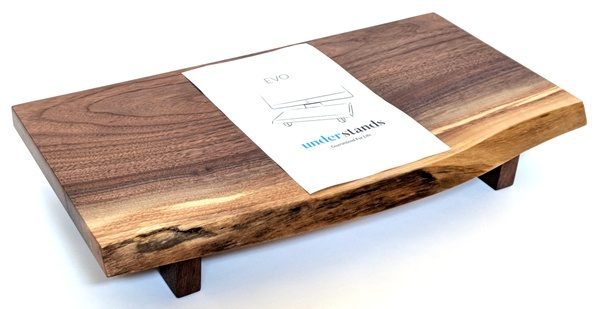 My Understands Evo Live Edge Desktop Computer Stand came with an information sheet that provided information on the care of the stand and stated that it is guaranteed for life.
Design and features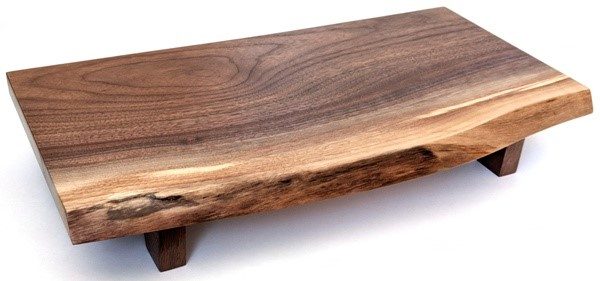 The Evo Walnut stand is hand-made and crafted from "urban walnut sustainably harvested from northern Illinois and southern Wisconsin." The stand has been tested to hold up to 50 pounds according to Understands.
The above three photos illustrate the beauty and the high-quality materials and craftsmanship involved with making this stand. It also displays the "live edge" feature which gives each piece a distinctively unique look as shown in the last photo. "Live Edge lets you imagine the profile [of] the tree. … Lacquer coating enriches natural beauty and protects from aging and mishaps."
There is an iMac undermount in this stand for iMac and iMac Pro. The bottom of your iMac slides right into this space. If you don't have an iMac, you would just place your monitor on top of the stand.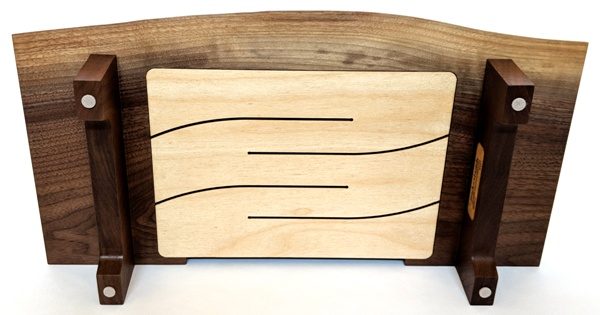 The iMac undermount is made of Baltic birch plywood (for strength).
There were supposed to be furniture slides applied to the feet of the stand, but mine was missing these. I applied my own adhesive felt furniture sliders to the stand to help avoid scratching the surface that the stand would rest on.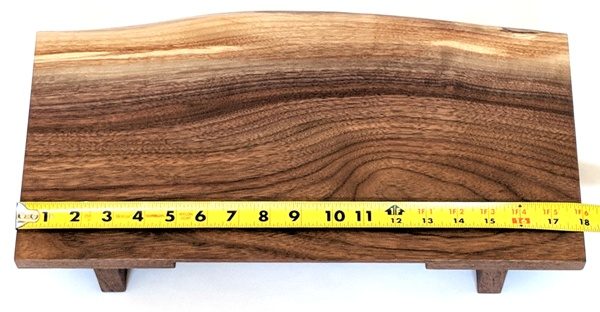 The Evo Monitor stand is 18″ long…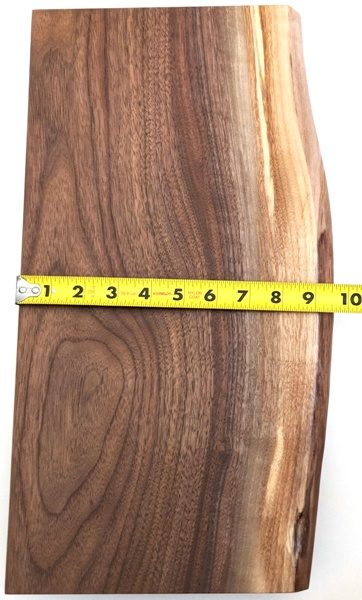 by about 9.5″ at it widest point (each stand will differ in this measurement due to the variation in the Live Edge feature)…

by 3″ tall.

The measurement between the legs of the stand is slightly over 11.5″.

And last, the width of the legs is 8″.
Performance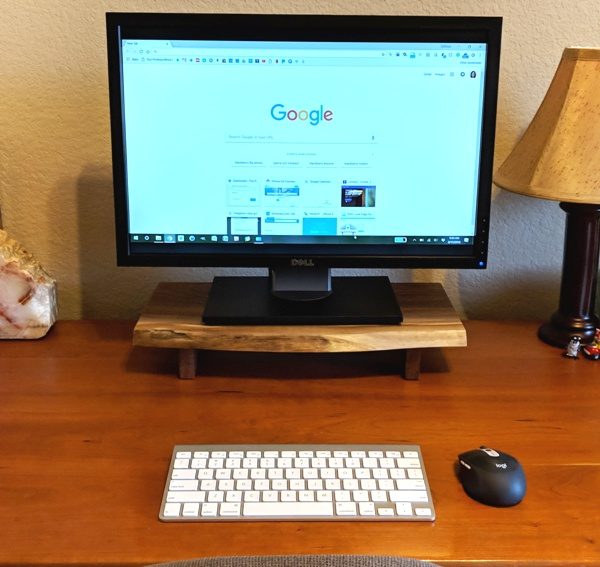 The Understands Evo Walnut Live Edge Desktop Computer Stand elevated my monitor to a comfortable viewing height for me.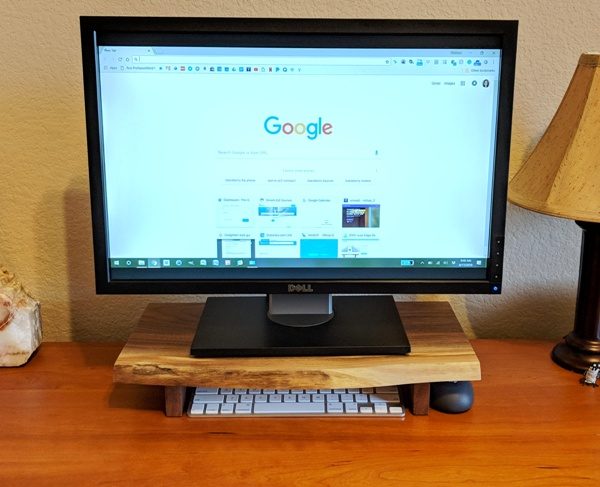 And there was enough room under the stand to store my keyboard.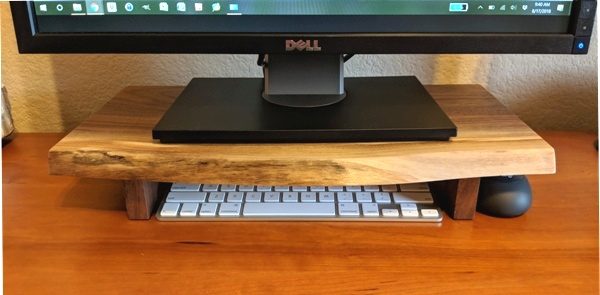 Not only did it perfectly store my Apple Wireless Keyboard (it will also store the small Apple Magic Keyboard), but I found a place to store my mouse too (right next to the right leg of the stand as shown in the photo above)! Ergonomic viewing height, storage for my keyboard and mouse, and high-quality materials and craftsmanship all make this a wonderful computer accessory. It's also durable, strong, and brings the outdoors in. I have really enjoyed using this stand. I've also enjoyed just looking at it because it is so attractive.
To keep the stand looking its best, Understands recommends using a damp cloth to clean it and they suggest keeping it out of direct sunlight and away from heating vents which can cause cracks and warping.
What I like
It stores my Apple Wireless Keyboard perfectly
It places my monitor at a comfortable viewing level to help alleviate neck strain
It is made from high-quality solid walnut and birch plywood
It is hand-crafted
It is durable and strong (will hold up to 50 pounds according to Understands)
Its Live Edge feature makes it unique and beautiful
It is guaranteed for life
What needs to be improved
Final thoughts
I thoroughly enjoy using the Understands Evo Walnut Live Edge Desktop Computer Stand. It's so difficult to find such beautiful high-quality solid hardwood furniture these days, but the Evo Walnut stand is one of those pieces. It is a fabulous, well-made, hand-crafted, durable monitor stand that keeps my monitor at a comfortable viewing height, provides me with enough room to store my Apple Wireless Keyboard beneath the stand and even tuck my mouse off to the side. It's also just beautiful to look at. It is a bit expensive, but if funds aren't an issue, I don't think you'll be disappointed with this purchase.
Price: $109.00
Where to buy: Understands
Source: The sample of this product was provided by Understands.
Support The Gadgeteer
:
We may earn a small affiliate commission from purchases made from buying through links on our site. As an Amazon Associate I earn from qualifying purchases. Learn more.