We use affiliate links. If you buy something through the links on this page, we may earn a commission at no cost to you. Learn more.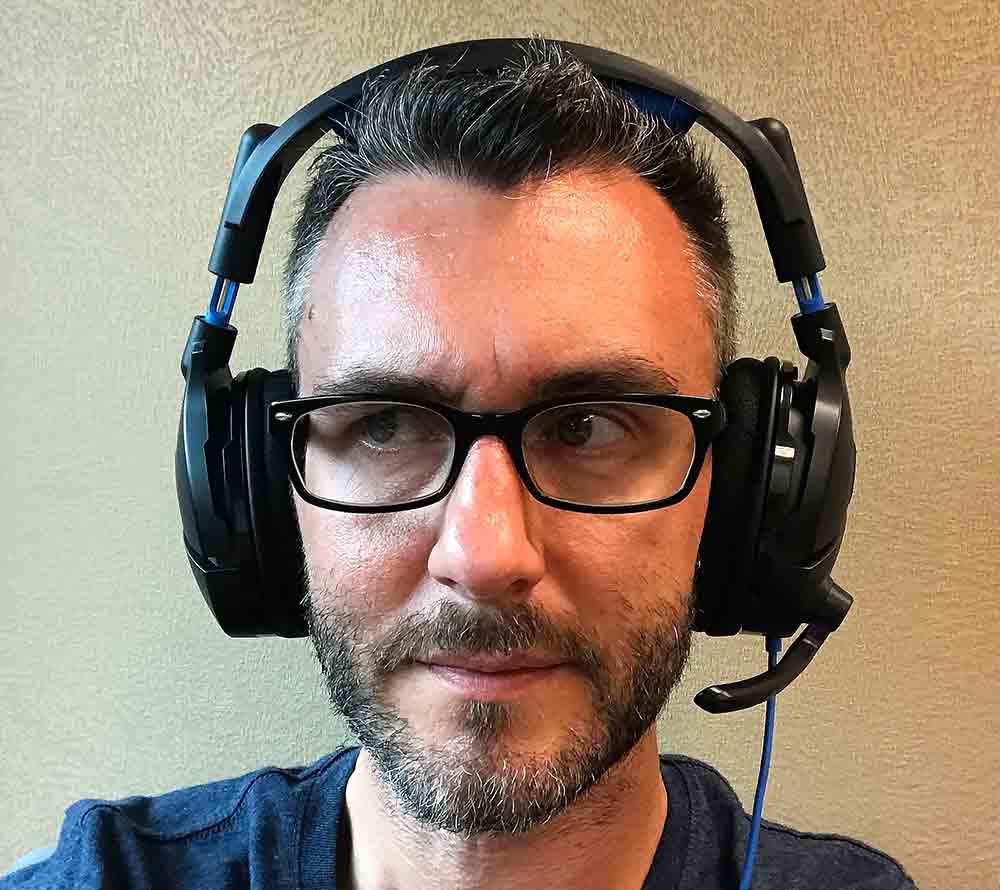 REVIEW – I've been an avid gamer since I could pick up an Atari joystick. During the last decade, online gaming has exploded, and with it, the need for gaming headsets built for clear communication and long play sessions. That's why I was stoked to try out the Stealth 300 Headset from Turtle Beach.
What is it?
The Turtle Beach Stealth 300 is a wired, amplified stereo gaming headset that provides clear, powerful audio as well as a sensitive, flip-down mic. In addition, the headset pipes in the mic audio, allowing you to hear and adjust the volume of your own voice inside the headset, avoiding talking louder than necessary.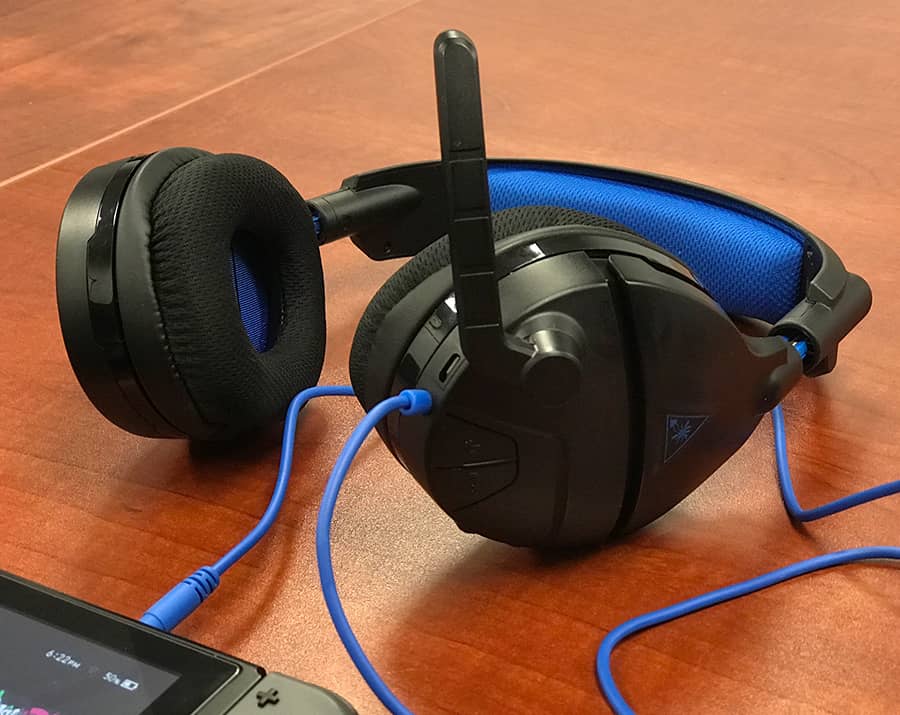 Hardware specs
3.5mm Audio Connection compatible with PS4, PS4 Pro, Xbox One and Nintendo Switch as well as mobile devices
20Hz – 20kHz Speaker Frequency Response
50mm speakers with Neodymium magnets
Rechargeable 900mAh Lithium Polymer for up to 40 hours of gaming per charge
Flip-up Omni-Directional mic
Mesh Fabric Headband Material with Foam Cushioning
Over-Ear (Closed), Fabric (Black) Ear Cushion with Memory Foam Cushioning
What's in the box?
Stealth 300 Gaming Headset
Micro USB Charging Cable
Quick Start Guide
Turtle Beach Sticker
Design and Features
The Stealth 300 is the first over the ear headset that I can recall being able to stand wearing for longer than an hour or so. I've owned several pairs of standard headphones and have always regretted those purchases, simply because they would end up hurting the top of my head, or press my glasses into my temples. But this headset is a different story.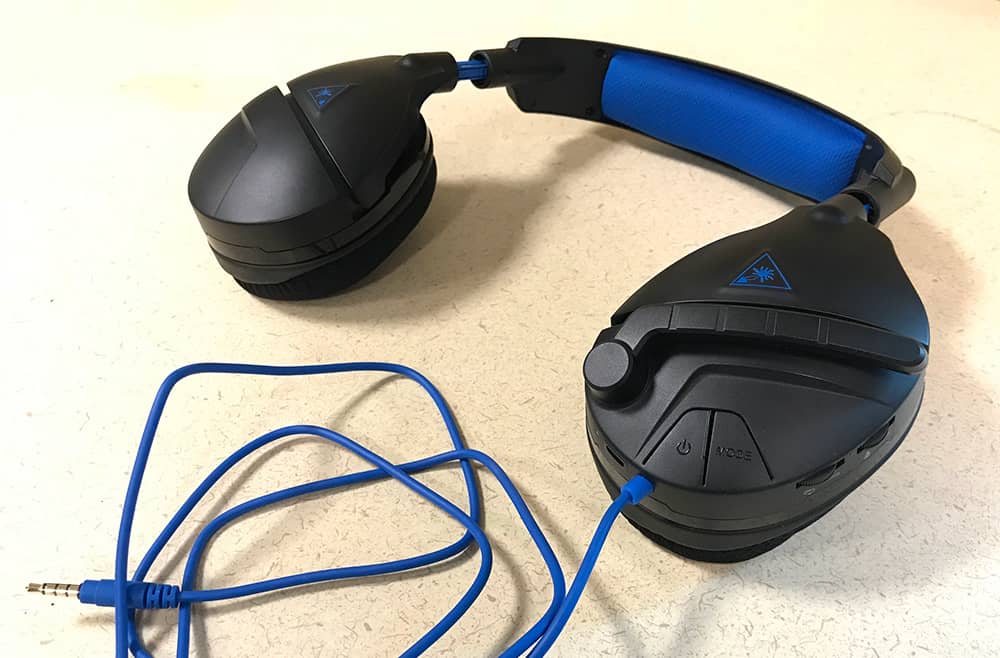 It's worth noting that this is a wired headset and that the wire is not very long, but that's really a design feature since most of the situations you'd find yourself using it would be with a wireless PS4 or Xbox controller in your hand. The wire only has to reach down to your lap. It's also compatible with the Nintendo Switch… I tested out the one game I had that used voice chat – Fortnite – and it worked very well.
Fit
The engineers who designed the fit of these headphones must have had the same issues with over the ear headsets as I had. Too much force on top of the head, causing discomfort rubbing against my hair, too much force against the frames of my glasses, and sweaty ears from ear cushions that seal in heat.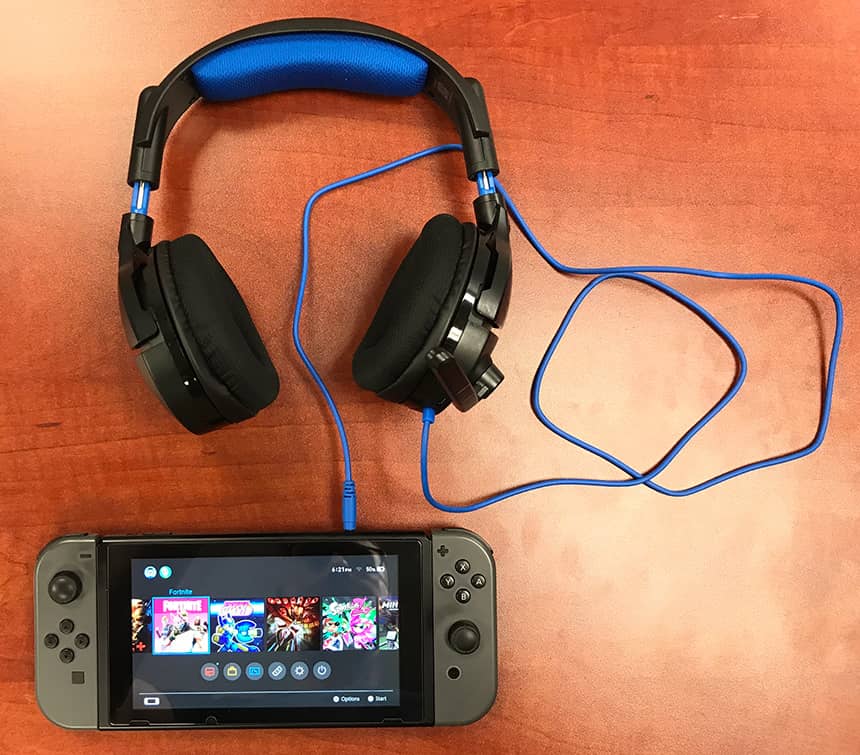 With the Stealth 300, I experienced none of those. I tried them in several-hour gaming sessions and they remained cool, comfortable and nearly weightless. The headband and ear cushions are breathable and wrapped in soft fabric. The ear cushions, using an innovative manufacturing process called ProSpecs™, are created with a double layer of foam — a softer foam that allows the frames of your glasses to interact with the material, and a layer of firmer memory foam to conform to the contours of your head. This setup is extremely comfortable for bespectacled users like myself.
This double layer of foam does allow for some sound leakage, I've noticed, though it's not as bad as open-ear style headphones. Other people in a quiet room could be able to hear some sounds.
Sound Quality
I thought the sound quality was fairly impressive for the price range of these cans. They're plenty loud, due to the amplified sound, powered by a rechargeable 900mAh battery. The headphones come with 4 built-in (but not customizable) EQ presets: bass boost, signature sound, bass and treble boost and vocal boost.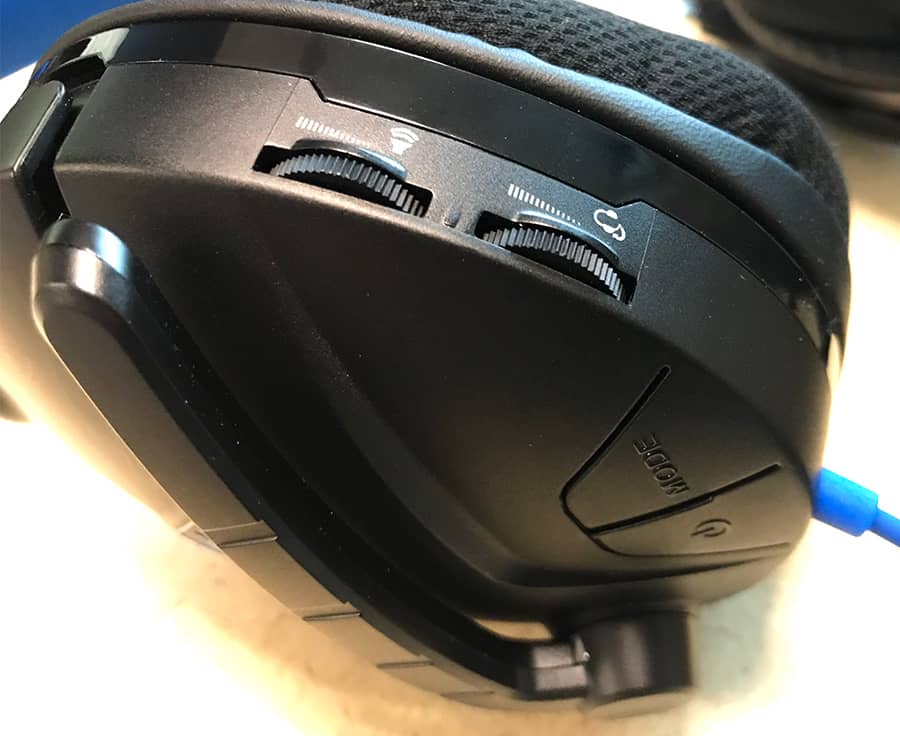 I personally didn't hear much of a difference between the 4 settings, some slight changes in the amount of bass and treble, but I may need to test them some more under different non-gaming conditions, like listening to music or a movie.
I did watch one movie wearing the headphones and they sounded great. I think most movies and games are pretty heavy with the bass, anyway, so those big 50mm speakers pushed out some decent sound.
Microphone
A lot of thought was put into the way the microphone works. The flip-down mic is situated on the left ear and is activated once deployed in the down position. The mic turns off once it's flipped up, in case you need to speak without broadcasting to your teammates.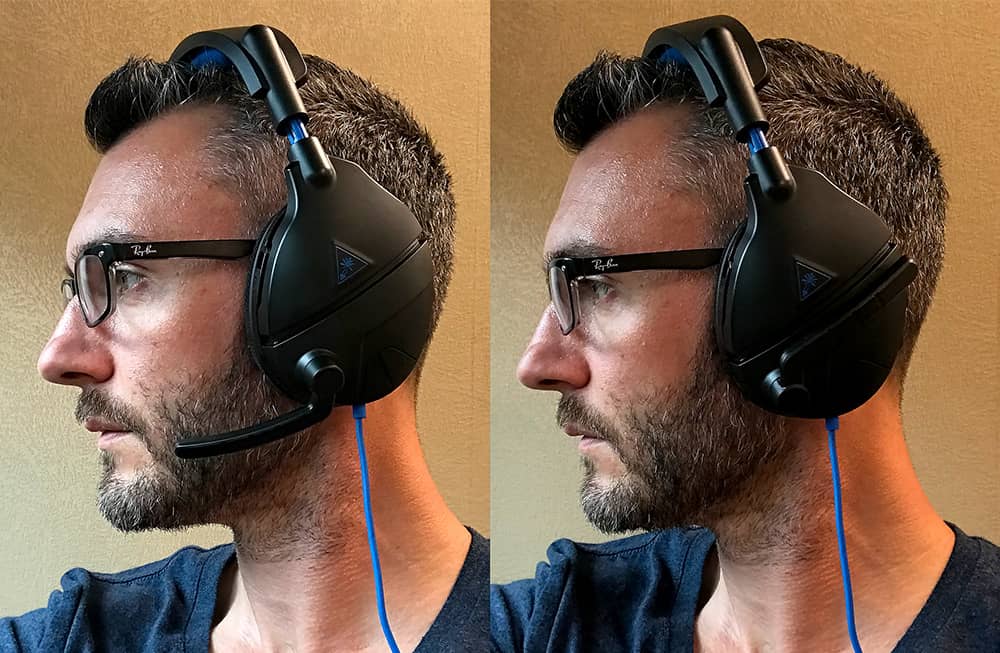 One of my favorite features is something they coined as Variable Mic Monitoring. Anyone who has used a gaming headset with a mic attached knows all too well the muffled sound of their own voice shouting over gunfire, music, and explosions. Before you know it, you're practically screaming at your own team trying to hear yourself over the chaos.
But with the Stealth 300, there is an additional control that adjusts the volume of the mic input being fed into the headphones. So when you talk, you hear your own voice inside the headset, sort of like a musician's monitor. The omnidirectional mic is strong enough to pick up a nearby conversation and ambient noise, so if someone in the room is trying to get your attention, you'd be able to pick that up in your headphones as well.
What I like
very comfortable for extended use, even over glasses

audio feedback in the headset from the microphone is

awesome

sound quality is great
What needs to be improved
some light sound leakage through the headphone cushions
Final thoughts
The Stealth 300 is an excellent headset, and without a doubt, the most comfortable I've ever come across. This headset can be purchased for Xbox One or PS4 in a color scheme that matches your hardware (Green for Xbox and blue for PS4), however, I believe either color will work with all of the compatible hardware. If you need a good wired headset with an excellent mic and comfort to spare, look no further.
Price: $79.95
Where to buy: Turtle Beach and Amazon
Source: The sample of this product was provided by Turtle Beach.