We use affiliate links. If you buy something through the links on this page, we may earn a commission at no cost to you. Learn more.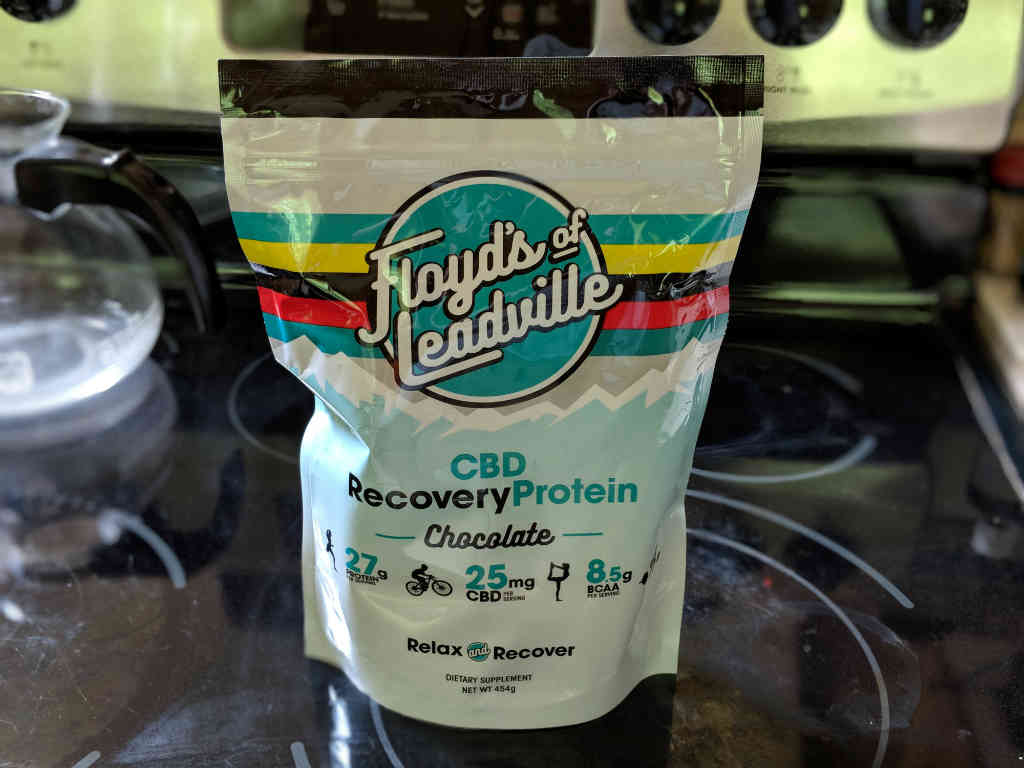 REVIEW – I workout 3 times a week and immediately after each workout, I drink a protein shake. Why? Because taking in protein after a workout starts the repair process on the muscles that you just thrashed. Even though I drink protein after every workout, about 75% of the time, my muscles will be somewhat sore the next day from the micro tears that happened during the previous day's exercise session. And sometimes they will be very sore. So, when I was approached by Floyd's of Leadville with an offer to review their Recovery Protein with CBD which they claim takes the edge off post-exercise pain by reducing inflammation and easing muscle soreness and joint stiffness, I said heck yeah! Did it work? Keep reading to find out.
What is it?
The Floyd's of Leadville CBD recovery protein powder is a fine whey protein powder that comes in either vanilla or chocolate flavors and mixes with water or milk. But the special ingredient is the CBD aka Cannabidiol. What is Cannabidiol? It's an extract from the hemp plant and the hip new ingredient being used in products and touted to provide a variety of added health benefits. Some claim that CBD helps with stress, pain, inflammation, and more.
Nutritional info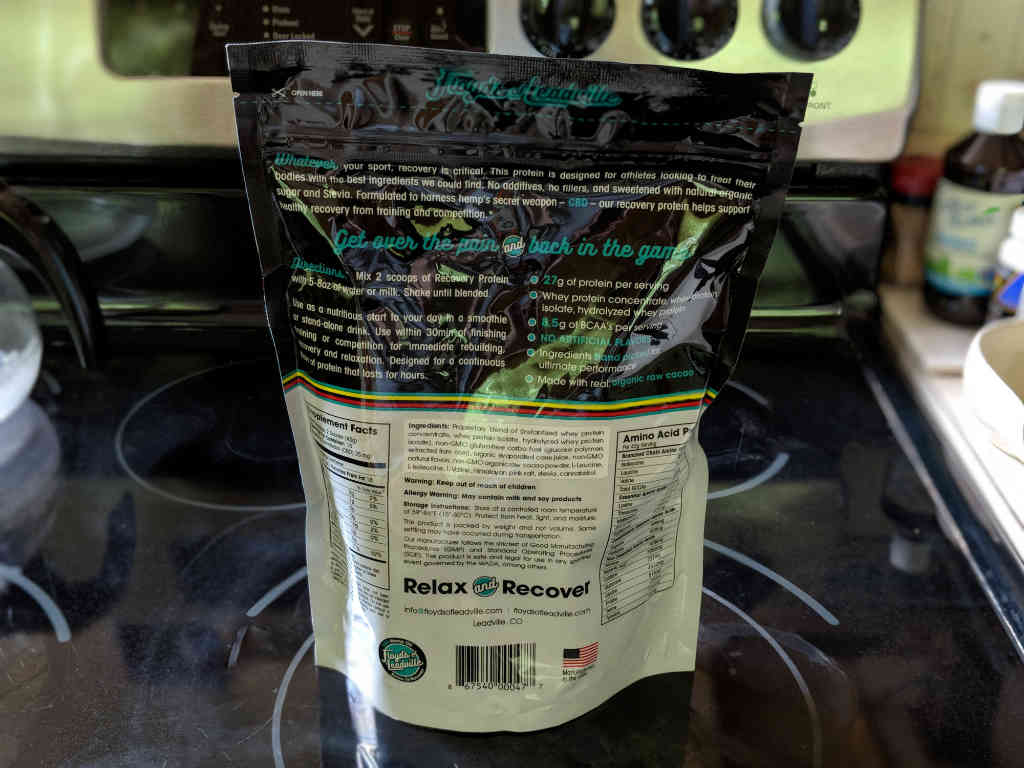 27g of protein per serving (a serving is 2 scoops)
Whey protein concentrate, whey protein isolate, hydrolyzed whey protein
Cannabidiol (CBD) 25mg
8.5g of Branched-chain Amino Acids (BCAAs) per serving
No artificial flavors
Made with organic raw cacao
Sweetened with stevia
Calories, 180
Calories from Fat, 18
Total Fat, 2g / 2%
Saturated Fat, 1g / 5%
Trans Fat, 0g
Cholesterol, 0g / 0%
Total Carbohydrate, 10g / 3%
Dietary Fiber, 0g / 0%
Sugars, 5g
Protein, 27g / 52%
Will this stuff make me high?
When you read that the Floyd's of Leadville protein powder has CBD in it and read that CBD stands for Cannabinoid you probably thought of Cannabis AKA Marijuana, and thought no wonder this oil makes you feel better, it's because it makes you stoned. Actually, no, CBD oil will not get you high because it does not provide any psychoactive effects (the "high" or "stoned" feeling) that THC, the other Cannabinoid that will get you high provides.
Will CBD cause me to fail a drug test
From what I've been reading, the standard serving size of 25mg CBD in this protein powder will not cause you to fail a drug test. According to one article that I read, you would need to consume between 1000 and 2000mg of CBD for it to show up on a drug test. And another article also talked about how it would be highly unusual for there to be any problems with a drug test when taking products that have CBD in them. But it's also important to understand that very high doses may result in a positive urine test. Ultimately, you need to be fully aware of the regulations posed by your employers and consume CBD products accordingly.
Is this product legal to buy?
Yes, it ships legally to all 50 states.
Never miss one of our posts again. Sent MON, WED, and FRI with the latest gadget reviews and news!
Let's workout and see what happens!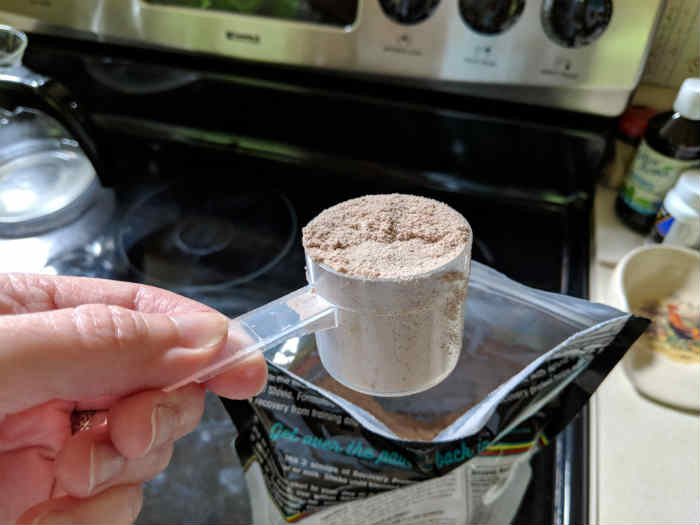 With all that out of the way, let's get down to how it tastes and if I noticed any differences after my workouts when using this protein powder. I have to preface this part of the review by saying that I'm only relating my own experience using this product. I have no idea how or if it will work for you or how you will interpret the taste.
As I already mentioned, I workout 3 times a week on Monday, Wednesdays, and Fridays. Each time I pour about 8 ounces of Blue Diamond regular almond milk into a Ninja blender cup, add two scoops of the Floyd's CBD protein powder, a few ice cubes, a little water and then I blend it for a few seconds to mix it all up and break up the ice. Then I stick the shake in the fridge while I do my 30-minute workout. As soon as I'm done working out, I blend the shake again for another couple of seconds and drink it. I've done this routine 7 times so far using this powder and I've felt zero muscle soreness the next day. For me, this is highly unusual because I almost always feel at least a little sore/stiff the next couple of days after a workout. I even tried working out harder just to make sure I wasn't going easy on myself, but I still wasn't sore. I know this isn't a scientific test, but just from what I know about my own body, I can say that the CBD seems to work for me so yay!
As for taste, I was sent the chocolate version of the powder and it tasted like… chocolate. 🙂 It was sweet without being too sweet. I like the flavor.
The powder mixes very well and I didn't notice any clumps or grittiness.
Compared to my regular protein powder, I didn't feel any different mentally after drinking the shake made with the Floyds of Leadville CBD recovery protein powder. I didn't get the munchies or feel paranoid either 😉 Seriously though, it tasted just like 100's of other protein shakes that I've made and consumed over the years.
What I like
Mixes easily with no clumps or grit
Tastes good
Eased/erased my post workout soreness
What needs to be improved
Final thoughts
CBD is the hot new ingredient that is being added to what seems like everything right now and I am skeptical of things like that. But at least for my simple try it and see what happens tests, drinking the Floyds of Leadville CBD recovery protein powder after my workouts meant that I would not feel any soreness or stiffness the next day or two. That's the good news. The not so good news is that the powder is expensive compared to the powder that I normally use. It's $4 per servings with only 10 servings per bag at a total cost of $40. When I compare that to the protein I normally buy, Floyd's powder is about 4 times more expensive per serving. For that reason, I will not continue buying it, but if your protein budget is larger than mine, this powder is definitely worth trying if you have issues with sore muscles after your workouts.
Price: $39.95
Where to buy: Floyds of Leadville
Source: The sample of this product was provided by Floyds of Leadville.