We use affiliate links. If you buy something through the links on this page, we may earn a commission at no cost to you. Learn more.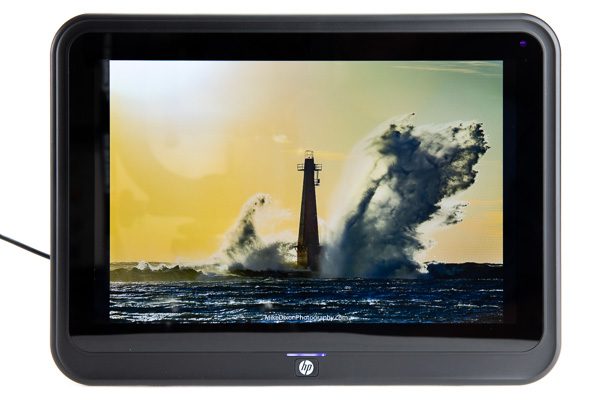 Digital photo frames have come a long way since they were first introduced shortly after LCD's in the late 1990's. The HP df1050tw Wi-Fi Photo Frame is no exception as it almost feels like a modern tablet.
What is it?
The HP df1050tw Wi-Fi Photo Frame, as its name implies, is a photo frame. However, it has a few features that make it more than just a photo frame. This HP photo frame features a touchscreen, WiFi, mobile app ability, calendar, clock and the ability to play music.
Hardware specs
Display Size 10.1 inch TFT LDC Screen
Screen Resolution 1280 x 800px
Aspect Ratio 16:10
Internal Memory 8GB
Storage Media SD (SDHC) Card up to 32GB (Class 10), USB Memory Stick
Touchscreen Yes
Speakers 2x 2W
Sensors Light
Photo Format JPG, BMP, PNG
Music Format MP3
Power AC 110~240V 50/60Hz, DC 5V/2A
Color Black, Rose Gold, White
What's in the box?
HP df1050tw Wi-Fi Photo Frame
Power Cord
Quick start instruction sheet
Design and features
The HP Photo Frame is designed to sit on a flat surface, unlike some photo frames that can be hung on a wall. The initial setup included selecting the language and connecting to my WiFi. After displaying instructions on where to get the mobile app, the device detected that a firmware update was available, and was able to download that and update it without connecting the device to a computer as some devices do.
Connecting a mobile device is as easy as downloading the app, signing up for an account, and entering the device ID, or scanning the QR code on the tablet screen.
The display of photos on the screen is really nice. The colors are vibrant and the brightness is adequate. You can manually browse photos in the internal memory where the cloud photos are, or the SD card.
The photo frame and app work pretty much as designed, and for the most part they are probably adequate for most people. However, I found several things that I did not like.
The mobile app is quite basic, and poorly written. There are numerous instances of poor English and misspellings. For example, "Account" is spelled "Accout" in several places. When registering a login for the app you're prompted to enter "Account, Password, and Nickname" – "Accout" is an obvious misspelling of "Account", but if you leave it empty and try to create an account you're prompted with "Username can't be empty" – so it's really your username. However, on the login screen of the app, it shows Username and Password. There is no password length enforcement for security either. Account and Username are used interchangeably in various messages.
If the wireless is turned off on the frame and you try to add the device via the app, the device list in the app displays "Req..erify" which is probably short for "Require Reverify" based on the poor English in the app.
Choosing the Forgot password option in the app presents you with a screen titled "Change Password", and fields named "Please enter the device code", "Please enter a new password", and "Username". This is a completely non-standard way of handling a forgotten password.
After you have selected photos on your phone and sent them to the device, there's no indication of which photos you have already uploaded. If you select a duplicate photo you'll have two of the same image on the device. There's also no way of undoing a transfer so if you send the wrong photo to the device, it can only be removed from the photo frame using the photo frame user interface.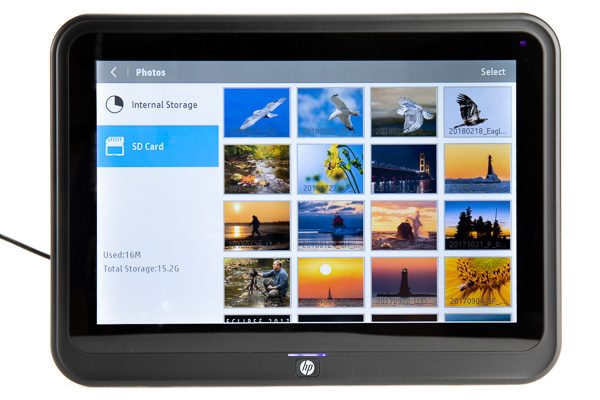 On the photo frame itself, there is an option for a screensaver, where you can set hours for it to display a clock at night for example. However, when the screensaver turns off at the end of the set period of time, there's no way to make it automatically display the photos on an SD card, only the internal memory.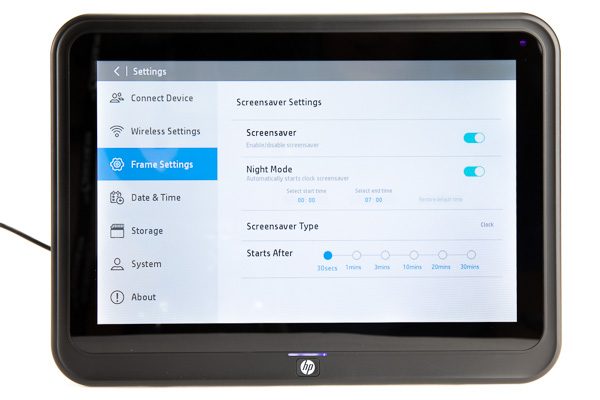 There is also a calendar option, which I thought was a really nice feature. Built-in stereo speakers and a music player provide for playing MP3 files.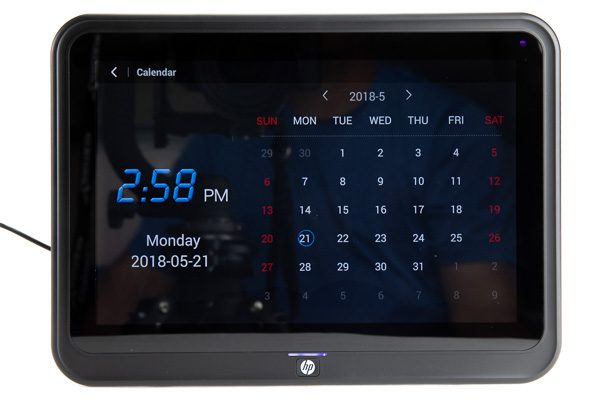 The photo frame also has an alarm feature, which took me a little while to find the settings for. You have to tap the clock on the menu screen to access the alarms. After which you can set up multiple alarm times, alarm ringtones, and which days to repeat the alarm. There 7 ringtones for the alarm, but two of them sound identical.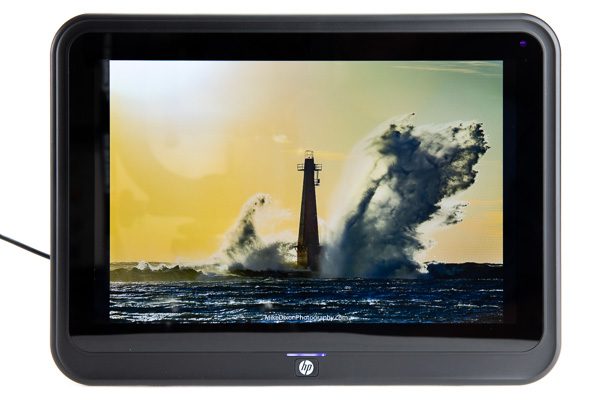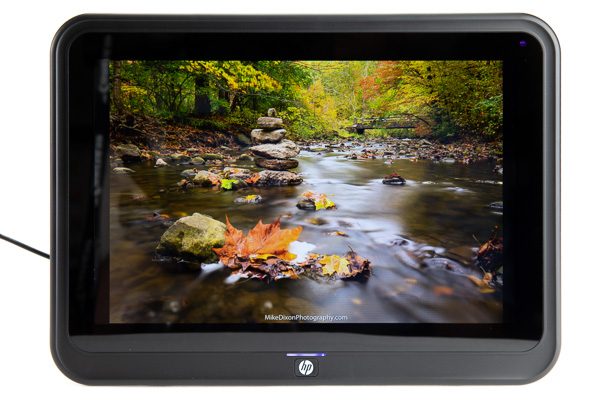 What I like
Responsive and nice looking touchscreen
Additional features such as alarm and clock
What needs to be improved
Mobile device app needs much work
Advertises 8GB internal storage, but only 5.6GB is free to use for photos
In settings, if the current time is between the times set for the Night mode, you can't change the screensaver type
No wall mount
Final thoughts
The mobile app needs much more work to make this photo frame a family and friends device. There needs to be a way to manage photos remotely from the app. I had thought about putting one of these at my mom's house so I just load my most recent photos automatically to the frame but without the ability to remotely remove photos that option is not realistic.
Price: $149.99
Where to buy: Amazon
Source: The sample of this product was provided by Idea Electronics.