We use affiliate links. If you buy something through the links on this page, we may earn a commission at no cost to you. Learn more.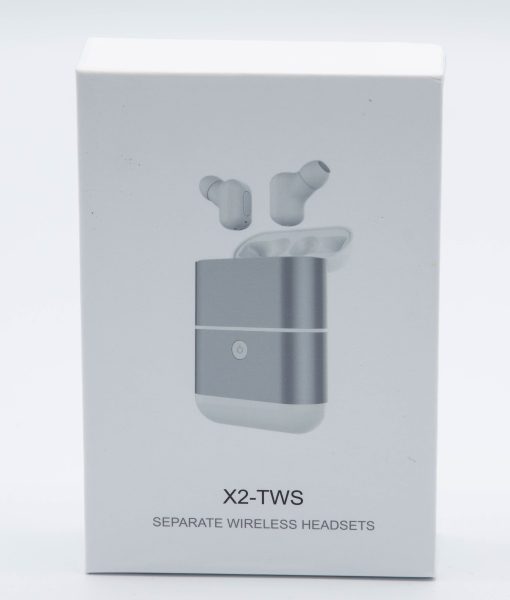 As the "perfect earbud" search goes on, I got another opportunity to test and review a contender. Here we go:
What is it
The Kitbeez True Wireless Earbuds with Power Bank, are a pair of very small earbuds with a charging case and a built-in battery, and a removable power bank that can charge devices with micro USB, micro USB-C or Lightning jacks.
What's in the box
1 x Pair of Kitbeez True Wireless Earbuds with Power Bank and charging case
3 x Pair for EarGels
1 x Micro USB Cable
1 x Micro USB-C Male Adapter
1 x Lightning Male Adapter
1 x Instruction Booklet
Design and features
The Kitbeez True Wireless Earbuds with Power Bank consists of a base unit that is a USB power pack, and it plugs into a charging base for the wireless earbuds. When the 2 halves are connected, the entire case measures approximately, 3 inches x 2 inches x 3/4 inch. These measurements include the top cap that covers the earbuds when they are placed in their charging case.
The base unit which is the USB power pack/charger has a micro USB connector that plugs into the charging case. This is illustrated by the pictures both above and below. The earbuds then sit in the charging case to be stored and recharged. In addition to the micro USB connector on the base unit, there is also an LED indicator that shows the charge level of the power pack, and female micro USB jack that is used to charge the base/power pack.
As illustrated below, on the front of the case on the base unit, there is a button that when depressed shows the charge level as indicated above by the blue LEDs. The back of the unit has the following imprinted information:
Model: X2-TWS
Input: 5V/1A
Output: 5V/1A
Capacity of earphone: 45mah
Capacity of charging base: 1600mah
Two additional adapters are also included with these earbuds. They plug into the male micro USB connector of the base power pack and allow you to plug in and charge any device with a micro USB-C port or a lightning port.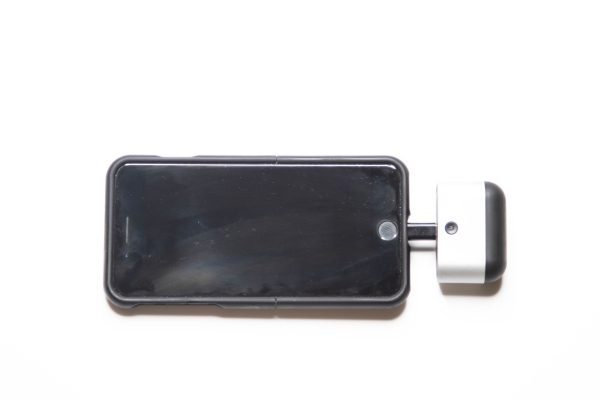 The picture below on the left shows a micro USB cable plugged into the base power pack to charge it.
Performance
The Kitbeez True Wireless Earbuds perform well in a few categories. The sound is decent with a good balance of lows, mids, and highs. No one frequency range overshadows the other, which is nice for earbuds that are on the relatively lower side of the price scale. The lows are acceptable but do become somewhat distorted at higher volumes. Any distortion can be easily remedied by lowering the volume a notch or two. The earbuds are very small and light and stay in your ears quite well, although I am still not convinced that they will always stay in place while sprinting across a hard surface.
The Bluetooth connection is very stable, and I only experienced disconnections when I was in an area with known interference. Charging time is great, and the earbuds' power lasts quite long on a full charge even when played at high volume levels. The active noise canceling works, but since it is always active, I was not able to turn it on and off for a comparison. While I was able to use these earbuds for phone calls, there were times when I had to repeat myself several times because the person on the other side of the call could not hear me clearly.
In terms of music, I tested them with my usual genres of Contemporary Jazz, R&B, Reggae, Easy Listening, Gospel and "borderline" Classical, and the sound reproduction was always relatively acceptable. They are not audiophile grade by any means, but they work well for daily use while going about my business.
What I like
I like that the sound of the earbuds is decent and loud enough and that they are quite small. I also like the charging options that the base unit provides and that they seem to last a very long time on one charge of the base unit. Once properly charged, I used them for at least 2 weeks at about 1 1/2 hours each day from Monday to Friday without ever having to recharge the base unit. After the 2 weeks, I decided to charge the base unit albeit that the LEDs still showed 2 of 4 lights indicating that it was still at about 50% charged.
What can be improved
1: The earbuds have no visible markings that I can see to tell me which one is left or right, and I only know after I place them in my ears and the voice command lets me know. About 80% of the time, I had to switch them around. I did not really hear any difference in performance when they were in the wrong ear but just knowing that they were in the wrong ear compelled me to switch them around.
2: When connected the base unit to the charging case, you have to pay extra attention to the connection and fiddle with the two halves while looking at the earbuds seated in the case to ensure that they are charging. For the first few days of testing these earbuds, I just "dropped" them into their charging case and assumed that they were charging. When I went to use them, one side was "dead". The next day, I tried leaving them to charge overnight and got the same result. After some further investigation, I found out that I had to plug the base unit in and out of the charging case a few times until it seated properly.
3: This is my biggest issue with these earbuds: With a few exceptions, almost all of the wireless earbuds that I have tested disconnect when put in their charging case. This is not the case with these earbuds. Initially, After I placed the earbuds in their charging case and tried to answer a few phone calls, I could not hear anyone on the other side of the calls. I checked to see what was wrong, and I found out that the earbuds were still connected to the Bluetooth on my phone. I tested this several times with the same result. After that, I knew that I had to physically power down the earbuds before placing them in their case to release the Bluetooth connection, or I would have to go into the settings on my phone and disconnect. Since this discovery, I have been powering them down after each use.
Final thoughts
Honestly speaking, I did not expect a whole lot from these earbuds, considering the price and some of my previous experiences. However, they work quite well for daily "runabout" use, and having the USB power pack is a great convenience since it can be used universally to charge other devices. Recommending earbuds based on sound is very risky since this dynamic is based on individual perspective and very subjective. For the cost, and the features offered, I would say that these are definitely worth a try, and are a good value.
Price: $54.99
Where to buy: Amazon
Source: The sample for this review was provided by Kitbeez.