We use affiliate links. If you buy something through the links on this page, we may earn a commission at no cost to you. Learn more.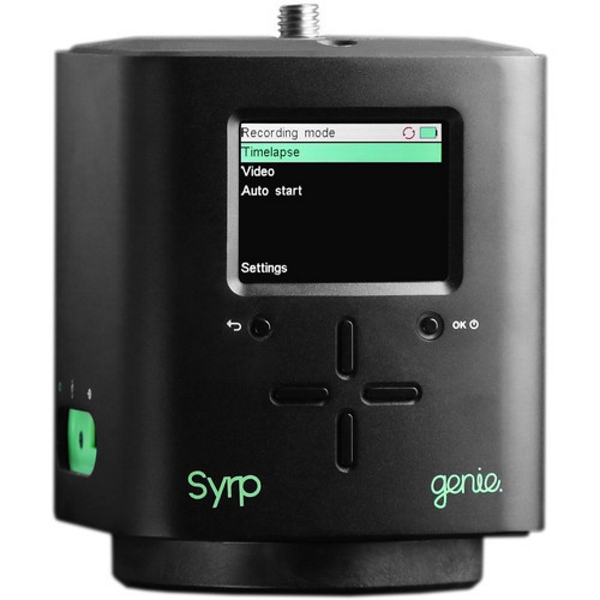 As I continue the conversation on camera sliders and time lapse devices, I do recall someone mentioning the Genie from Syrp as part of the discussion from one of my previous news stories.
The Genie Motion Control Time-Lapse Device from Syrp is a relatively small device as a cube that is 4 inches all around, and its functions include both video recording and time-lapse photography. It weighs only 3.3 pounds, and attaches to just about any rig that is used for photography and/or videography, including tripods, sliders, dollies, etc.
With the Genie, you can perform both panning and linear motion control. It has the ability to be mounted to your gear and includes a 3/8"-16 stud so that you can mount your head directly onto it. What is really great is its weight capacity which is 44 pounds. With that type of weight capacity, you can mount just about any camera setup without any concern about weight. It has built-in presets for specific types of photography or videography, and you can load any additional presets you want to use directly into its memory. It features a built-in illuminated bubble level, a sensor input, and a USB input for firmware upgrades. A 3-hour battery charge will give you about 12 hours of usage, depending on the weight of your rig that is mounted to the Genie. It is compatible with over 130 cameras from the major camera companies, but the cable to link the camera to the Genie is usually a separate purchase. However, on some websites, I have seen one free cable included with the purchase. Since it ships with both panning and sliding bases, you are almost ready to go right out of the box.
If you would like to purchase the Genie Motion Control Time-Lapse Device from Syrp, head over the Amazon or B&H Photo Video and pick one up for $549.