We use affiliate links. If you buy something through the links on this page, we may earn a commission at no cost to you. Learn more.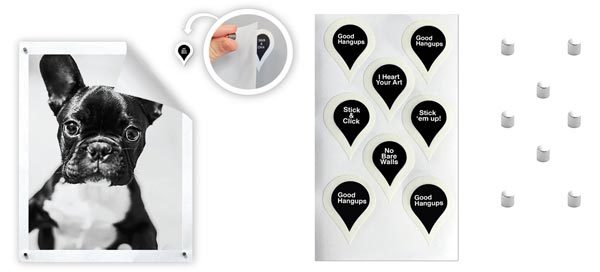 When I was living in college dorms and in my first rental apartments, I had a lot of posters I decorated with that I really liked.  I didn't want to damage them with tape on the corners nor holes from thumbtacks, and there were rules about damaging the walls, so I had to get creative when hanging my artwork.
My system involved cardboard, sewing thread, tape, and straight pins from my sewing kit.  It didn't look great, but it saved my posters.  I wish I had GoodHangups back then because I could have easily hung and rehung my posters without damage to the posters or to the walls.
GoodHangups are a set of magnet-receptive stickers and little magnetic buttons.  The stickers adhere to the wall and are removable without damage to the wall nor residue left behind,  You can even move and re-use the stickers.  The stickers and magnets are designed to hold artwork of any dimensions, up to 624 square inches.
GoodHangups are available in sets of 8 for $14.89 up to a set of 100 for $99.99 at Amazon.