We use affiliate links. If you buy something through the links on this page, we may earn a commission at no cost to you. Learn more.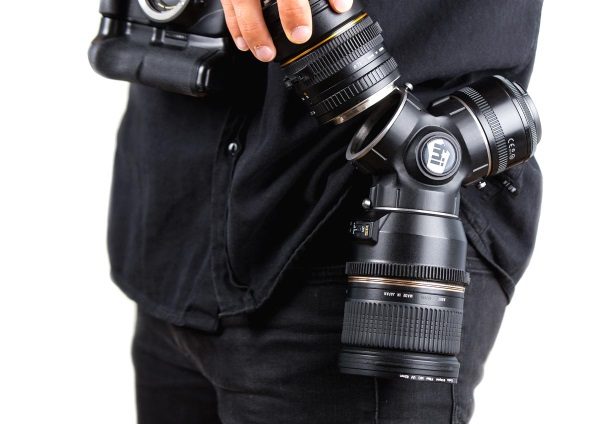 One of the many challenges that I face when out on a photography shoot, is how to manage interchanging multiple lenses quickly and safely. I can remember going out to shoot at a park that also had a pier, and I wanted to shoot landscapes, objects on the ocean, and some macro photography of flowers and insects in the park. I walked with my Sigma 70-200mm and Canon 24-105mm lenses for the landscape and ocean shots, and my Sigma 105mm macro lenses for macro photography. If you know the Sigma 70-200mm, you know that it is a heavy lens and must be handled carefully. Dropping this lens will result in major damage, so I had it safely in my Think Tank Holster, while I had a belt with two lens cases to secure the other lens. To make a long story short, I missed so many shots that day when I saw opportunities for great photos of moving targets, but I had the wrong lens attached for those shots, and simply could not swap lenses safely and quickly enough to take advantage of the moment. I eventually packed up and headed home because of the overwhelming frustration.
Now I know that some photographers carry multiple camera bodies with the additional lenses that they need, but for me, that was simply too much for that outing.
Since then, I have been on a quest to find a workable solution, and recently I came across the TRILENS. The great device clips to a gear belt and has three secure receptacles to secure three lenses. It claims to manage the strongest point of gravity very well to keep it close to the body, and it rotates easily for the selection and swapping of lenses. For me, this design seems like it will work well, and provide the quickness I need to change my lens, as well as allow me a better chance at capturing those great photography moments that I would otherwise miss.
If you would like to learn more about the TRILENS or purchase one, you can head over to the Friidesigns website or their Indiegogo funding page and pick one up for approximately $140 USD (€99.00EUR) plus shipping.