We use affiliate links. If you buy something through the links on this page, we may earn a commission at no cost to you. Learn more.

According to the movie Back To The Future 2, by 2015 we should have now been riding around on our own personal day to day hoverboards. What a great world that would have been. As we are in 2018, and yet still don't have the same technology to ride a non-wheeled skateboard deck that defies gravity, we have to settle for riding on a two-wheeled balancing board that utilizes the subtle shifting in our bodies to maneuver the board where we want it to go. Although this scooter board doesn't defy gravity, it is still fun to ride.
What is it?
The Coocheer Self-Balancing Scooter Board is electric powered scooter that uses gyroscope sensors that allow the rider to control the direction and speed of the scooter. By simply leaning your body forward or backward, it causes the scooter to accelerate in a forward or backward motion as well as slow down or stop.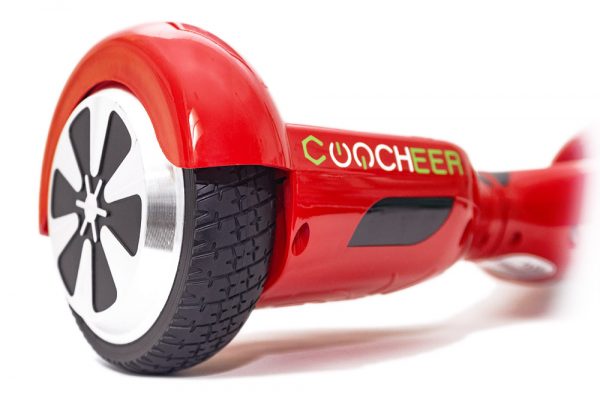 The Coocheer Self-Balancing Scooter physical specs are roughly 23″ in. x 7.3″ in. x 7″ in (585 x 186 x 180mm) and weighs around 22lbs (10kg).
The color I received to review was the red color. There are 3 other colors available, Black, Blue, and White. The body is made from a hard durable plastic material and there are non-slip rubber pads where you stand on which helps your feet from slipping.
The scooter board has a wheel size of 6.5″ inches and the scooter has a maximum speed of up to 10 MPH (16km/h). The alloy wheels are covered by solid rubber tires that allow the scooter to ride on various surfaces from carpet to outdoor terrain such as gravel or grass. Although not having to inflate these tires is very convenient, I think having inflatable tires could be advantageous on some hard flat surfaces for a smoother ride since there isn't any type of shock absorber for the balance scooter board. The bumps over hard surfaces can be very unforgiving.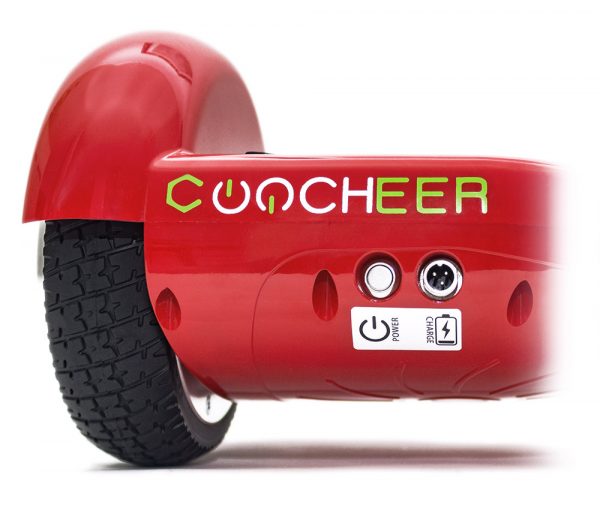 The scooter has an On/Off Button located right next to the Charging Port. It is an easy one touch button that doesn't require you to press and hold for a few seconds. Just press the Power button quickly and it turns the scooter board on and off with no problem.
On the front of the scooter are two blue LED lights. They are used for aesthetics and visual alerts as well as give to off some illumination when riding in dark areas.
This balancing scooter board is water-resistant rated at IP54 so it should be ok to ride around in dusty areas and in splashing water or light rainfall.
What's In The Box?
Along with the Coocheer Balancing Scooter is the charging adapter and manual.
Design and Features.
First and foremost, this is not a hoverboard as many others have stated in their descriptions. It has wheels.  If it were a hoover board then it would float above the ground without the aid of the two tires.  But I understand why these balancing boards would be called that since the sensation you get when you ride this balancing scooter board does feel like you would be hovering. Or at the least, it gives you the sensation of floating across the ground.
The size of this balancing board feels like the perfect dimensions for kids to adults. It's not too big nor is it too small for anyone to comfortably stand shoulder width apart. This balancing board can accommodate an adult weighing up to 220lbs (100kgs).
According to the manufacturer, this balancing board can handle going up inclines of up to 15 degrees. Anything more than that and you'll have difficulty going up the increased incline since you'll be putting too much stress on the balancing board's motors. The size of this balance board feels like the proper size to me. It doesn't feel too big and bulky nor does it feel too small and awkward. When I stand on the non-slip pads, my feet are at a shoulder width stance which feels natural to keep my balance on the board. I think a small kid or a larger adult should have plenty of room for a natural stance.
The molded plastic body feels sturdy enough that if a 220 pound person were to stand on this balancing board, the plastic won't crack under the weight.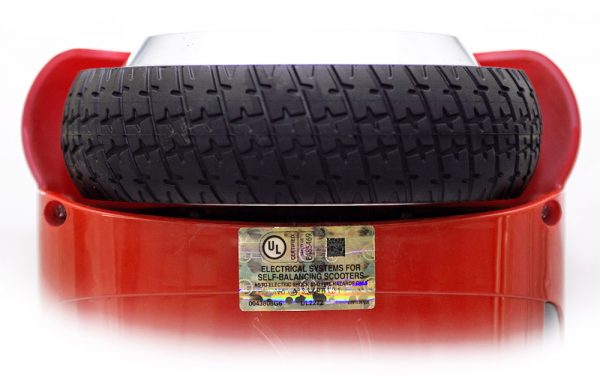 A 36V 4.0Ah Lithium battery is installed which powers two 250W motors. The battery life on the Coocheer scooter board is about 2 hours of continuous use and charges in about the same amount of time. There is a Battery Indicator on top of scooter board which displays the status of the battery. A major concern about these self-balancing scooters is the issue with their batteries being unsafe. Fortunately, the Coocheer self-balancing scooter is UL2272 Certified with a Smart battery and Intelligent Power-Off protection. And, this balance board has undergone a 159 Point Safety Test plus it has a temperature control system.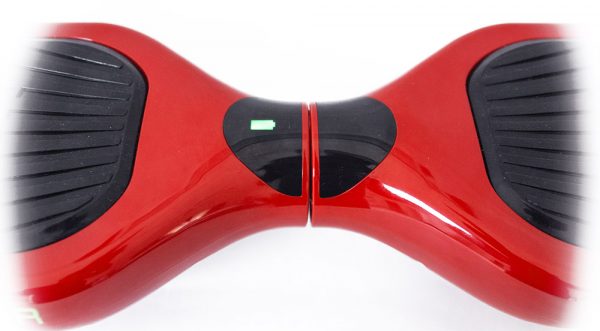 This balance scooter board being 22 lbs. gives it a nice sturdy feel to it without being to heavy to carry. It feels solid and doesn't feel cheap. It also doesn't feel like a toy, which honestly, is what I was expecting of these balance boards. I know there are other balance boards on the market that are more expensive and probably feel more solid but the Coocheer balance board feels like it can take a  beating.
A nice feature built in the Coocheer is a warning beep that alerts the rider when the maximum speed has been reached or exceeded.
The blue LED lights on the front of the balance board gives off some illumination when you are riding in dark conditions and just gives the balancing board a nice futuristic look to it. However, I wouldn't suggest riding at night or in complete darkness since I don't feel like the LED lights give off enough illumination to be used as safety headlights.

What I like
Sturdy and solid build.
Intelligent Power-Off
IP54 Water resistant.
159 Point Safety Tested.
Speed warning beep.
What needs to be improved
Non-inflatable tires.
Not ideal for low light or night riding.
No shock absorbers.
Final Thoughts
Having never ridden one of these self-balancing scooters boards before, I really looked forward to trying this out and see if I could actually pilot one. I can honestly say that I was intimidated the first time I actually stood on the scooter board itself. But for me, and years of competitive skimboarding and aggressive inline skating, the balance wasn't a major concern. My main concern was not being able to control the Coocheer balance board. My biggest fear was slamming into a wall because I couldn't steer the balance board to the direction I wanted it to go. But after a few times on the balance board, I got a grasp of the whole technique and was soon challenging myself to go faster, spin 360's, lean against the turns, and more. After a while I felt like a seasoned rider. I wouldn't even mind trying a bigger or faster version of these balance board.
Although these are absolutely fun to ride, there is definitely a learning curve. But with some practice and patience, you can build up the skills to ride these self-balancing scooter boards just like this Coocheer balance board.
Here's a short video clip of me riding the Coccheer self-balancing scooter board.
Price: $199.99
Where to buy: Amazon
Source: The sample for this review was provided by Coocheer. Please visit their site for more info.