We use affiliate links. If you buy something through the links on this page, we may earn a commission at no cost to you. Learn more.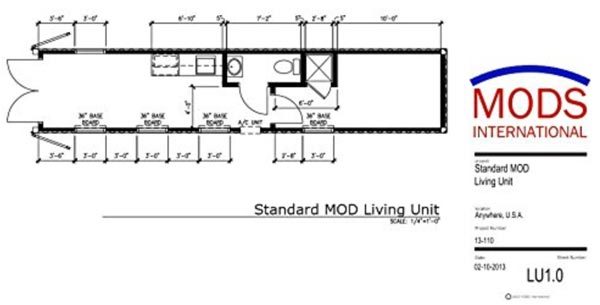 Usually, when you hear about tiny homes, you hear the story of how the owner has crafted their home themselves.  If you aren't handy, there are some options for buying a pre-made tiny home, if you're lucky enough to find a manufacturer you can work with.  Now any of us could have a tiny home because Amazon can ship a finished MODS home complete with appliances (those shown in the photos).
There are two models of the MODS homes at Amazon at the moment:  a 40-ft version and a 20-ft version.  Both versions are built from a new shipping container, and both have a bottom sewer connection, easy side water, and electrical connection.  Both have double patio doors that can be secured behind the container doors.  They are fully heated, insulated, and air-conditioned.
The 20-ft home has 160 square feet of interior space.  It comes with a kitchen with microwave, fridge, and sink, and a 2-piece bathroom with toilet and shower.  The 40-ft model has 320 square feet, and it has a bedroom, shower, toilet, and sink, plus a small kitchenette and living area.
The 20-ft MODS tiny home is $23,000.00 plus about $4380.00 to ship.  The 40-ft MODS tiny home is $36,000.00 plus about $3755.00 to ship.  Learn more at Amazon.