We use affiliate links. If you buy something through the links on this page, we may earn a commission at no cost to you. Learn more.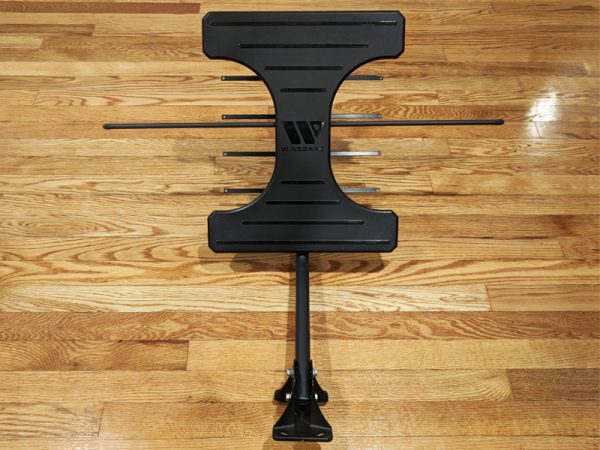 The Winegard Elite 7550 is a very powerful HDTV antenna that is able to pull in high-definition television signals from as far away as 70 miles. Reasonably priced at $149.99, it works exceptionally well despite a somewhat fragile build and a plastic roof mount that you'll want to swap out for something a lot sturdier.
What is it?
The Winegard Elite 7550 is a USB-powered, long-range, outdoor HDTV television antenna. These antennas are popular with cord-cutters because they allow you to access high definition over-the-air programming for free without the hassle and cost of dealing with a cable or satellite company.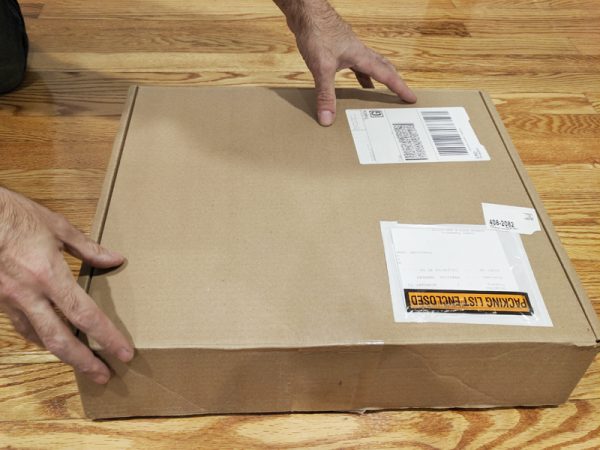 What's in the box?
The Winegard Elite 7550 Antenna with embedded ultra low noise amplifier
Inline 5V Power inverter with LED power indicator
3′ USB power cable with 110V adapter
Mounting supplies (pipe, foot, and hardware)
Instruction manual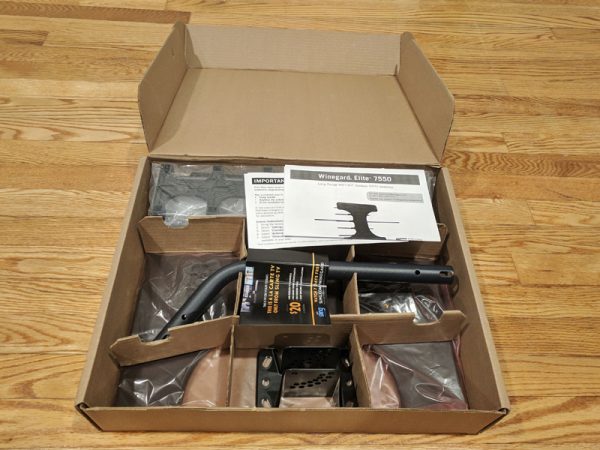 Hardware specs
70+ Mile Range with "Clear Circuit Technology"
Optimized for Dual-Band VHF/UHF Reception
Dimensions: 30″ x 17.5″ x 5″
Weight: 1 lb
Directional
Embedded ultra low noise (1db) digital amplifier
LTE Filter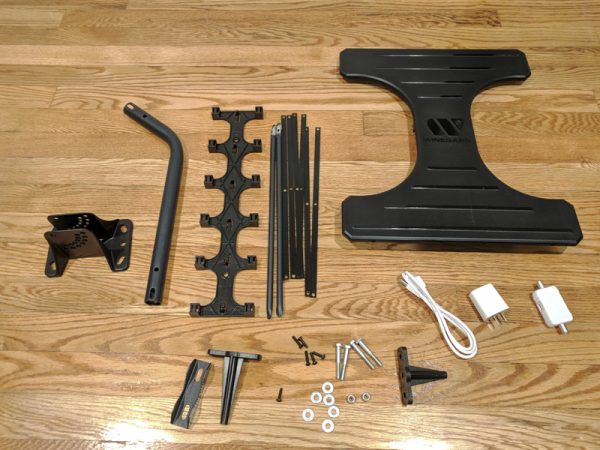 Setup
It's easy to get overwhelmed when first beginning to assemble the Elite 7550. There's no shortage of little screws, fasteners and delicate metal and plastic beams. Fortunately, after a quick perusal of the instruction manual, things will quickly make more sense.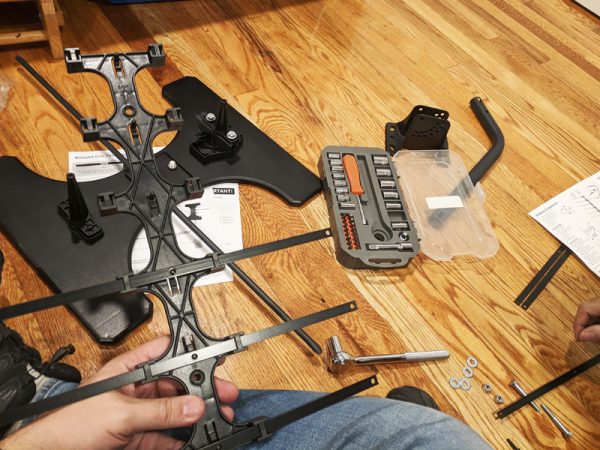 Each beam and fin has a home on the Elite 7550, but you have to take great care not to over-tighten any of the screws or snap a beam when bending and inserting them into position.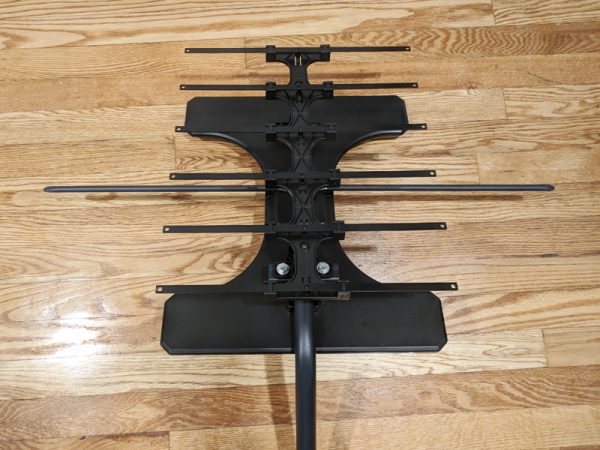 Once assembled, the Elite 7550 is pretty impressive looking, in a futuristic sci-fi kind of way.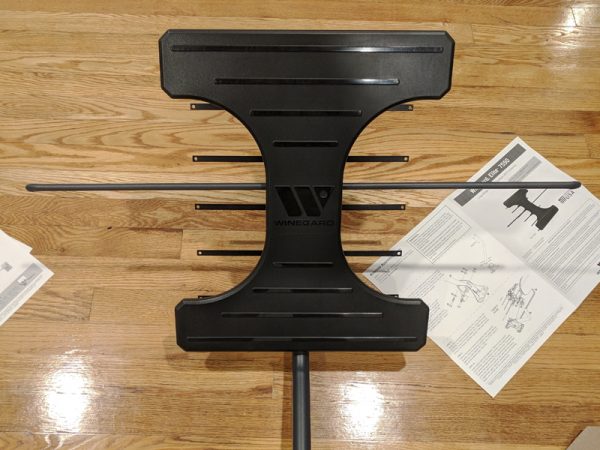 Design and features
The secret behind the power of the Winegard Elite 7550 is its embedded low-noise preamp and LTE filter. These two unique features help to filter out a lot of existing signal noise and boost weaker signals that might otherwise get lost.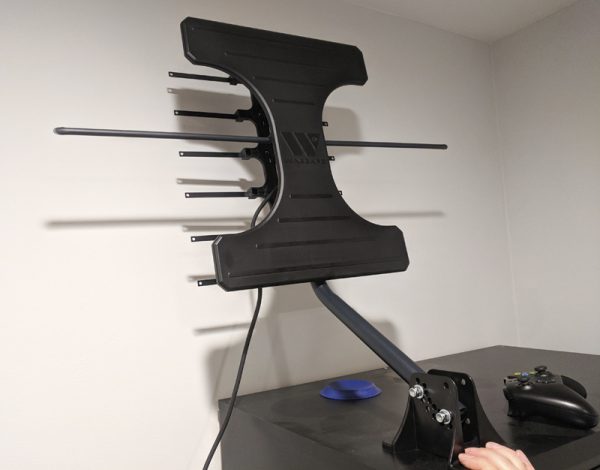 As a perfect example to the power of the Elite 7550, after assembling the antenna we set it up next to the TV on a shelf in the back room of a house surrounded by woods in Westchester County, New York. Against all odds, the antenna STILL pulled in about 18 channels after we ran the Channel Search function on our test TV.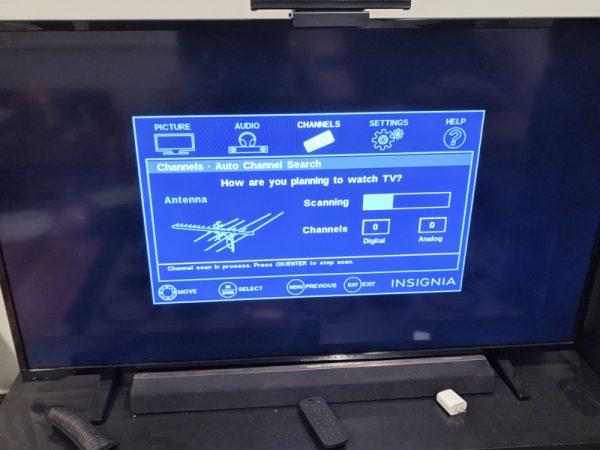 Every television and set-top box has a different way to search for HD channels, but they're all pretty similar. Connect the antenna to your TV or box, find the "Auto Channel Search" or similar function, and sit back and let the process run.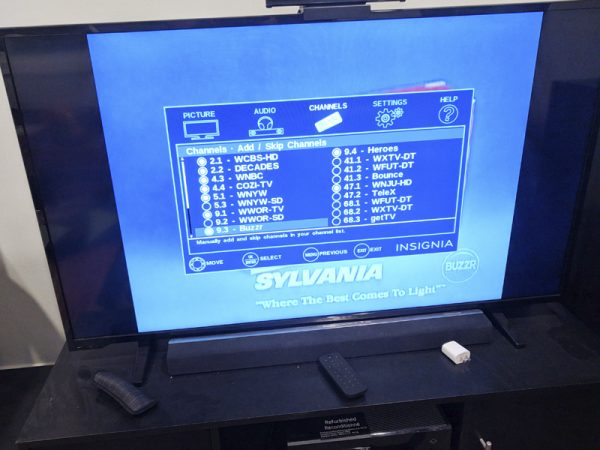 With the great success the Elite 7550 had inside, we couldn't wait to see how it did once mounted properly outside. The first step to that process was to visit the antenna selector at the Winegard website.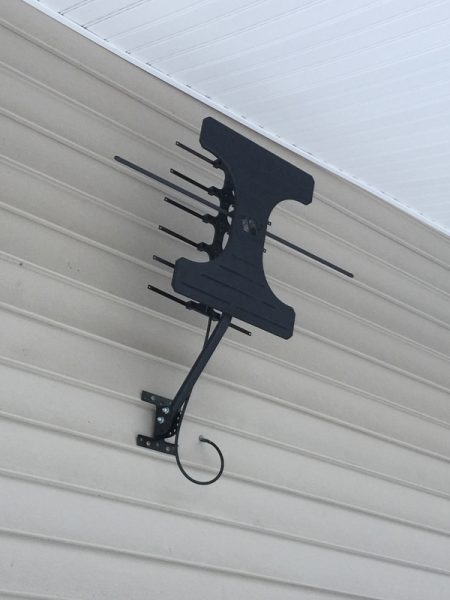 After inputting your address or zip code, the Winegard site will bring up a handy map showing you signal strengths, available channels, and the location of the nearest broadcast towers. The site will also show which Winegard antenna would work best for your location.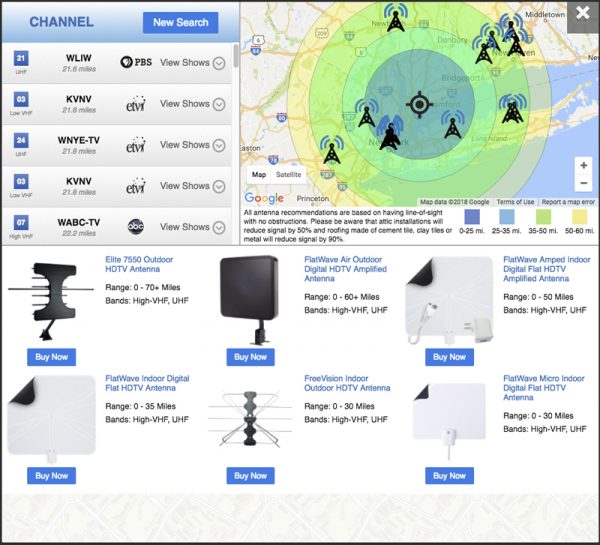 Or you can use Winegard's app to determine where to place your antenna. It is now available to download for free in the Apple App Store andAndroid Google Play store.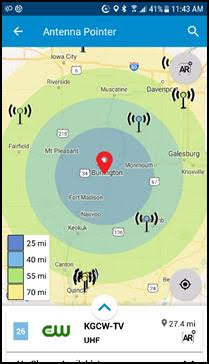 Once you've determined the direction of the nearest broadcast tower, make sure you align your antenna to face that direction BEFORE you mount it and start drilling holes through your house.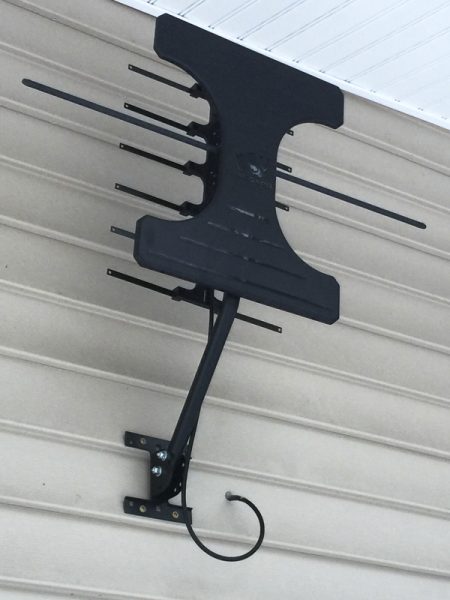 The outdoor mounting and directional adjustment allowed us to bring in even more channels than we had hoped for, over 50 in total.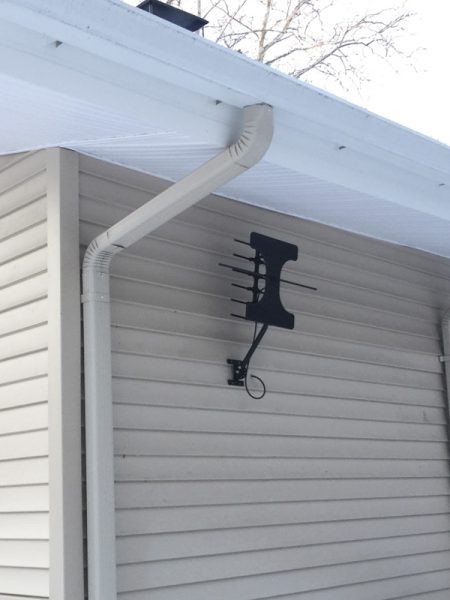 We opted to mount the Elite 7550 on the side of the house instead of the roof, partially to protect it a bit from heavy winds and weather, but also because we were fearful of climbing up on the roof and potentially falling off.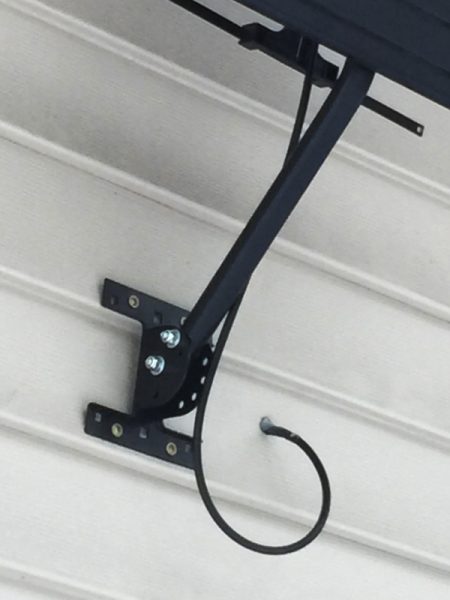 As I mentioned previously, the supplied mounting bracket felt pretty flimsy and we were afraid that it wouldn't hold up to the weight and mounting pressure, so we replaced it with an Ailuki J-Pole Antenna Mount we found on Amazon.com. We also hired a professional to drill through the house and run the coaxial cable into the living room right behind the main television.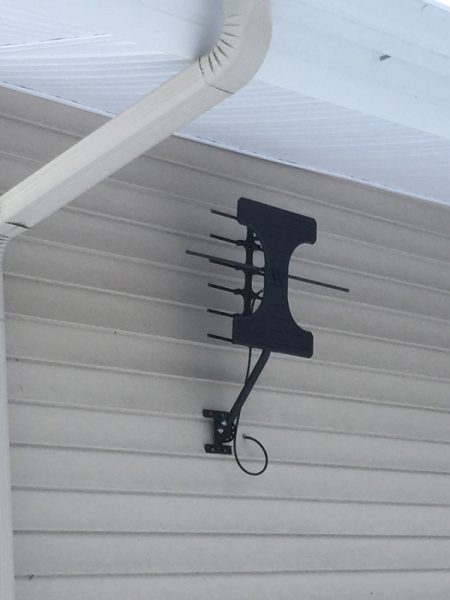 Now that the Elite 7550 is mounted and working, every once in awhile we'll run the Auto Channel Search again and discover that more channels have become available. The Winegard Elite 7550 has definitely made cutting the cord that much easier for us.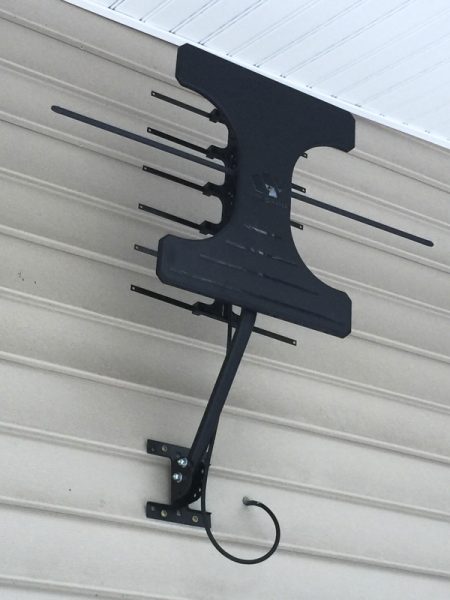 What I like
Relatively easy set-up
Very powerful
A number of mounting options
What needs to be improved
Care must be taken during assembly because of fragile elements
Plastic roof mount not adequate for permanent mounting
No coaxial cable included
Final thoughts
The Winegard Elite 7550 Long Range Outdoor HDTV Antenna is a great product. Once you do a little online research for signal towers and directional information this powerful antenna will pull in more free high-definition television channels than anyone would ever care to watch, even in some areas with tough terrain. The build quality is a little lacking for the price and some supplied coaxial cable would've been nice as well, but overall for $149.99 it's a decent purchase.
Price: $149.99
Where to buy: Amazon
Source: The sample of this product was provided by Winegard.