We use affiliate links. If you buy something through the links on this page, we may earn a commission at no cost to you. Learn more.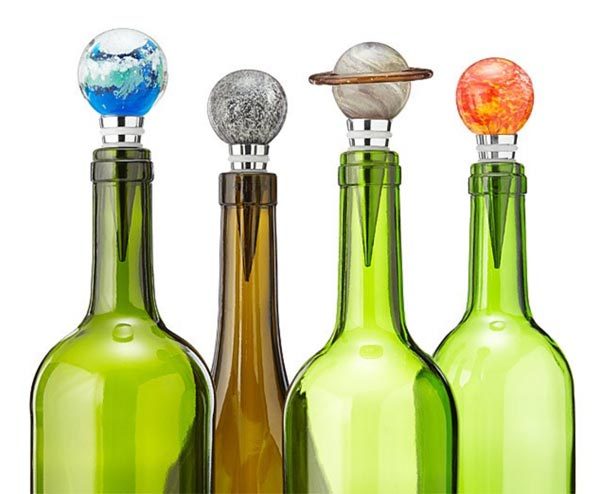 Well, these wine-bottle stoppers aren't planet sized, but they are planet shaped.  The Solar System Glow-in-the-Dark Bottle Stoppers are made by Chinese artisans using lamp-working techniques to turn colored glass rods into beautiful spheres representing the Sun and some of the planets.  As they are being made, a luminescent powder is mixed into the molten glass to make the spheres glow in the dark.
The stoppers are made of chrome, glass, and silicone.  The stoppers are 3.75″ tall, and the glass spheres are 1.5″ in diameter, except for Saturn, which is 2.25″.  In addition to the Sun, you can also select from the Earth, Moon, Mercury, Saturn, or Neptune.  Saturn is $26.00; all other designs are $24.00 each.  Choose your glow-in-the-dark cosmic bottle stopper at UncommonGoods.