We use affiliate links. If you buy something through the links on this page, we may earn a commission at no cost to you. Learn more.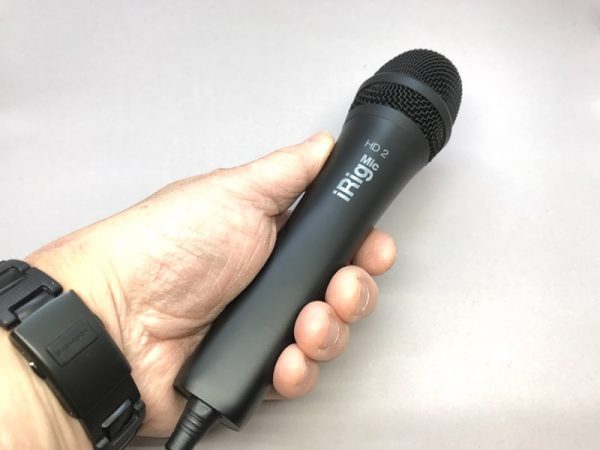 If you want to record audio on the iPhone, you always have the built-in microphone. But if you want to step up your recording game, connecting an external microphone can be a little daunting.  The IK Multimedia iRig Mic HD 2 is a quality, affordable condenser microphone that will do the trick.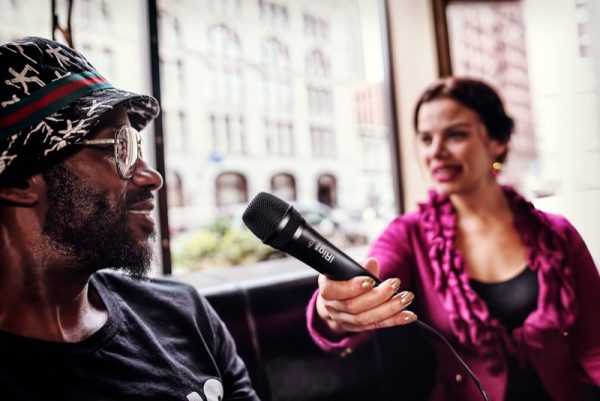 Microphone Type: condenser, electret
Capsule Size: 0.55″
Polar Pattern: cardioid
Interface Type: USB digital microphone with a built-in low-noise, high-definition preamp
Conversion: 24-bit A/D, 24-bit D/A
Sampling Rate: 44.1 kHz, 48 kHz, 88.2 kHz and 96 kHz
Frequency Response: 20 Hz – 20 kHz, -3 dB
Maximum Sound Pressure: 125 dB
Sensitivity: -40 dB, 10 mV/Pa
Windscreen: built-in
Sensitivity: adjustable over a 40 dB range
Controls: Built-in low profile input gain and headphone volume contols/li>
Metering: Built-in multicolor LED for status and audio level indication
Connector Type: standard Micro-USB
Headphones Output: 1/8″ TRS jack
Power: powered by connected device
Package includes
iRig Mic HD 2 microphone
Lightning to micro-USB cable
USB to micro-USB cable
Protective storage bag
Mic clamp
5/8″ to 3/8″ thread adapter
Table top stand
Dimensions
Size: 188mm/7.4″ x 49mm/1.93″
Weight: 325g/11.46oz
Cables length: 1.5m/59″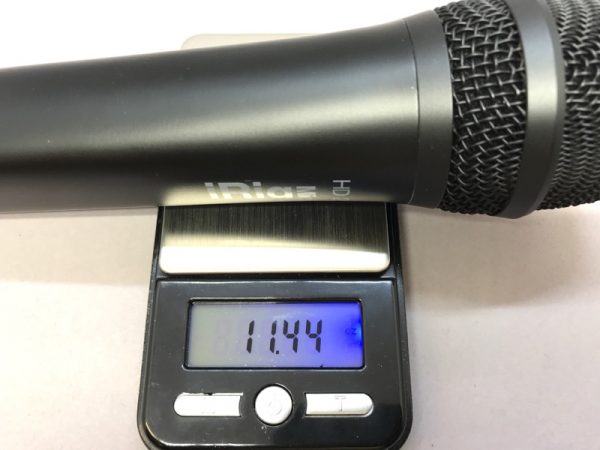 For you road warriors, the scale showed 11.44 oz for the mic itself, pretty much in line with the published specs.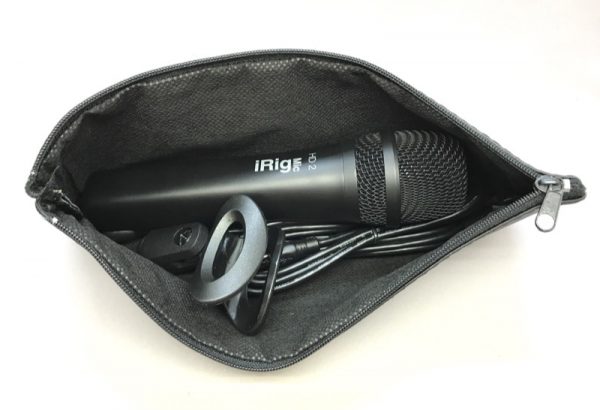 I was pleased to see that the iRig Mic HD 2 came with a zippered bag that actually fits all of the included pieces.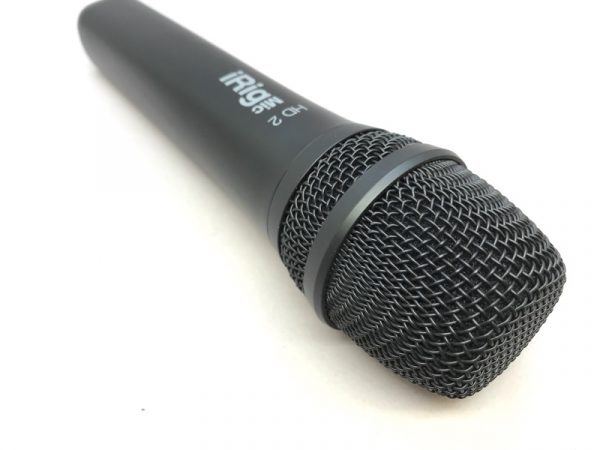 On the front end is a condenser electret microphone with a cardioid pattern.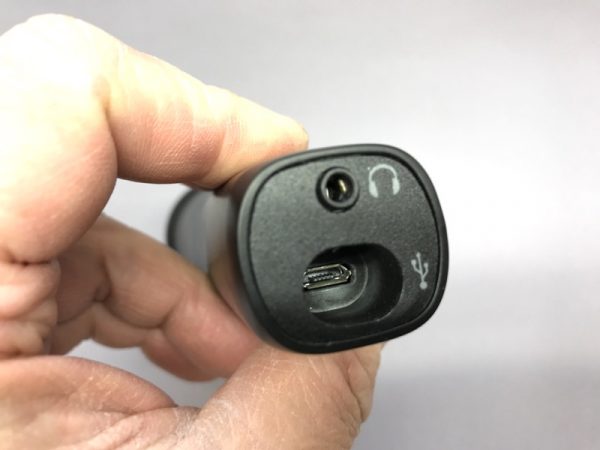 On the back end is a headphone jack for monitoring, and a recessed mini USB port.  The recessed nature of the port really limits the cables you can use, so I stuck with the ones that came with the kit.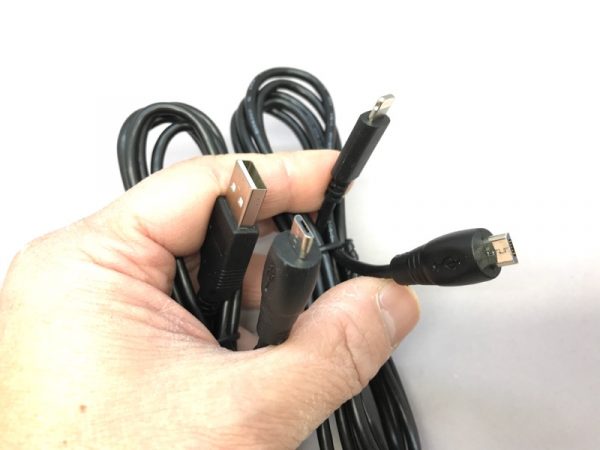 Speaking of cables, the kit comes with two.  One connects to your standard USB, the other is Lightning for iOS devices.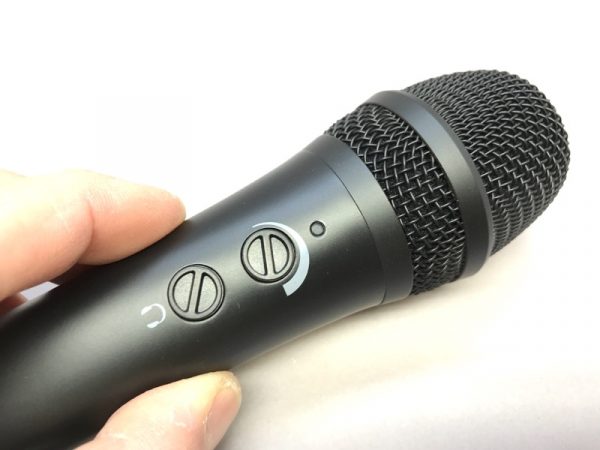 You'll find two knobs on the mic body:  One for microphone gain, and the other for headphone monitoring.  And LED blinks blue, red, green and orange to let you know what's going on.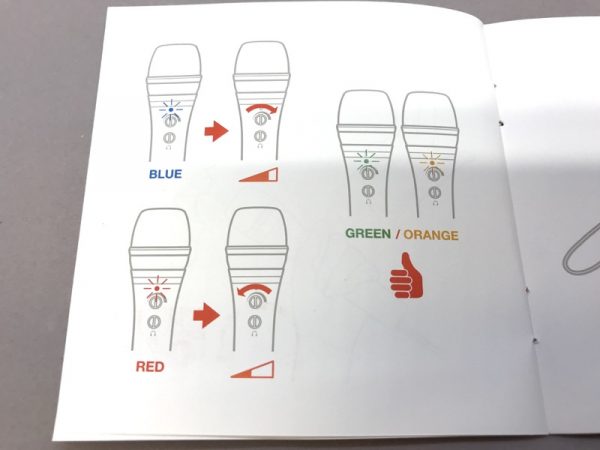 This page in the instructions shows what the colors mean. If it's blue, increase gain.  If it's red, you're probably clipping and need to turn things down. Ideally, you'll want to be in the green or orange range.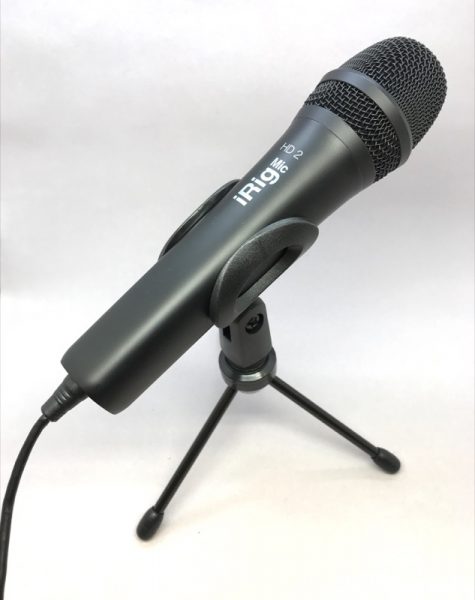 This little fold-up tripod is a great addition. I noticed the mic clip even comes with a threaded adapter to use with a standard "camera" style tripod attachment as well as a mic stand.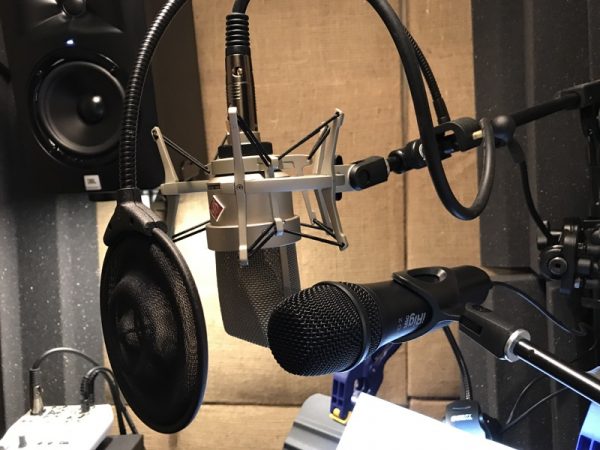 So how does the microphone sound? I placed these two microphones side by side in my purpose-built sound room, to eliminate variables of environmental noise.  On the left is the Neumann TLM103, and on the right is the iRig Mic HD 2.
Before you readers with Golden Ears cry afoul, I KNOW these are like apples and oranges: The TLM103 is a large-diaphragm condenser, and the iRig is an electret condenser.  But apples and oranges are both fruit for different occasions, and I would hesitate dragging my Neumann outside the house.
These two clips were recorded at the same time. No EQ or compression added.
Sample 1:  The Neumann TLM103 with a Grace Audio M101 preamp and Yamha AG03 mixer to a fanless PC recording with Audacity.
Sample 2: iRig Mic HD 2 connected directly to an iPhone 7Plus

Comparing the two samples, the Neumann TLM103 (and other gear) sounded just a little warmer. The iRig Mic HD 2 sounded terrific.  Maybe just a hint brighter and some barely imperceptible noise deep in the grass. Unless you're doing industrial tests in anechoic chambers, or you have a serious case of "I must spend 10x more money", the iRig Mic HD 2 is an excellent value in a compact package.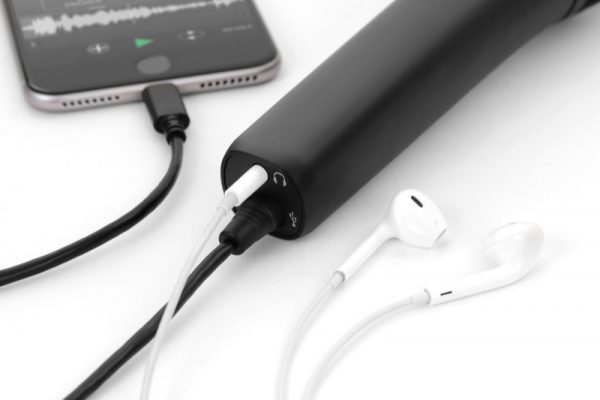 Source: The sample for this review was provided by IK Multimedia. Please visit http://www.ikmultimedia.com/ for more info and Amazon to order one.