We use affiliate links. If you buy something through the links on this page, we may earn a commission at no cost to you. Learn more.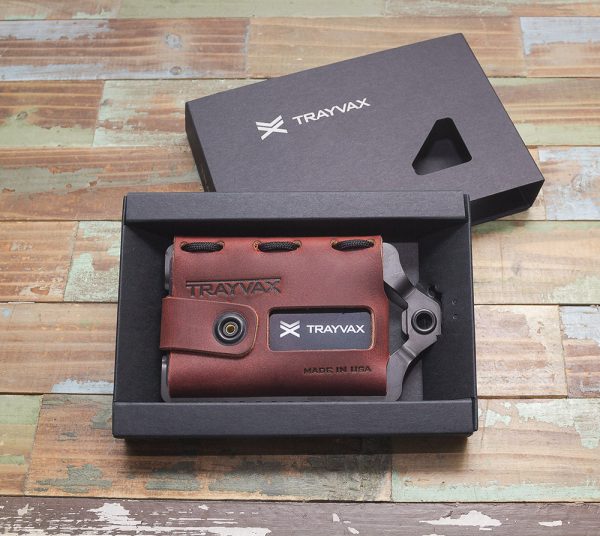 The Trayvax Element Old Glory wallet is for the person who wants to make a statement with the wallet's unique form and function shape.  And its guaranteed to get a few stares and a few comments.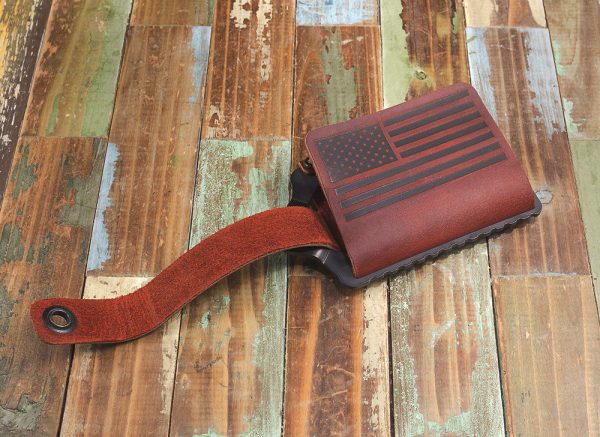 On the outside of this Tobacco Brown wallet, there is an American flag branded onto the side flap which covers the money clip on the inside. It is made of a very nice top grain oil tanned leather that looks and feels durable. The wallet is accented by a MIL-SPEC paracord trim along one side of the wallet.
One of the first things I noticed when I opened the box was the aroma of the leather itself. Something about fine quality leather has that certain smell to it.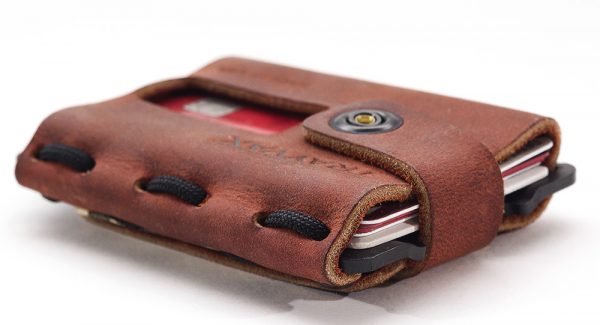 On the inside of the wallet is a black solid stainless steel metal frame, with a durable Melonite finish, in which the leather exterior wraps around to compliment the wallet shape. On the metal frame is a bottle opener in case you need it.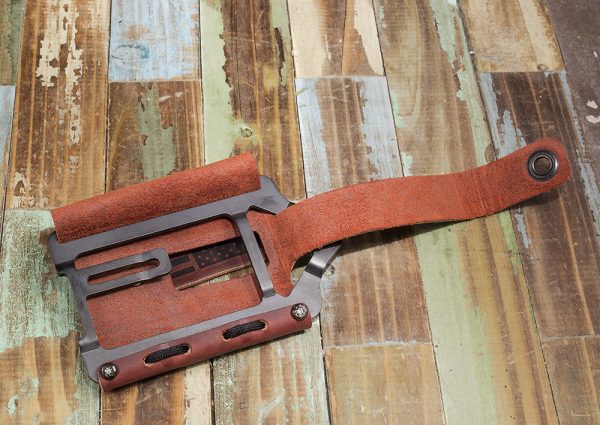 I personally never used the built-in bottle opener on anything even though I own a belt and a pair of Reef flip-flops that have a built-in bottle opener on them. But I suppose if you find yourself in need of a bottle opener then having the Trayvax wallet would be very handy to have with you. Plus, the metal frame makes the wallet RFID resistant so it helps to protect from radio waves and identity theft.
The Trayvax is 4.5″ inches long, 2.8″ inches wide, and 1.5″ inches thick. And it weighs in at 5 ounces.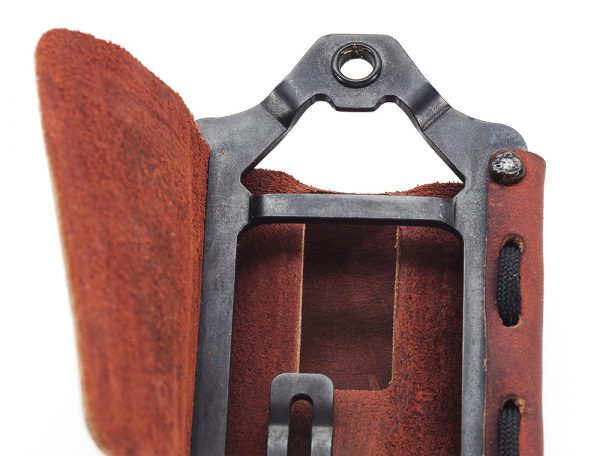 Along one edge of the metal frame are grooved notches for a better grip of the wallet. And at the top of the wallets frame is a small eyelet opening where you can attach your keyring or Trayvax's own Keyton Clip-Carabiner Keychain.  The Keyton Clip is an optional accessory for the Element wallet that you attach to the wallet and clip to your belt loop to keep the wallet secured to your hip or you can clip it almost anywhere.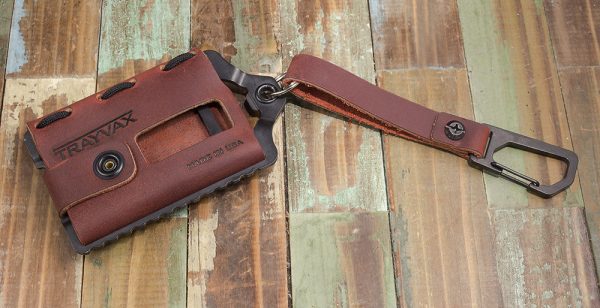 Although the Trayvax website states that this wallet can hold between 3 to 10 cards I was skeptical at first to believe that this wallet could hold that many cards.  When you first unbox the wallet you will see how thin the wallet initially is and you'll wonder how exactly you'll get more than 2 credit cards in there.  Apparently, there is a little method to do before you can carry all those cards. According to the instructions, you must first insert several cards into the Trayvax wallet and then soak the wallet with the cards in it for 10 minutes. This will not only stretch out the wallets leather material but will also keep its shape after the wallet dries.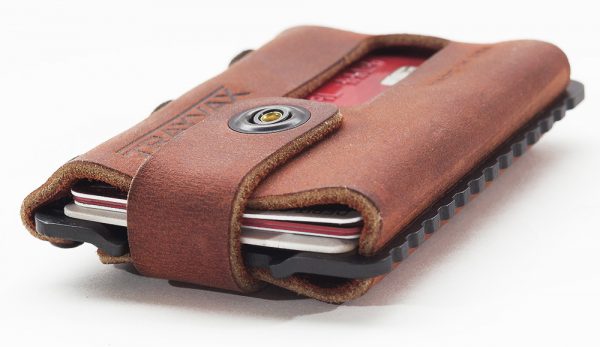 Surprisingly, the soaking and drying of the wallet did allow the leather to stretch and maintain the shape to accommodate several cards, drivers license, insurance card, business cards and some cash.  An added bonus is that the color of the leather darkened and now it looks a little worn in and not so new. Kind of like a favorite pair of jeans that fit just right after one or two washes. It has a whole new look to it.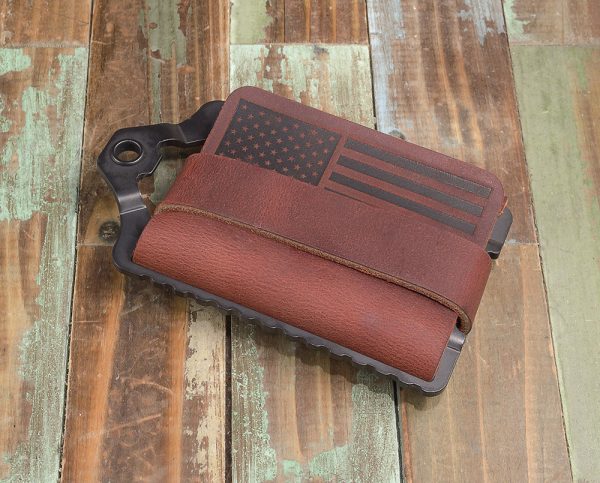 Because of the size of the wallet, it can fit comfortably in your back pocket and just as comfortable in your front pocket. I tend to carry my wallet in my back pocket and then if I know I have to sit for a long period of time I switch my wallet into my front pocket.  I do this because I don't want sit lopsided which can cause my lower back to ache if I sit unevenly too long.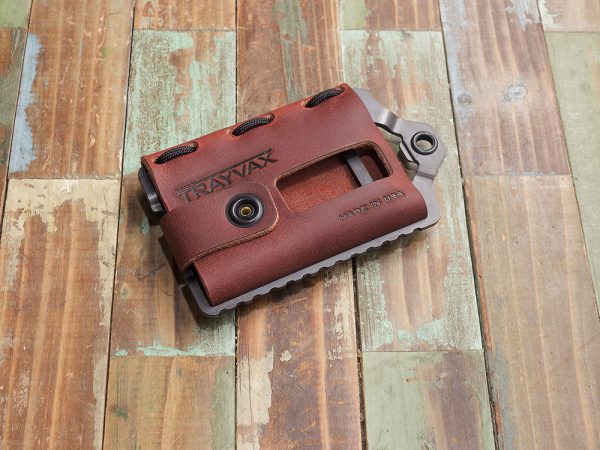 At first, I was concerned about the metal part that protruded from the end of the wallet getting in the way or at least be uncomfortable in my pocket but it wasn't like that at all.
Sitting with the wallet in my back pocket wasn't cumbersome as long as you remember to keep the metal end pointing out of your pocket rather than pointing down. Having the Trayvax in your back pocket feels like a regular leather wallet.
The overall size of the wallet fit generously in both the front and back pocket of my jeans.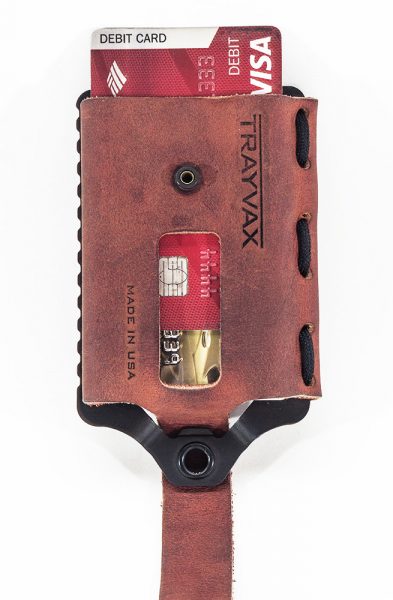 On one side of the wallet is a small opening that allows you to slide a card upwards with your finger to retrieve the cards in the wallet. With only about 6 cards I had inside the wallet, sliding a card up did take some effort. It wasn't terribly difficult but with that many cards, it should be expected. Makes me wonder how it would be if I had one or two more cards jammed in the wallet. Under the flap, where the money clip is located,  it is very easy to insert and retrieve cash that you place there. The flap helps keeps the cash in place and the strap keeps the flap shut.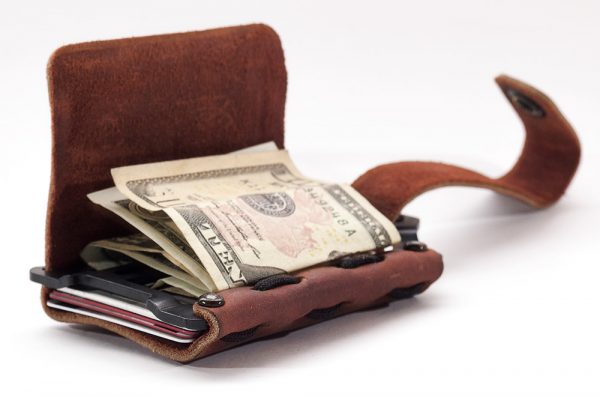 This wallet is a pretty cool leather minimalist wallet that can fit in your back or front pocket. And be prepared to be at the register a little longer when you pull this wallet out to retrieve your debit card, credit card or cash when you make your payment. You will definitely get a few "oohs" and "ahs", polite inquiries, or some light conversation about this Trayvax Element leather wallet. So, while you are making your payment, don't be surprised if someone pays you a compliment.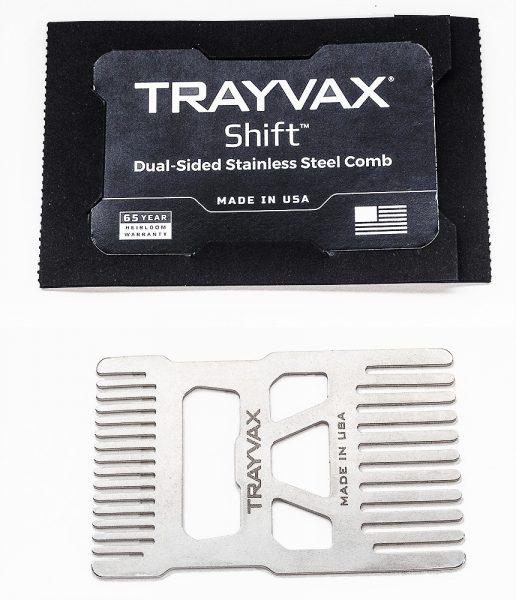 Trayvax also sent along their wallet comb, the Shift. It's a Dual-Sided Stainless Steel Comb about the size of a credit card and is about as thick as one. The Shift has can be carried in the Element wallet as well since it will fit inside the wallet. It has comb teeth on opposite sides of each other. One side is a fine tooth comb and the other side is a wide tooth comb. The Shift is not only intended for combing the hair on your head but can be used for beards as well. I must say I gave it a try and it actually works like a regular comb. I didn't think it would make a difference but the Shift worked well if not better than other combs I have used. The Shift is very well made and constructed, and yes, it has a bottle opener on it too. Why? Why not.
The Trayvax Element wallet and the Shift stainless steel comb are both made in USA and come with a Trayvax 65-year Heirloom Warranty.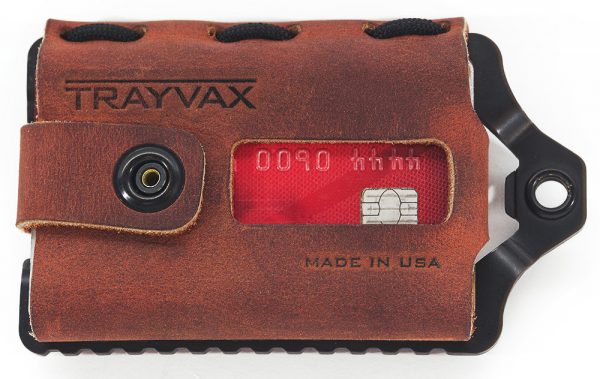 Source: The sample for this review was provided by Trayvax. Please visit their site for more info and to order.
Product Information
Price:
$89.99
Manufacturer:
Trayvax
Pros:

Quality made product.
RFID resistant.
Tough top grain leather.
Can hold several cards.
Built-in bottle opener.
Secure snap button and strap.

Cons:

Metal frame could hurt if sat on too hard.
Too many cards make sliding difficult.