We use affiliate links. If you buy something through the links on this page, we may earn a commission at no cost to you. Learn more.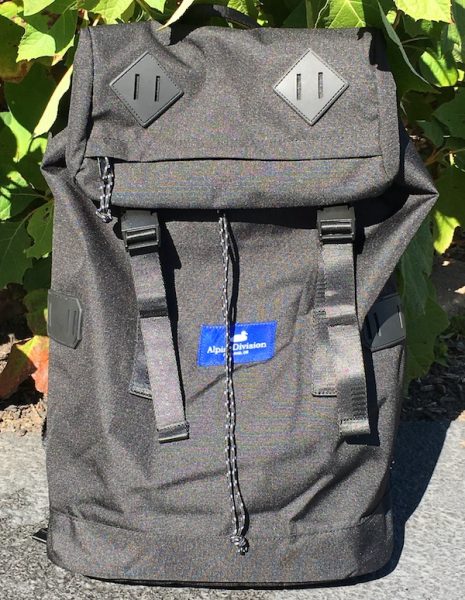 A simple, well-designed backpack can be a thing of beauty. When we reviewed the Alpine Division McKenzie backpack in 2016, we liked it quite a bit. The new 2017 edition is even better, with improvements to the design and materials that enhance the usability and durability of this simple, functional backpack.
There are also ducks. Everything is better with ducks. To the review!
Walkaround and Design
Based in Portland, Oregon, Alpine Division is a company founded by outdoor enthusiasts. Their bags, apparel & accessories are all designed to transition easily from outdoor adventures to city life with an emphasis on simple, functional design and bit of fun. You'll find all of these qualities on display in the 2017 McKenzie backpack. 
The first thing you'll notice about the McKenzie is that, for a bigger bag, it has a nice elegant profile. There are no boxy corners or chunky outboard compartments to take away from its streamlined shape. There are design cues that pay homage to classic 70s rucksacks (lash tabs, for example), but they don't detract from the bag's clean lines. Measurements of 20" by 12" by 7" (roughly 25 liters in volume) put on the bigger side, but it doesn't look or feel that big. Color options include black, grey or green with black trim and accents (my test model is all black). It's a great looking bag that transitions well from casual adventures to the office and presents with a lot more style & sophistication than the typical "office warehouse" computer backpack.
That's not to say that you won't find some fun in the styling of the McKenzie. Alpine Division's duck logo is proudly displayed on a blue patch on the rear face of the bag, and the bag liners are printed with a whimsical duck pattern (grey ducks on a black fabric). It's a subtle and understated treatment that, in my opinion, adds some fun to the bag without detracting from its sophisticated looks. Ducks make everything better. I like it. Let's move on.
The form factor of the Alpine Division McKenzie is a top-loading rucksack with one wide, deep main compartment for all of your cargo. It will swallow your arm past the elbow when you go digging in the bag. There's a lightly-padded laptop sleeve on the interior rear panel that will handle a 15" laptop (plus a notebook or iPad), but the rest is wide open space. You'll find a top lid that is secured by two clips with adjustable-length straps, which open to reveal a drawstring-style closure that incorporates an extra two inches of the liner fabric. This arrangement not only gives you additional weather protection but also enables you to secure your cargo for both light loads or overpacking.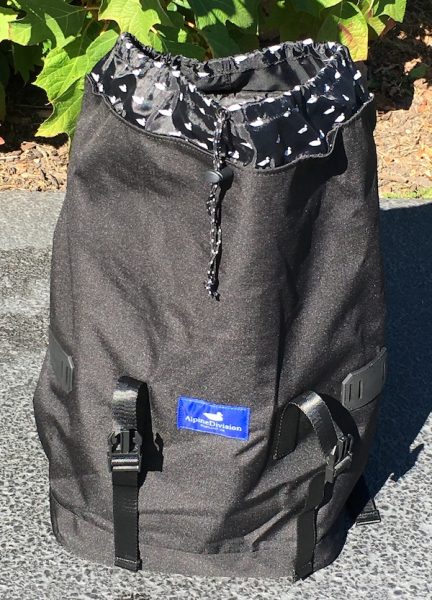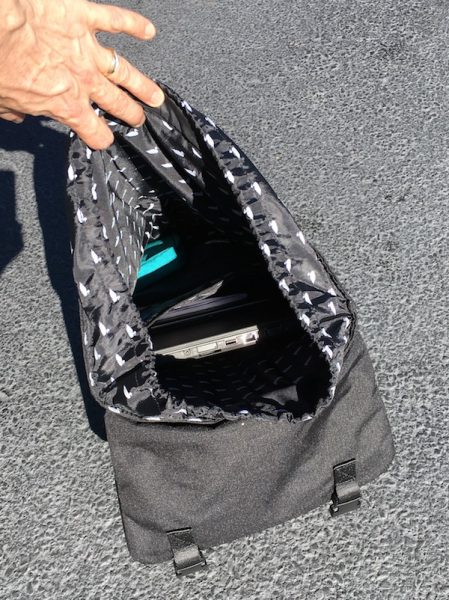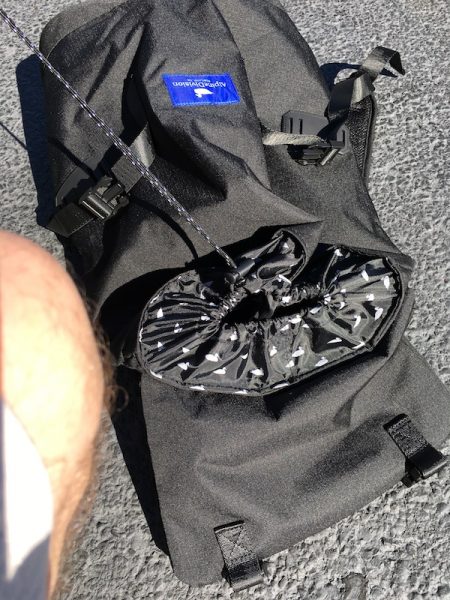 In addition to the main compartment, there are three additional pockets for organization. The interior laptop divider has a 7" by 7" pocket on its face, access by a vertical zipper. The bag lid has an integrated 10" by 7" zippered pocket, and there's an additional 6" by 5" zippered stash pocket on the side of the bag. This stash pocket opens to the rear of the bag, facing your back, making it a secure place for your smartphone or wallet. All of these pockets are fairly narrow, sized up to accommodate your little stuff so it's not floating around in that big cavern.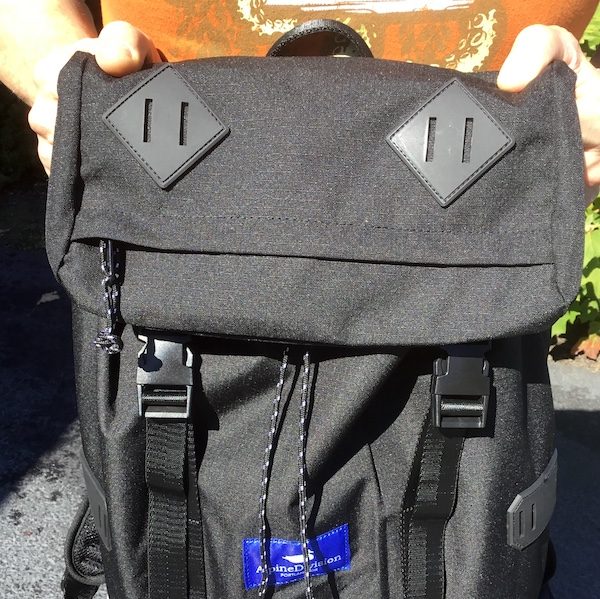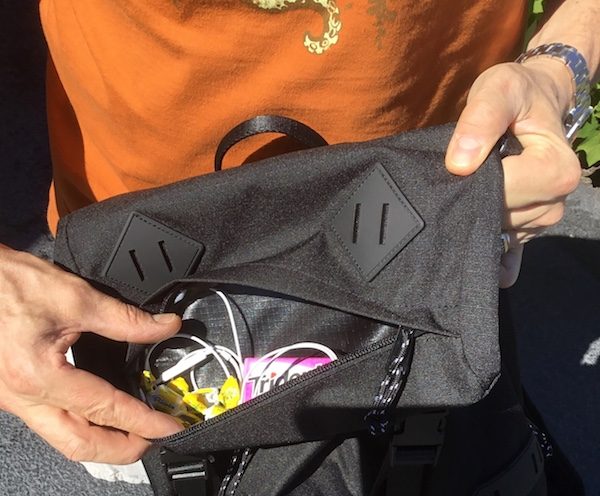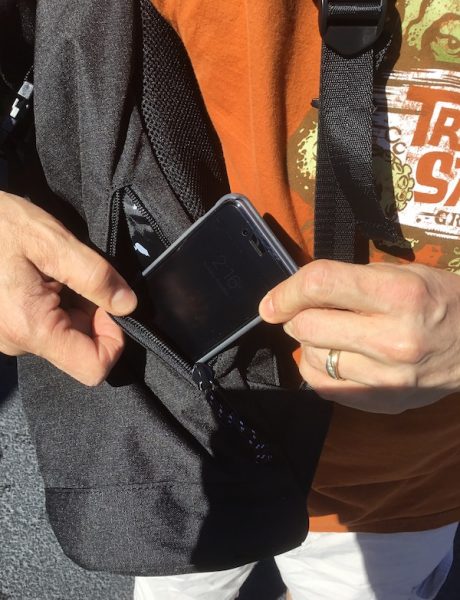 You'll find a total of four lash tab locations on the exterior of the bag. There are two classic diamond-shaped tabs on the lid and a rectangular tab on each side that incorporates two pairs of lash slots. The tabs aren't just for decoration: they're substantial and functional, providing options for securing additional gear.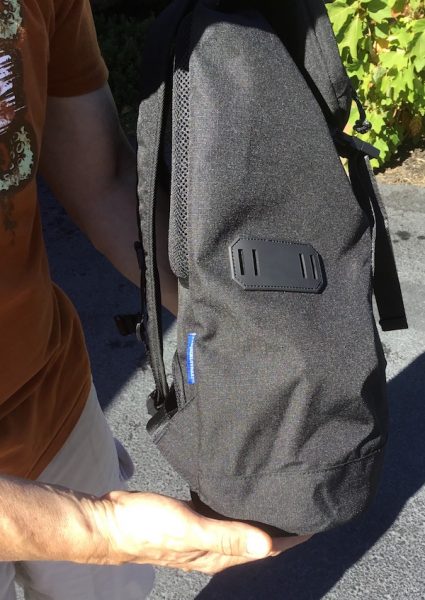 The rigging on the McKenzie makes for a comfortable carry. There are three closed-foam back pads, including a lower lumbar pad, which is nicely spaced for additional breathability to reduce back sweat. The shoulder straps are wide and nicely padded with generous adjustments to find the right fit for your body. Each strap has an attachment ring for additional gear, and there's a chest strap included for stability. A small vinyl grab handle is affixed between the shoulder straps for off-the-back maneuvers. It's a comfortable setup that works well for extended periods.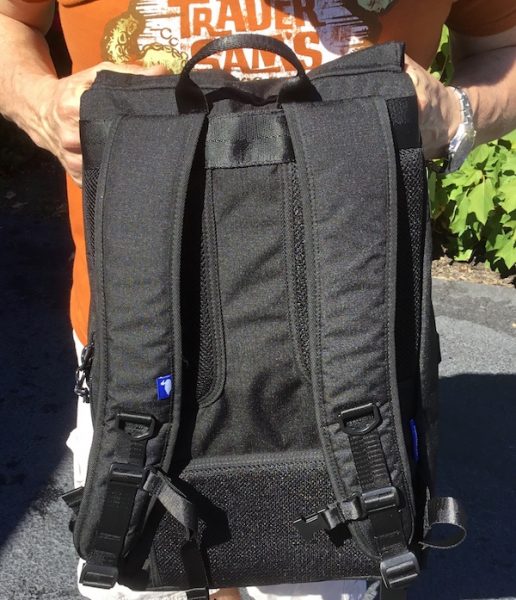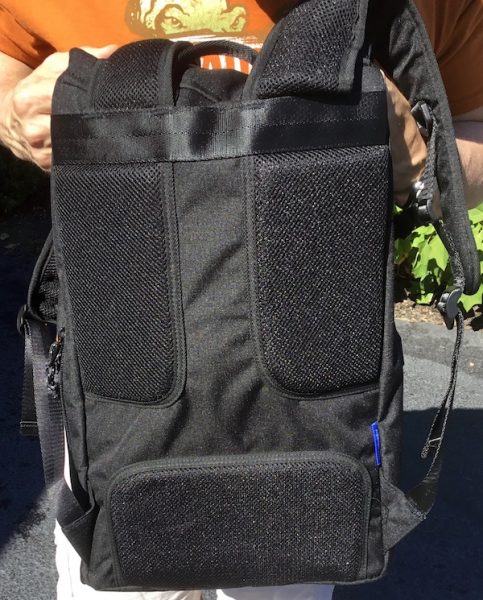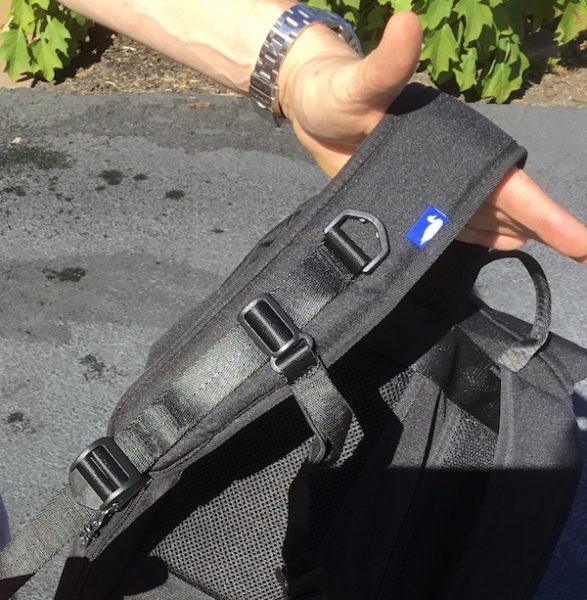 While we liked the 2016 edition of the McKenzie Backpack, we did identify some areas that could use improvement. The 2017 edition addresses many of these. The padded laptop sleeve, while still relatively light on padding, is more refined and is raised from the bottom of the bag (which is also padded) to help protect your computing device. The internal zippered pocket has been moved to the front face of the laptop sleeve, and the side stash pocket to give you some extra externally-accessible storage. The back pads are also new, as is the base material. All in all, these add up to some nice design upgrades that improve the performance of the bag.
Construction and Materials
The main material of the bag has also been upgraded in the 2017 edition from 1000D coated nylon with 600D water resistant ripstop nylon. It's tougher, water-resistant, and adds some sophistication to the bag with a nice textured surface. And that duck-print liner? Whimsical stylings aside, it's quite good. Its made from 420D nylon and has a great hand feel as you're digging around in your bag. The patterned duck print also provides extra visibility in the compartments when you're hunting for your stuff, which can be a problem with all-black interiors. Closed-foam padding is used on the back panel and shoulder straps, backed by a durable tight-weave mesh backing that improves breathability. I'm not sure if the lash tabs are leather, but they're certainly beefy and functional. All in all, I'm impressed with the quality and durability of the material choices.
Hardware is also very good throughout the bag. The plastic buckles and bits are substantial and durable, on par with the quality I typically see in other high-quality bags. YKK zippers are used on the pockets and include nicely-executed "monkey fist" style cord pulls on the exterior zips. It's all good and built to last.
Construction and assembly are also excellent. I tend to get picky about seams and stress points, and everything looks to be nicely finished and reinforced throughout the bag. It's an excellent build, and I don't see any potential fail points in the overall construction.
Carrying Stuff
Simplicity has its benefits. If you're looking for a big, simple, well-made backpack for day-tripping and recreational adventures, the Alpine Division 2017 McKenzie Backpack is a great choice for you. The wide open, single-chamber design makes this a great bag for handling a wide variety of cargo with a couple of extra pockets for your little things. You've also got that padded divider if you need to haul your laptop and/or tablet. It's comfortable to wear for extended periods, and the added water-resistance will keep your stuff dry in a downpour. While it's not in the same size class as those monster one-bag world traveler packs, it's absolutely big and versatile enough to handle several days of travel gear or a trip to the grocery store (You'll get a couple of six-packs in there with room to spare. I checked). It also compacts nicely as a day-trip bag when you reach your destination, and will easily handle several sweatshirts or jackets along with snacks and water bottles for the family out on the trail.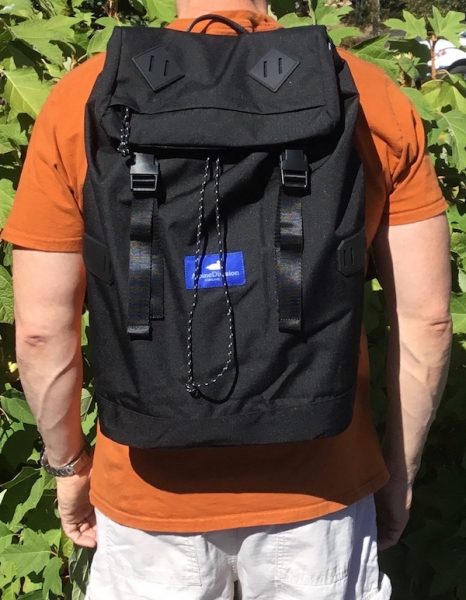 I'd also recommend the McKenzie for work commuters looking for a simple, flexible backpack. I've been doing a lot of commuting by train recently, and it's really comfortable for maneuvering through train stations and city streets. The lack of external pockets is great for security and, despite relatively light padding, I've had no concerns about protection for my laptop and iPad (which both fit in the padded pocket). My phone and keys are securely stowed in the stash pocket, leaving the top pocket for pens, headphones and the like. It also looks good enough to take to the office… it may not be ideal for formal work environments, but you're good to go in business casual and creative offices.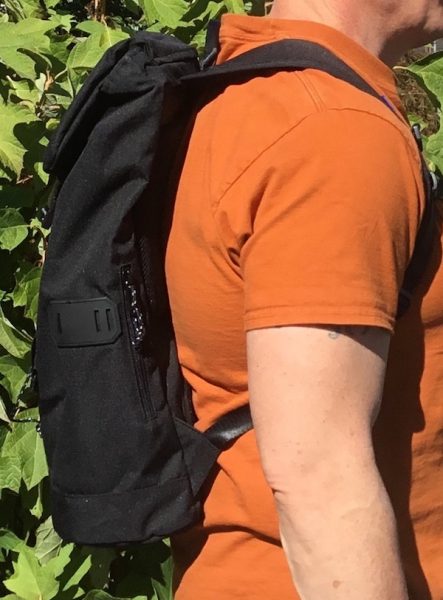 If you live out of your mobile office or are generally tech-heavy in your travels, the McKenzie backpack may not be the best choice for you. Top-loading bags with drawstring closures don't enable quick and easy access to your gear, which means that you're fishing for any quick-grab office essentials don't fit in the external pockets. You won't find any additional organizer pockets here for chargers, pens, notebooks, and the like. I tend to bring my own pouches for this kind of stuff, but it may be an issue for hyper-organizers. I also find that, despite the deep main compartment, the wide open mouth makes it pretty easy to get to my stuff. I'm still fishing, though, and I'm usually not packed beyond the base office gear and some add-ons (lunch, for example, or a change of clothes for the gym). There's also no water bottle holster. You could use the lash tabs and find an add-on accessory for this, but it's something to consider.
Nitpicks and Design Considerations
There are a couple of items that could use improvement in the Alpine Division 2017 McKenzie backpack, and I'll cover them here to give you the whole picture on this bag.
The grab handle, while functional, is on the small & thin side. It's basically a ring of doubled-over nylon. This is fine for quick-grabs situations, but a beefier handle would be much easier to manage in regular use, especially if the bag is fully loaded.
The pocket on the top lid opens wide with generous space… but the zipper placement sits towards the bottom of the lid when clipped in place. This means that you run the risk of stuff falling out when you unzip the pocket. I think you'll be fine with a few items in there, but you won't want to overpack this pocket with little bits unless you're careful.
I also find the internal zipped pocket on the laptop divider panel to be a bit odd. It's not easy to find or access, especially if the bag is fully packed. Honestly, I just discovered this pocket a few days ago after a thorough follow-up inspection of the bag! If I were traveling this would be a great secret stash pocket for cash, passports, or other valuables. For day-to-day use, however, it's tough to get into unless you're packed light.
Conclusion and Pricing
The Alpine Division 2017 McKenzie Backpack is a simple & well-constructed rucksack. While its roots are in outdoor adventures, its streamlined profile and sophisticated styling make it an excellent (and durable) business commuter as well. Its size is ideal as a daypack or a travel companion when you need some of that extra flexible space. The simple layout and top-loading bag style may not appeal to tech-heavy travelers or organizational obsessives. If you're not in either of those camps, you're looking at an excellent all-around backpack that will last you a long time. And at a retail price of $79, I feel that it's a really good buy for this level of quality. Go check out the 2017 McKenzie Backpack at Alpine Industries' web site.
Source: The sample for this review was provided by Alpine Division. For more info visit their site and Amazon to order.

Product Information
Price:
$54.00 on Amazon
Manufacturer:
Alpine Division
Retailer:
Amazon
Pros:

Great size for a daypack/overnighter/work commuter
Clean lines & streamlined profile
Simple and easy to live with
Great materials and assembly

Cons:

Grab handle could be more beefy
Lacks organization for tech-heavy carry
Top loading, drawstring closures aren't everyone's prefernce