We use affiliate links. If you buy something through the links on this page, we may earn a commission at no cost to you. Learn more.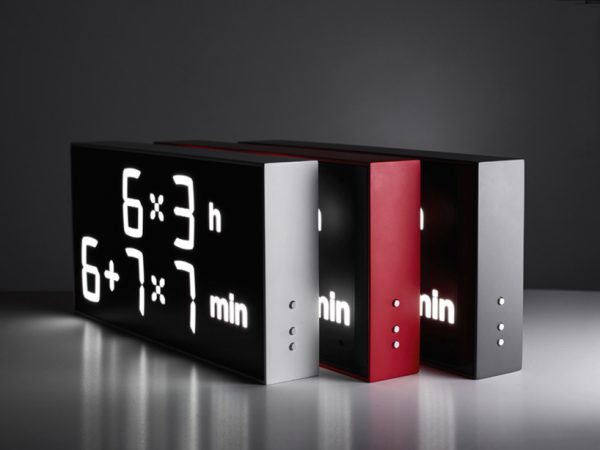 I've never been this excited about a clock, probably because normally there isn't much to get excited about for me personally.  A desk or wall clock is supposed to serve one primary function, displaying the time. The secondary function of a clock, at least the way I see it is also to be decorative.  Until now, I don't think clocks have really tried to go past these two functions.  The Albert Clock has become a way to keep my mind sharp with quick mental math, a conversation piece in the office and home and a teaching tool for my 4 and 6 year old sons (and my wife too…sorry, dear).  I have spent the last month bringing it back and forth from my office and home multiple times because it is a perfect fit in both settings. 
When I first plugged it in and explained to my wife what it was she wasn't terribly excited.  Math isn't her strongest field so require her to perform multiple calculations in her head to simply tell the time wasn't something that she was nearly as excited as I was about.  After a few days on the shelf in our living room that began to change.  As soon as it was plugged in our kids were drawn to it.  They were constantly looking at the clock and working on the problem it gave to display the time.  Because of their interest, we have left it at level 1 and have been amazed by their desire to perform the simple calculations of addition and subtraction to proudly tell us the time.  Below are just a few examples of a few levels and times.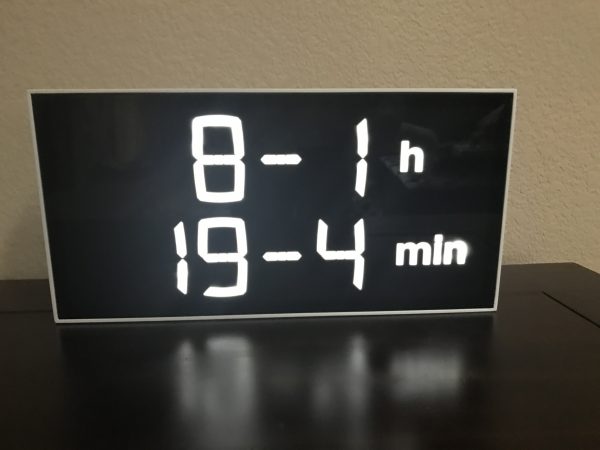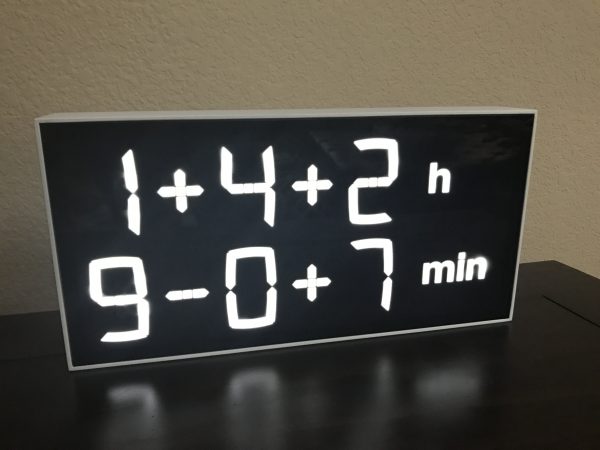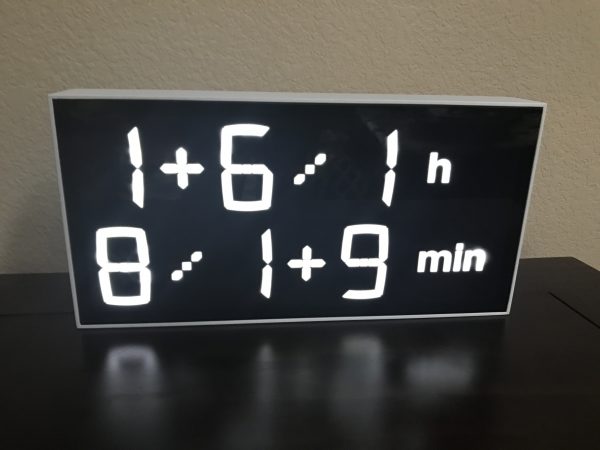 I have had it in my office for about 2 weeks and it has been an attraction for my colleagues and a conversation piece on a daily basis.  I set the difficulty level at the highest setting in the office, which keeps my mind constantly challenged.  In a short amount of time many people have asked where they can get one and have their own ideas of how this could be a fun product to add to their lives.
In itself, the clock is quite simple to operate and set up.  You can customize the brightness of the display and the difficulty of the problems it gives you.  The time between each new problem can be set so multiple problems can be seen every minute or change once a minute when the time changes (there are 6 calculation speed levels: 60 sec – 10 sec).  I have found level 1 or 60 sec (refreshes every minute change) to be preferable for me both at home and the office but occasionally change it to a higher refresh rate.  There is also a sleep function that allows you to set a time when it turns off and wakes up.  I set mine to sleep at 11pm and wake up at 5am but you can customize this or choose not to use the function altogether.  There is also a "hi and lo" mode that can be set to dim the display at a preferred time in the evening and bring it back to full brightness in the daytime.  I have not used that function yet but I am sure I will as I continue to use the clock.  You can also choose between a 12 or 24 hour clock mode.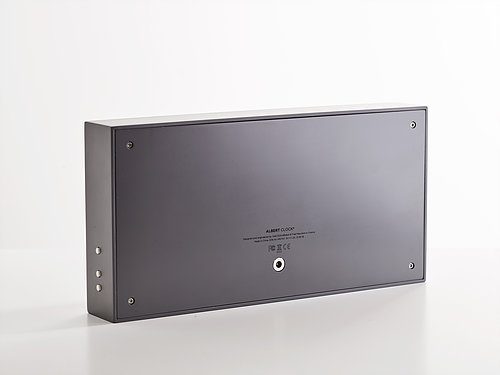 The Albert Clock can be wall mounted using the wall fixation plate (included) or can be used as a desk clock.  I have not hung it on a wall and don't expect that I will but knowing that is an option makes the places this can be displayed endless.  A 3 m fabric wrapped power cable with AC adapter is also included.  The length of the cable allows for mounting or setting the clock nearly anywhere you like in your home or office.  I have been disappointed in the past with power cords that are far too short but Albert Clock thought of this.  The fabric wrap on the cord is also a nice and elegant touch.  It looks high end, feels great and helps the cord lay flat and not look crooked when hanging off of a table or running along the edge of my desk to the nearest outlet.
The AC adapter comes with 5 interchangeable power options that easily clip onto the AC adapter so people in the USA, China, EU, UK, Switzerland, Hong Kong, Taiwan, and Thailand are all covered with the adapters that are included.  They also include all of the hardware to attach the wall mount to the clock and the whole clock to the wall.  Other than a screwdriver, the Albert Clock comes ready to use.
They offer the clock in three attractive colors that are hand painted onto the wood (medium density fiberboard) housing: lucid white, scholar red and concrete grey.  The elegance and simplicity of the design paired with classic and tasteful colors make this a timeless design that will not look out of place in any room.  The display is powered by LED lights, making me think that I need never worry about the lights going out on this clock or it burning a lot of power.  One of my favorite features of the display is the soft edges of the numbers and symbols in the display.  Even on the highest setting, there seems to be a very thin halo around the characters that allows the light to fade to the black background rather than being an extremely sharp contrast at the black/white interface.  I don't know if this is by design or simply a function of this kind of display but it is very easy on the eye and has an added appearance of elegance and quality that I have not seen in an LED display before.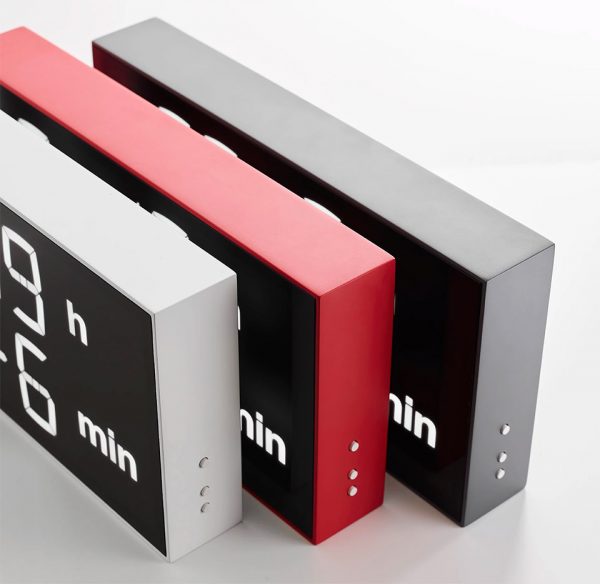 On the side of the clock, there are three unmarked buttons, adding to the minimalist appearance of the clock that acts as the set, up and down buttons to customize your Albert Clock to your own needs.  If you want to change the 12/24 hour mode, brightness, sleep time or current time, you much go through the settings to find the one you want to change.  If you want to change the difficulty level, you can simply press the up or down buttons to quickly get to the level you want.  This has been a very handy function for when we want to adjust the difficulty but not the other display settings.
Overall this clock did not disappoint.  I was extremely excited when I first saw this product and was drawn to it by both its form and function.  The elegant case and display made it easy to find places in our home to put this and with the brightness settings I was able to adjust it so that it was noticeable but not too bright or dark for where it was displayed.  Its funny to say but I enjoy coming into my living room or office and telling the time.  I am unquestionably drawn to this clock and have liked the way it has sharpened my wife's mental math skills, relates problem solving and math to something as simple and important as telling time for my children and when I have a change to crank it up to level four, keeps me sharp with order of operations and multiplication tables.  The only problem I have now is that I only have one of these.
I am in love with this clock.  The beauty of the design instantly drew me in and now that I see that I am not the only one in my house/office who loves this clock, I am hooked.  When something as simple as asking my children "what time is it?" gets them even more excited about math or when a VP of my company drops by my office to stick his head in just to look at the clock to see what time it is when he has a watch on his wrist, I cannot help but notice that there is something special about the Albert Clock.  I HIGHLY RECOMMEND this clock and hope that if you buy it you enjoy it as much as we have.  Please let me know if you already own one or bought one after reading this review.  I would love to know what others think about it.
Updates 03/28/18
One of my first reviews after becoming a Gadgeteer was for the Albert Clock. This ingenious clock allowed for you to strengthen your math skills while telling the time. I was pretty excited about it when I received it and it quickly became a conversation piece in my office where I kept it for a while before moving it to my house so my kids could have fun doing math problems to tel the time.
Since receiving it the display has become extremely fuzzy. You can still read the numbers and symbols but from the crisp display in the beginning to now there is clearly a quality issue with this product.
When I first received it, the screen was already fuzzy and they replaced it immediately. Now that this one has declined so much, they have not responded to requests to fix or replace it, making me question their customer service or willingness to stand behind this expensive product.
I still like the clock and we still use it but every time I look at it, it annoys me to think that it has gone downhill in such a short time and they don't seem to be willing to do anything about it.
I have done my best to capture a picture of the issue but with a glossy cover it makes taking a true picture difficult but you can see what I'm referring to compared to the pics in the original review. In person it is much fuzzier than this pic depicts.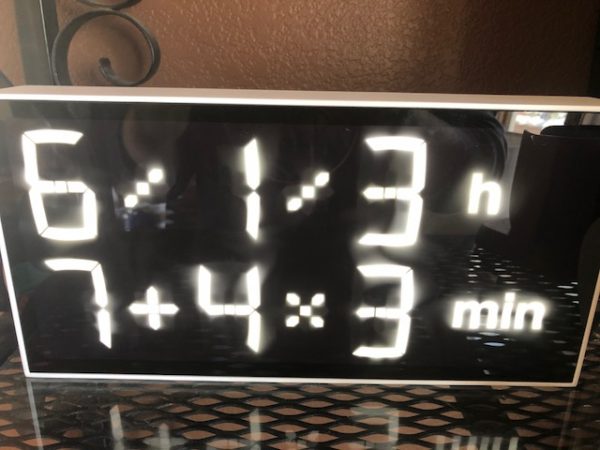 I wanted to write this update so that any of you who happen across my original review who think this would be a nice time piece for your home and office, I am changing my recommendation and suggesting that you avoid this product. When things go wrong down the line with a product I have reviewed I think it's my responsibility to update you so you have all the information.
I hope this isn't an issue with all of them but the fact that it has happened to two of two that I have received makes me think this is a common thing.
Source: The sample for this review was provided by MNTNT.  For more info please visit their site, www.albertclock.com.

Product Information
| | |
| --- | --- |
| Price: | €279 ($329.35) |
| Manufacturer: | https://www.albertclock.com/ |
| Pros: | Elegant design; ingeniously combines problem solving with telling time; multiple difficulty levels to fit any user's needs; table or wall mounting; long power cord; beautiful LED display; user friendly controls to adjust the many settings to make it your own. |
| Cons: | The price of €279 may deter some potential buyers; no setting for it to just tell time without a math problem (this is not a con for me, I wanted this clock for the fact that it didn't simply tell me that it was 8:54 PM but some people might want that function). |