We use affiliate links. If you buy something through the links on this page, we may earn a commission at no cost to you. Learn more.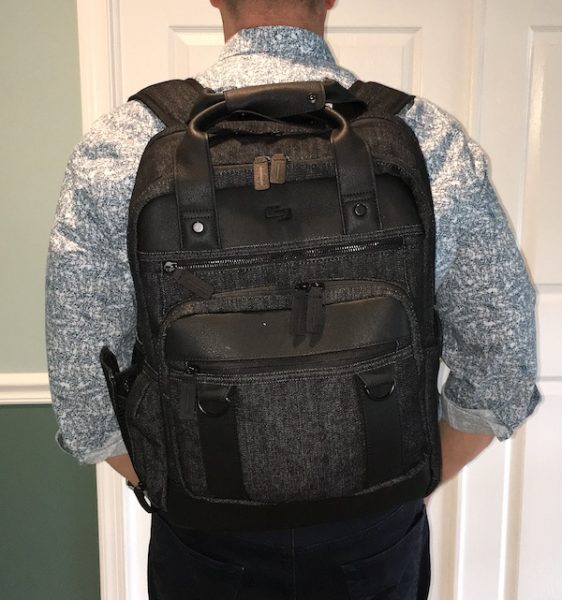 You're probably familiar with SOLO New York bags, manufacturers of wallet-friendly carry gear typically found in the "bags 'n accessories"  section of your local big-box electronics or office supply retailer. For this review, I'm testing the Crosby Backpack, targeted at the professional business user. 
Yes, the Crosby is a budget bag. But you know what? I still like it. Let's get into the review to find out why!
First Impressions, Materials & Construction
First impressions of the SOLO Crosby Backpack are quite good. The rectangular form-factor, streamlined profile, and refined style identify this instantly as a professional bag. The primary material looks and feels like a black denim which, when combined with extensive black "leather" accents through the bag, makes for an upscale presentation (they also make a brown colorway in this bag, if your prefer). SOLO has clearly taken many style queues the TUMI Alpha Bravo collection in this design, and it works. It's a good looking backpack.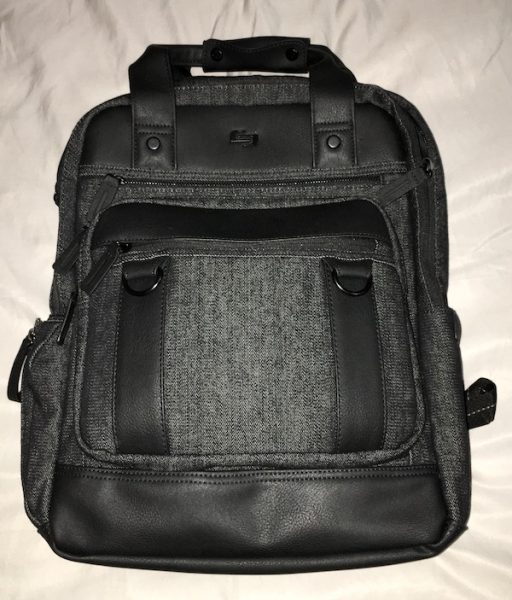 Upon closer inspection, however, you'll start to see where the Crosby diverges from its higher-end competition. The materials are a combination of cotton and polyester, including synthetic leather (Is it pleather? Faux leather? Whatever it is, it's clearly not the real deal).  Zippers and hardware are budget-grade stuff. Basic, squishy foam is used for all the padded bits as opposed to the closed-cell foam you'll see in upscale bags. It's pretty much what you would expect in a bag at this price point, with nothing exceptional to be had in material choices.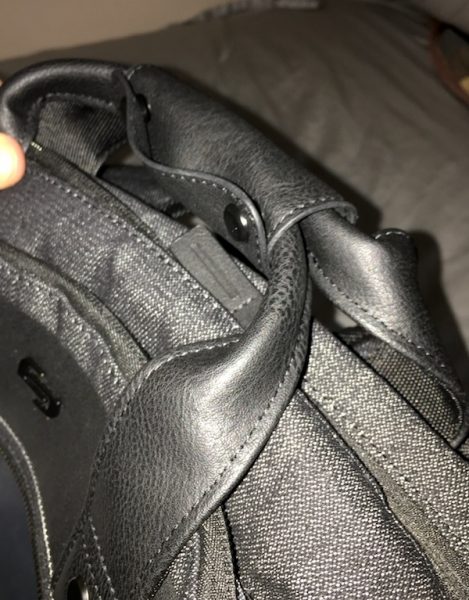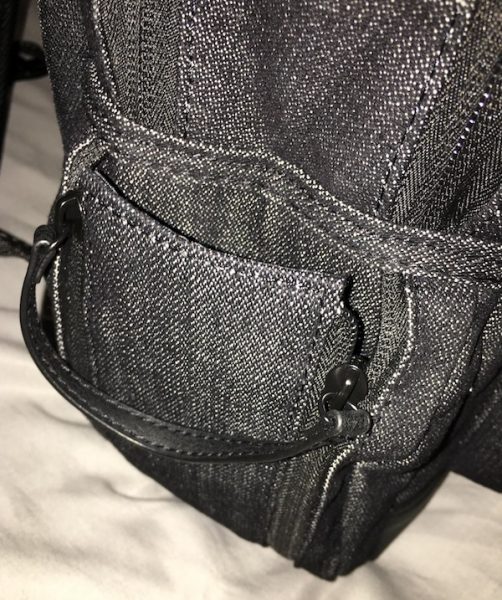 Never miss one of our posts again. Sent MON, WED, and FRI with the latest gadget reviews and news!
Once you get past the materials, the build quality is quite good. Stitching is tight and even throughout. Every seam on the bag is finished, with no stray threads or flaps of fabric to be found. All the stress points are reinforced with additional material to prevent splitting during normal use. Quality assembly carries through to the interior of the bag as well, with nice liners and finishing in all the compartments. I don't believe that the threading is high-grade stuff, which may lead to durability issues down the road… but it's a well-assembled bag inside and out, with nothing to fault in the construction.
I'll also give SOLO credit for paying attention to texture combinations in the construction of this bag. The cotton/polyester primary fabric may not be water resistant, but it feels soft & thick in your hand. That fake leather has some substance to it as well, and it feels substantial in all the accent points, the top handle, and the base (I'm not so sure about its use in the zipper pulls). The combination of fabrics on both the interior and exterior add to the feel of an upscale presentation. It all works together nicely and serves to make the bag feel nicer than its budget price point.
Layout and Design
The SOLO Crosby Backpack is designed for business. At an overall size of 17" by 12" by 5", it's a good size for hauling your office necessities. It's a two-zone layout: your big stuff rides in the main body of the bag, while an external storage area manages all of your smaller stuff plus two side pockets. You won't find anything particularly innovative in the design, but it's a solid layout that does the job well.
The main body of the bag is divided into three storage areas. Resting against your back is a 2" deep fully-padded laptop compartment that will easily take a 15.6" laptop, accessed by a top zipper. A second 2" deep compartment, also accessed by a top zipper, includes both a document divider and a padded tablet pocket. There's also a 10" by 12" stash pocket, accessed by a horizontal zipper on the front face of the bag. All of these areas feature wide openings for easy, and there's plenty of room for notebooks, papers, tablets, and extras like a lunch or a light jacket.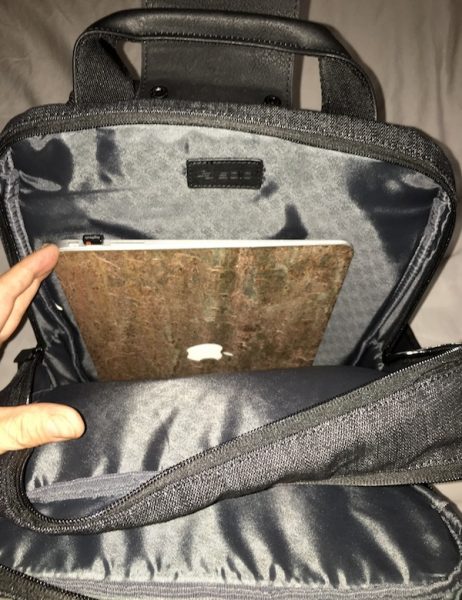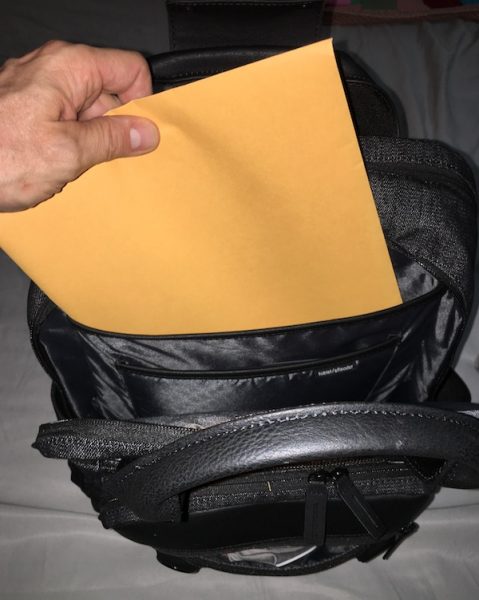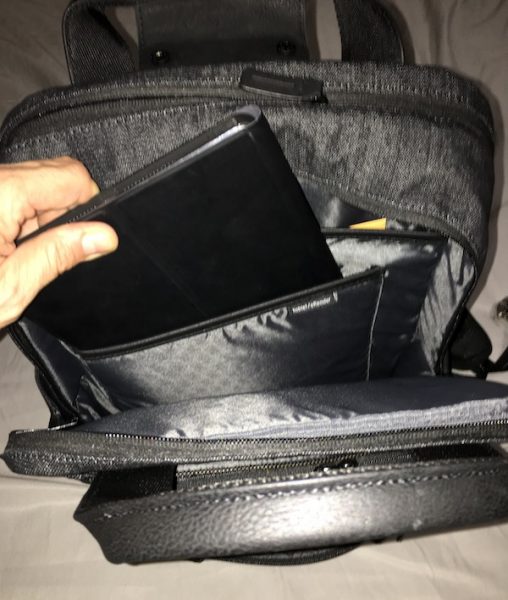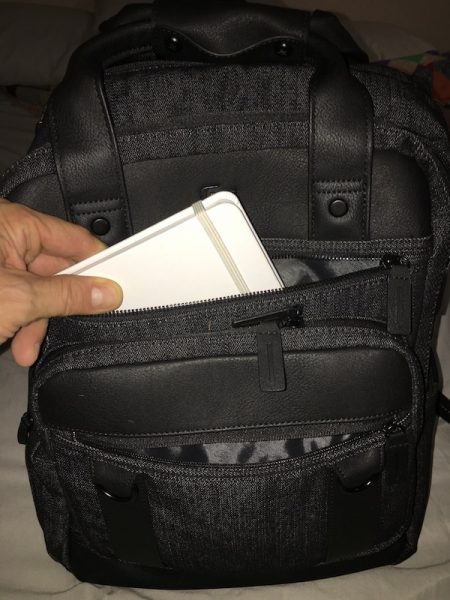 Your external storage area measures 10" by 9" by 1", and is nicely contoured to keep the bag's streamlined profile. This space includes a standard-issue admin panel for pens & business cards, and a quick-grab pocket on the front for keys, earbuds, and small bits. An open pocket on the right side of the bag sits tightly against the bag, and includes a reinforced lip to keep your smartphone snugly in place. On the opposite side you'll find a water bottle pocket that, when unzipped, expands with elastic mesh sides for larger beverage containers or travel mugs. I found that this slot could accommodate a Tervis 24-ounce travel mug easily if required. The combination of external organization options keeps your little accessories nicely separated from the big stuff.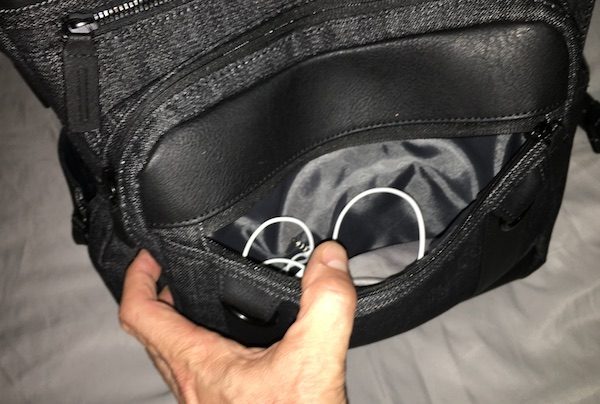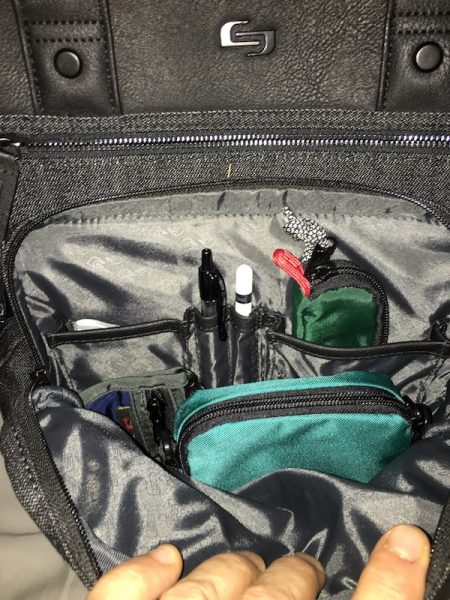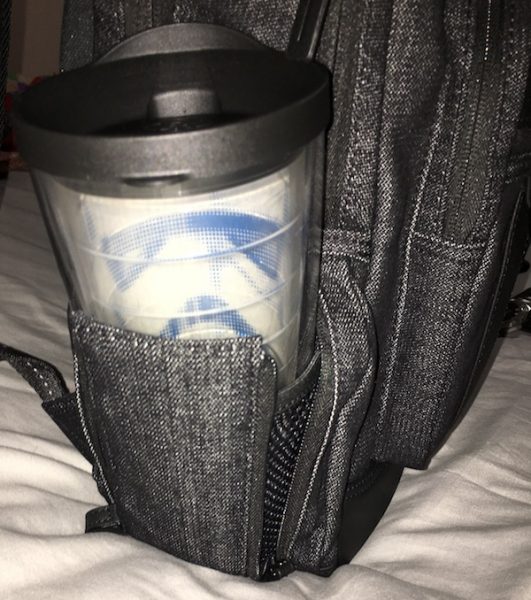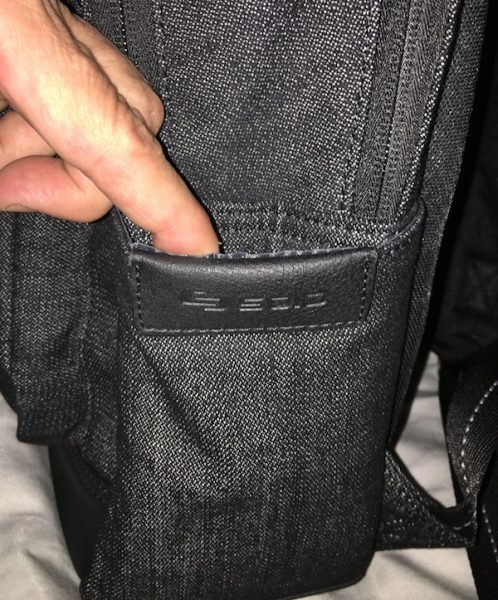 The Solo Crosby Backpack also boasts two carry options. The shoulder straps are pretty basic but do have generous length adjustments and nice padding. A pair of nicely padded foam back panels provide extra comfort. The top-carry handles are nice and thick, made from faux-leather backed with nylon webbing for extra durability. A faux-leather wrap connects the handles together using snap-buttons to secure everything in place. With nice padding and a shoulder-friendly 2.1 pound overall weight, this all makes for very comfortable and lightweight daily use.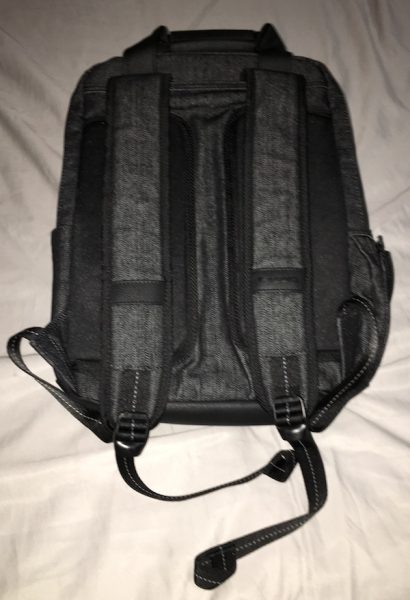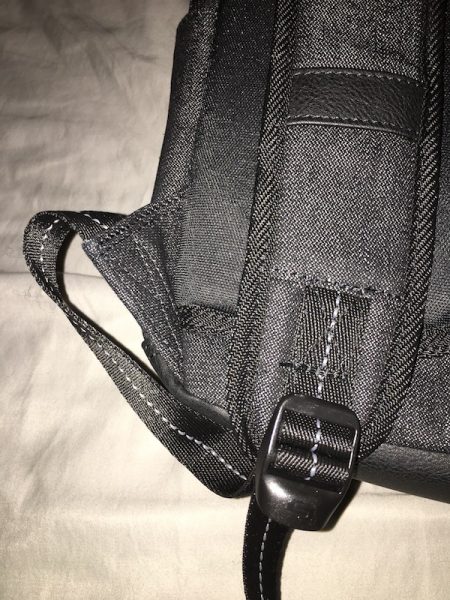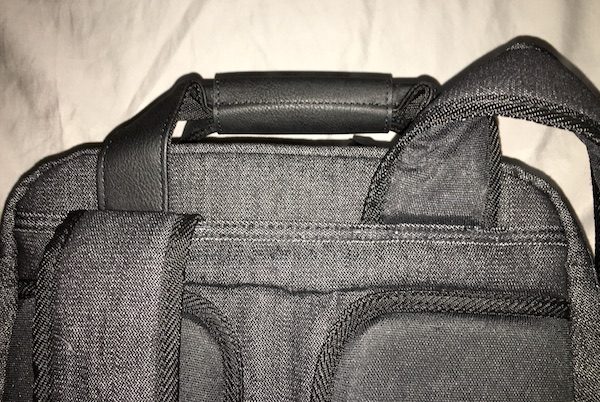 All in all, the layout of the SOLO Crosby Backpack is simple and functional. You have plenty of generous, easily-accessible space to organize your stuff. It's also easy to carry, with the added convenience of a nice top-grab handle for getting around when it's not on your back.
In Use
When I first unboxed the SOLO Crosby Backpack, I had mixed feelings about it. While it looks good, materials are so-so. The design is straightforward, but there's just nothing exceptional or innovative to get excited about. I loaded up my work gear for testing with relatively low expectations.
A few weeks later, and I've come to appreciate this bag.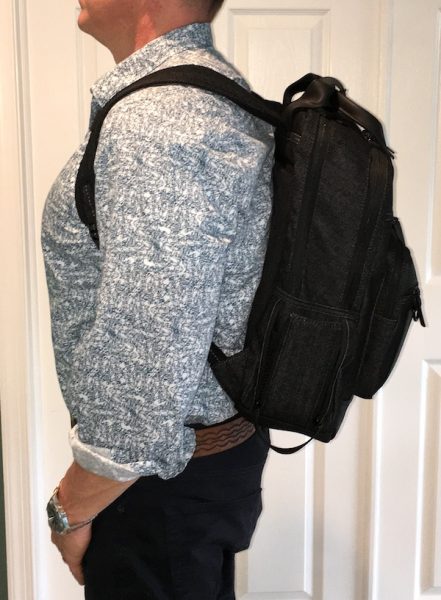 The SOLO Crosby Backpack performs like a champ on the business commute. It's sized just right for your work gear with a bit of room for extras, but not so big that it becomes awkward to manage when you're navigating between meetings. The compartment design is also very good, with both generous sizing and easy access to your gear. I also appreciate some of the additions like the document folder, top grab handle, and expandable water bottle pocket. The lightweight nature of the bag and generous padding make it easy on your shoulders. It's an easy bag to live with on day-in, day-out basis as you go to and from the office.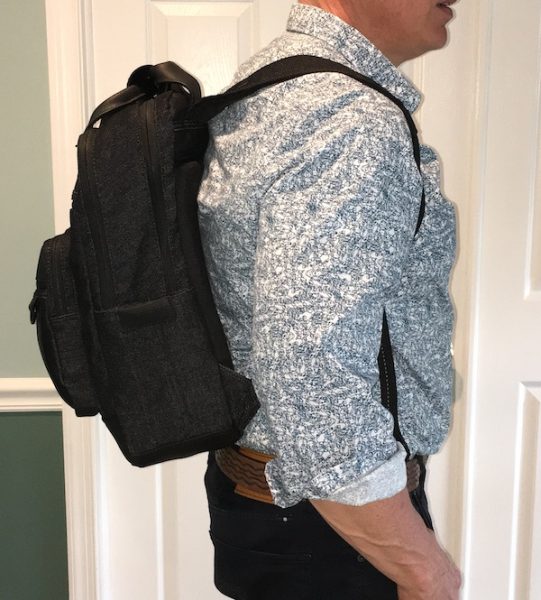 With all that said, I would be hesitant to recommend this bag for the regular business traveler. Road warriors put a lot of punishment on their gear, and the best travel bags (Tom Bihn, Waterfield, and Red Oxx come to mind) utilize materials and hardware designed to take heavy abuse like YKK zippers, Cordura fabrics, and marine-grade nylon thread. I think this bag is well assembled, but I would be concerned that the budget-grade materials used here have a higher potential for failure under duress. SOLO does provide a 5 year warranty on the bag, but that won't help you if a zipper bursts while you're running to catch your connecting flight. There's no water resistance in the bag, so being caught in the rain could spell trouble. For the occasional business trip, you'll do just fine with this bag. If you live on the road, however, there are better choices that provide the long-term durability to match your needs.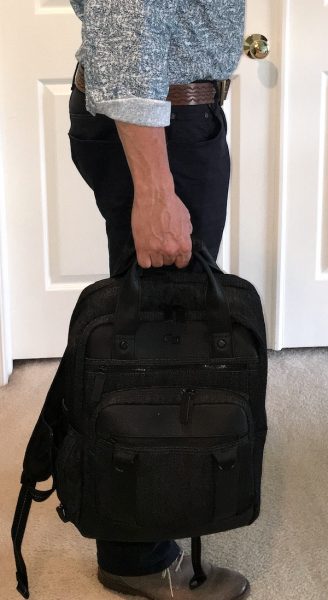 Other than the materials, I have a couple of specific concerns with the bag that you should be aware of. The top-grab handle wrap requires two hands to snap in place, which can be awkward. I suspect that this will loosen up with regular use, but it kind of gets in the way of normal operation. The mesh fabric used to seal in the foam on the shoulder straps and back panel has a lot of play in it, and I suspect it may pull or fray over time. The shoulder straps themselves are really basic, so there's not a lot of adaptability (other than strap length) to adjust to different body types; they are also not reinforced at the shoulder points and could be a trouble spot if you overload the bag regularly. I'm also afraid that the pull-tabs on the zips could fail, and the dual-zipper handle on the water bottle pocket doesn't feel particularly substantial. Given the price of the bag, these are pretty easy faults to live with, but they are issues to consider.
Conclusions and Pricing
I've been pleasantly surprised with the performance of the SOLO Crosby Backpack. It professional good looks will work well in business environments. It's generous pocket sizing, simple layout, lightweight, and comfortable padding make it an easy bag to live with as a daily office driver. I do have some concerns about its durability (and lack of water resistance) when facing heavy abuse. If you're looking for a wallet-friendly backpack for the day-to-day office commute, however, you could do far worse at this price point. And the price is the big X-factor here. The SOLO Crosby Backpack retails for $79.99 but is currently available on Amazon for $51.99 in the black colorway that I tested. It's even cheaper in the brown colorway at $39.99! Not bad for a solid daily office performer. You can find it at most online retailers, but Check out Amazon for the current best available price.
Source: The sample for this review was provided by SOLO New York. For more info visit their site and Amazon to buy one.
Product Information
Price:
$79.99
Manufacturer:
SOLO New York
Retailer:
Amazon
Pros:

Good size for office commuting
Generous pocket sizes with easy access throughout the bag
Lightweight and comfortable
Nice grab handle
Wallet-friendly pricing

Cons:

Budget materials may not hold up to heavy abuse
Not water resistant
Potential fail points in zippers and backpack straps if subjected to heavy loads