We use affiliate links. If you buy something through the links on this page, we may earn a commission at no cost to you. Learn more.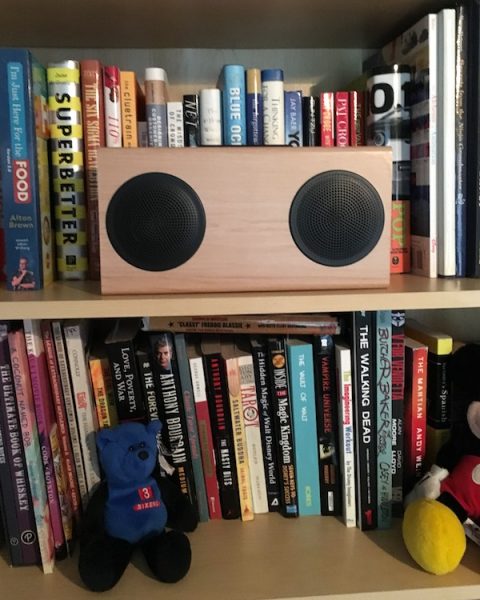 There are lots of cheap Bluetooth speakers out there that get the job done. Style does matter, however, and there are times when you also want something that also looks good. If that's your thing, the Archeer Portable Bluetooth Speaker is worth your consideration. Not only does it look good, but it performs really well and has some nice bonus features. It's also pretty cost effective. Let's go find out more!
Design and Construction
At 11" by 2-1/2" by 5-1/2" and weighing three pounds, The Archeer Portable Bluetooth Speaker is meant to be on display. And you'll want it on display with it's a classy, streamlined profile. It's not real wood, but the light oak wood grain finish makes it hard to tell without close inspection. You've got two matte black speakers on the front face and a thin black leather carrying strap attached on the sides. Its sophisticated styling makes for an accessory that looks good in your office, your living room, or your rec room.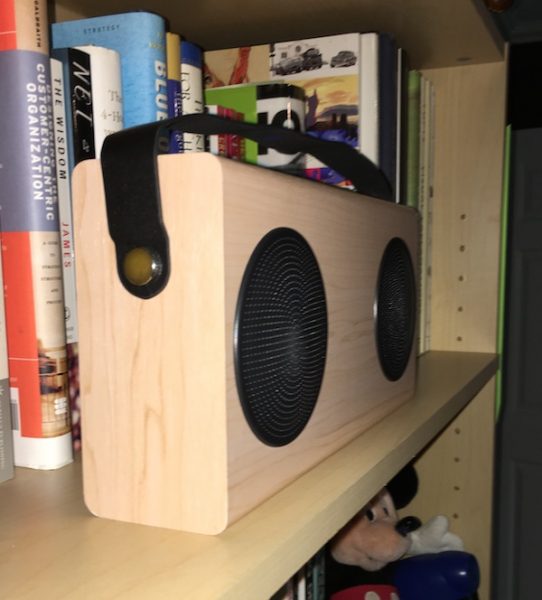 All the controls and ports are contained in a plate on the top of the device. There's a standard power switch, a multifunction button to change modes, a play/pause button, and two buttons that serve both to switch music tracks and control the volume. You'll also find three different ports: an aux in, a micro-USB port to charge the unit, and a standard USB port for connecting to your smartphone. There's also a little LED screen to indicate status and functions. Everything is nicely spaced, clearly labeled, and the buttons all provide good tactile feedback.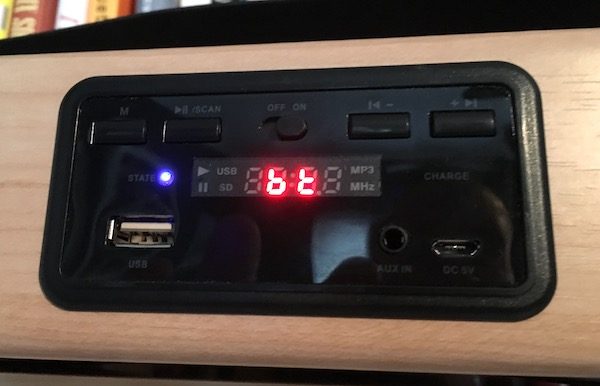 While the Archeer Portable Bluetooth Speaker is designed to be portable, it isn't made for outdoor adventures. It is neither weatherproof nor impact resistant, and it's not compact enough to throw in your bag for a picnic or a beach trip. I think this speaker is made more for moving around the house, depending on where and how you want to rock your music.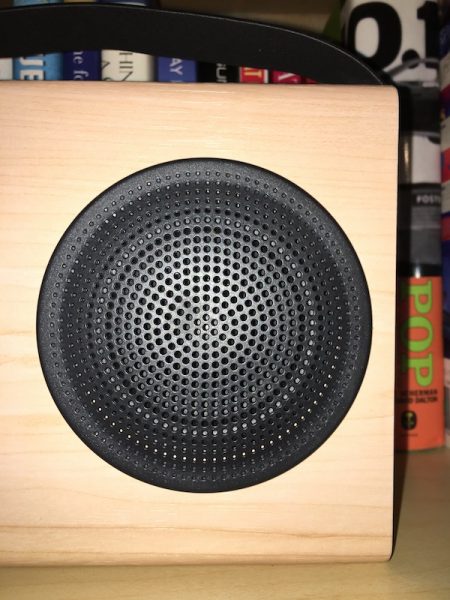 Never miss one of our posts again. Sent MON, WED, and FRI with the latest gadget reviews and news!
The Archeer Portable Bluetooth Speaker has a curious collection of additional features. In addition to Bluetooth connectivity, the aux-in port enables you to use it as a speaker with any device that connects via the aux cable supplied in the package. It has a radio receiver with the ability to scan for local channels. The micro-USB port is designed for charging via the USB to micro-USB cable included, but you'll need to bring your own power. There's also a full-sized USB port that doesn't offer any additional device connectivity but enables you to recharge your devices. With a built-in 4000mAh Li-ion Rechargeable Battery, there are an estimated 20 hours of playing time between charges (unless you are recharging your devices).
In Use
The Archeer Portable Bluetooth Speaker works great as Bluetooth-enabled speaker device. It pairs quickly and easily with our devices, has good sound quality. The additional features are a mixed bag, however. Let's take a walk through the whole setup and operation.
The dedicated on/off switch powers up the device, and it plays a brief musical jingle to indicate that it is active, followed by a tone that lets you know it is paired with your Bluetooth device. While this is good audio feedback, it's loud and there's no volume control for this that I could find. It's a minor annoyance, but may be an issue if you're firing up the speaker when everyone else in the house or apartment is sleeping.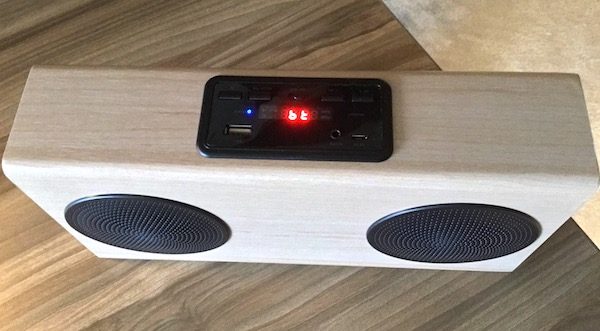 Pairing and disconnecting Bluetooth devices is particularly easy. Once you turn the speaker on, it automatically goes into "pairing" mode; a blinking blue LED light indicates that it is seeking a device to pair with. Hook up through the Bluetooth settings on your device of choice and a speaker tone and LED indicator notify you that you're ready to go. You can disconnect and pair other devices on the fly. A speaker tone will indicate when you have disconnected your device, and the speaker goes back into "pairing" mode waiting for a new connection. I've found this feature to be very useful as I move about the house. I usually pair with my iMac in my office, and switch to my iPhone or iPad if I'm downstairs so I have direct access to my music or podcast controls.  Switching is quick, easy, and 100% reliable so far.
Sound quality is very good. My listening tastes are very diverse, and I've put these speakers through their paces with everything I've got: podcasts, rock, punk, old-school hip-hop, reggae, modern pop, classic R&B… you get the idea. Out of the box, the high and low ranges on these speakers are really well balanced regardless of style and will support adjustments from your device's equalizer tools if available. There is no subwoofer for deep room-shaking bass, but I haven't found this to be an issue. Audio is crisp and clear at any volume.
If there is one criticism I have about audio, it's in the volume controls themselves. You press the "previous track/volume down" or "next track/volume up" button once to change your song, or press and hold the button to adjust the volume… as you would expect, this means that I have accidentally switched songs more than once when I wanted to adjust the volume. Volume adjustment is also independent of the volume control on your device, which can be frustrating if you don't realize have the volume turned down on your device and up on the speaker (or vice versa). Honestly, I prefer to just keep the speaker at max volume and do all of my adjustments (including playback controls) from my apps.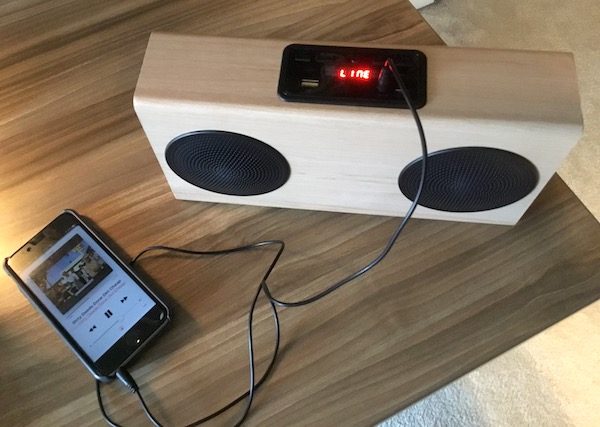 Archeer provides a generous 40" auxiliary cable as an alternative to Bluetooth connectivity. When you plug it into the control panel, the device automatically switches modes and indicates the change on the LED screen. Volume controls work just as they do in Bluetooth mode, with the ability to adjust the volume on either the speaker or your device. This gives you lots of options for connecting different devices. Just as an example, I plugged in my electric ukulele to try it out (yes… electric ukes are a thing). While it doesn't sound as nice as a traditional amp, it's quite convenient for plugging in and jamming. When you pull the plug, the speaker also reverts back to Bluetooth mode with no additional adjustments required.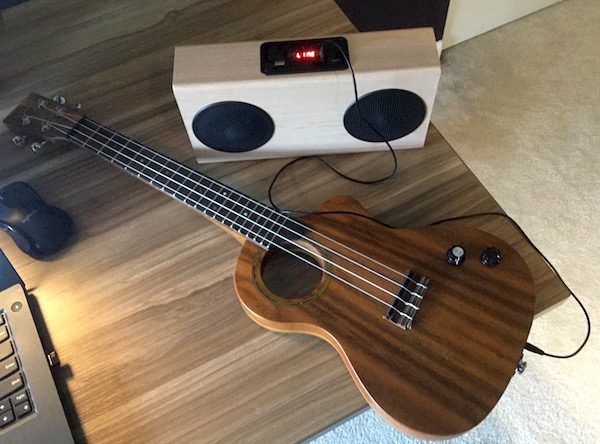 The full-size USB port is only good for charging. The port on my unit is a little loose, so it requires some wiggling to engage on my iPhone. The LED panel has a little red light that indicates when it is charge mode. I would prefer to see this port to be fully functional as an alternative for playing music. It honestly feels like a throw-in feature, but serves the purpose if you need to charge your phone in an emergency. With a massive rechargeable battery on the speaker, I don't expect that this will kill the charge too badly when in use.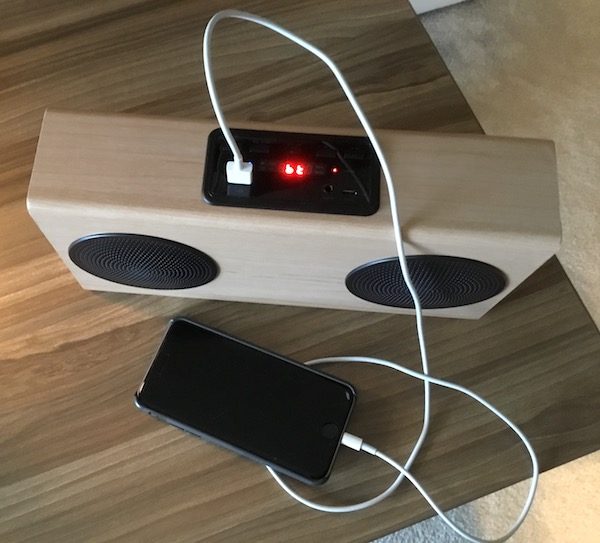 Speaking of charging, I appreciate that Archeer also supplies a 40 inch USB to micro-USB cable for charging the device. Most of these devices provide a cable that is too short for practical use, so it's nice to be able to reach your power source without moving the speaker around. With a 20-hour battery life, this adds to the portability of the device. I can go for days between charges, moving the speaker around the house as needed without being tethered to a power source. This also contributes to the overall design aesthetic of the speaker: no awkward ports or hanging cables to deal with in regular use.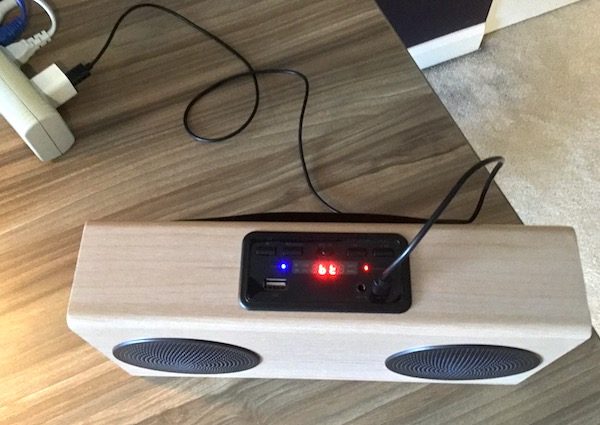 Finally, the Archeer Portable Bluetooth Speaker comes with an FM radio receiver. You choose this my pressing the multifunction button until the radio settings appear, and use the next/last buttons to track local stations. The problem with this mode is that there is no external antenna, so reception (at least in my area) is spotty at best. Like the USB charging option, this feels like a throw-in feature that probably isn't necessary.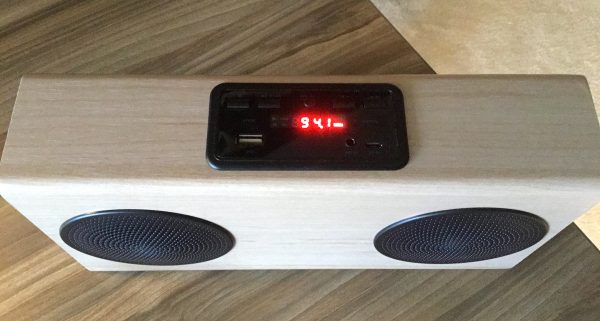 Conclusions and Pricing
There's a lot to like about the Archeer Portable Bluetooth Speaker. It looks great as an addition to any room, can be moved easily around the house, has excellent sound quality, and exhibits excellent behavior with Bluetooth-enabled devices. The extended battery life is outstanding, and the auxiliary port gives it additional extensibility for use with other devices in your house. While some of the added features aren't as useful, they're not deal breakers for me. You get a lot of good stuff here in a sophisticated package that's easy to live with.
The other feature here is the price. At $39.99, it performs a cut above most cheaper speakers I've tested while adding some class to your bookshelf. And that's not a bad thing at all. Check out the Archeer Portable Bluetooth Speakers on Amazon.
Source: The sample for this review was provided by Archeer. For more info visit their site and Amazon to order.
Product Information
Price:
$39.99
Manufacturer:
Archeer
Retailer:
Amazon
Pros:

Looks great as a home accessory
Great sound quality
Easy bluetooth management
Solid build
20 hours of play on one charge
Auxiliary cable support adds more functionality

Cons:

Some additional features aren't great
On-panel controls are so-so
Not waterproof or shockproof for outdoor use