We use affiliate links. If you buy something through the links on this page, we may earn a commission at no cost to you. Learn more.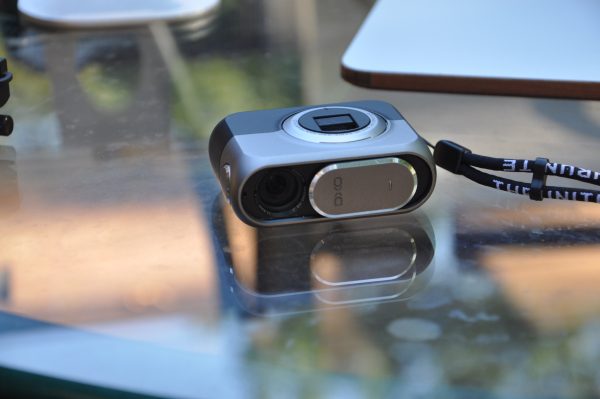 I have been a digital photographer for over 15 years now. I started with the equivalent of an Instamatic, and moved up to a prosumer, then full DSLR cameras. I have bought and sold lenses, filters, and other equipment. While I don't pretend to know how to adjust f-stops and ISO for challenging conditions, I have made some nice photos, been paid for some and awarded prizes for others. I'm rarely ashamed or embarrassed by my work. I've also bought into the iOS ecosystem hook, line, and sinker. So it was only a matter of time before I subsumed to the Siren call of the DxO ONE iOS camera. I pre-ordered this about three years ago, and my Lovely Bride kept asking "What is this charge on our credit card?" to which I would reply "It's a new camera. It'll be here any day now." She's sweet to believe in me. And she's seen much more funneled into my photography habit. And it only took nine months to ship!
Note: Photos may be tapped or clicked for a larger image.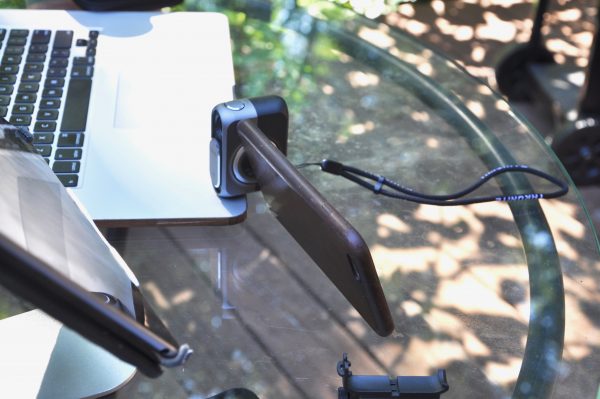 DxO has a long history in Photographic software. Their measurement software for photo accuracy is an industry standard for many. The DxO ONE, however, is the first piece of hardware they have produced. It doesn't look much like a standard camera. For one, it doesn't have a viewfinder of any kind. Second, there is no way to see what your settings are. The first version, before the first firmware update, could only shoot from within an app on a connected iOS device.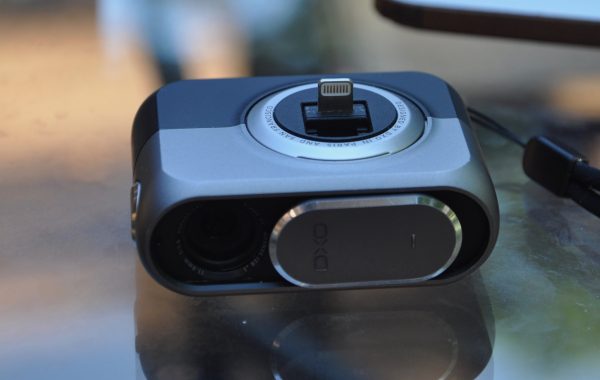 A physical release pops out a lightning connector, and attaching it to your iPad, iPod touch or iPhone launches the software that controls the camera and turns your device's screen into a viewfinder.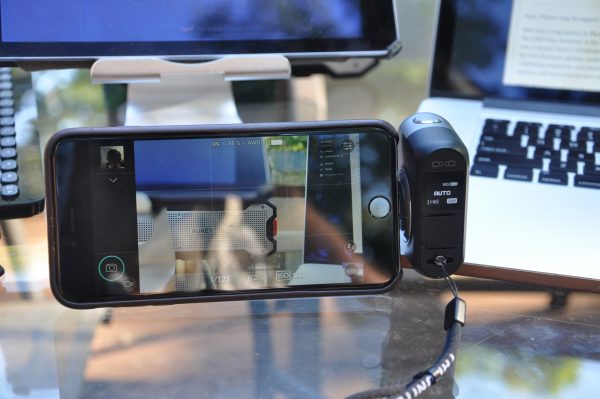 While that was cool enough (and the DxO ONE's 25-megapixel sensor easily bested the resolution of the 8 megapixel iPhone 5s I was using at the time), the first firmware update added the ability of the unit to take pictures independently of the iPhone using the black-and-white screen as a rough viewfinder. (Yes, black-and-white. Zero shades of gray. Think original Macintosh. See picture below – loads of dithering. Those are the boards of my deck, through a glass table.)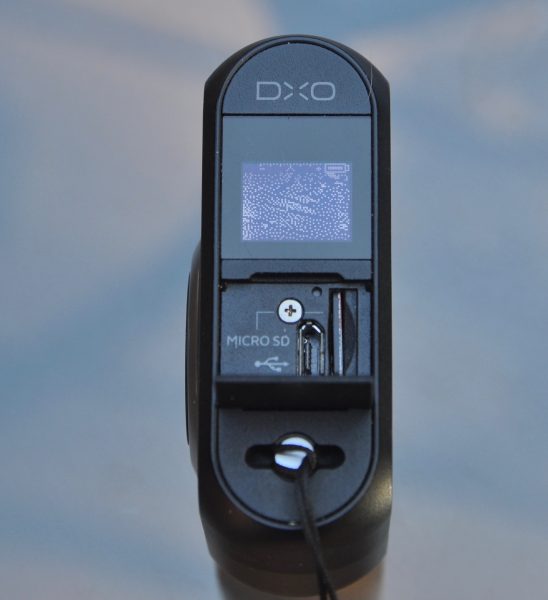 Crazy as it sounds, this is a James Bond/Man from U.N.C.L.E-type spy camera. I can pull something out of a cigarette pack that doesn't look like a camera and grab a really, really good photo in dim light. In full color. My 10-year-old self would be screaming for joy about now. I regularly use it for concerts and candid shots, but just this weekend, I discovered what the newest firmware update added: remote control. As in, I can turn this camera on, set it up, and walk away, and snap photos from it at will from anywhere on the same wifi network. (Pictures below are of me snapping hummingbird photos. The first pic is focused on my phone, the second photo is focused on the DxO ONE on the tripod. Since the devices are both on wifi, I could have been anywhere on my network monitoring the camera.)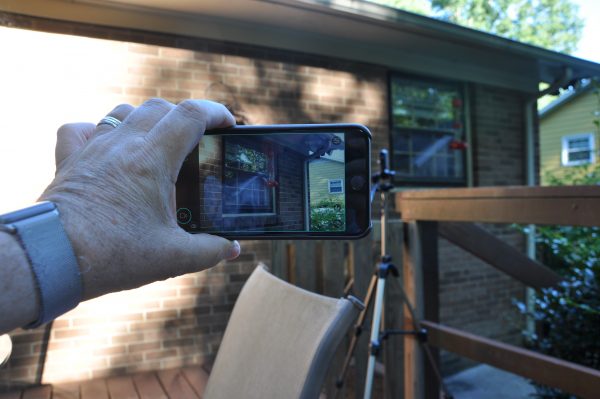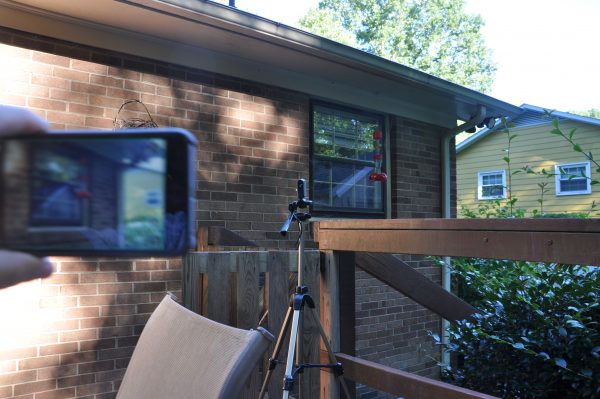 And the camera is so quiet and unassuming, it's more stealthy than some nanny-cams. And, as I was researching further, I found it can also be controlled from an Apple Watch! Sure, you don't get the nice preview with the watch like you do with the iPhone, but you can hit the shutter release without touching it, or looking at your camera screen.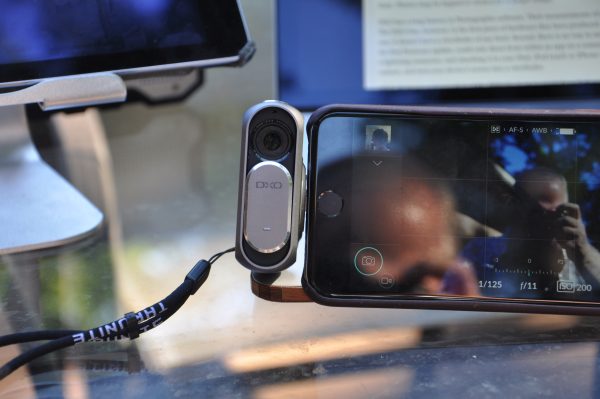 Another advantage of using the Lightning Port is that you can easily pull the camera off and turn it 180° to make a selfie camera of amazing quality. (It doesn't help the subject matter, sadly, but you get more details to edit out.)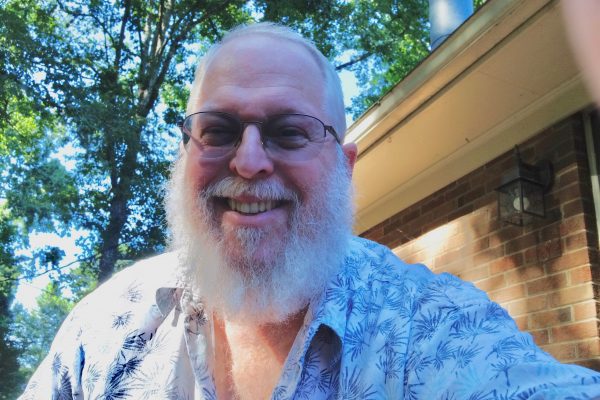 Sometimes, you find a case that doesn't give good access to the flat area around your Lightning port, but there are many on the market that do. I recently spent some credit card points on a tripod mount and lens mounting adapters, in hopes of finding a decent telephoto lens to fit.
Since this is a camera review, I guess I should have some comparison shots from a known camera. I shot three scenes on full auto indoors with no flash, outdoors with full sun, and indoors in a dimly lit area with flash. The ones on the left were taken with the onboard iPhone 6s Plus camera. The ones on the right were taken with the DxO ONE attached to the same phone. (The DxO is attached to the lightning port, so it's on the opposite end from the built-in phone. This is what accounts for the slight shift in point-of-view.) The only changes to the basic auto setting I made was to force flash to fire in the indoor flash shot. There are no lights turned on in the room, or in my mini-studio, only the camera flash. The images are full-frame with no cropping or enhancement added.
In the first shot, it's easy to see the increase in light the ONE's sensor makes. There is some fuzziness, but that's to be expected with handheld shots. The shutter button on top of the ONE makes you have to pay much more attention to camera shake since it's a physical button, rather than the virtual button on the iPhone app.
In the outdoor shot, things look equal in the well-lit areas, but the details under the shade, like the bark on the tree left of center, fall apart on the iPhone. If you're wanting to get all CSI on the background, like my neighbor's garage or porch area, the DxO has way more data to play with.
In the final flash set, the body of the camera is about the same, with a little fuzziness on both shots. The texture of the strap in the DxO shot is far more clear when you blow it up, however. Given the distance from the light source, the lighting is better, too.
So, is the difference worth the price? Hard to say. Three years ago and two generations of camera phones, it was to me. On our last vacation, most of my travel photos were taken with just the iPhone 6s Plus. While I always wish for more glass for zoomed shots, I was very happy with the outcome. Adding a clip-on polarizing filter (which is not easily doable with the DxO) made a lot of difference in sunny outside shots.
Computational photography is making the size of the sensor obsolete much faster than the "camera guys" are improving the optics of camera hardware. Given Cupertino's income from sales, they have far more resources to spend in this area than companies like Canon and Nikon, let alone poor little DxO. But, still, it's a neat gadget, and I don't regret purchasing it. Meanwhile, the price is down $100 from what I paid, but with the software updates, I'm still up to date. I love living in the future.
Source: The item for this review was purchased with personal funds. Please visit DxO for more info and Amazon to order.
Product Information
Price:
$469.99 (retail is $499)
Manufacturer:
DxO, Inc.
Retailer:
Amazon
Requirements:
Pros:

Small and light.
Tight build quality.
Software under active development.
Easy to connect to iOS device.

Cons:

It's so small, attaching lenses is difficult, and finding quality lenses is difficult.
Some cases don't let it fit device fully.