We use affiliate links. If you buy something through the links on this page, we may earn a commission at no cost to you. Learn more.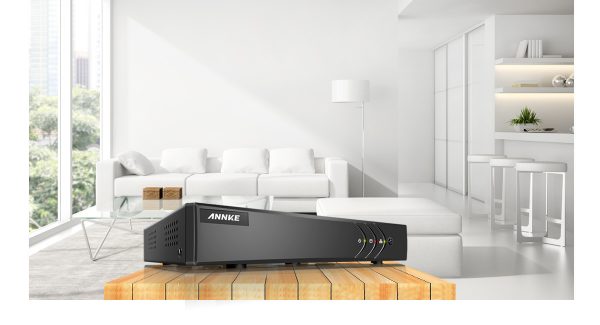 I think I've indicated before that I'm a bit paranoid when it comes to home security. I have several cameras in and outside my house, and I'm always considering adding more. Not only are the cameras great for deterring burglars, but they often help find toys my children lost.
Recently I volunteered to review a DVR security system by Annke. It's a four camera indoor/outdoor system with a multitude of features.
In the box
Annke DVR
4 x 720P indoor/outdoor cameras – wired
4 x video cables (60 ft)
2 x power adapters
Power adapter "splitter" for cameras
USB mouse
4 x anchors for mounting cameras
Quick user manual
Software CD
2 x door/window stickers
Specifications
Analog video input – 8-ch;BNC interface (1.0Vp-p, 75 Ω)
HD TVI input – 720P, 1080P
AHD input – Support
CVBS input – Support
IP video input – 2-ch;Up to 960p resolution
Audio input/Two-way audio input – 1-ch;RCA (2.0 Vp-p, 1 KΩ)
HDMI/VGA output – 1-ch, 1920 × 1080/60Hz,1280 × 1024/60Hz, 1280 × 720/60Hz, 1024 × 768/60Hz
Audio output – 1-ch, RCA (Linear, 1 KΩ)
Video compression standard – H.264+/H.264
Encoding resolution & Frame rate – 1080p lite/720p: 12 fps;960H:25fps(P)/30fps(N)
Video bitrate – 32 Kbps to 4 Mbps
Stream type – Video & Audio/Video
Dual-stream – Support
Audio compression standard – G.711u
Audio bitrate – 64 Kbps
Synchronous playback – 2-ch
Remote connections – 128
Network protocols – TCP/IP, PPPoE, DHCP, Hik-connect Cloud P2P, DNS, DDNS, NTP, SADP, SMTP, NFS, iSCSI, UPnP™, HTTPS
SATA – 1 SATA interface
Capacity – Up to 6 TB capacity for each disk
Network interface – 1; RJ-45 10 M/100 Mbps self-adaptive Ethernet interface
USB interface – Rear panel: 2 × USB 2.0
Power supply – 12 VDC
Consumption(without hard disks) – ≤ 12W
Working temperature – 14ºF to 131ºF
Working humidity – 5V DC±10%
Power Consumption – 10% to 90%
Chassis – 1U chassis
Dimensions(W × D × H) – 10.2 × 8.7 × 1.8 inch
Weight(without hard disks) – ≤ 2.2 lb
Design
The DVR looks a bit like a cable set-top box without an LCD display.
The front of the DVR has LED indicators for power status, hard drive activity, and network activity. The rear of the DVR contains all of its ports. The top of the DVR is plain while the bottom contains the model number, serial number, and external access code.
The system also includes four 720p cameras.
Each camera is equipped with infrared LEDs, providing 66 feet of night vision.
Additionally, the cameras have an IP66 ingress rating, meaning they are rain and dustproof.
The remainder of the system is primarily composed of cables and power adapters.
I can't imagine any DVR system being completely inconspicuous; however, this system does a fine job blending into the background. The DVR would blend in with any entertainment center containing your everyday media devices, and the cameras could be tucked away into just about any corner.
Setup
The system isn't particularly difficult to set up; however, the included user manual is of no help. The manual immediately skips from describing the LEDs and ports on the DVR, to explaining how to install a hard drive; there is absolutely no mention of how to connect the cameras or power adapters. Fortunately, if you're somewhat tech-literate, the process is pretty easy to figure out.
First you attach the plugs from "cable end A" into the plugs at the end of the camera. You then plug the blue end of "cable end B" into one of the video ports on the rear of the DVR. Next you plug the red end of "cable end B" into one of the power adapter splitters. You then plug the splitter into one of the power adapters.
Once you've installed the cameras you can plug the DVR into a HDTV or computer monitor. You then attach the system to your router, plug in the remaining power adapter, and plug the mouse into the USB port.
Once all the hardware is set up, you can begin the on-screen setup; this is a pretty simple process.
The first time you turn on the system you will be asked to activate it. This requires nothing more than choosing an administrative password for the system. You next choose an unlock pattern in order to avoid having to reenter a password repeatedly. Finally, you go through the setup wizard.
Once you've completed the wizard, the DVR system is ready to operate. For the most basic use, this is all you need to do. I'll discuss more advanced use later.
Performance
Although I've never had a DVR system for my home, I've utilized and interacted with them countless times at work. I was very pleased with how well the Annke system worked compared to others I've seen.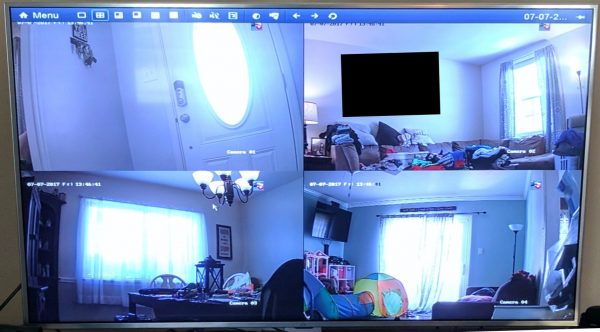 The system was easy to use and the picture quality was generally very good; although, in low light situations the image was a bit darker than I would like.
Truthfully, the basic use of the DVR system is so simple there isn't a lot to write about. You install it, go through the setup wizard, and it immediately starts streaming a live view of things.
It works wonderfully, and that's really all there is to say.
Annke App
Not only can the system be viewed through your TV or computer monitor, but you can also access it through Annke's app.
The app is available for Android and iOS.
After you download and install the app, you'll go through an easy setup wizard where you'll choose your location, set up your mobile account, and connect your system.
After you've completed the wizard, you should have access to your live view.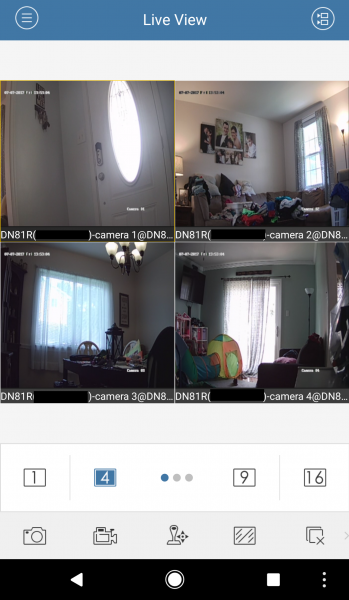 As with the basic use of the DVR, the mobile app is wonderfully simple to use.
Advanced Use
So here's the thing, this DVR would be great for a basic home surveillance system, but it also has a ton of features that would make it great for protecting a business or any other institution. In fact, it has so many features that I couldn't have possibly gotten around to trying them all.
In order to take advantage of all the extra features, you're going to want to install a hard drive in the DVR. (according to its Amazon listing, the system does not include a hard drive; however, the sample they sent me included a 1 TB hard drive.)
Once a hard drive is installed you can choose from several different recording features.
You can set the DVR to record continuously or only record during specific hours on specific days.
You can choose to have it record when motion is detected or when specific types of motion, AKA "events", occur.
Examples of events are as follows: face detection/face capture, line crossing detection, people gathering detection, fast moving detection, parking detection, unattended baggage detection, etc.
Admittedly, I didn't come close to testing all the different triggers; however, I did set a motion alarm and it appeared to work well, consistently.
As with recording, there are a handful of different ways to playback events.
You can choose to playback an event by time period, by event type, by user created tags, by using smart search to analyze video footage, and by going through system logs.
If the DVR is connected to a network there are another dozen options to consider, including connecting to a Network Time Protocol sever, configuring email settings for email alerts, monitoring network traffic, etc.
This is just scratching the surface; you can set on-screen labels, place a black privacy box over certain areas, run hard drive diagnostics, and create backup files.
The amount of features available is borderline overwhelming, but in a good way.
My only issue with all the features was the lack of instruction in the included user manual. While some features were covered, most didn't appear to be. I was able to locate a 110 page advanced user manual on Annke's website; however, based on the diagrams inside, it wasn't the manual for the exact model I was reviewing.
Conclusion
I'm impressed with the Annke DVR; it can function as a basic home surveillance system or work as a full featured security DVR.
The system provides good video quality and an abundance of features.
Everything is fairly easy to use and set up, but you have to do some digging on Annke's website to get the correct information.
All in all, for $109.99, I'm not sure you're going to find a better deal.
Source: The sample for this review was provided by Annke. Please visit their site for more information and Amazon to order.
Product Information
Price:
$109.99
Manufacturer:
Annke
Retailer:
Amazon
Requirements:

An extra computer monitor or TV with HDMI to display video footage
Android, iOS, or Windows device for certain features

Pros:

Simple set up despite lack of directions
Good video quality
Tons of features

Cons:

Included user manual not always useful
Footage can be dark in low light