We use affiliate links. If you buy something through the links on this page, we may earn a commission at no cost to you. Learn more.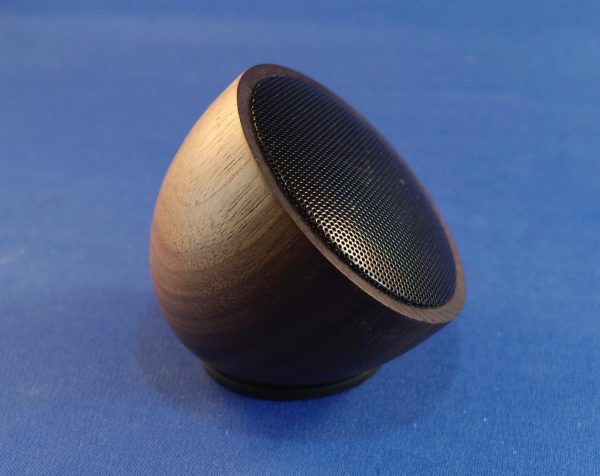 As good as the speakers on some smartphones and tablets may be, there are times you want more depth to the sound. Bluetooth speakers bring this sound to you, but sometimes there are tradeoffs – the speakers are too large, too twiddly, or run out of power too quickly. In an effort to try and correct these shortcomings as well as add their own handcrafted, natural wood beauty to your listening experience, the folks at Carved have introduced the Acoustic Acorn. It is a single speaker with a single button, a single LED, and a single port for charging. I was sent this singular speaker in Walnut to review.
Note: Photos may be tapped or clicked for a larger image.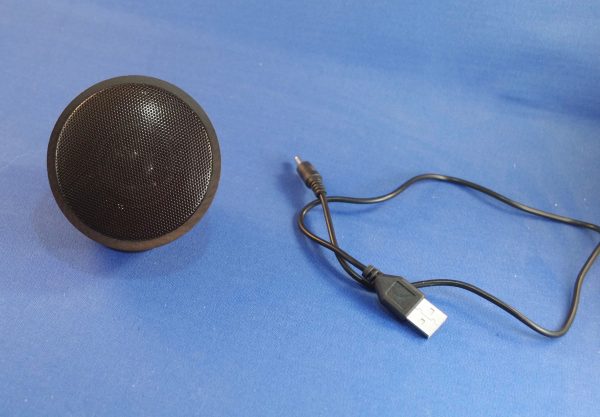 Overall, the Acorn looks very much like it's autumnal namesake, turned out of bamboo or walnut. There is a rubberized oval to keep it from rolling around on your work surface, and a black lacquered metal grille over the opening. The opening is 3″ in diameter, and the Acorn is 2.5″ deep. When it's set on a level surface, the oval holds the face of the speaker ~40º from the surface, which directs it toward your face, if it's near your keyboard. Inside the oval, there is a single button for on/off/pairing. From the off setting, hold it until the LED blinks blue and red, and the Acorn is in pairing mode. Press it once again and it turns off. Nearby is a reset pinhole. There is a "Carved" logo cut into the edge, just under the center by the rubber oval, so that it doesn't show.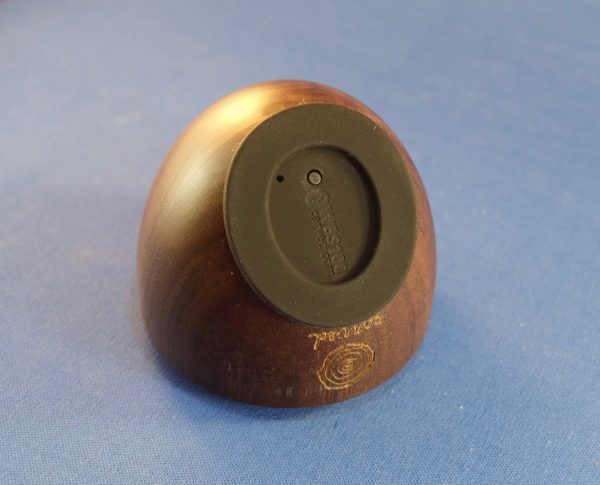 Opposite, on the back, there is a hole for the LED to show through, and a hole for the charging cable. That's about it. You can listen while it's charging if you'd like, but I found the battery life to be quite long. I never had a problem listening to several podcasts while cooking dinner, watching a movie streamed to my iPad, or letting Spotify or iTunes run rampant through the eternal shuffle of my music collection.
The sound is really mellow for such a small speaker. It's not a heavy thumping bass, but the full vocal range of speaking and most acoustic music is covered adequately. I never noticed any lessening of the highs, but then, I'm not hearing them as well as I did 20 years ago. 😉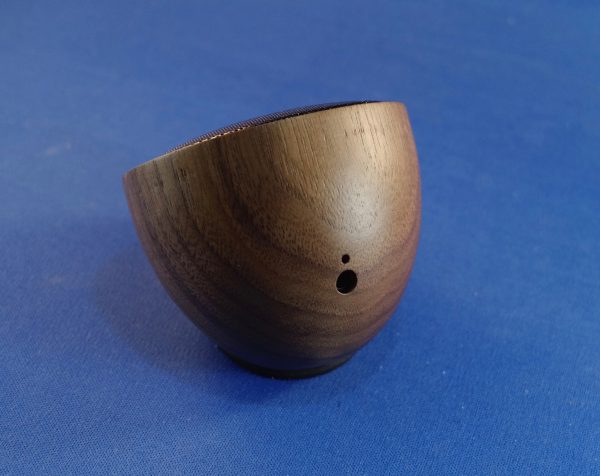 Carved, the company, is no stranger to this site. They are one of my favorite companies. It's all US-based, they celebrate every step of the job as something that should be done to perfection, from design to packaging, and they use high-quality woods. Each piece has a card signed by the artisan that made it, and they take customer service to an obsessive level.
I do have a few quibbles. There is no speakerphone mic. Not really an issue, if you just want to pick up the phone and talk through the mic on it. (Please don't hold it like you're talking to a pizza slice!) But depending on how far away you are from your speaker or phone, it may be difficult to pick up in time. Also, since it's not going to happen frequently, there is a certain confusion that happens when you get a call while the speaker is active.
The biggest issue I have with the Acorn is the charging cable. It is a USB to proprietary center-pin charging tip. I have other speakers that use this type tip, (I actually reviewed one here a few years ago) and none of them are compatible with each other. So, should I mix up or lose those cables, I'm not going to be able to use the device. Why not just use a miniUSB or microUSB plug, so it will be compatible with the most common cables you can find? Having a "special" cable mars the experience of having the device, worrying that you're going to push the cable in at the wrong angle, bend the little pin in the jack, leave the cable behind at a hotel, or forget to take it along on a long trip.
In spite of the charging cable thing, I'd still recommend the Acorn. Carved is gonna be around a while, and they are good folks, so I'm sure there is a way to get a replacement cable, should you need one.
Source: The sample for this review was provided by Carved. Please visit their site for more info and Amazon to order.