We use affiliate links. If you buy something through the links on this page, we may earn a commission at no cost to you. Learn more.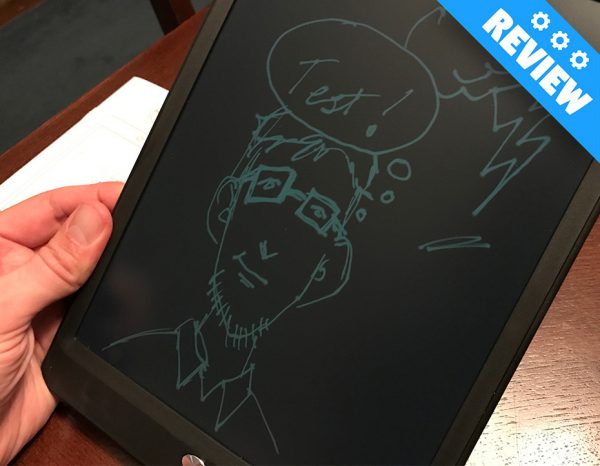 If you've stepped foot into a large bookstore chain, craft store or one of those places that sell educational types of toys, chances are you've seen something similar to the Parblo Pearl. This thin device is a pressure-sensitive LCD writing tablet designed to replace standard slate chalkboards, whiteboards, memo pads… just about anything you'd jot a quick note on.
At first glance, the Pearl looks like an e-reader. It's very thin, lightweight and has a decent sized bezel for holding. Running the included stylus across the sleek surface will reveal the true nature of the device. The pressure sensitivity and width of the stylus tip gave me the impression of writing with a thick colored pencil. There is a fair range of stroke width depending on how hard you press on the screen.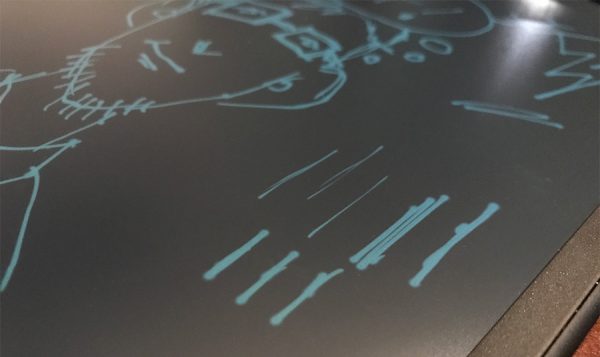 The erase function for the tablet is powered by a button cell battery that claims to erase up to 10,000 times. The writing and drawing function doesn't actually require any power because of the nature of the pressure-sensitive LCD. Similar to e-paper screens, there is no energy required to keep draw or keep the image displayed, only to reset the screen. Still, 10,000 cycles ought to be enough to last for months.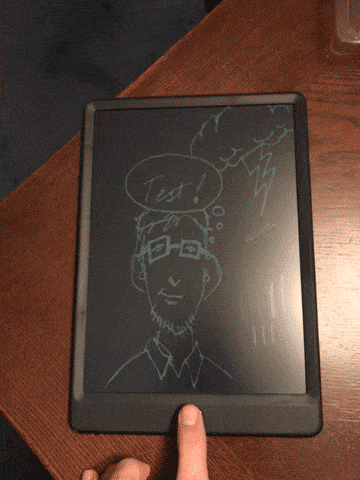 The device's single button functions as a screen clear. There is no way to save a note or drawing. There is a lock switch to prevent the button from erasing the screen when it's accidentally pressed, but chances are you're not going to be knocking out some great piece of artwork or jotting down a super-important note on the tablet, anyway.
So who is this for?
I see this as a fine replacement for anywhere you'd typically find a small whiteboard… in the kitchen, locker, dorm room… wherever you'd want to jot down and display a quick note or reminder. It would also work great for kids to use as a doodle pad. The image fidelity beats the pants off of a Magna-Doodle and my four-year-old loved it. It's worth mentioning that the Pearl tablet is rather thin, and I couldn't imagine it lasting very long knocking around inside a backpack without some sort of rigid case.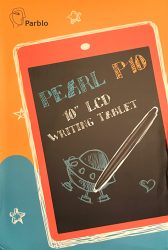 Also, the contrast isn't especially good on devices like these, certainly not as nice as a black marker on a crisp whiteboard. There is no built-in light, so a well-lit environment is necessary.
On the plus side, the Pearl is one of the more cost-efficient versions of an LCD writing tablet I've seen, hardly breaking the bank at a mere $24.99. Then again, that is halfway to a Kindle Fire, these days, so its overall usefulness is clearly a matter of opinion.
My final two cents… the Parblo Pearl isn't going to change your life, but if you find yourself running through loads of chalk or expensive dry-erase markers on your memo boards, this neat little writing tablet could pay for itself in a matter of months.
Source: The sample for this review was provided by Parblo. Visit their website for more information or order directly from Amazon.