We use affiliate links. If you buy something through the links on this page, we may earn a commission at no cost to you. Learn more.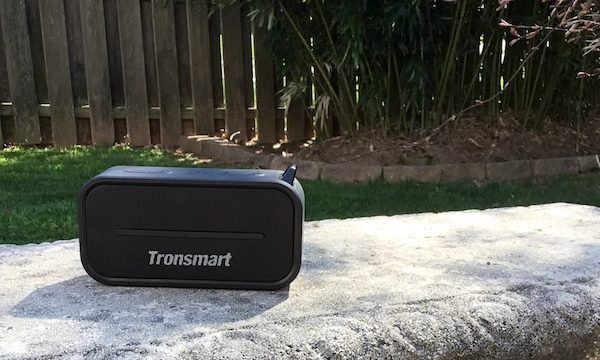 Outdoor party season is fast approaching, folks! At my house, that means it's time to fire up the grill, dust off the patio furniture, put the drinks on ice, and fire up the tunes. To help in the music department I'm testing the Tronsmart Element T2, an outdoor water-resistant Bluetooth speaker, to see how its holds up under outdoor party conditions. Does it rock? Let's find out!
Unboxing and Overview
First impressions are always important, and Tronsmart does a nice job with packaging on the Element T2. The unit comes in an attractive, durable box that opens book-style with a magnetic clip that will be great for storage. In addition to the speaker, you'll also find all the accessories you'll need for operation: a USB power cable, an audio connector cable, and two options for carrying (a lanyard and a carabiner). It's got everything you need to get started.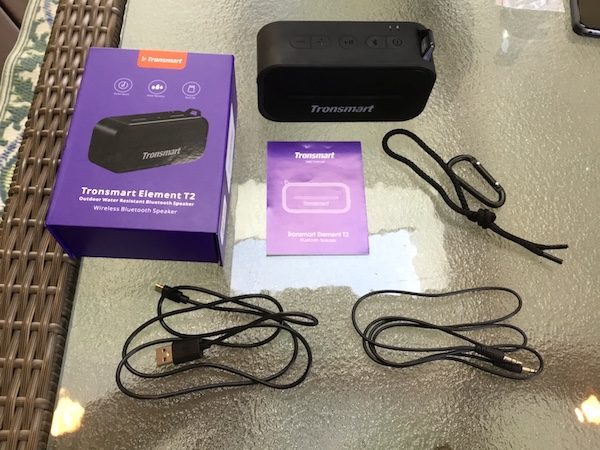 The Element T2 is very portable. At 5.6″ by 2.75″ by 1.8″ and 14 ounces, the Element T2 is roughly the size & weight of a can of soda (or your favorite beverage). The lanyard or carabiner attaches to an integrated loop on the speaker, enabling you to either clip it to an attachment loop on your bag. This is especially handy if you are hauling your stuff to the beach or the campsite.
Rounding out the details, the Element T2 is encased in a rubberized housing that looks pretty durable. The control buttons are molded into the housing for water resistance. You'll find the auxiliary jack, micro-USB charging port, and a micro-SD card slot hidden behind a sealed panel on the side of the speaker. There's a pair of LED indicators on the top of the device, and rubber feet on the base to keep it from skidding off of slick surfaces. Generally speaking, the construction is tight and seamless.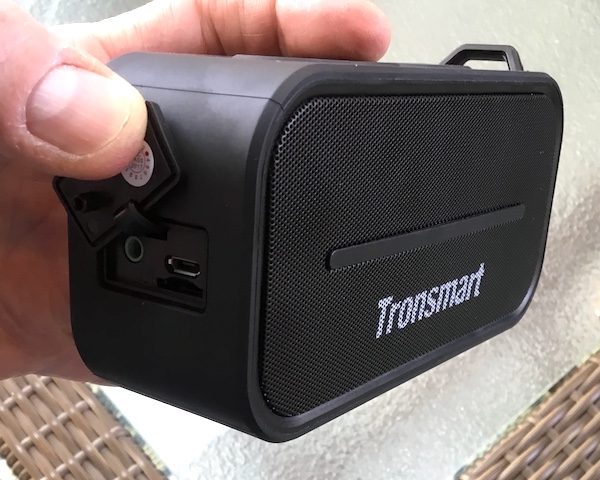 Setup and Use
One of the first things I noticed on setting up the Element T2 Bluetooth speaker are the friendly controls. Each isthe 5 buttons are big with good tactile feedback, and have simple icons to indicate their purpose. The system also uses distinctive sound effect cues to indicate functions such as powering up, discovery mode, etc. This all makes for easy setup; I didn't feel that I needed to go digging through the user guide to figure out how it all works.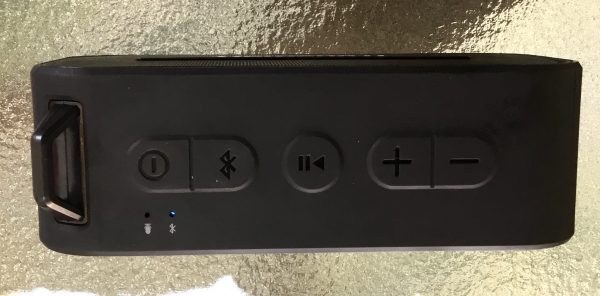 Pairing and switching between devices is easy. When you power up the unit, a blinking Bluetooth LED indicated that the device is in discoverable mode. Once you connect it to your device, a tone indicates successful pairing. The device automatically connects to the last device it was paired with, but you can also press and hold the Bluetooth button for two seconds to put it in discoverable mode if you wish to switch devices. If using the auxiliary cable is your thing, you can push the Bluetooth button once to toggle between the aux cable and Bluetooth connection. Over the course of a few weeks, I have played the speakers all over my house and yard using multiple devices, and have yet to encounter an issue.
Once you're connected, it's all go-mode from there. Play your music through your favorite app, and you're off and running. There's a built-in "pause/play" button on the device that works just fine with every app I have tried in Bluetooth mode, but all the other controls come from your device. You can adjust the volume from either the speaker or your device, which comes in handy if you find yourself on a sudden phone call and the speaker is on the other side of the room.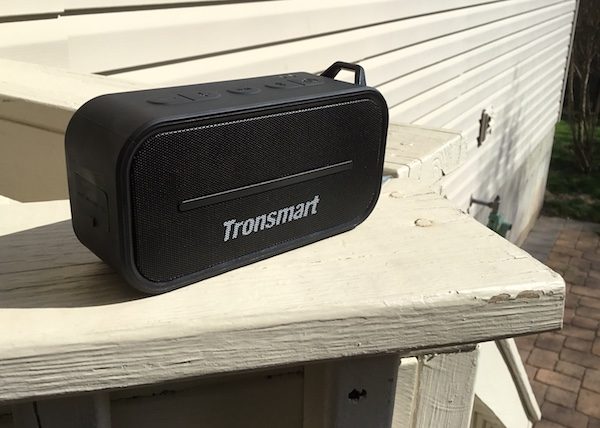 The Element T2 uses Bluetooth 4.2 and sports a strong connection with a 50-foot range. I've tested the speaker & paired devices on different floors of the house as well as 50-60 foot distances with no loss of quality.
Power usage is excellent. Tronsmart claims a 12-hour life on the battery without a recharge, and I have found this to be pretty accurate in testing. You do need to keep the included power cable handy and have a USB-enabled port for charging, but this does give you options for charging from your computer or stealing your USB-enabled outlet or converter.
The Element T2 also supports Bluetooth calls. If your phone rings while paired to the unit, you can press the Bluetooth button to answer, and again to disconnect. It's a nice bonus feature, which allows you to keep your phone stashed safely away from the elements (or in the house).
Does it bring the rock?
After extensive indoor and outdoor testing, I was pleasantly surprised at how much punch the Element T2 possesses for a compact, inexpensive speaker. The sound is crystal clear with a broad range thanks to enhanced bass and a 20 band equalizer adjustment capability. The bass is ridiculously good, especially if you're listening to pop music (or old school funk and hip-hop, in my case). In the picture below, we were loading up the island themed tunes. 🙂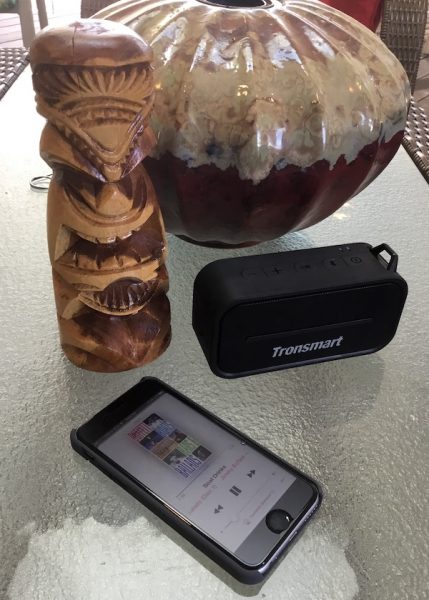 It's important to note that this speaker is not designed to produce 360 degree sound. I found this out by trial and error, because it was not clear in any of the documentation. The reason for this is that the main speakers are designed to project from one side of the device, while the bass projects from the back. This means that you will want to position the speaker at the edge of the desired space, directing it towards the listening area. I found that this wasn't a problem in use; I'd position the speaker open the far end of my kitchen or the deck to get the full sound. Tronsmart has designed this speaker so that you can pair two of the units together to provide full stereo sound; I did not test that feature here, but I would imagine that the quality would be excellent.
To take full advantage of the sound quality, You'll really want to use the Tronsmart Element T2 Bluetooth speaker in more open spaces. I tested the unit in my home office (12' by 14'), my kitchen (14' by 25'), and outside in numerous locations. The bigger spaces really allow you to take full advantage of the speaker's power and deep bass enhancements. It will do fine in a smaller office area, as volume is very manageable… but you really want to rock, right?
A quick note on the equalizer capability: not all music apps and devices support equalizer modes. My apple devices do, and it works great when switching from one style of music to another. There is no equalizer control on the speaker, however, so check your device and software if this feature is important to you.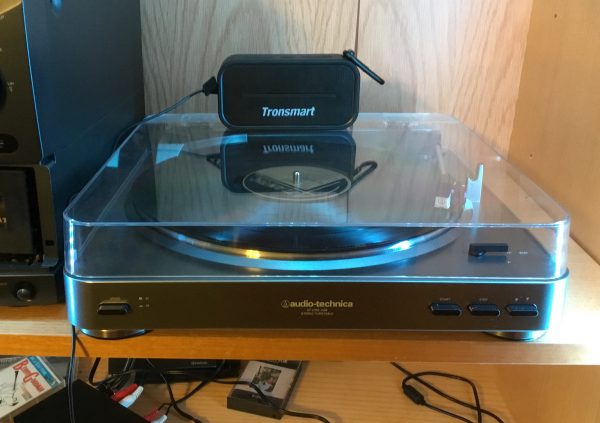 One last note: we did do a test using the aux plug on our turntable, and sound quality was just as good playing vinyl with the old-school plug. We tracked through AC/DC's "For Those About To Rock"… and we did rock. Well.
It gets the hose…
One of the benefits of being a device tester is that you really get to stress test stuff to see if it meets the claims of the manufacturer. For the Element T2, this meant the dirt & hose treatment.
The Tronsmart Element T2 has an IPX rating of 56, which effectively means that it is resistant to small particles (dirt, sand) and direct exposure to water. To validate this claim, we dragged the speaker around the yard all day while mowing the yard, planting the garden, etc. When finished, we gave it a bath with the garden hose while playing music. I think it was Bob Marley's "Trenchtown Rock" that was on the playlist at the time this photo was taken.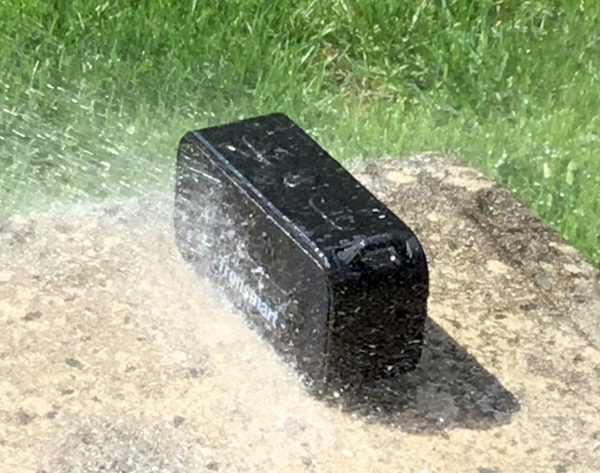 The speaker endured the hose at full blast for about a minute and continued to play without missing a beat… even when the speaker bay was pooling with water from the continuous hose blast. There was some minor fuzz in the sound as it dried out from residual water on the speakers, which disappeared in about 5 minutes of drying in the sun. Considering that the speaker is not rated to withstand being submerged in water, that's really impressive. I'm confident that it will survive sudden downpours, drink spills, or the stray water balloon with no issues whatsoever.
Conclusion and Pricing
The Tronsmart Element T2 is a portable, durable, compact, water-resistant Bluetooth speaker that brings excellent sound quality to the party with a couple extra bonus features like super-long battery life and Bluetooth-compatible phone pickup. What else is there left to talk about?
The price. As in under $25 on Amazon Prime right now. I was ready to give the Tronsmart Element T2 a full-fledged endorsement, but at this price, I think it's a steal. You can even get two of them to take advantage of the paired stereo capability… just drop me a line and let me know how it works out for you!
Rock on!
Updates 05/25/17
Two months in, and this speaker still performs flawlessly. I use it in my office, in the kitchen, on the deck, and its great for playing tunes. The best part is the battery life. I use it almost daily, and find that I need to recharge it every couple of weeks.
Source: The sample for this review was provided by Tronsmart. For more info visit their site and order one from Amazon.
Product Information
Price:
$49.99 MSRP
Manufacturer:
Tronsmart
Retailer:
Amazon
Pros:

Amazing sound with broad range and deep bass.
Slim and portable.
Fully water resistant.
Easy to setup for bluetooth pairing with multiple devices.

Cons:

Directional speaker -- should be pointed towards the listening area, not set up in the middle of it.