We use affiliate links. If you buy something through the links on this page, we may earn a commission at no cost to you. Learn more.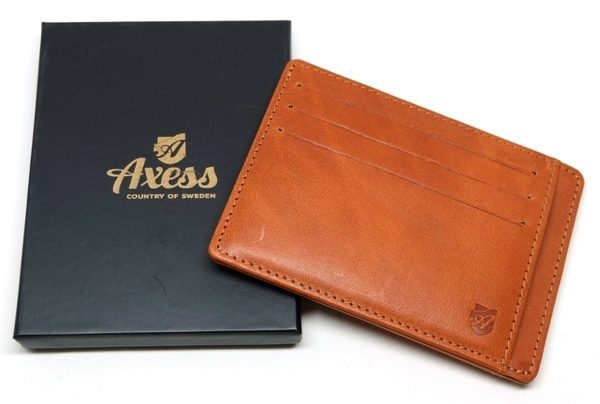 I am on a quest for a great leather wallet. I really enjoy using my Garzini Essenziale Finestra wallet, but are there others out there that I might like better? When the Gadgeteer was offered an Axess leather wallet to review, I volunteered to do so. I chose the Axess "Superior" Extended Vegetable Tanned Leather RFID-blocking V-shaped wallet because I need a lot of pockets for the number of cards I carry. How did it measure up to my Garzini wallet?
Design & Quality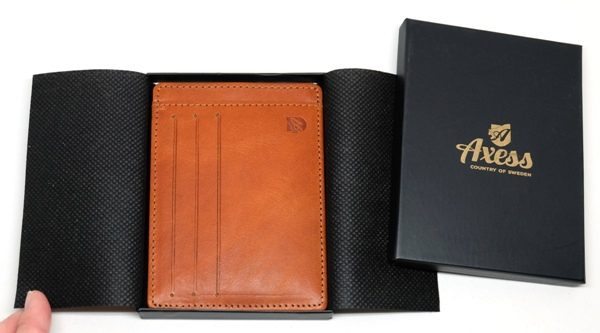 The Axess "Superior" Extended RFID-blocking V-shaped wallet came in a very nice black box, wrapped in a black sheet of non-woven polypropylene material (or poly non-woven which is the same material used in reusable grocery bags).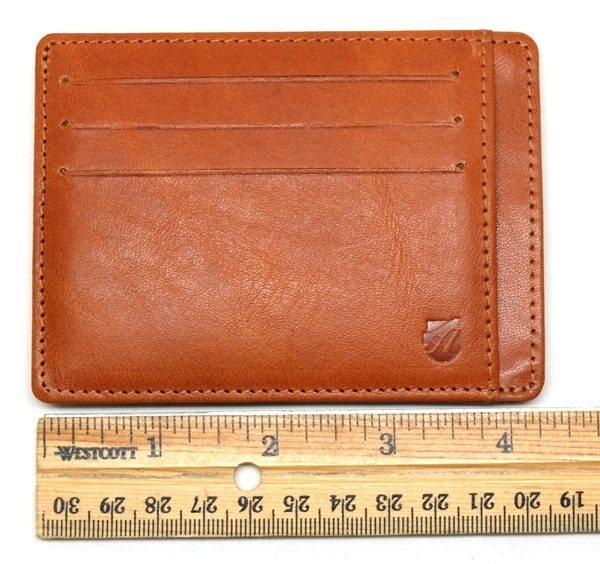 The Axess "Superior" Extended wallet is a professional looking wallet that is handmade using full grain vegetable tanned Tuscany leather and measures 8 cm x 11 cm. The Tuscany leather is supposed to age well and develop a rich patina over time. The leather is smooth and has a wonderful smell and color. It is also very thin to minimize the amount of space the wallet takes up. Even though the wallet appears to be well made, because the leather is so thin, the wallet does not have a very robust feel.
This wallet has three credit card slots on the front with a side slot to the right of them. The thread used in this wallet is a "polyester/cotton corespun thread. The edges are hand cut."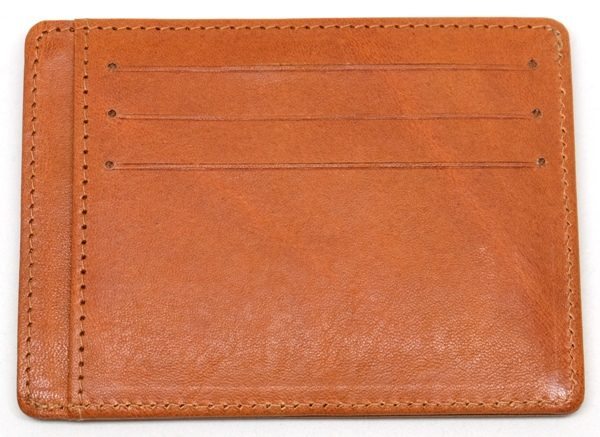 The back of the Extended version of the "Superior" wallet has another three credit card slots with a side slot as well, whereas, the non-extended version does not have these.
The wallet has two RFID-blocking pockets, one of which is the side slot on the front of the wallet as shown above on the left. The second of the RFID-blocking pockets is the side slot on the back of the wallet (above on the right).
RFID stands for radio frequency identification. According to creditcards.com,
RFID is actually the granddaddy of NFC and a generic term for technologies that use radio waves to identify people or objects. It also refers to the long-range communication technology that's used in, for example, highway toll payment devices.

But NFC is a type of RFID that requires you to be within inches of the card reader, so fraudsters cannot skim your information easily. Still, as use of NFC-enabled mobile payments grows, contactless payment cards are being phased out.
Thus, if you are using contactless cards that allow you to wave your card over a card reader, then you may want an RFID-blocking wallet. Even though your information may be emitted from the chip on such a card, it usually requires that you be within inches away from the card reader and thus a thief would have to be that close to steal your information.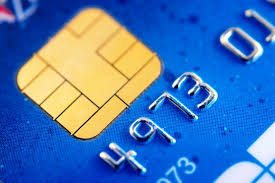 EMV (stands for Europay, Mastercard & Visa) is the current standard used in credit card chips today and requires direct contact with the card reader (the chip looks like that in the photo above). These cards require you to insert the chip end of your card fully into a card reader and they use tokenization which means that such a card "transmits a unique code for each transaction" thus making "it nearly impossible to counterfeit the card" according to creditcards.com. (Mobile wallets like Android Pay and Apple Pay also use tokenization). When using EMV chipped cards, you would not need to have an RFID-blocking wallet.
Anyway, continuing on with my review. In addition to the four slots on each side of the wallet, there is a V-shaped center pocket that holds paper money. This V-shaped opening allows the user easy access to the bills.
Each of the pockets (the paper money slot, the RFID slots, and the six credit card slots) is lined with a shiny nylon or polyester type of material. The lining of each of the pockets feels like it is covering a thin layer of cardboard to provide rigidity.

The wallet has a slim profile and is about 5 mm thick when empty. The uniformity of every aspect of this wallet makes it look like it is mass produced rather than handmade.
Use
In the front of the wallet, I inserted three plastic cards into the credit card slots and also inserted one plastic card into the RFID-blocking side slot. In the center slot, I had only one $20 bill.
On the back of the wallet, I inserted two plastic cards in the top and bottom credit card slots and three paper cards into the center slot. I also inserted two paper cards into the side slot.

With all of my necessities inserted, the wallet ended up measuring about 7/8″ thick.
Final Thoughts
The Axess "Superior" Extended Vegetable Tanned Leather RFID-blocking V-shaped wallet appears to be a well-made wallet and uses vegetable tanned Tuscany leather which develops a unique patina over time. New, it already has a wonderful color and smell. It is what I would describe as a professional looking businessman's type of wallet. The wallet, being constructed so uniformly, has the appearance of being a mass produced wallet even though the website says Axess wallets are handmade. It also does not have a very robust feel to it so I cannot say how long it will last.
The V-shaped center opening is useful for easy access to your paper money, however, I found that the wallet expanded freely on the open side and was, therefore, less compact than I would like it to be. This, of course, is a matter of personal preference. Axess offers a handful of different styles of wallets and knowing what I know now about the opening, I may have been happier with the "Smooth" – Extended Vegetable Tanned Leather RFID-blocking compact wallet (caramel).
If you like professional looking leather wallets with the V-shaped style center pocket to hold your paper money, you are sure to enjoy using the Axess "Superior" wallet, however, I personally prefer my Garzini wallet.
Source: The sample used in this review was provided by Axess. Please visit their website for more information or to purchase one. You can also find their wallets on Amazon.