We use affiliate links. If you buy something through the links on this page, we may earn a commission at no cost to you. Learn more.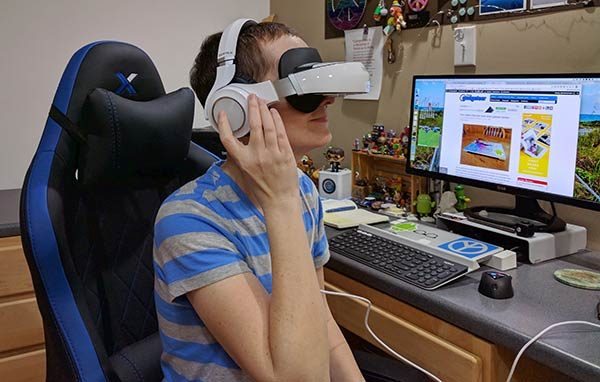 What is the best way to enjoy a movie? At home in your recliner or at a movie theater in front of a huge screen with awesome audio? What if you could get the movie theater experience but at home in your recliner without having to buy a brand new larger TV and a surround sound system? Royole thinks their Moon Foldable 3D Virtual Mobile Theater will do all that for you and more. Let's see if they are right.

What is it?
The Royole Moon Foldable 3D Virtual Mobile Theater looks like a VR headset, but that's not what it is. It's a video headset that has been designed to give you an immersive movie theater experience of sitting in front of an 800-inch HD screen that is capable of showing 2D and 3D video with high fidelity audio through noise-canceling headphones that.
What's in the box?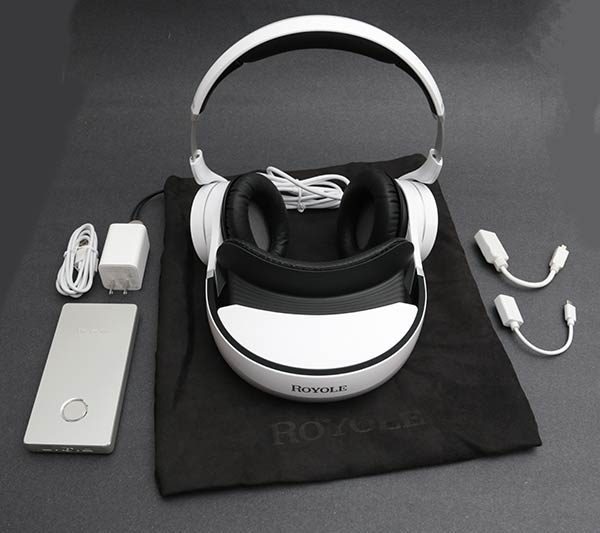 Royole Moon video headset
Battery box with 32GB onboard storage
Micro HDMI to HDMI adapter
OTG cable
Micro USB to USB charging cable
Power adapter
Storage bag
Quick start guide
Design and features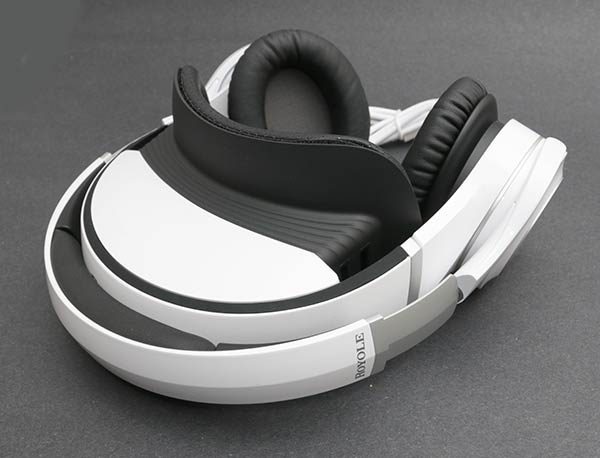 The Royole Moon Virtual Mobile Theater headset features a video eye mask with connected earphones. The earphones fold down to make the system more portable when it's not being used.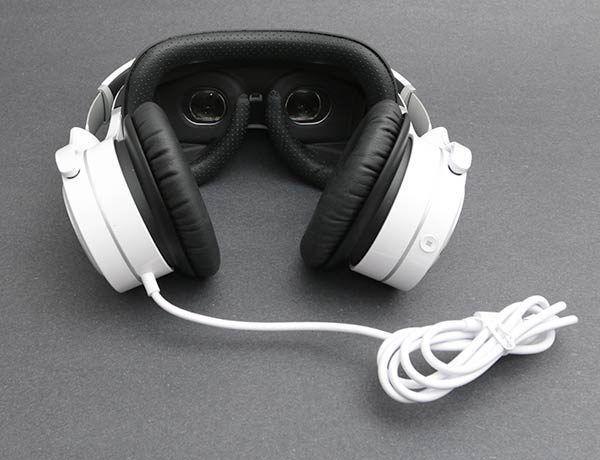 The Moon uses advanced optics that include two AMOLED 1080p 3000PPI displays that give the impression of sitting about 65 feet away from an 800-inch screen. It's unfortunate that I don't have a way to show how good the video looks through the video headset.
It's unfortunate that I don't have a way to show how good the video looks through the video headset, but it is very clear, crisp and vibrant.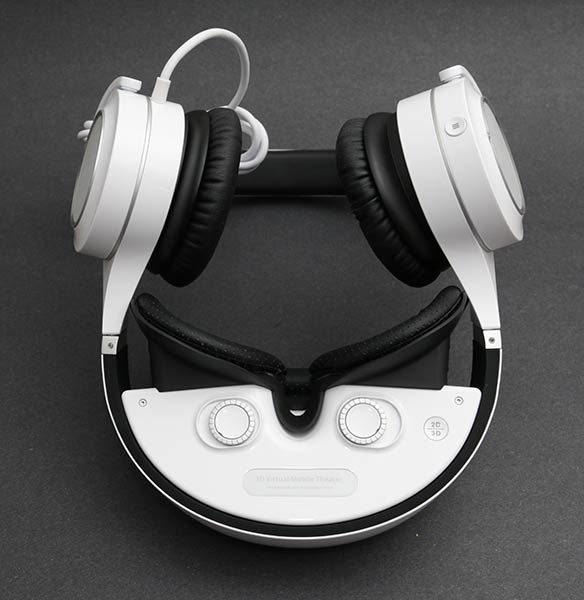 If you wear glasses like I do, you don't need to wear them with the Moon. On the underside of the video headset are optical adjusters for each eye that allow adjustments from -7.0 diopter nearsightedness to +2.0 diopter farsightedness. The interpupillary distance (distance between the eyes) can also be adjusted by sliding the dials in or out.
On paper, my prescription falls within the parameters that the Moon can handle, but in real life, I see some ghosting/doubling of letter edges when looking through the Moon headset. I attribute this to my astigmatisms because I see the same thing when I get my eyes checked each year at my eye doctor's office.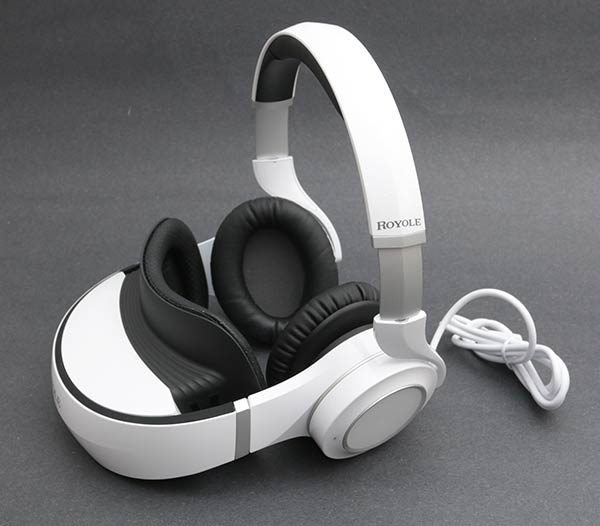 The Moon headset has a padded headband, video eye mask, and ear cups for comfort. The headband ratchets forward to customize where it sits on the top of your head.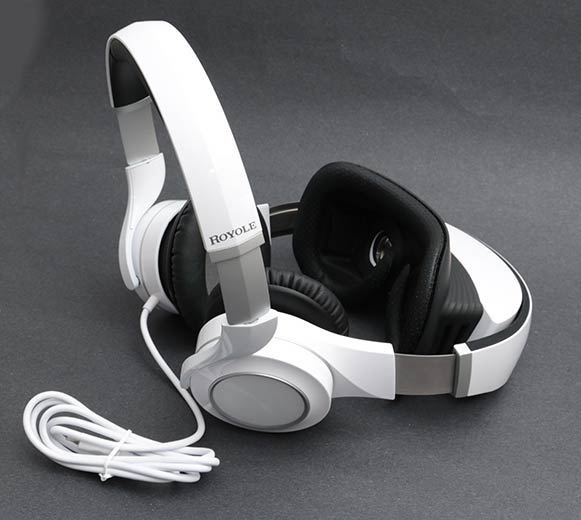 Both the headband and the video eye mask size can be adjusted for your head size.
The outside of the right earphone is actually a touch pad. If you run your finger around the edge, it adjusts volume up and down. Sliding your finger up/down, left/right across the outside surface of the earphone will navigate through menus and move an onscreen cursor. Tapping and double-tapping the center of the earphone will select and go back to the main menu respectively.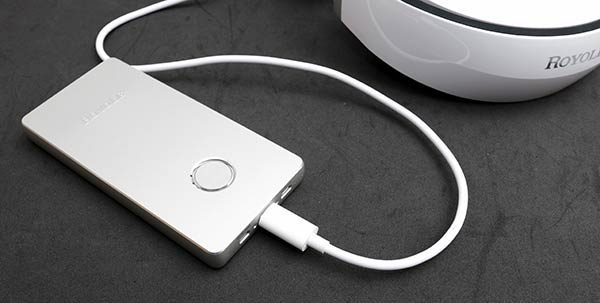 The Royole box is a battery pack, HDMI input and a flash storage unit. It has a 6000 mAh battery that provides you with 5 hours of movie watching  per full charge.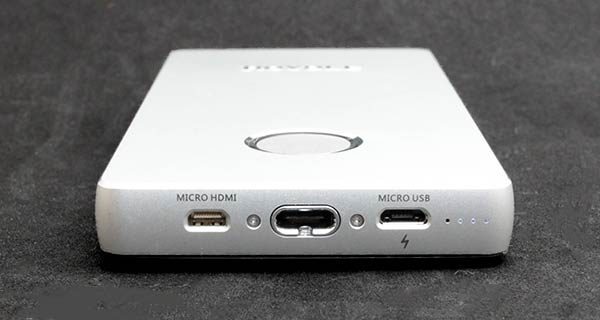 The box has a power button on top and three connections on the side. There's a micro HDMI input, USB Type-C (where the Moon's cable plugs in) and a micro USB for charging. Next to the micro USB connection are four LEDs that light up to show the current battery capacity.
Watching video with the Royole Moon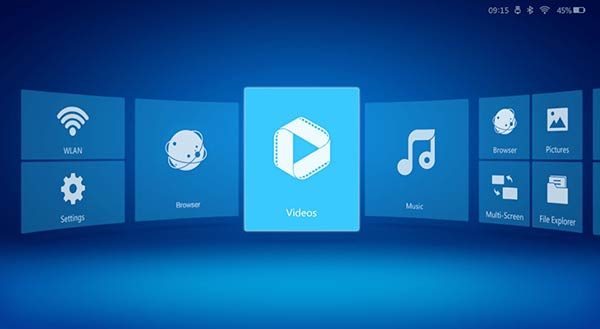 When you put on the headset and turn it on by pressing the button on the box, you'll see the interface shown above. Swiping your finger up, down, left, or right on the right earphone allows you to navigate the menus. Tapping the center of the earphone selects the highlighted option and double tapping the earphone will go back to the main menu.
There are three ways to watch video on the Moon: HDMI, built-in WiFi web browser, or by copying video files to the onboard 32GB flash memory box.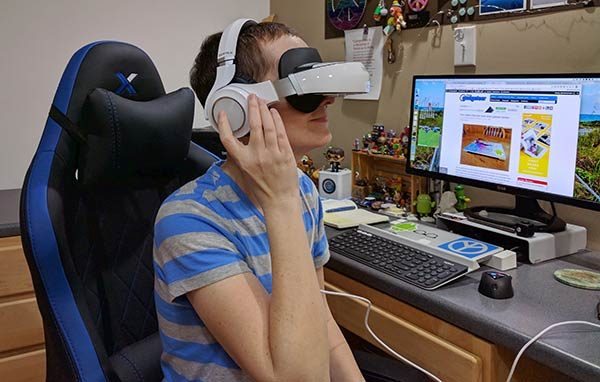 The box comes with some pre-loaded 2D and 3D video demos and audio files. The audio and video demos were really good. Even the 3D video samples were impressive. I expected the sample files to look good and obviously wanted to try some other video files, so I tried connecting the box to my MacBook Pro so I could copy some of my own video files to it. The box did not show up as an external drive, but it did when I hooked it up to a Windows laptop. I came to find out that the Royole Moon is powered by a variant of Android OS. To copy files to the box using a Mac, you have to install the Android File Transfer application on the Mac. This is a known and annoying issue with Apple and Android that I recently discussed in one of my gadget diary posts.
I copied a few AVI and MP4 videos to the box using a Windows laptop and was able to watch them through the Moon without any issues. The video looked good and the audio sounded good.
For my next test, I connected the Moon headset to my Samsung BluRay DVD player using the micro HDMI to HDMI dongle included with the Moon. I didn't have any 3D DVDs, so I was only able to test 2D video. All my regular BluRay DVDs looked great through the Moon headset.
Problems I encountered while testing the Royole Moon
My third test involved using the YouTube "app" through the Moon user interface. The video was fine, but I immediately noticed that the audio and video were not synced correctly. This means that I'd hear someone talking before I would see them speaking the words. Ugh.
I then tried using the built in web browser to login to my Netflix and Hulu accounts. This test failed because both services prompted me to install the mobile apps which is currently not enabled through the Moon OS.
I was able to get around the Netflix and Hulu problem by directly connecting a Roku Premier (review coming soon) to the Moon headset via an HDMI cable.
Another problem I had with the Moon had to do with the touch controls. Putting both the volume adjustment and navigation controls on the same earphone is not a good design. Why? Because more times than I can count, I'd accidentally rewind or fast forward a video I was watching when I  was trying to change the volume.
Lastly, the Moon requires too many cables to watch video. Having to tether it to the box and another device like a DVD player, Roku, or gaming console is too cumbersome. It would be much better if the OS, battery and flash storage were all built directly into the headset.
Final thoughts
The Moon headset is a little heavy and uncomfortable to wear because it presses down on the bridge of your nose. It's also a hassle to deal with the cables and the battery / memory storage box that has to be connected to it. And forget about trying to type in web addresses, user names and passwords using the touch pad on the earphone. It's painfully slow. Why can't we use voice to tell it what to do and where to go since it's using Android?
However, it's not all bad news. I think that the Royole Moon Foldable 3D Virtual Mobile Theater provides a fun in-theater experience with great video and audio quality. It's just not quite there yet when it comes to ease of use (too many cables). I'm not sure devices like this one will ever fully replace our big screen TVs and surround sound systems, But for people with space limitations or who really like solo video watching, I think Royole it's on the right path.
Source: The sample for this review was provided by Royole. Please visit their site for more info and Amazon to order.

Product Information
Price:
$799.00
Manufacturer:
Royole
Retailer:
Amazon
Pros:

Great picture
Great sound
WiFi and HDMI

Cons:

Too many cables
Too easy to advance or rewind video by accident when trying to adjust volume
YouTube video / audio sync issues
Headset is heavy, presses on nose bridge
Can't use browser to watch Netflix, Hulu. It wants to install an app which won't install