We use affiliate links. If you buy something through the links on this page, we may earn a commission at no cost to you. Learn more.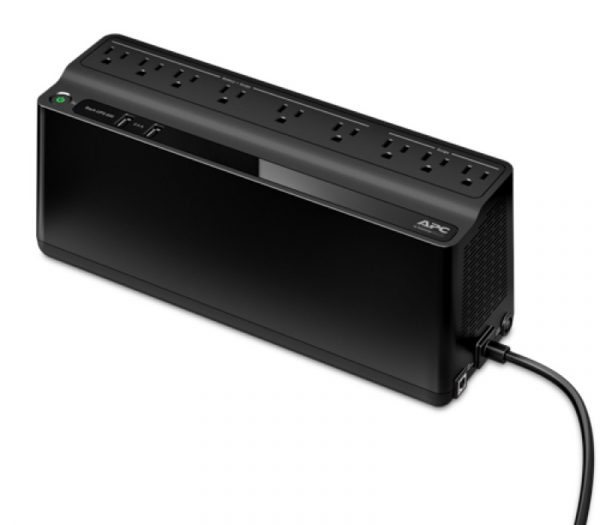 Despite the power-hungry gadget count in my home, I don't have an uninterruptible power supply (UPS).  I just never got around to it.  Power outages aren't very common where I live.  However, my son has been doing a lot of writing for homework on the computer, and it would be a shame to lose his assignment if he didn't save often in case of power failure.  With that in mind, let's take a look the APC Back-UPS BE850M2 uninterruptible power supply.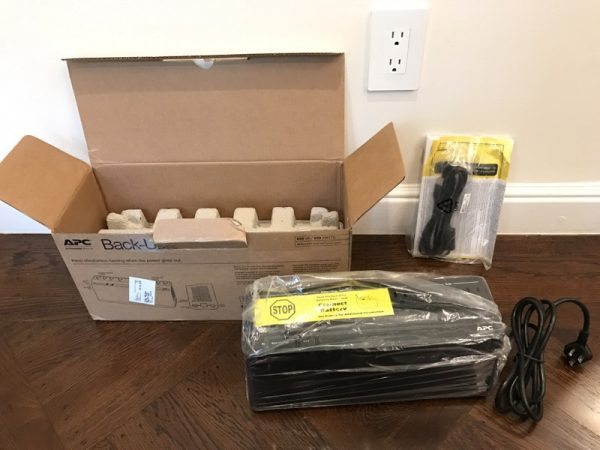 When I got the box, I noticed one thing:  Backup power supplies are heavy!
Output
Output power capacity: 450Watts /  850VA

Max Configurable Power (Watts): 450Watts /  850VA

Nominal Output Voltage: 120V

Output Frequency (sync to mains): 50/60 Hz +/-1 Hz

Topology: Standby

Waveform type: Stepped approximation to a sinewave

Output Connections:(3) NEMA 5-15R (selector_surgetitle) (6) NEMA 5-15R (Battery Backup)

Transfer Time: 6ms typical : 10ms maximum
Input
Nominal Input Voltage: 120V

Input frequency: 50/60 Hz +/- 3 Hz (auto sensing)

Input Connections: NEMA 5-15P

Cord Length: 5ft ( 1.52meters )

Input voltage range for main operations: 92 – 139V

Number of Power Cords: 1
Batteries & Runtime
Battery type: Maintenance-free sealed Lead-Acid battery with suspended electrolyte : leakproof

Typical recharge time: 8hour(s)

Expected Battery Life (years): 2 – 5

Battery Volt-Amp-Hour Capacity: 84
Physical
Maximum Height: 5.47inches ( 139mm , 13.9cm )

Maximum Width: 12.87inches ( 327mm , 32.7cm )

Maximum Depth: 4.13inches ( 105mm , 10.5cm )

Net Weight: 9.04lbs. ( 4.1kg )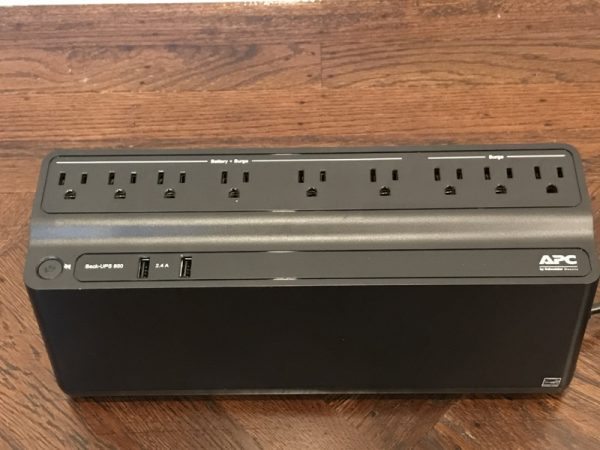 Here's the top of the BE850M2.  The first 6 outlets from the left can be powered by battery backup in case of power failure.  Note the wider spacing for the middle three outlets for wall warts.  The last three on the right are not on battery backup.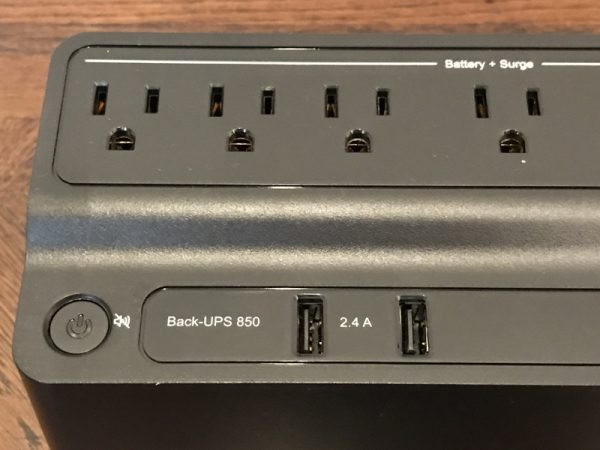 A closeup of the unit shows two USB ports.  These are also powered in case of power failure.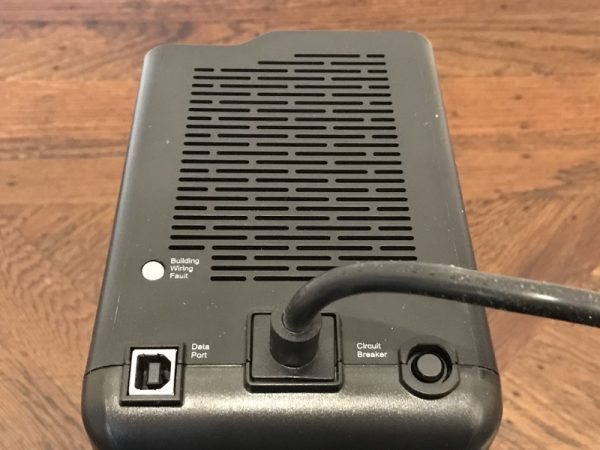 On the side is a fault indicator light, circuit breaker switch, power cord (not removable) and a USB "data port".
Why a USB port?  APC features PowerChute, a Windows program for power and energy management.  The program will perform periodic battery self-tests, summarize power problems (blackouts, electrical noise) and perform a "graceful, unattended operating system shutdown in the event of an extended power outage or computer power problem."  Since I don't have a Windows computer, I could not test these features.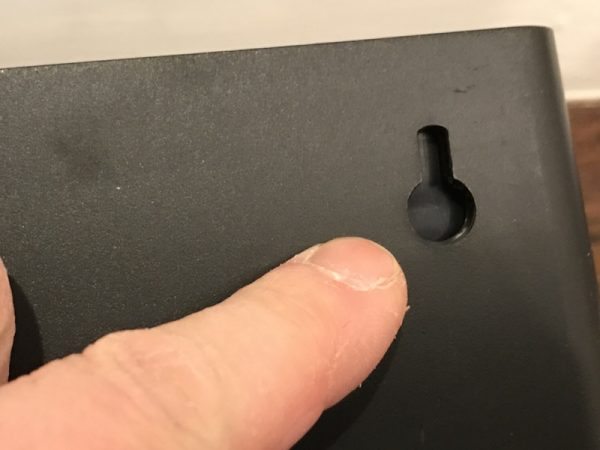 On the back, I found two hanging keyholes in case you want to mount your BE850M2.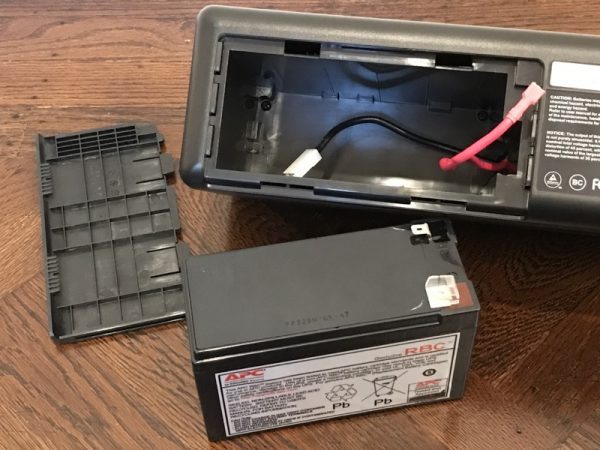 It should probably be no surprise that backup power supplies are mostly battery.  The BE850M2 comes with the battery in the compartment, but you need to plug the leads in.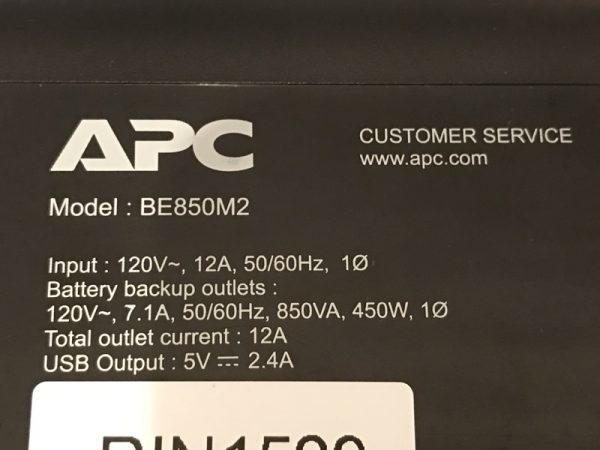 Here's a close-up of the BE850M2's label.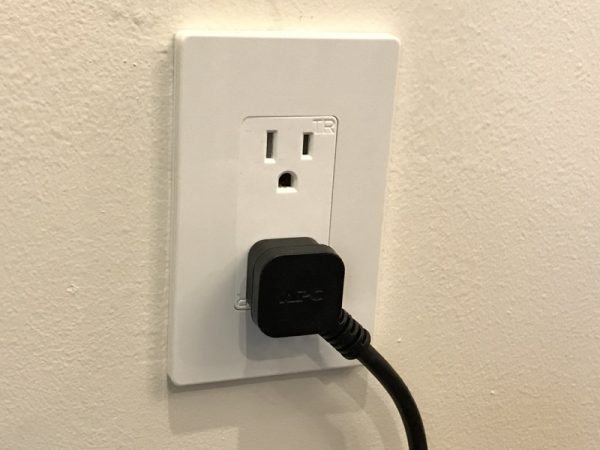 One nice touch is the flat power plug with the cord that exits at an angle.  Great for tight spaces.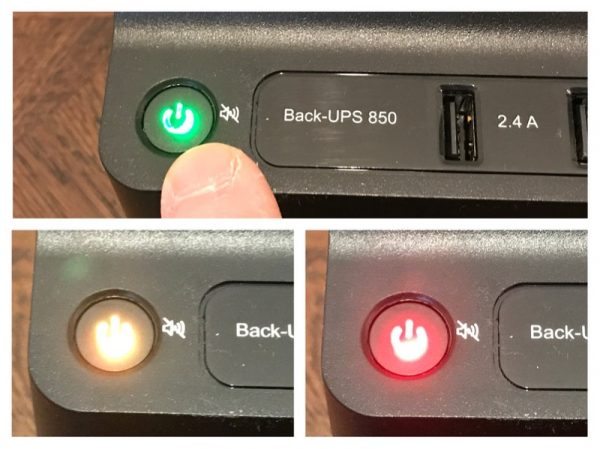 There's only one visual indicator on the BE850M2.  The power button doubles as a status indicator.  Here, I'm setting the sensitivity.  (Red is the default.  Green is less sensitive to voltage or waveform fluctuations, and amber is highly sensitive).
The million-dollar question is:  How long will this power your gear in case of a power failure?  It depends.
APC has a graph that plots runtime: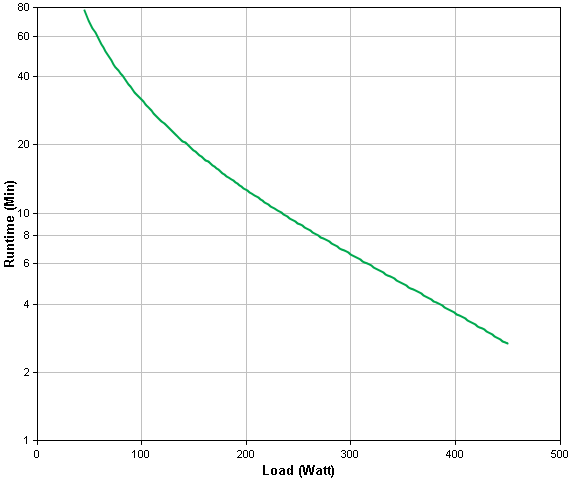 But for those of you who like charts instead, go check this page out instead.  At full load, the BE850M2 will run for 3 min at 450 Watts.  On the other end, a 50 Watt load will run for 1 hour and 9 minutes.
According to these charts, my son's Mac Mini (85W draw) and monitor (19W draw) should be good to go for about 30 minutes.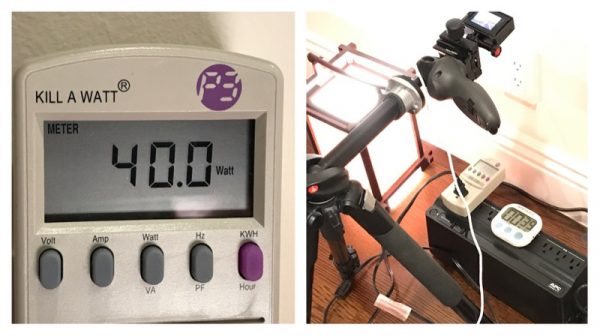 To test this, I found an incandescent bulb running at nearly exactly 40 Watts and set up a GoPro on time lapse with a timer to see how long it the BE850M2 would run without main power.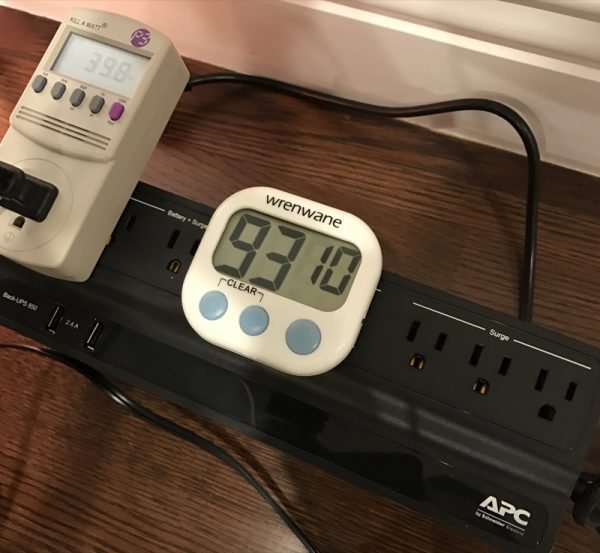 It turns out the GoPro wasn't necessary.  The BE850M2 beeped to warn of near-shutdown after 93 minutes.  The audible alert was a nice touch
Not many of us are going to be powering 40 Watt bulbs off a backup power supply, but the APC Back-UPS BE850M2 with USB power ports has plenty of outlets for most of your light to moderate duty needs.  Now my son has one less excuse to lose his homework at the hands of the local utility.
UPDATE (Jan 21, 2017)
I tested the USB power output on "backup" power only.  To do so, I devised this rig where I could dial in a specific current draw (in this example, 2.0A) and a timer that counted how many hours it would run for.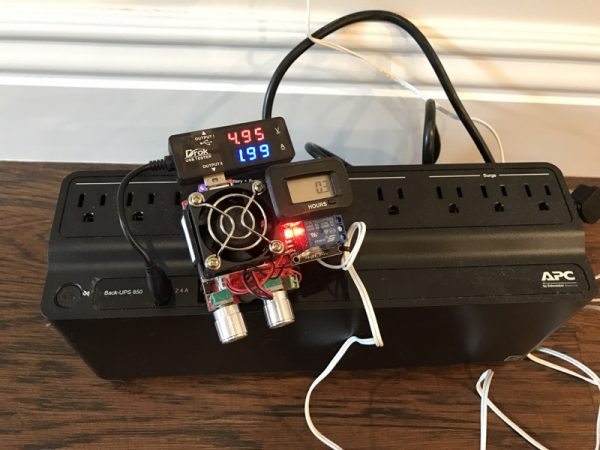 I clocked in 6.3 hours at 2.0A.  Using a no-contact voltage probe, I detected that the AC outlets were live, but my particular probe had a difficult time detecting current.  This probably has something to do with the fact that UPS units like these approximate an AC sine wave.
Source: The sample for this review was provided by APC. Please visit their site for more info and Amazon to order.

Product Information
| | |
| --- | --- |
| Price: | $109.00 |
| Manufacturer: | APC |
| Retailer: | Amazon |
| Requirements: | 120V input, NEMA 5-15P plug |
| Pros: | Six outlets with power backup, three regular outlets, two USB outlets. Can be set with software to auto-shutdown your Windows PC. |
| Cons: | PowerChute power management program not available for MacOS. |