We use affiliate links. If you buy something through the links on this page, we may earn a commission at no cost to you. Learn more.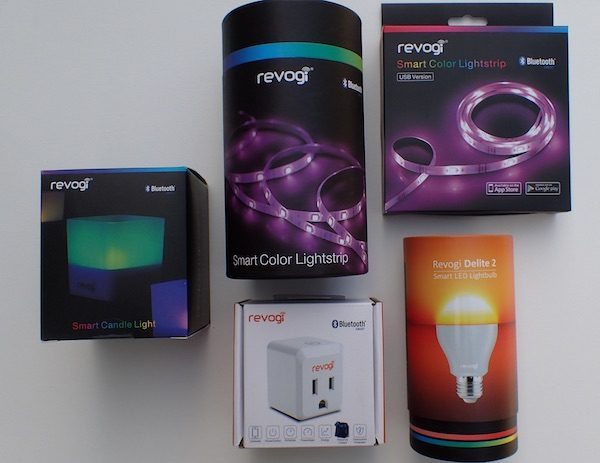 The Revogi Smart Color Lightstrip,  Smart Color Lightstrip (USB version), Delite 2 Smart LED Lightbulb,  Smart Candle Light and the Smart Meter Plug;  I received all 5 of these products for review at the same time. It was a gadget reviewer's dream early Christmas! 
I've been wanting to add some LED lightstrips to a couple of dark areas of my home for a while but avoided it because most seem complicated and expensive. Revogi light strips are neither. In fact, they are incredibly simple and reasonably priced.
All Revogi lights require the Revogi "Delite" app to function. The app is available free for iOS or Android. Each Revogi light must be paired to your phone or tablet via Bluetooth to function. I could not pair any of my Revogi devices to more than one phone, thus, I am the designated, and only, light switcher in my house. This is both empowering and inconvenient.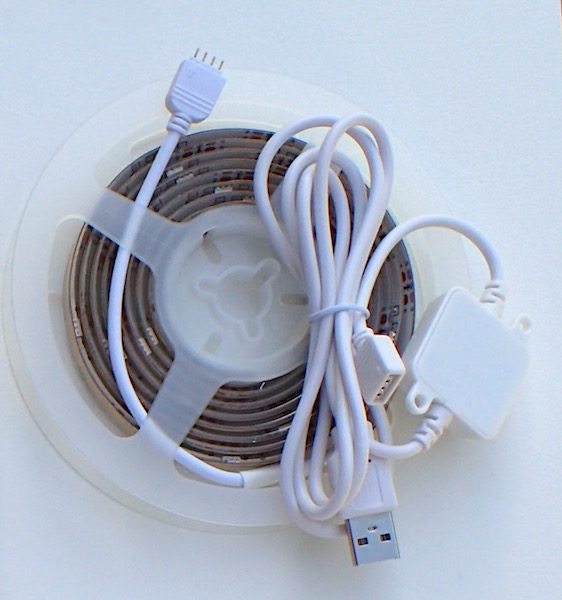 The Smart Color Lightstrip (model LTB010), USB version, is 6.58 feet long (2 meters) with a 3.28-foot cable (1 meter) ending in a USB connection. This worked out perfect for my use on the underside of the cabinet above the wine bar. The lightstrip comes on a reel and has a sticky backing with a peel-off strip that easily stuck to the underside of my cabinet. Frequently double sided tape fails and things fall, but the Revogi Lightstrip is so light and flexible it shows no sign of falling or warping. I used a little Scotch mounting tape to secure the cord and plug assembly, it's now neat and secure. I had to cut about 8 inches of the lightstrip off to make it fit perfectly. There are lines every 4 inches designating where to cut.  I plugged the USB cable into an extra iPhone wall wart and the lightstrip lit up.
This is the area where I put my Christmas Village every year. The Revogi lightstrip makes it so much more dramatic! And I can choose from the entire visible light spectrum! The blue light makes the village look bathed in moonlight;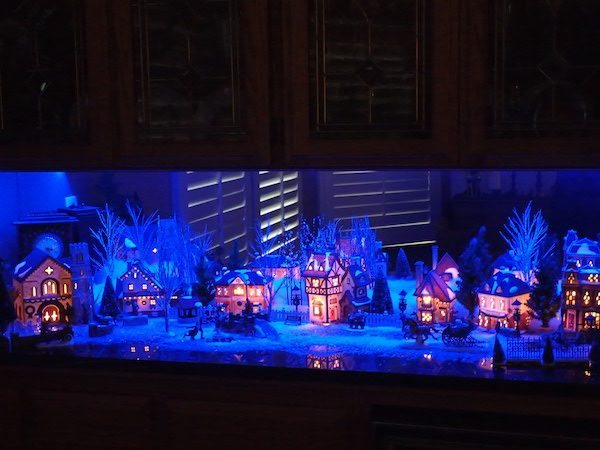 The pale-yellow light gives it a crisp daylight look;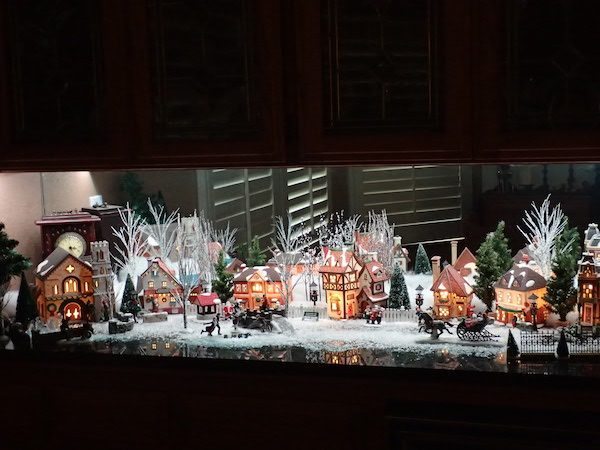 With the red light, it looks like the sky is on fire and the world is ending;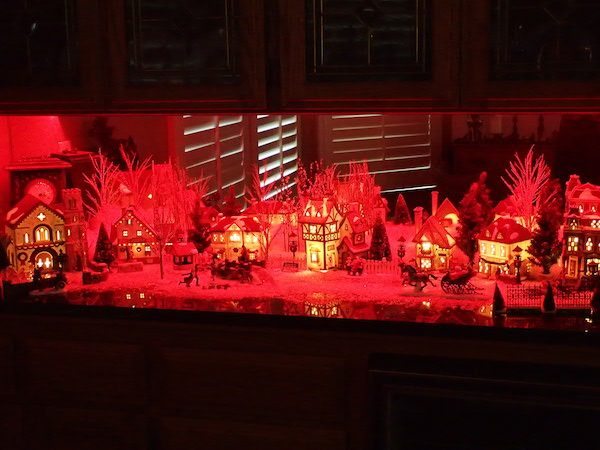 The green light is just odd. Maybe it's the aurora borealis look. It turns out there are only a few light choices that are appropriate for a Christmas Village.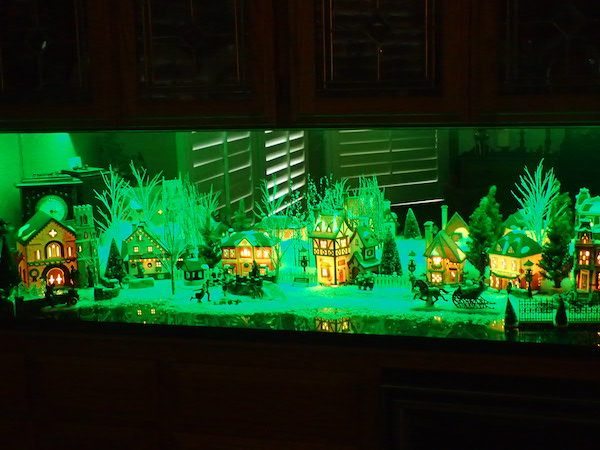 The Smart Color Lightstrip (model LTB210) is 9.84 feet long (3 meters) with about 6 feet of cord ending in a US standard 2 prong plug. This also has a peel-off sticky backing.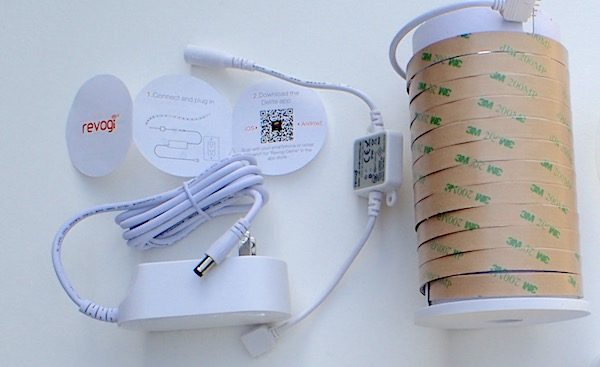 I put this lightstrip on the cabinet/bookshelf above my desk. Again, I had to trim the lightstrip a few inches to fit perfectly. Installation was incredibly easy and done within 30 minutes, the time included the rearranging of desk debris for access.
The Revogi Delite 2 Smart LED Lightbulb went into the pendant light over the dining table. If you can screw in a light bulb, you can install this.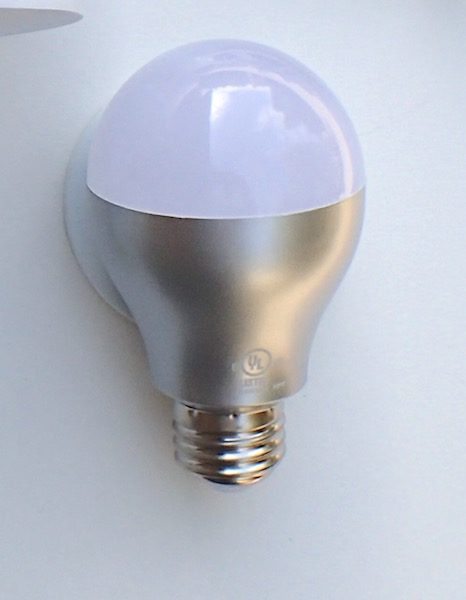 This light not only has the spectrum of color options, it also has color temperature selections ranging from a warm 2700K to an ice cool 6500K.  I found the mid-range warm setting of 4000K most comfortable for reading the morning newspaper.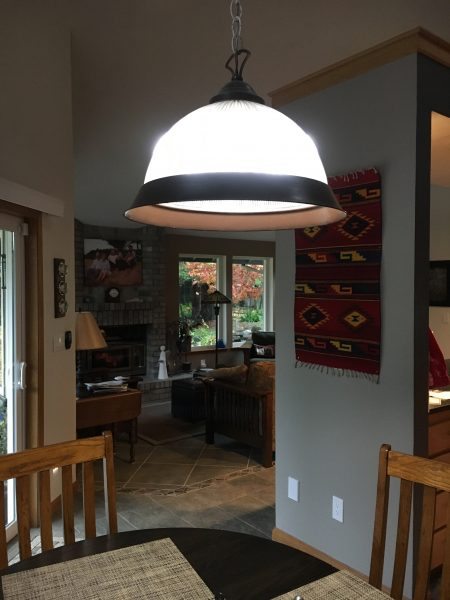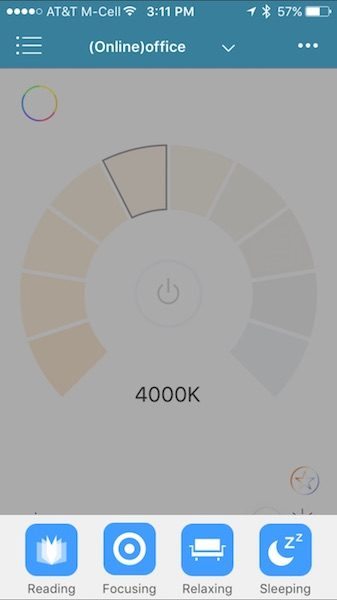 The Delite 2 Smart LED Lightbulb has all the fun color effects of the LED Lightstrips as well. If someday I have a crazy party, the kaleidoscope effect might be fun.  (FYI-I'm not planning any crazy party)
The Revogi Smart Candle Light is as easy as the others. Open the battery compartment, insert 4 AA batteries, close the compartment. The Smart Candle Light has an on/off switch inside the candle holder, next to the rubberized "flame". It puts off a soft glow with your choice of colors and brightness. Don't plan to read by it though.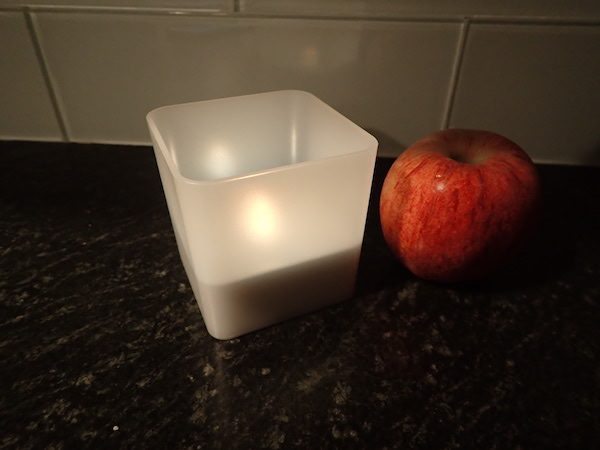 Each of the lights is controlled using the Delite app. The Bluetooth pairing is initiated with the "+ Find new unit" function. This was a fairly smooth process but there were a few, unexplainable times when the app could not find the device and I had to turn my iPhone Bluetooth off and back on. That cleared it up each time.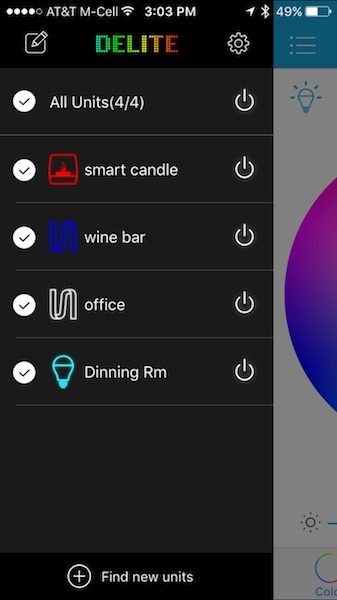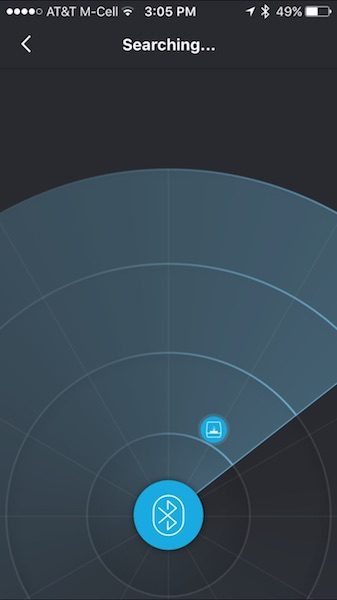 There is a lot you can do with the Revogi lights through the Delite app besides turning the them off and on and dimming. The Revogi lightstrips have a wide range of colors and functions. The functions vary by device. The lightstrips have timer, schedule, proximity, incoming call/SMS alert and an anti-burglar mode. I use the schedule function on both lightstrips. In my office, I've only set it to turn off at 10:50PM to remind me it's time for bed if I'm still at my PC. It has a fading duration that allows it to go off gradually, which I appreciate. I'm also using the incoming call/SMS alert in my office. If my phone is on mute, I'll still see the flickering light show when I get a call or message. The anti-burglar mode was useful when we recently went away for a few days. I was able to set the days and time periods for the lights to go on and off randomly. I tried the proximity function but it didn't work for me. When I'm home I don't carry my phone around with me enough to make it worthwhile. The timer function is great for the Smart Candle.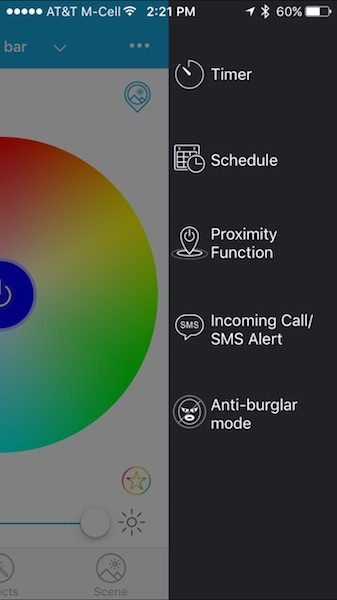 The lights also have enough light effects to keep anyone entertained, at least for a while. There's a music visualizer, kaleidoscope, strobe, candle flicker, a "shake" function that changes the color as you shake your phone and a "show" function that randomly changes the color.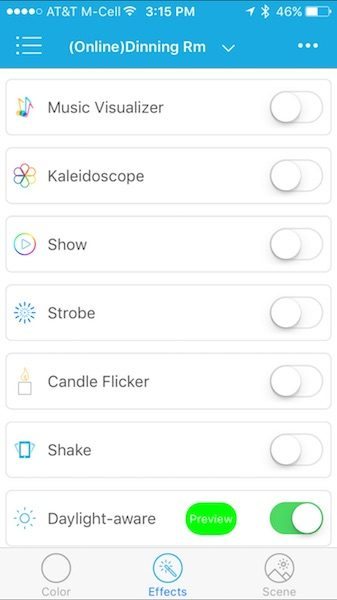 The Revogi Delite 2 Smart LED Lightbulb also has a daylight-aware function that could be useful in some situations. The candle flicker function is perfect on the Smart Candle.
The Revogi Smart Meter looks like a simple plug.  Plugging any electrical device allows you to track its energy usage, by day, week and month.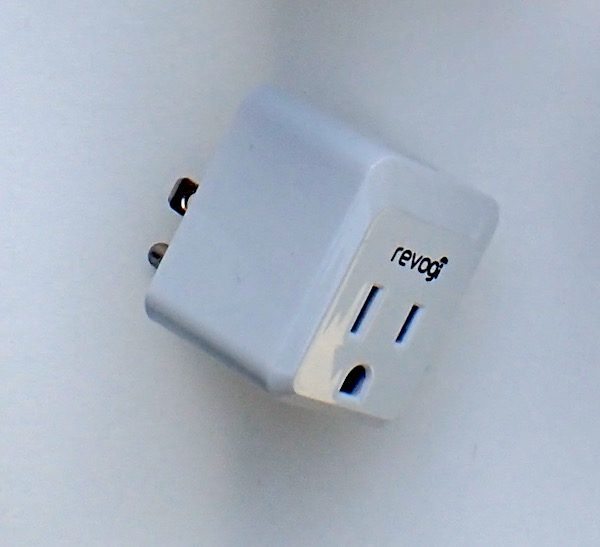 It also shows the dollar cost of that energy, with a price per "Wh" (watt hour) adjustable via the app setting. The Revogi Smart Meter uses its own SmartMeter app, downloadable for iOS or Android.  The Revogi SmartMeter app includes the ability to control the device, turning it on and off, setting a schedule or putting it on a timer. I plugged my iMac into it. It is interesting to see the energy use and cost since I leave my iMac on most of the time, allowing it to fall into sleep mode when not in use.  This month I've used 8,119 Wh per month at $0.13/kWh (per my local electric company). So, leaving my iMac on most of the time only costs me $1.06 per month. Not too bad.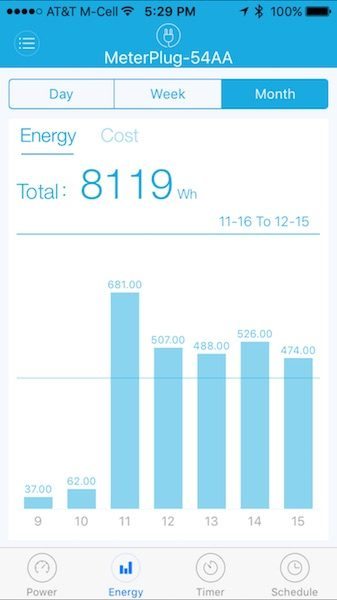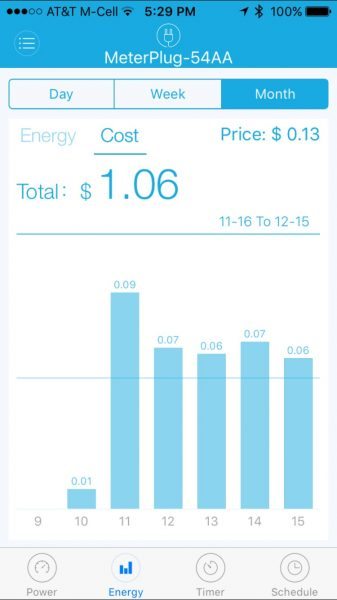 The downside to the Revogi Smart Meter is that it is very easy to turn the attached electrical device off unintentionally. This is not good while attached to my iMac.
The Revogi Smart Lights are a fun and useful addition.  They are very convenient when installed in a place where you can set it and forget it, like my wine bar under cabinet. Or in a personal space, like an office. Because they can be paired with only one Bluetooth device, they are less convenient installed where there is more family traffic.  The Smart Meter is a good way to educate yourself on your energy usage and cost. Just be careful you don't inadvertently turn off the fridge.
Source: The sample for this review was provided by Revogi. Please visit their site for more info and Amazon to order.
Product Information
Price:
Smart Color lightstrip, USB version, $34.99 | Smart Color lightstrip, $48.48 | Delite 2 Smart LED Lightbulb, $29.99 | Smart Candle $16.40 | Smart Meter Plug $24.99
Manufacturer:
Revogi
Retailer:
Amazon
Requirements:
Pros:

Lightstrips are great! Installation is easy, color saturation is amazing, functionality is excellent.
Candle is lovely and romantic.
Anti-burglar mode in all lights is a great addition.

Cons:

Bluetooth connection is limited to one device.
Delite 2 Smart LED Lightblub doesn't get as bright as I would prefer in my location.