We use affiliate links. If you buy something through the links on this page, we may earn a commission at no cost to you. Learn more.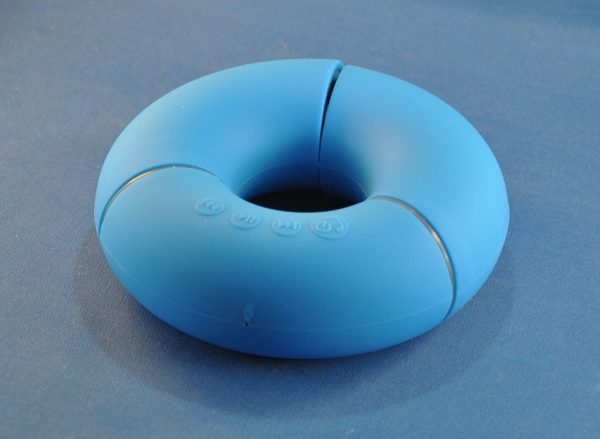 Sandworms.  Admiral Ackbar. Dual-lens Camera. These are a few of the things folks said this Bluetooth speaker looks like. I thought the speaker market was nearing its endpoint with different designs, but this tubular doughnut came out of nowhere. SumSonic calls it the LLX-01 – which is not helpful in imagining what it looks like. But, the proof of the speaker is in the listening. And this little gem offers a lot.
Note: Photos may be tapped or clicked for a larger image.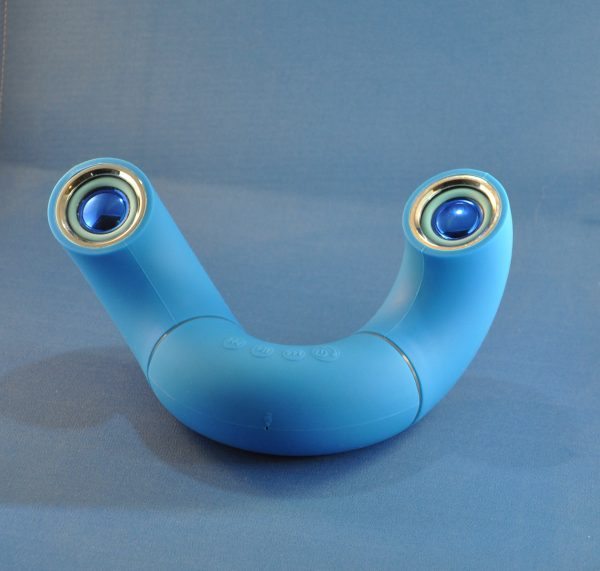 The enclosure is a tube 2″ in diameter, divided into thirds. The two end pieces swivel 180º from the middle section, and will stay anywhere along that range. Closed, the unit is a 5.5″ doughnut that would make Homer Simpson drool. The surface of the tube is soft, yet slippery. It's easy to hold on to, and clings to angles as high as 30º (informally tested), but it doesn't feel like a gumball machine spider or anything.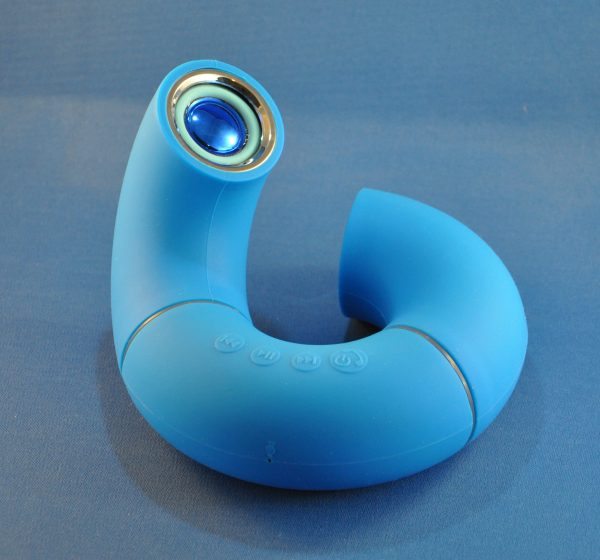 On the ends of the two outer cross-sections, there are speakers with no grille. The cones are very silvery, so this would not be good around young children. It's tough for me not to poke them myself. The surround seems to be made with a silicon or rubberized material.
On the center section, there are four buttons with 3D molded symbols for repeat, play/pause, next track, and On/Off/answer phone. in the inner crook of this section, there is a inset panel with a place to charge (microUSB cable included), connect to AUX (cable also included), and a TFT slot which can be used as a source if desired. Charging was fast and as expected. I could play it for several hours without running the battery down.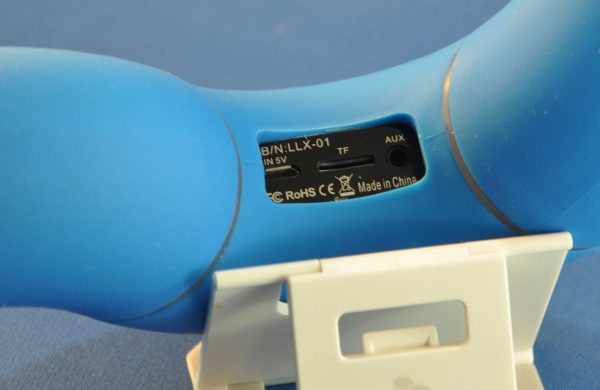 The hinges which connect the two end pieces to the center section are translucent discs that have LEDs inside which pulsate during playback and pairing. They pulse in different patterns and there is no way to turn them off that I have read about or discovered. It's not too bright, or too wild of a pattern, but it you're wanting some romantic music playing in the background, you may want to put these behind a chair or bookcase. In a dark room, it's quite distracting.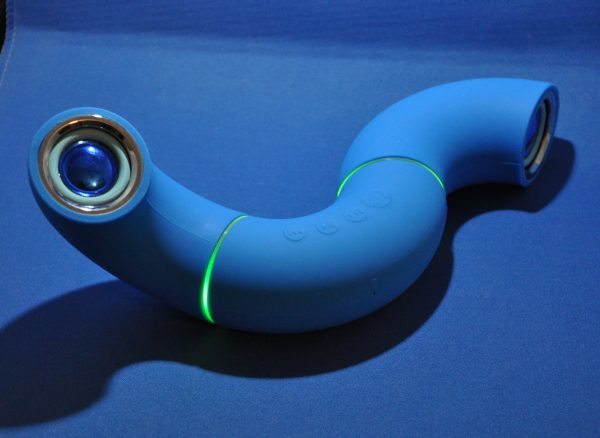 When you turn it on, a voice says "Bluetooth Mode. Paired." It's a strange sounding voice (my daughter just asked from the other room "What is that sound I hear every now and then?") but I guess it's better than some loud "Bing!" like some speakers make.
The sound is pretty good for an inexpensive speaker, and the stereo separation can be adjusted by twisting the speakers at greater or lesser angles.
The device paired easily to my iPads, iPhone, and Mac, but I had to manually remove it from one device in order to have it get back into pairing mode, but that's common with Bluetooth devices in this price range.
The speaker unit is available from Amazon for $36 currently, but usually retails for $60. I can see this as a great small gift for a younger family member, because it folds up for storage. Nothing like a soccer cleat or a pencil point through a speaker cone to wreck your day. With this unit folded for transport, the speakers are well-protected. And your young charge may become the DJ at their next skate party or BMX event with the light show.
Source: The sample for this review was provided by SumSonic. Please visit their Amazon store for purchasing information.