We use affiliate links. If you buy something through the links on this page, we may earn a commission at no cost to you. Learn more.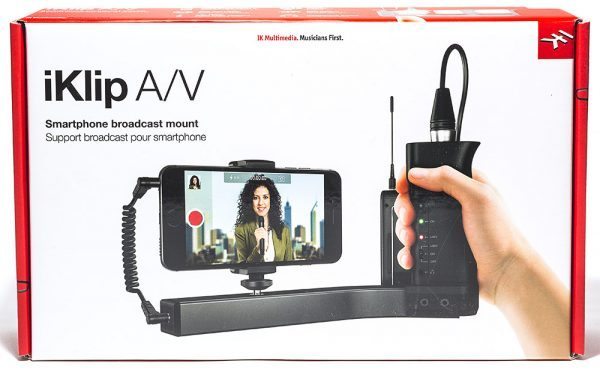 As the many people, kids and adults alike, continue to use their smartphones and iPhones as a main source for a video camera, the HD quality resolution that the phones record is nothing less than stellar. So it is no surprise that outlets such as news stations, filmmakers, content creators and TV production houses have many times used their cellphone to record footage without hesitation due to the high quality. Unfortunately, when you record yourself on your phone, most times your audio is not as great as the video captured due to the tiny pinhole microphone. But with the advent of audio gear like the IK Multimedia iKlip A/V, audio just got sweeter.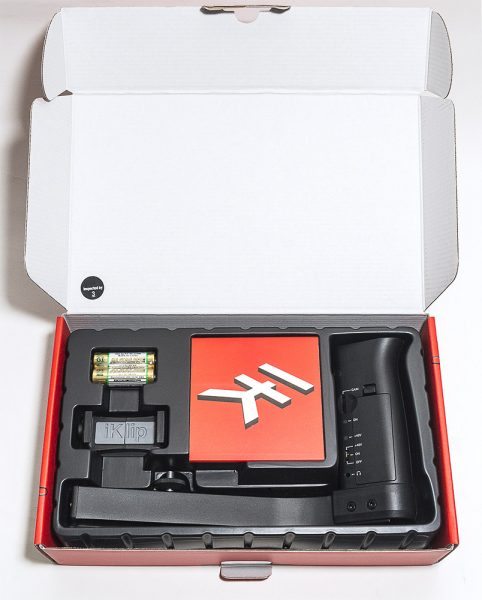 Don't get me wrong, with the right settings you can capture ideal audio with your phones. That is, if there is no distracting environmental sounds like the hard wind blowing, people talking around you, traffic sounds, and other loud erratic sounds. Plus, the fact that the distance between you the phone will be a huge factor in the audio quality captured. The further the distance the greater the risk of your voice being muffled and unclear.
Cellphone microphones are designed to record everything and anything, almost like an omnidirectional microphone that will record any sound it picks up . But when you are a broadcaster you need to record the cleanest and clearest sound possible. And with the help of the iKlip A/V, that just may be possible.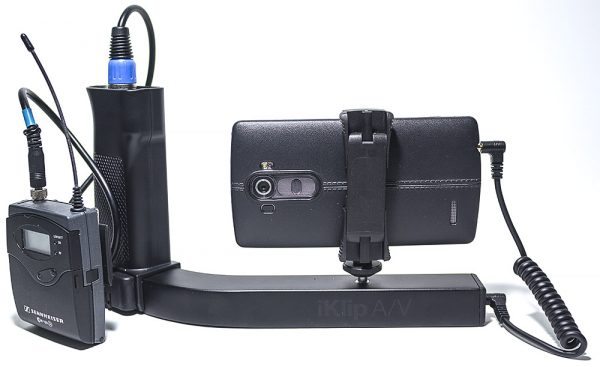 The iKlip A/V from IK Multimedia is an audio broadcast recording system for mobile devices such as smartphones and iPhones to capture near pro quality sound. It allows you to use professional gear like wireless lav mics and microphones with an XLR plug via the iKlip's preamp XLR input. It features a switch for 48v of phantom power should your microphone need the phantom power and also has a dial for audio gain.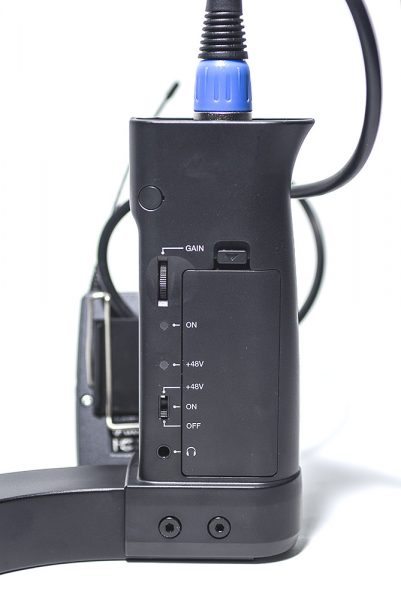 The iKlip is constructed from a mix of aluminum for the bar and Thermoplatic for the handgrip. On the handgrip is where the XLR plug, gain dial, switches, battery compartment and LED lights are located. On top of the aluminum bar is where the expandable Holding Bracket for the phones is mounted. The Holding Bracket can accommodate smartphones and iPhones with screens ranging from 3.5″ in. to 6″ in. even with a case on the phones.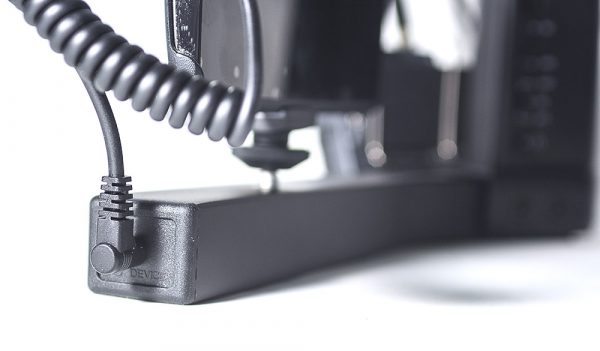 The phones are connected to the iKlip's Audio Output plug by an included 1/8" in. TRRS to 1/8" in. TRRS cable. And just in front of the handle is a support for a wireless lav receiver. Although I do like the receiver support, I would have preferred that receiver support to be somewhere on the opposite side of the handle facing me so I could have the option to have quick access to the wireless receiver. I really do like the fact that there is a headphone plug on the handle for you to monitor the audio levels. With some cameras I have used, I have had to add a splitter just so I could monitor the audio with headphones because the headphone jack was also the camera's mic input. Fortunately, newer cameras today have a separate headphone jack but just in case you are using a camera model that doesn't have that headphone jack, it's nice to know that the iKlip A/V has one built in.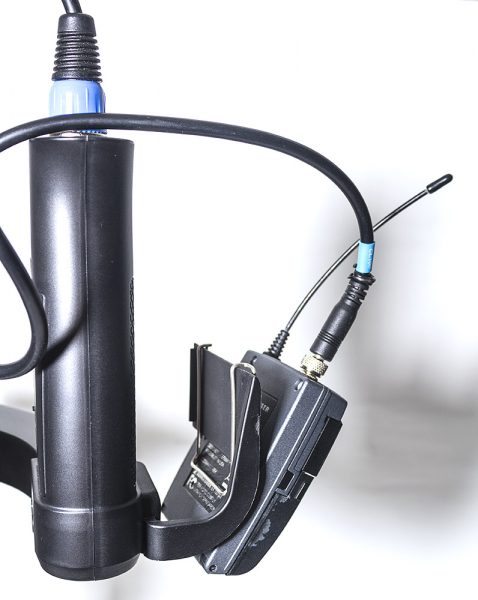 On the bottom of the iKlip's aluminum bar there is also a standard tripod thread making the iKlip A/V mountable to tripods or any other system that can accommodate that size thread. The iKlip A/V weighs about 12.45 oz. so it's fairly light but the aluminum bar makes it strong and sturdy.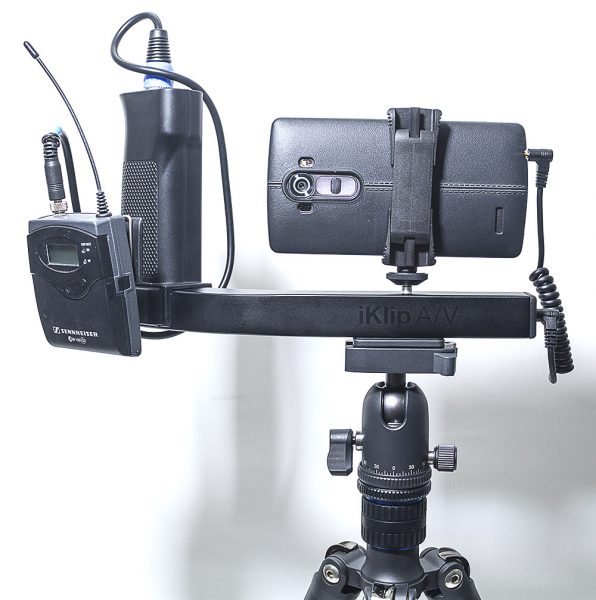 One thing I noticed right away about the inputs, dials, and overall construction of the iKlip A/V is that everything seemed to be well built. Things like the XLR plug from my Sennhieser lav mic fit snug into the iKlip's XLR input. Although, it didn't have the typical XLR lock it plugged in without any problems and it doesn't feel like it would slip or pop out. Even a slight tug doesn't seem to disconnect the lav's XLR plug from the iKlip. The dial for the Gain feels smooth when you roll it back and forth, the battery door fits properly, the Power button works without hesitation, the plastic handle doesn't feel cheap. I could go on. I would say that the iKlip A/V just feels solid.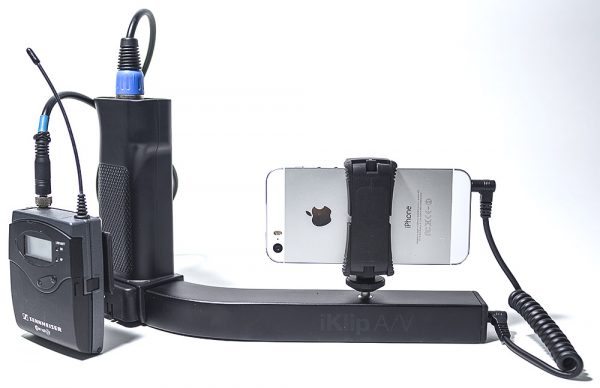 So, with the overall build quality of the iKlip A/V, how does it sound you may ask? Well,  I tested the iKlip A/V with my LG G4 smartphone and used it with Sennheiser G2 wireless lav mic and the sound it captured was decent. The iKlip A/V did what it was designed to do, that is to record your voice louder and clearer onto your mobile device. This is an overall improvement from holding your device at arms length to record video while trying to capture decent of your voice. No more low voice recordings or having to yell because you are so far away from your device. With the iKlip A/V you can speak at a normal volume and record  your voice loud and clear. I was fairly pleased with the recorded sound since it made using my phone more legit as a video camera by having a piece of equipment that can accept wireless XLR lavs and other XLR microphones.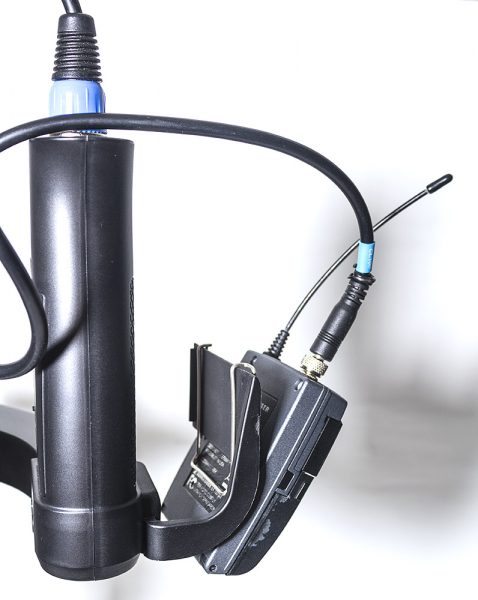 As practical as this device this, I have my concerns about the headphone monitoring. Although having the headphone jack is necessary to monitor the audio you are only able to do this during playback of your recorded video. You can't monitor audio prior to recording. This is not very practical for me as I usually monitor my audio before I start recording when I connect my Sennheiser wireless lavs to a video camera or DSLR camera. This also defeats the purpose of having a headphone jack to monitor the audio if you can't actually monitor it before recording or during recording. What if there is some kind of interference, static or audio drop with the mic or there is some kind of problematic issue with the mics before and during recording that you don't know about. Not only until after you play back your footage will you tell if there is an issue with the recorded audio which can lead into a delay in production. You would have wasted all that recorded footage so it's best to catch it when it happens.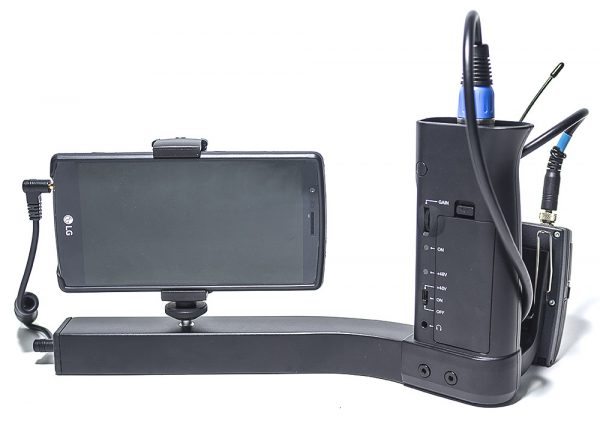 So, in conclusion, whether you are a mobile broadcaster, mobile filmmaker, or whatever kind of content creator you happen to be, the iKlip A/V by IK Multimedia is an excellent addition to help capture clearer and cleaner audio of your voice on your mobile device. Just be prepared to record some test footage to get the audio that is right for you.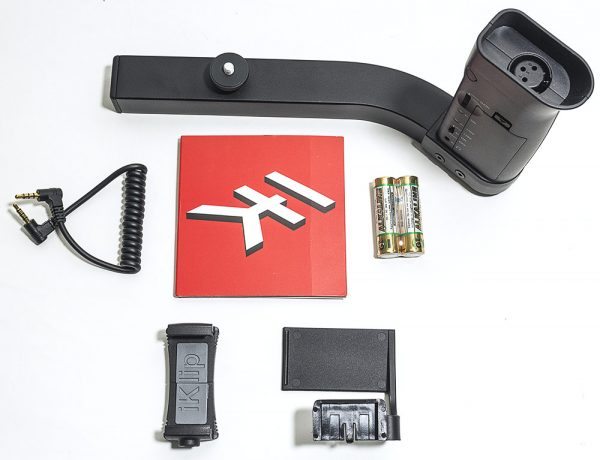 But having this recording system as part of your arsenal is definitely something to keep in mind because we all know that bad audio can make or break a scene so you'll want to play it safe by capturing the best audio of your voice that you can get on your mobile device. And with the iKlip A/V from IK Multimedia recording decent audio is now possible.
Source: The sample for this review was provided by
IK Multimedia
. Please visit their site for more info and
Amazon
to order.
Product Information
Price:
$179.99
Manufacturer:
IK Multimedia
Retailer:
Amazon
Pros:

XLR Inputs.
Good sound recording.
Accepts phones with large screens.
Solid build.
48v Phantom power.
Lightweight.

Cons:

No real-time monitoring during recording.
Wireless receiver support facing away from user.