We use affiliate links. If you buy something through the links on this page, we may earn a commission at no cost to you. Learn more.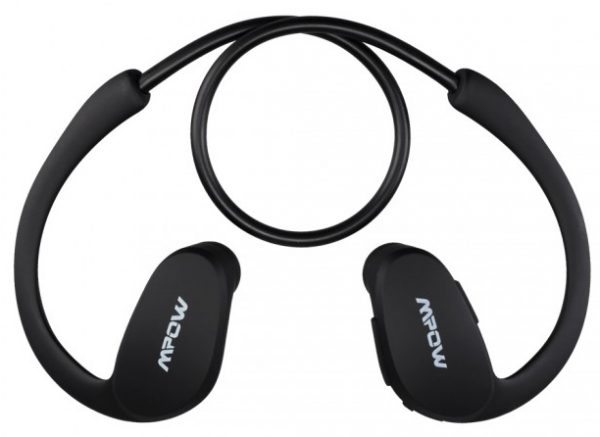 I'm trying to make running an integral part of my daily routine. For many people, a good pair of shoes is the most important tool when running; however, I won't even consider putting foot to pavement without having music to listen to, so I need a great set of headphones.
Originally, I tried running with a standard set of wired earbuds, but the wires always ended up getting tangled around my arm. Eventually, I purchased a pretty expensive pair of Bluetooth earbuds, but they would never stay in my ears. For the last few months, the AfterShokz that I previously reviewed have been my main pair of headphones.
Despite my satisfaction with the AfterShokz, I volunteered to review the Mpow Cheetah headphones. Do they have what it takes to dethrone the current champ?
In the box
Mpow Cheetah headphones
Charging cable (micro USB)
Quick start guide
Eartips (4)
Specifications
Bluetooth standard: Bluetooth 4.1
Frequency Range: 2.4GHz
Operation: Class2
Bluetooth Mode: Headset/handfree/A2DP/AVRCP
Operation Range: Up to 30 feet
Talk/Playing Time: Up to 8 hours
Standby Time: Up to 180 hours
Charging Time: 2.5 hours
Design
The Mpow Cheetahs are plastic, wraparound headphones with rubber earbuds. The wire that wraps behind your head is flexible, allowing the Cheetahs to fold over for compact storage.
The headphones come with four, various sized eartips for a comfortable fit.
The Cheetahs are available in five different colors: black, blue, green, yellow, and pink. Although, it's only the eartips and branding that change colors.
All the controls are located on the right earpiece.
The top of the earpiece contains a multi-function button and notification LED, while the underside contains the volume controls, the charging port, and microphone.
The Cheetahs also have a nano-coating technology that protects them from moisture and sweat.
It's not a very complicated design, but I liked it. As I said earlier, the wire that wraps behind your head is flexible, yet it's rigid enough that it doesn't flop around and tickle you when you run.
Also, the eartips lock the earbuds into your ear pretty well, this allows you to utilize the function buttons without having to have an iron grip on them.
The only minor issue I came across was the Cheetahs didn't "rebound" into their proper shape after they were folded up. It's not a big deal, but sometimes it took a couple of extra seconds to figure out the proper way to untwist the headphones.
Setup
After the Cheetah is fully charged, you power it up by holding down the multi-function button for 3 seconds, until you hear "power on".
Once powered up, you enter Bluetooth pairing mode by holding the multi-function button down for 5 seconds. The LED notification light will blink green and red when the Cheetah is ready to pair.
From your phone's Bluetooth menu select "Mpow Cheetah". When pairing is complete the LED flashes green and the headphones will state "your headset is connected".
When you are ready to use the headphones, you just wrap them behind your head and slip them over your ears.
Performance
The Cheetahs work like most other Bluetooth headphones I've previously used. While streaming audio, the multi-function button plays and pauses music. A quick press of the volume button changes the volume, while holding it down skips tracks.
If you receive a call while streaming audio, you can press the multi-function button once to accept or hold it down to reject it. During a call, holding the volume down button will alternately mute and unmute calls. You can end a call by pressing the multi-function button again.
When you are neither in a call nor streaming music, you can activate voice dialing by holding down the multi-function button for 3 seconds. I found this to be a bit tricky, holding the multi-function button down for 3 seconds also turns the headphones off.
I was able to get the voice dial working on my S7 Edge, but I had to time the press perfectly. When I did it the first time I was prompted on my phone to choose between the S7's voice dial app or Google's; I chose Google's because I'm more familiar with it. After that, voice dial worked flawlessly as long as I timed the button press correctly.
I used the Cheetahs several times a week while running and was very impressed with their performance. They never fell out of my ears while running, they never lost connection with my phone, and the controls responded immediately to my touch.
While running, the Cheetahs didn't appear to be affected by sweat or moisture and were pretty comfortable to wear. Most earbud headphones can get a bit uncomfortable after wearing them for an extended period of time; depending on what I was doing, I wore these from thirty minutes to two hours but didn't experience any real discomfort.
Sound quality
I was very impressed with the sound quality of the Cheetahs. I listened to hours of music and podcasts; no matter what, audio was crystal clear. I never heard any distortion, static, hissing, etc.
When making or receiving calls I also found the sound quality to be very good. It wasn't as good as I get when using my S7 Edge directly; however, I had no difficulty hearing anyone.
Friends and family I was speaking with stated they were able to hear me clearly as well. I once made a phone call after a run; at the time I was outside, walking along the road. Despite the breeze and traffic, the person whom I was speaking with stated they could hear me just fine.
The only thing I would change with the sound is its max volume. Ninety-nine percent of the time the volume was perfectly acceptable; however, when I was using my lawn tractor, I had difficulty understanding podcasts over the engine noise.
Conclusion
For the past few months I've been using the Aftershockz I had previously reviewed as my go-to headphones; however, I'm happy to say the Cheetahs are the new audio champions in my house.
The Cheetahs were well designed and comfortable to wear. The buttons are easy to access and responsive. They work as advertised; although, the voice dial can be tricky to use.
Sound quality was great. You should have no difficulty understanding anything you choose to stream or calls you make. The only issue you might have is if you're using the headphones in an unusually loud environment.
One of the best features of the Cheetahs is something I've yet to mention….the price. For $27.99 you'd be hard-pressed to find a better pair of headphones.
Source: The sample for this review was provided by Mpow. Please visit their site for more information and Amazon to order.