We use affiliate links. If you buy something through the links on this page, we may earn a commission at no cost to you. Learn more.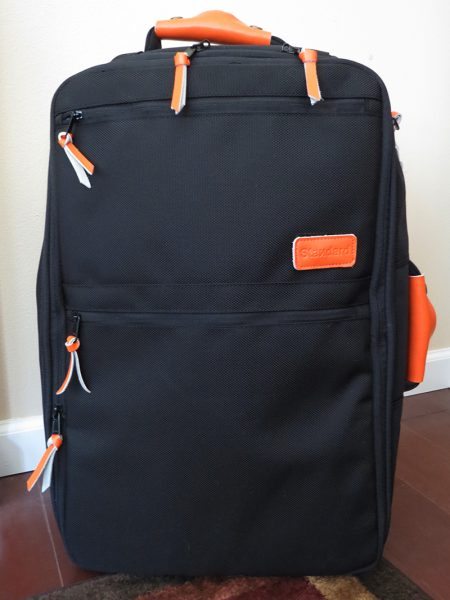 Over Memorial Day weekend, I went on a trip to visit the in-laws, and thought it would be a perfect chance to try out some new luggage. This time, however, I wanted to forego checking a bag and rely solely on carry-on luggage for a week long trip. Standard Luggage Co. offered their carry-on backpack to review, which fit my situation perfectly. It's a full-size carry-on, but also has the features of a backpack. Intrigued, I packed up and took off for the airport.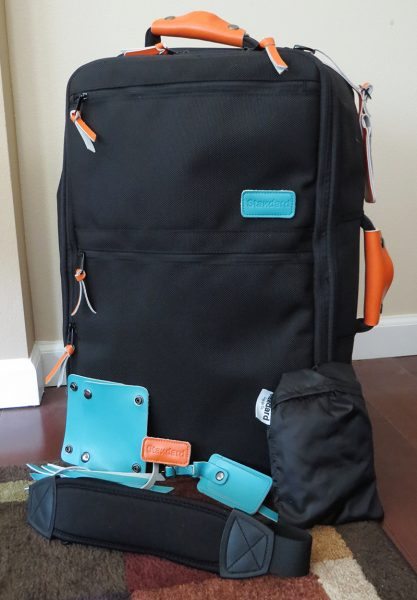 The carry-on backpack includes a rain cover, shoulder strap, two colors of leather zipper pulls, leather handle covers, and luggage tags. I liked the two colors and used a mix of the two to customize the otherwise black look of the backpack. The covers were easy to put on and take off, while the zipper pulls were easy based on how well you could tie a knot.
There are two zippers on the front of the backpack, which are pretty similar to most carry-on bags that I've used. I stored the shoulder strap in one and my belts in the other.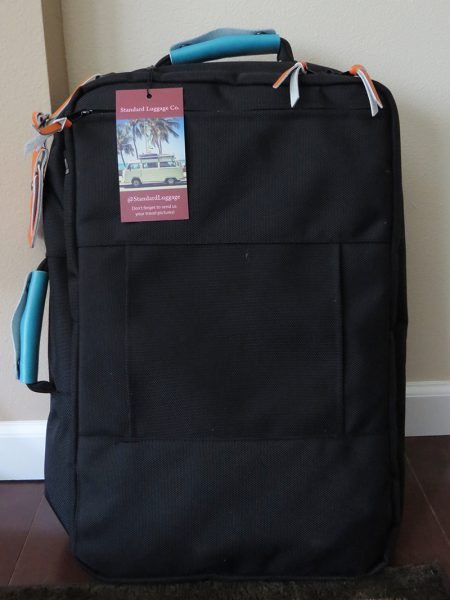 The back of the carry-on backpack is what really is unique. First off, you slide the backpack onto your larger, rolling suitcase via the back sleeve you can see in the middle of the above picture. If you don't wish to do that, you can simply carry the bag like a suitcase, with the top or side handle. Alternately, you can attach the included strap and carry it on your shoulder.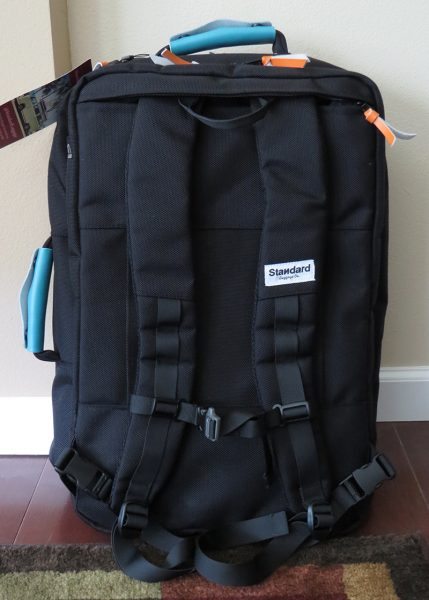 Wait, this review keeps mentioning a backpack, but where are the shoulder straps? Inside one of the top zippered pouches, you'll find the backpack straps hidden away. You attach them by pulling the connectors from the bottom corners of the bag, buckle the straps to the connector pieces, and you have a backpack. It was very easy to assemble as a backpack and tuck away the straps. For such a big bag, they designed this very well, including a strap across the chest to help relieve some of the pressure from your shoulders. When the backpack straps are packed away, you really can't tell that this converts into a backpack.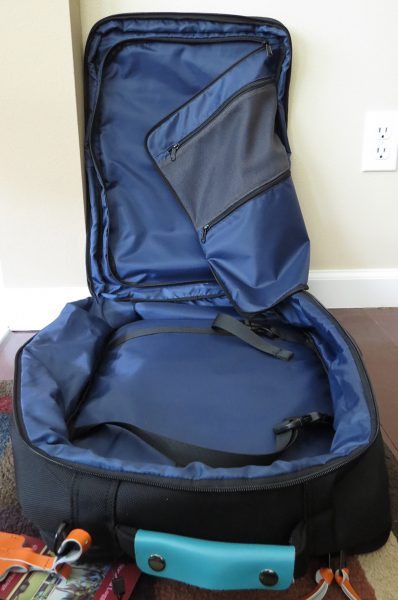 When you open the backpack, the inside has all of the characteristics of a rolling carry-on bag, minus the wheels. Inner pouches, straps for holding down your clothes, and a larger, zippered area on the top are some of the standard features. I always put my flip flops in the top section since they are flat and this area is always big enough to hold them. It can't be seen in the above picture, but the bag is expandable. When expanded, it may be difficult when fully packed to put in the overhead compartment. I tested a sizer at the airport when I had it expanded and it did not fit, width-wise, in the sizer. However, it fit wonderfully in the sizer and in the overhead compartment when it was not expanded.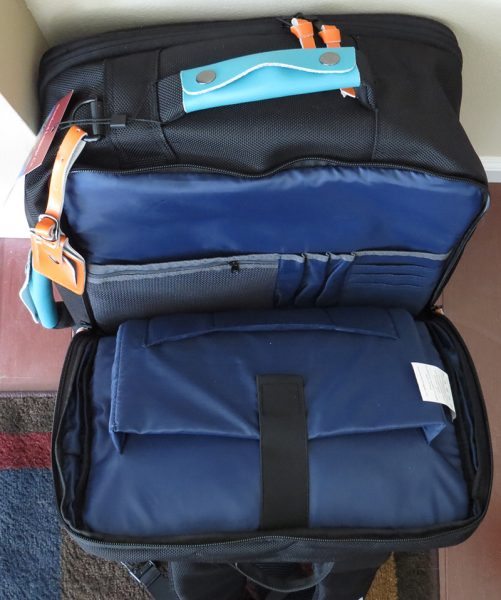 The above picture shows the laptop compartment, but as you can see, it is very much like the inside of a backpack. My 13″ Macbook Pro easily fit in the laptop sleeve, my iPad Air fit in the tablet sleeve, and I could throw my Kindle in this compartment as well. If you don't use much on the plane, you could easily get by with this as your carry-on without needing a personal item. I felt my laptop was safe and would have been safe from damage if it had been tossed around a little bit. I could not feel the laptop or anything in this compartment on my back when using this as a backpack.
Since I knew I had a small plane for a connecting flight, I chose to bring a shoulder bag as my personal item as this bag would have to be gate checked. That was a bad idea, as the backpack strap plus shoulder strap of the personal item dug into my shoulder and was very uncomfortable. I ended up expanding the carry-on backpack and putting the messenger bag within to carry around the airport. The total weight was nearly 28 lbs, but it was not bad on my back and shoulders at all. I was very impressed with how comfortable this was despite its size and weight. Of course, if you have a bad back, it might not be a good idea to be hefting so much weight around.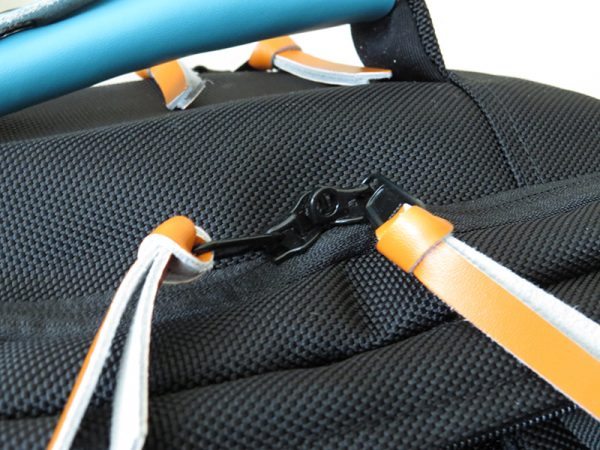 The zippers come together and a TSA approved lock can be attached to keep your items safe. Above you can get an idea of the stitching and water-resistant material this backpack is made of. It is well made, and it seems like it will hold up well, even being thrown under the plane. There is no skeleton to keep it from smashing, however, so I wouldn't necessarily put bulky items that could break inside and then check it under the plane unless you pack it very well.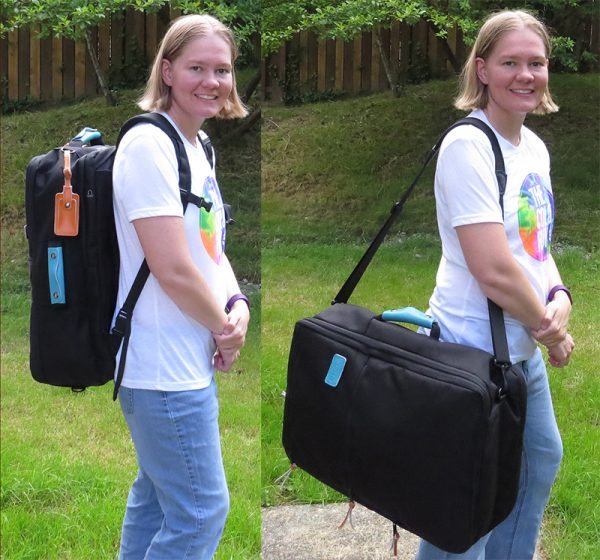 So, on my trip I packed six t-shirts, three pairs of mesh shorts, four workout shirts, three pairs of jean shorts, a pair of pants, one pair of sandals, one pair of tennis shoes, undergarments, toiletries, socks and a few belts within the backpack without expanding it and I could have added a little more in had I wanted. Anything I would have packed in my rolling suitcase fit just fine in here, but this backpack had the extra bonus of having the laptop compartment to take away the need for a larger personal item such as a backpack or messenger bag.
I didn't use the shoulder strap for this carry-on backpack, however, I did substitute it with my messenger bag's strap because it was very comfortable to wear. If you prefer to wear this with a single shoulder strap rather than as a backpack, it may be a bit bulky, but the strap itself is slightly stretchy and comfortable, plus it is easy to add and remove.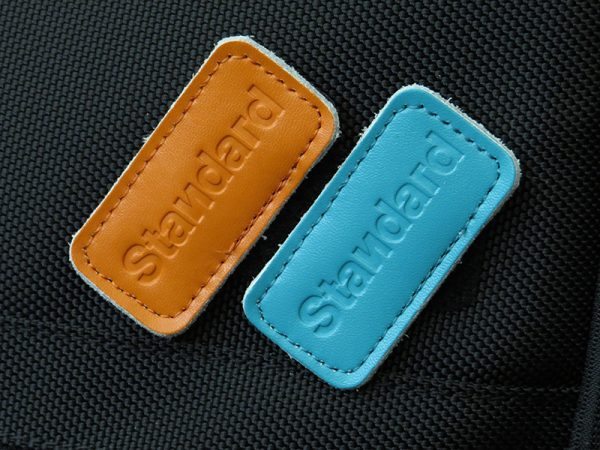 After using this for my week long trip, I was very pleased. While it was different to not have a rolling suitcase, it was very nice to just toss on my back and go, rather than dealing with maneuvering the wheels. I liked that it was well made, and the accent of the colors appealed to me. Once again, I wouldn't recommend using this with another shoulder bag unless it was a small purse due to the weight on your shoulders, but if you want just one bag to toss in the overhead compartment, the Standard Luggage Co. Carry-On Backpack might be something you may want to look into.
Source: The sample for this review was provided by Standard Luggage Co. Please visit their site for more information.
Product Information
Price:
$179
Manufacturer:
Standard Luggage Co.
Pros:

- Comfortable to wear despite the size
- Plenty of room for clothing and carry-on essentials such as a laptop and iPad
- Shoulder strap is very useful if you don't want to use as a backpack

Cons:

- May not be good for someone with a bad back
- Doesn't work well with a second "personal item" on a plane