We use affiliate links. If you buy something through the links on this page, we may earn a commission at no cost to you. Learn more.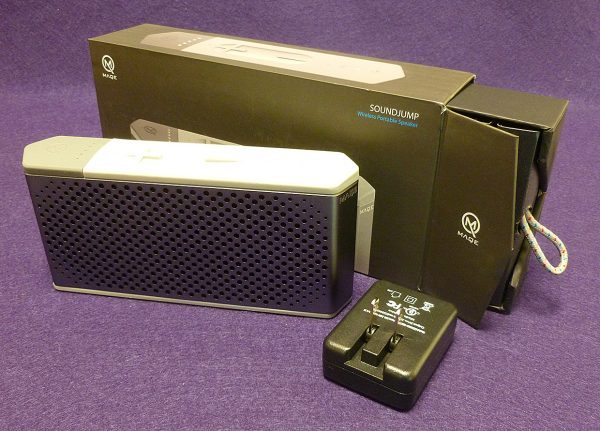 In an increasingly crowded world of portable Bluetooth devices, a few speakers manage to stand apart from the crowd—some for good reasons and some for bad. A company called Maqe (pronounced make) has come up with a unique way to set its new SoundJump speaker apart from the me-too crowd. Sure, it's a gimmick, but as gimmicks go, it's pretty useful.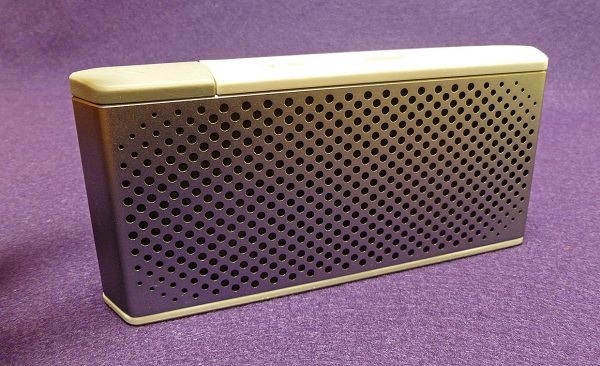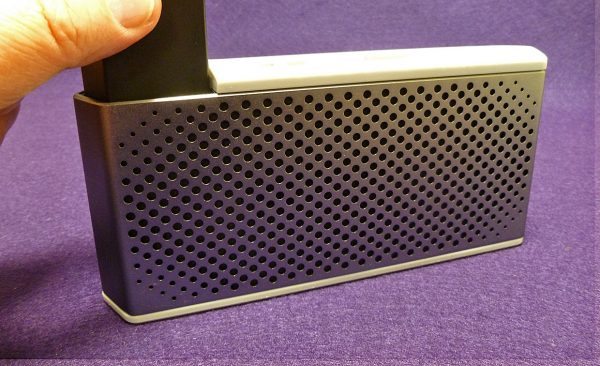 Maqe's SoundJump wireless Bluetooth speaker has a removable battery/charger—called the JumpSix—thatn can be removed from the speaker and carried around in a pocket, backpack or purse. The JumpSix doubles as a battery for the speaker or as a power unit for emergency charging of a smartphone or tablet. Think of it as a portable item housed within another portable item. If one battery dies, just pop in another JumpSix battery to keep the music going.
Each SoundJump speaker includes one JumpSix battery. Additional batteries sell for $35 each. At first glance, that price seems kind of expensive, but with a power rating of 6000 mAh, the price makes sense, especially for a battery that can do double duty like these.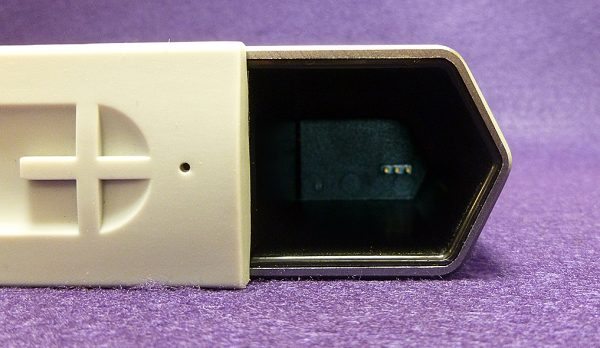 The JumpSix securely fits into a slot at the top of the speaker with a solid, magnetic connection. It won't come loose from the handling of daily use. Note that since the battery is removable, the SoundJump is not water resistant, so keep it away from pools and rain.

The shell of the SoundJump is made from a thick piece of aluminum wrapped around the speaker chassis with holes drilled throughout. The top and bottom are made of a tough rubberized plastic with clearly labeled on/off, Bluetooth pairing and volume buttons at the top. The volume buttons are a huge plus and minus—you can't miss them. The look is unusual but in a good way. However, it's the audio that counts most.
The volume of the sound effect the SoundJump makes when it's turned on—or off—is loud and cannot be lowered. This can be annoying if listening to music in a quiet house at low volume only to hear it blast a much louder noise when shutting down. The SoundJump isn't alone in this. I've always wondered why on/off volume on certain portable speakers isn't controllable. Speaker maker Fugoo did this with a firmware update for their speakers, so I know it can be done.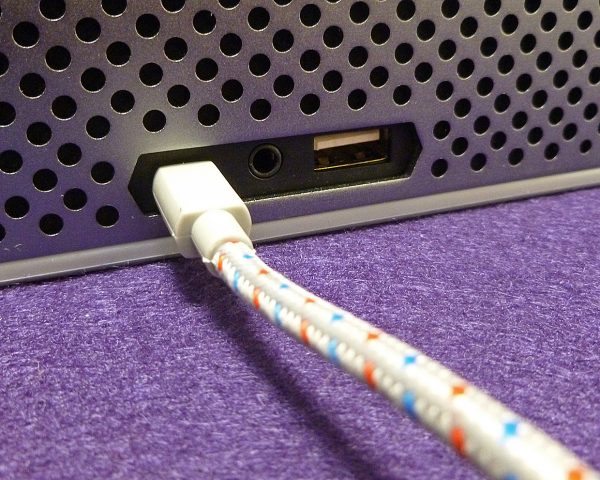 The Maqe SoundJump speaker features two 45mm driver speakers and one passive radiator on the front, plus one additional passive radiator at the back. The radiators help the speaker achieve more bass than its small size should ordinarily be able to produce. Occasionally, this ability results in too much bass—especially when listening to talk or sports. Vocals can become boomy-sounding and difficult to understand. I'll talk about how music sounds later in this review.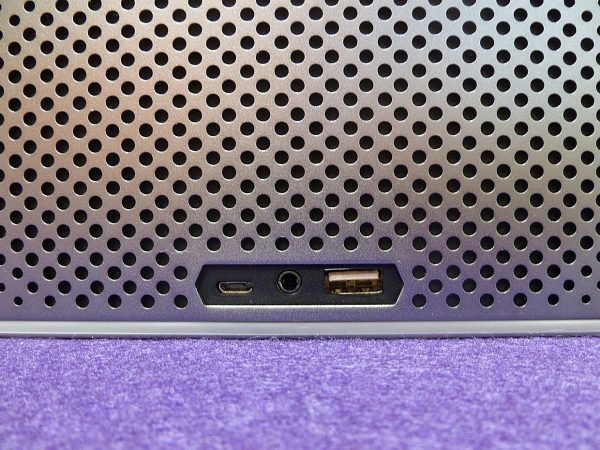 While it's convenient  that you can use the included JumpSix battery alone to charge a smartphone, you can also charge that smartphone using the full-size USB port at the rear of the speaker. This way, you can both charge and listen to music at the same time. There's also a standard AUX port for hard wiring and a mini-USB port for charging the inserted JumpSix battery. A braided cloth-covered charging cord and a 2A power adapter are included. Too many portable speakers now omit this adapter, figuring that you probably already have one. While omitting it may help keep costs down, it's a nice touch when included as it is here.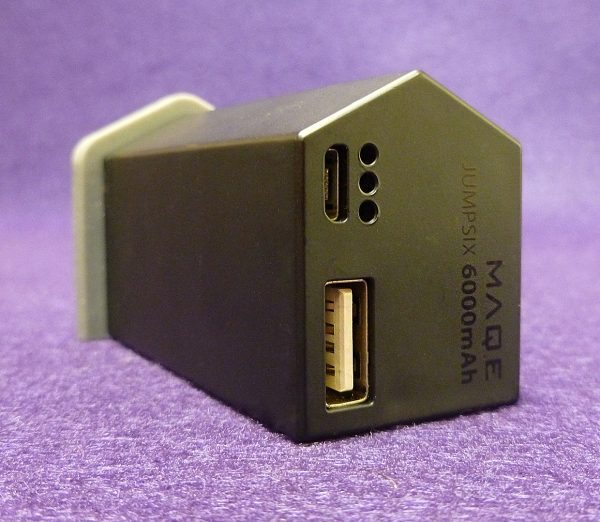 Every portable Bluetooth speaker I've reviewed has always sounded better hardwired vs. wireless using Bluetooth. Not this one. For some weird reason, listening wirelessly has more volume with less distortion than wired. I still haven't figured out why.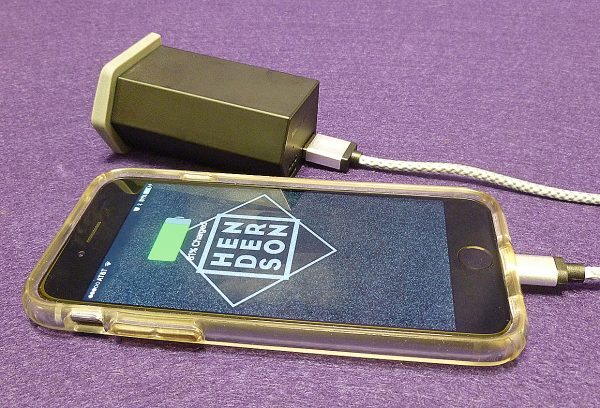 Even though there is less distortion using Bluetooth, that does not mean there isn't any distortion. Crank the SoundJump up to max volume and there's bassy distortion marring an otherwise decent sound. Plus, the SoundJump doesn't get all that loud, especially when compared to other speakers in its size range. While it may not fill a room with audio, it is perfectly okay for personal listening alone or with a couple of close friends.
As I said before, the SoundJump leans more on the bass end of the frequency spectrum. Balanced, it ain't. If you're a fan of more modern, altered and compressed audio, the SoundJump is your speaker. Artists like Pink ("Get the Party Started"), Meghan Trainor ("All About the Bass"), or even Red Hot Chili Peppers ("The Getaway") are a good match for this speaker—provided max volume is avoided.
If your taste runs more toward classic rock or more challenging jazz and classical, the bassy distortion will become distracting real fast. I found myself repeatedly skipping to the next track hoping for better audio.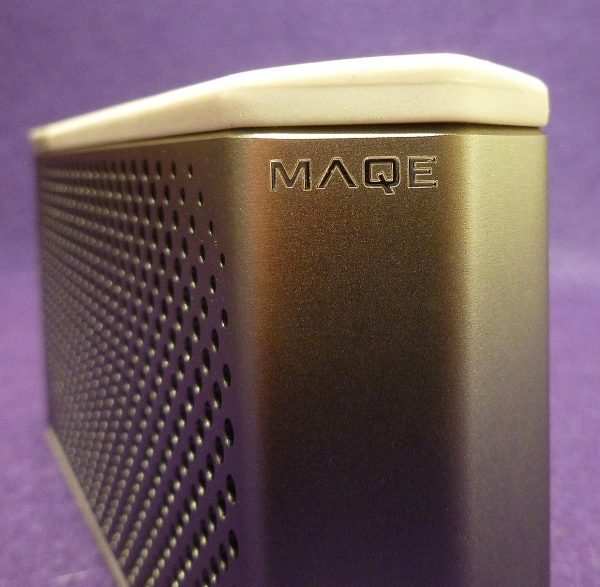 Taken for what it is, Maqe is onto something impressive with the SoundJump Bluetooth speaker. Its 7.2in x 3.2in x 1.5in size and easy-to-grip ability is perfect for carrying around room to room. As long as you don't tax its audio capabilities and keep it away from water, the SoundJump's replaceable battery, build quality and striking looks might be exactly what you're looking for.
Source: The sample for this review was provided by Maqe. Please visit their site for more information and Amazon to check prices / order.