We use affiliate links. If you buy something through the links on this page, we may earn a commission at no cost to you. Learn more.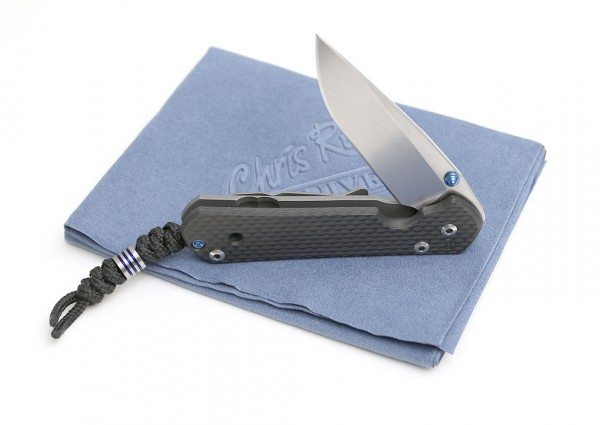 When I was a kid I would sneak into my parents bedroom when they weren't home to admire my dad's pocket knives and watches. He had some very nice knives, but I don't think he had one as nice as the Small Carbon Fiber Sebenza 21 folding knife from knife designer Chris Reeve of Boise, Idaho. The kind folks at Knifeart.com sent me one to review. Let's take a look at this high-end knife.
Note: Images can be clicked to view a larger size.
Knife Specifications
Overall Length: 6.875″
Blade Length: 2.94″
Blade Thickness: .125″
Blade Material: Stainless S35VN Steel – Fine Satin Stonewashed
Handle: 6A14V Titanium (Lock Side) – Textured Carbon Fiber (Front Side)
Weight: 2.3 oz
What's in the box?
Small Carbon Fiber Sebenza 21 folding knife
Hex tool
Fluorinated grease
Chamois cleaning cloth

Coming into this review, I knew from reading various EDC forums that the Sebenza knife was a very collectible knife and not a starter knife. But I didn't realize how coveted they were, or the origin of the word Sebenza. Sebenza means "work" in the native language of the Zulu people of Southern Africa where Chris Reeve was born and raised. Chris has been making Sebenza knives for more than 25 years in a variety of sizes, blade shapes and handle styles.
For this review, I was sent the Small Carbon Fiber Sebenza 21 folding knife which has a carbon fiber handle on one side with blue anodized accents and a braided lanyard with a titanium bead. The markings on the knife are minimal, with the Chris Reeve logo stamped into the carbon fiber handle.

The opposite side of the knife is the locking side. It is made of titanium that has a nice satin finish with an attached pocket clip. The words IDAHO MADE are stamped along the pivot edge of the handle. Both sides of the knife have smooth beveled edges that make holding the knife very comfortable with no sharp edges or points to snag your pockets.

Chris uses a very high-quality S35-VN stainless steel to make his blades. The blade has a classic drop point shape with a nice stone washed finish.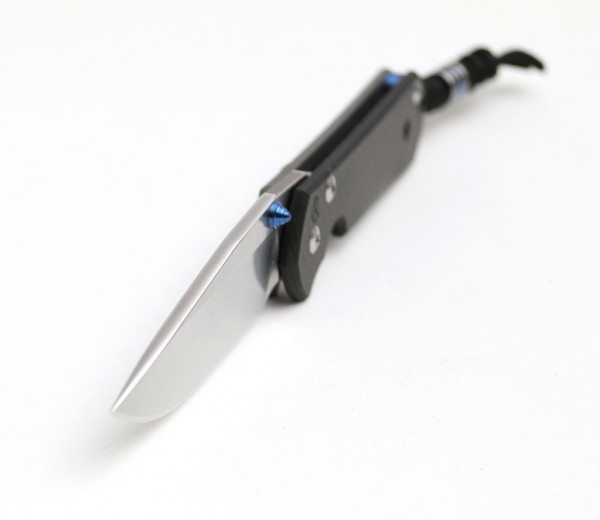 The blade has a hollow grind with a crazy sharp edge. The spine of the knife has a smooth rounded top edge with a serrated thumb rest at the back of the blade which provides added traction and control.

In the image above you can see the profile of the pocket clip. You'll notice that the clip has a unique shape which has been designed to provide added holding benefits. You definitely don't want to lose this knife and the pocket clip helps to prevent that.

If you're wondering what the double curved cutout is near the top of the pocket clip, it's used to allow easy flexing of the blade locking mechanism.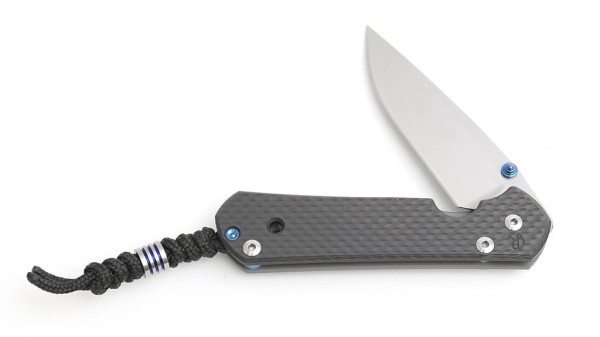 Deployment of the blade is done by using the blue anodized thumb lug that has been inserted into the blade. The CRK Small Carbon Fiber Sebenza 21 folding knife comes in either a left or right-handed version. I didn't realize that it came in different versions or I would have requested the left-hand version for my review. I received the right-handed version which has the thumb lug installed on the right side of the blade.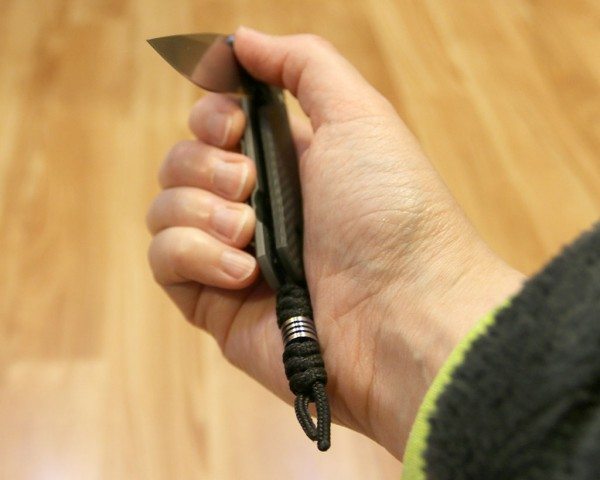 I have found it a little difficult to open and close the Sebenza with one hand, but I think it just takes some practice. That said, the blade opens smoothly with a satisfying click.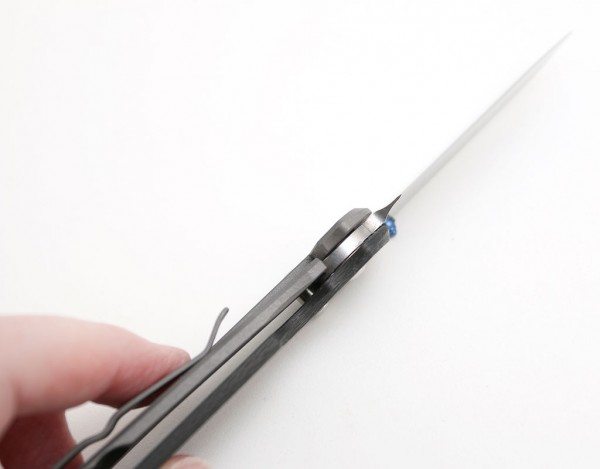 When the blade is fully extended, it locks securely in place with absolutely zero blade wiggle. To fold the blade, you have to press the frame lock so it allows the blade to pivot smoothly back into the closed position.
After using this knife for a few weeks, I think it's perfect for EDC because it's small and non-threatening. I can immediately understand why collectors consider a Chris Reeve knife the holy grail of their collection. These knives are made by hand here in the US and it really shows. Everything about the Small Sebenza 21 is first class from the carbon fiber handle to the rounded spine of the blade. Chris backs up his craftsmanship with a lifetime warranty and also offers free blade grinding by shipping the knife back to him (the owner only pays the shipping fees).
You're probably wondering why this folding pocket knife is worth almost $400 when you can buy a decent pocket knife at Walmart for $30 less. But that's like asking if a Ferarri is worth more than a Ford or if a Rolex watch is worth more than a Timex watch. Yes, a Ford will get you from point A to point B just like a Ferarri and a Timex watch will tell time exactly like a Rolex watch. But for people who want and can afford the best, the Chris Reeve Knives Small Carbon Fiber Sebenza 21 folding knife is one of the best that you will find. This is a knife that you'll have forever and hopefully pass on to your kids.
Source: The sample for this review was provided by Knifeart.com. Please visit their site for more info.
Product Information
Price:
$395
Manufacturer:
Chris Reeve Knives
Retailer:
Knifeart
Pros:

Premium materials
Hand made
Smooth opening and closing action
Pocket clip

Cons:

Tooling hole in the carbon fiber side