We use affiliate links. If you buy something through the links on this page, we may earn a commission at no cost to you. Learn more.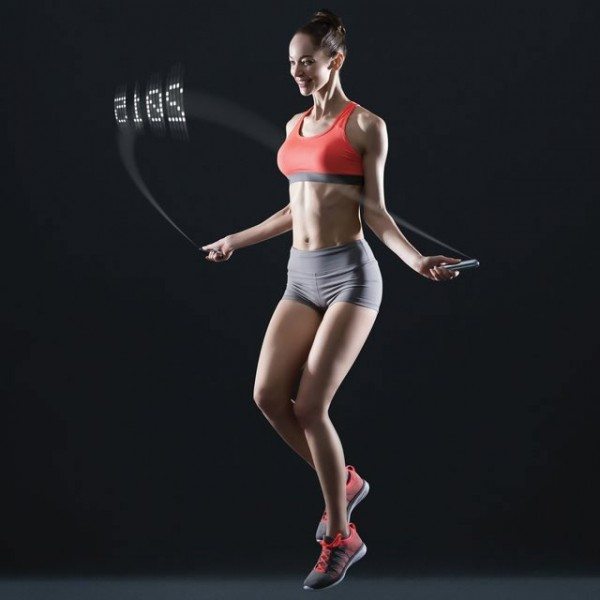 Tangram has made jumping rope fun again with Smart Rope. What makes the Smart Rope so awesome? It has 23 embedded LEDs in the rope which display in mid-air the number of jumps you make (future software updates will allow you to select modes within the app that will allow the rope to display calories burned, interval training data, etc.). It is equipped with magnetic sensors that accurately detects the completion of each revolution of the rope and the handles contain two sets of ball bearings to ensure that the rope swings smoothly. With only two hours of charging using a micro-USB cable (not included), you will receive 36 hours of active use – that's over a month's worth of daily hour-long workouts! The handles come in chrome, gold and black colors and you can also add soft grips made of silicone that come in five colors: blue, green, pink, orange, and neutral.
Smart Rope can be used independently (without being connected to a device) but is Bluetooth ready and works with the Smart Gym app (on iOS and Android devices). The app provides you with the number of jumps you've completed, calories burned (it does not sense heart rate, so calories burned is approximate), exercise duration, etc. and will show you your data for the week, month or year. The rope is not adjustable, but there are five lengths available to accommodate users:
228cm XS (for users who are 4'6″ – 4'10" or 137-147cm)
243cm S (for users who are 5′-5'4″ or 152-163cm)
258cm M (for users who are 5'5″ – 5'9″ or 165-175cm)
274cm L (for users who are 5'10" – 6'2″ or 178-188cm)
287cm XL (for users who are 6'3″ – 6'7″ or 191-201cm).
The Smart Rope is available from Tangram for $89.99 and comes with a pouch. This would make a great gift for an exercise enthusiast!