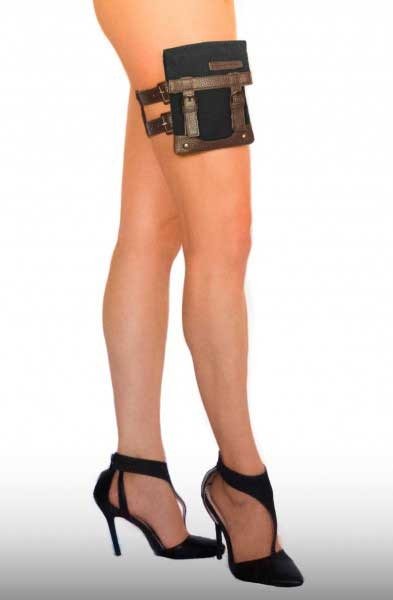 Each day I receive at least 100 emails pitching me ideas for products to write about on The Gadgeteer. I delete most of those emails seconds after opening them because there is nothing interesting about another iPhone bumper case, screen protector or a Kickstarter campaign for a selfie stick that includes a bottle opener. But every once in awhile I'll receive emails about kooky products that 99% of you will never buy, but they are so "unique' that I can't help but want to tell you about them. Today I bring you the SmarterGarter. They claim that this product is a high-style, fashion-forward, non-embarrassing alternative to the fanny pack made just for women. Ummmm, ok… I'm a woman but would never be caught dead wearing something like the SmarterGarter. Maybe it's because I am not Lara Croft, don't have legs like the woman in the image above and don't wear mini skirts or short shorts. Or maybe it's because this "bag" is nowhere near as useful as a good old fashioned fanny pack (no, I don't wear a fanny pack either, I'm just trying to make a point). At least you can carry stuff in a fanny pack. Ok, let me turn off my hater mode and give you the details and you can make up your own mind. The SmarterGarter is available in several styles that feature a faux leather or canvas pocket with antique brass decals, whatever that means, and a strap that goes around your thigh or the top of your boot. SmarterGarters are priced at $37.50 each and are available now. Visit SmarterGarter.com for more info. If you end up buying one, I obviously expect a full report!
Support The Gadgeteer
:
We may earn a small affiliate commission from purchases made from buying through links on our site. As an Amazon Associate I earn from qualifying purchases. Learn more.