We use affiliate links. If you buy something through the links on this page, we may earn a commission at no cost to you. Learn more.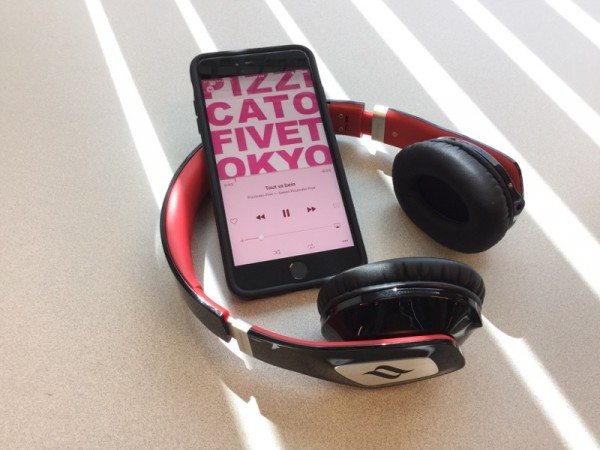 I have many pairs of headphones lying around the house.  They're coming out of my ears.  Really.  I still dislike the in-ear style (IEMs, ear buds), so I'm restricted to headphones that rest outside my ears.  Today, I look at the Noontec ZORO II wireless headphones that not only cut the cord, but fold up as well.
The ZORO II headphones came in a nice box with a magnetic flap.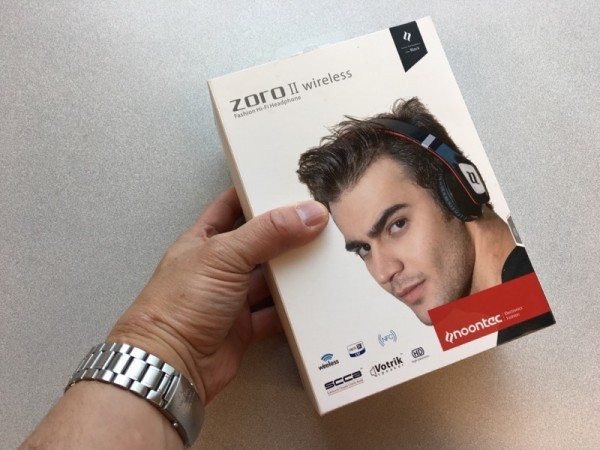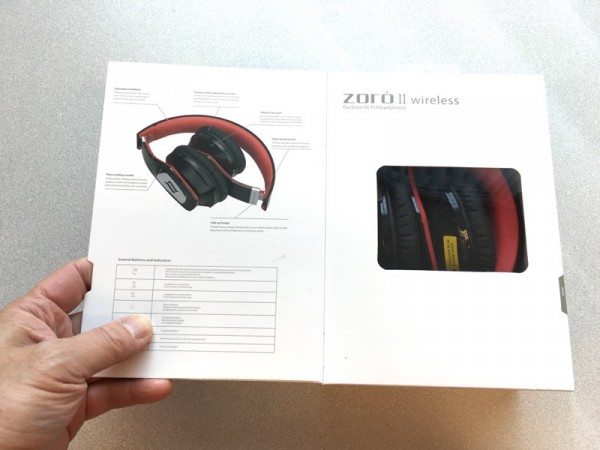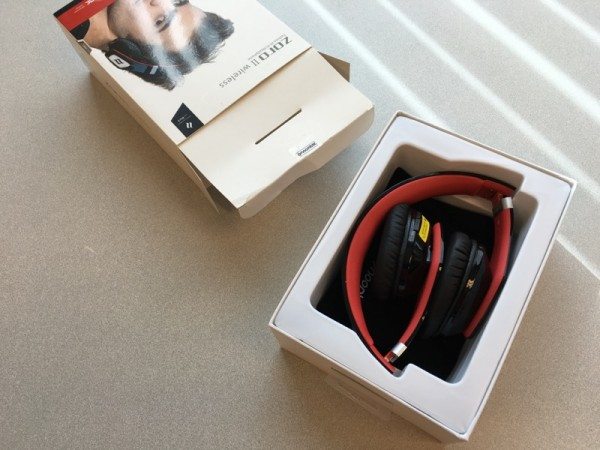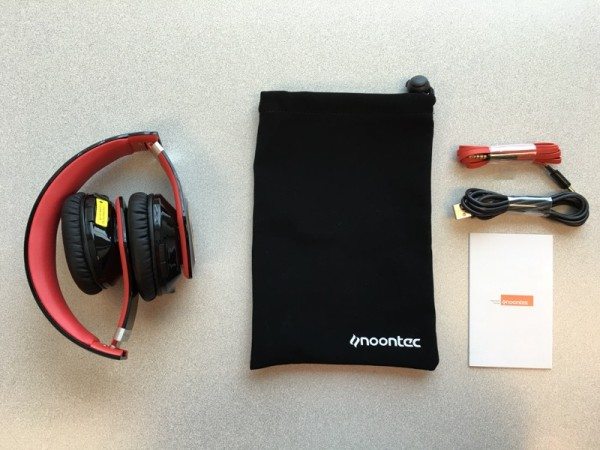 Inside, you get the headphones, a carry pouch, USB cable and audio cable (red).
Here are some specs from the Noontec website:
Driver Type:  dynamic
Plug type:  3.5mm
Driver diameter:  Votrik HD 40mm
Frequency response:  13~26,000 Hz
Sensitivity at 1 KHz 1mW:  108dB
Input impedance:  32Ω
Max power:  60mW
Wireless mode:  Bluetooth 4.0
microphone:  yes
Battery power:  Rechargeable 650mAh
Power standby:  1000 hours
Music playing time:  Min 20 hours*
Audio cable length:  1.2M
Weight:  190g
Product dimension(L x W x H):  179x171x66mm
*Noontec has informed the-gadgeteer the headphones will run for 35 hours ( at 80% volume) once fully charged.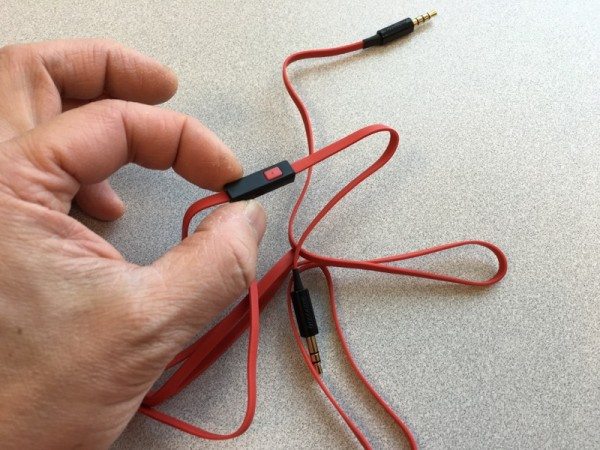 Wait, why an audio cable?  Yes, if you don't want to use Bluetooth (or you're unable to), the headphones will work as a regular wired pair.  It's one of those flat cables that are less prone to tangles.  A small button is located inline for control.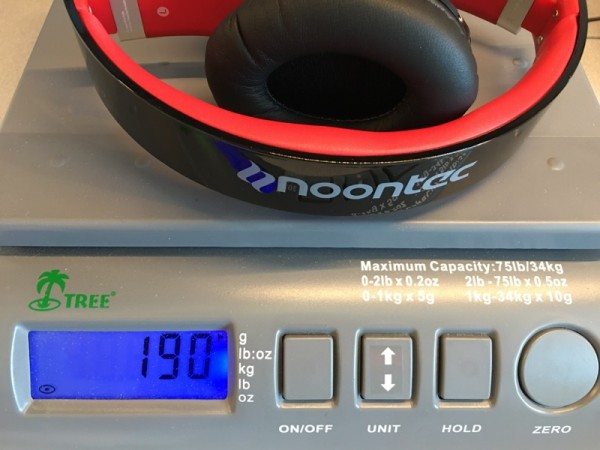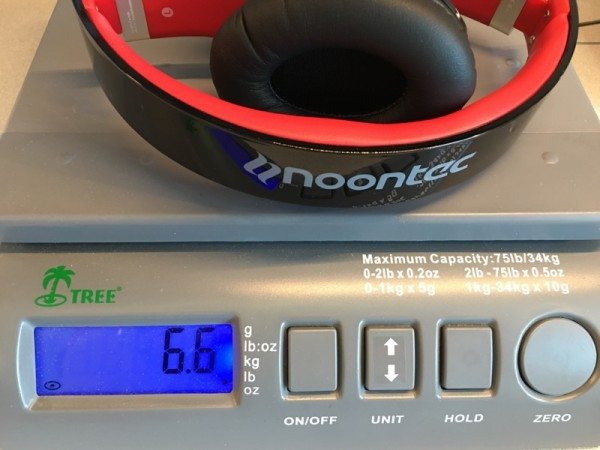 Without the cable, the headphones weigh in at about 190 grams (exactly to the printed spec!) or 6.6 ounces.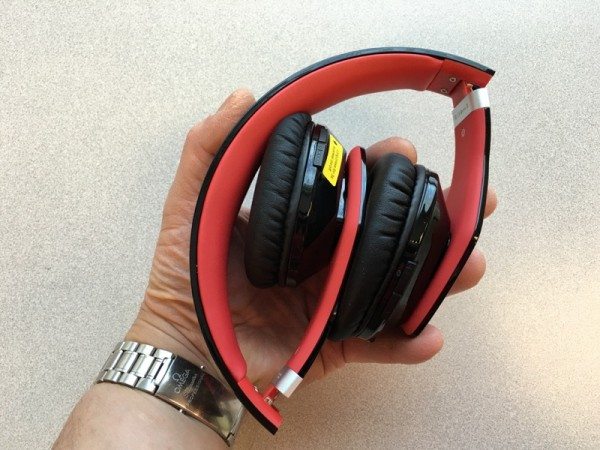 Headphones, folded.  Not exactly pocket sized, but at least they'll take up less room in your bag this way.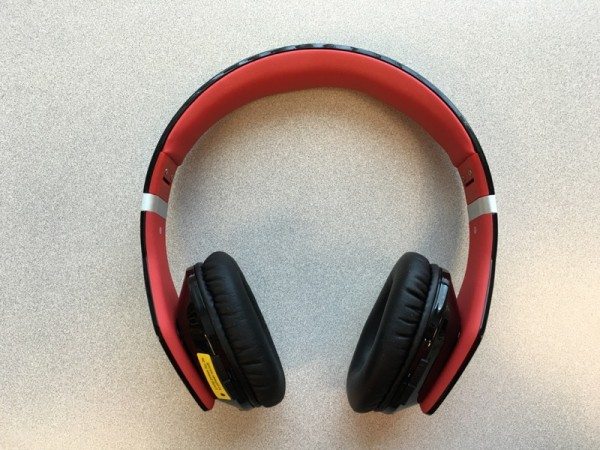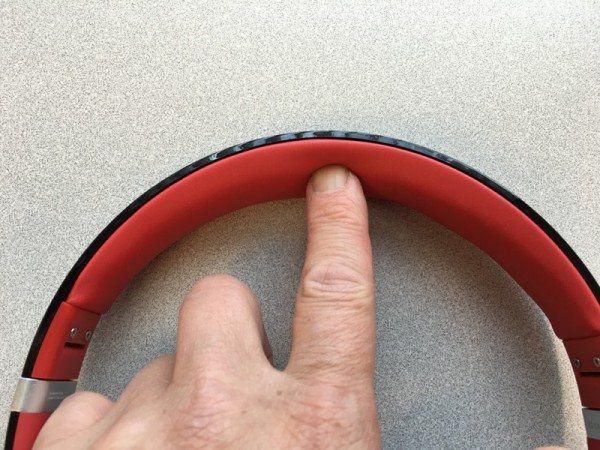 The inside top bit of the headband is padded in a nice red color that provides a dash of color.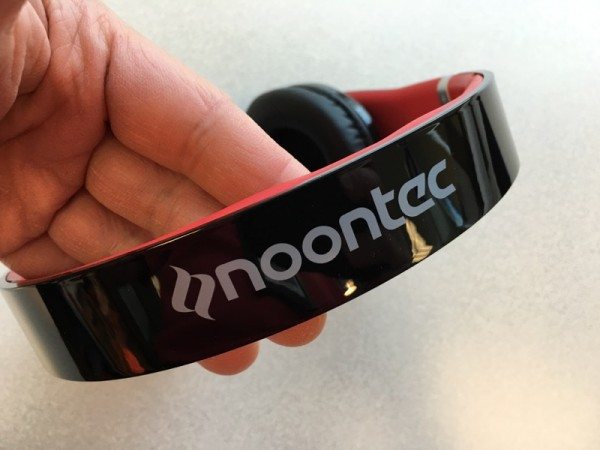 The top of the headband is glossy black plastic with the Noontec branding on it.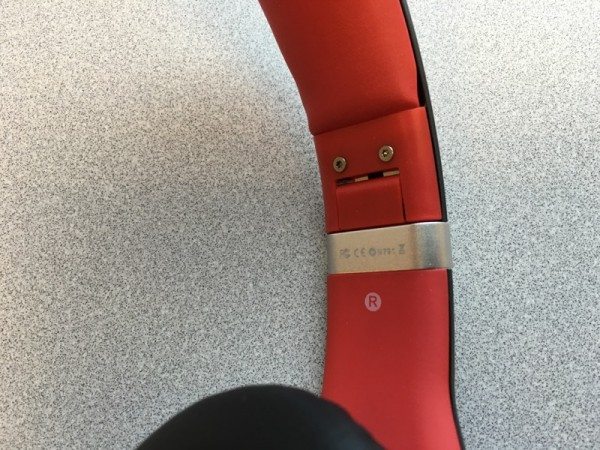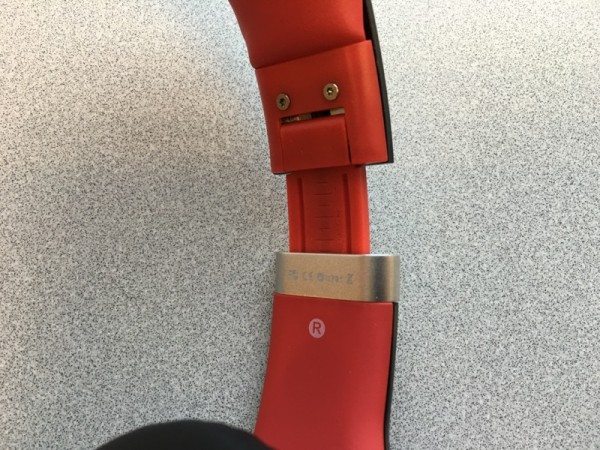 A closeup of the hinges, closed and open.  Small "L" or "R" letters indicate left or right.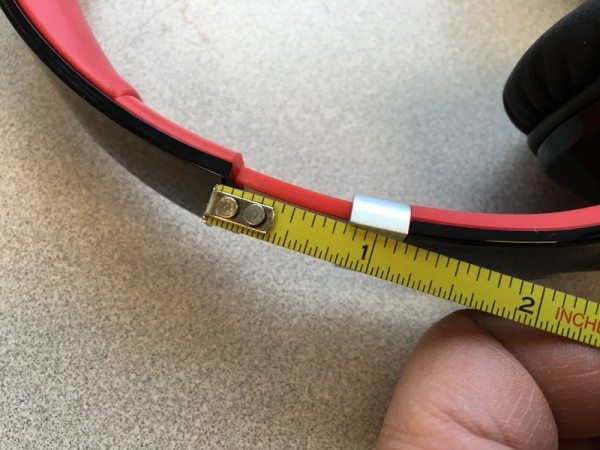 Each side extends just about 9/16″ in travel.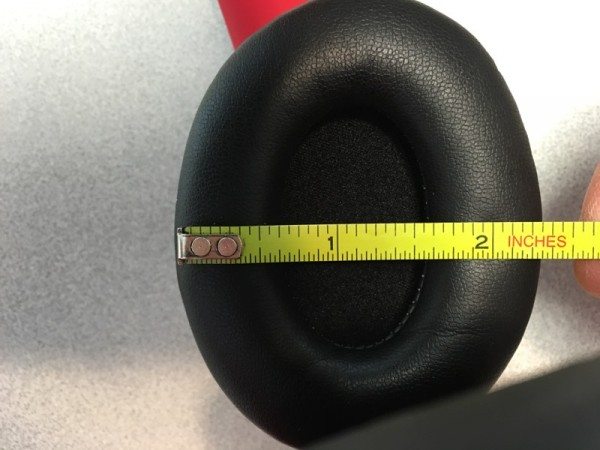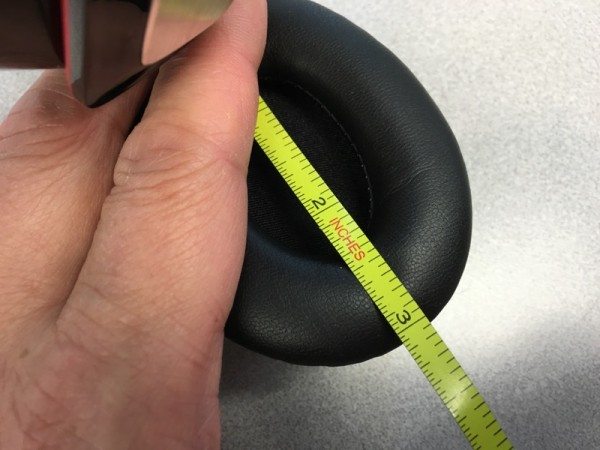 The ear pads measure about 2-1/2″ wide, and about 3″ long.  For me, they'd be classified as "on ear", meaning the cups rest on top of my ear, but not around them.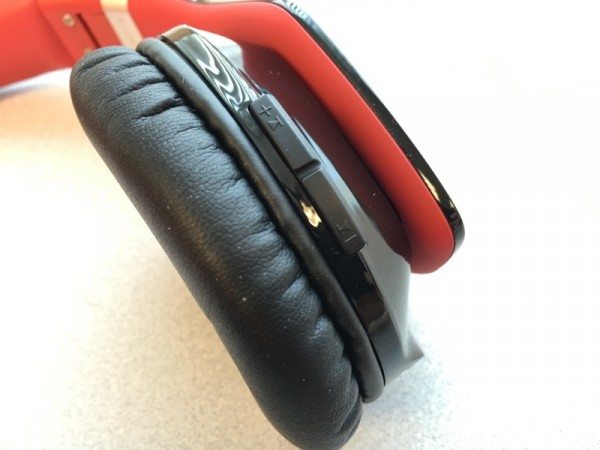 There are volume and track controls on one ear…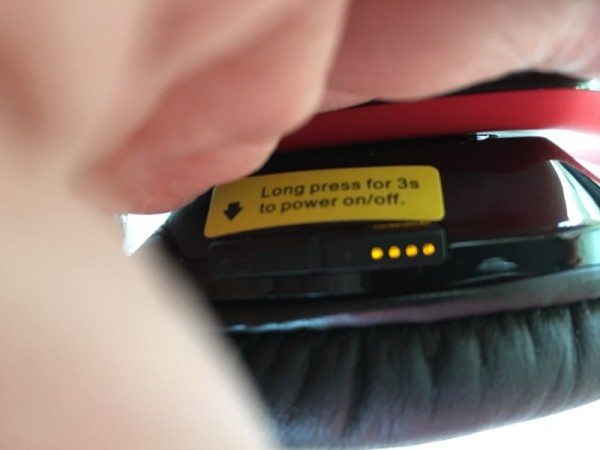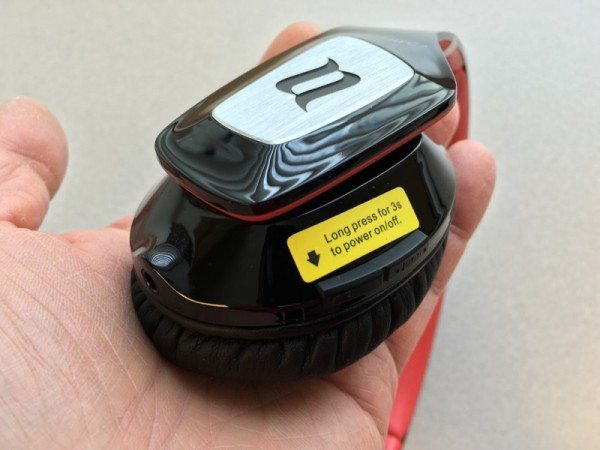 …and power on the other.  A sticker reminds you to press the button longer than 3 seconds to turn it on or off.  A series of LED lights indicate relative battery level.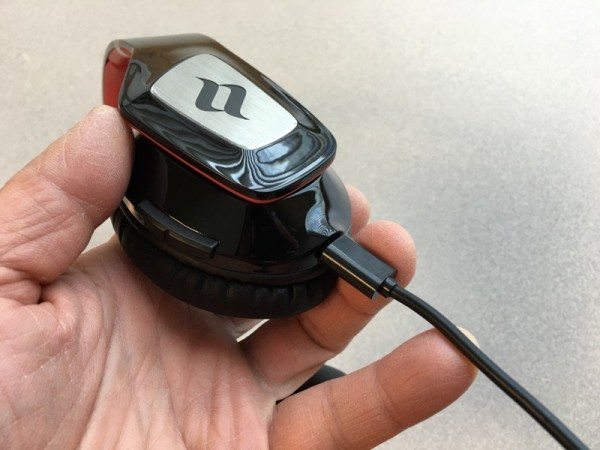 Speaking of battery level, the headphones charge via included microUSB.  Out of juice?  You can still use the headphones when powered off via the included audio cable.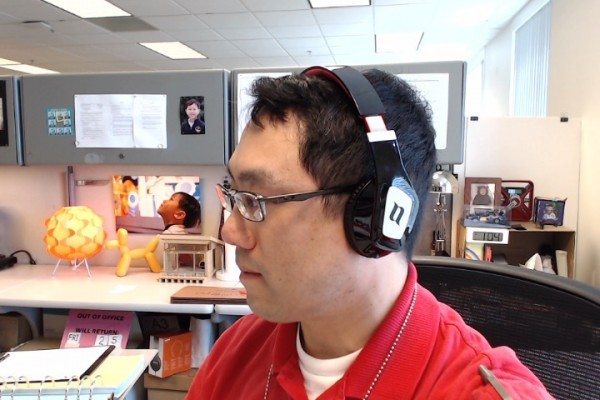 I prefer around-the-ear headphones- the kind where the cushion doesn't rest on your ears.  It's just more comfortable that way for me.  However, for short periods of time, the ZORO II headhphones were plenty comfortable.
These aren't bass-thumping headphones.  There are no custom bass or treble adjustments.  They paired with my smartphone's bluetooth and I was listening to music.  What WAS missing was a lack of hiss, or noise.  Normally when I listen to battery-operated headphones from a brand I'd never heard of before, I expect to hear a faint hissing from the headphones when no music is playing.  I'm happy to say that's not the case with the ZORO II headphones.  All I heard was music.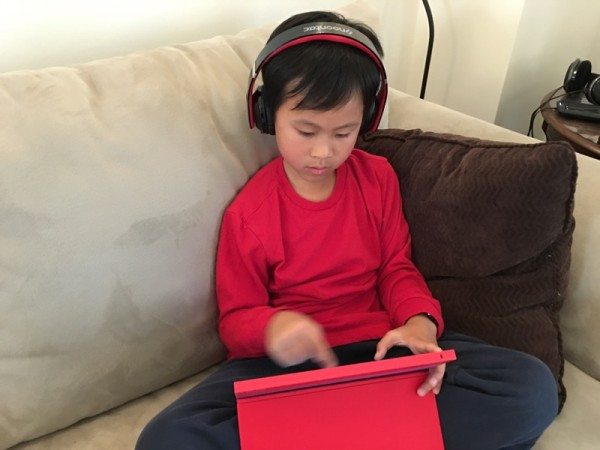 Actually, my 9 year-old son took a liking to these headphones.  Here he is wearing them (they fit just fine) paired to his iPad.
In actual use, I observed my son would press and hold the power button, and listen for the voice prompt saying the headphones were turned on (or off).  Otherwise, it can be a little tricky to see if it's powered up.  I prefer physical sliding switches when it comes to this sort of thing, but at least Noontec was clever enough to include a voice prompt for this.
He's also pretty good about recharging his gadgets every night- just like dad- but for the first week, I don't think he got the memo that these needed to be charged up.  During that time, the headphones never ran out of juice.  I think the claim of up to 35 hours runtime sounds pretty valid.
I think my son likes the Noontec ZORO II wireless headphones so much,  I don't think I'm getting them back.
Source: The sample for this review was provided by Noontec. Please visit their site for more info and Amazon to order.
Product Information
Price:
$149.99
Manufacturer:
Noontec
Retailer:
Amazon
Requirements:

Bluetooth or 3.5mm audio jack. MicroUSB for charging (cable included)

Pros:

Folds up for travel
Small LED lights indicate charge level
No noticeable amplifier "hiss"
Fits 9 year-old heads and their dads thick ones equally well

Cons:

Slightly confusing controls (until you read the instructions)